Celebrities like to remind us every day of how they are just different from the rest of us. Remember when Rachel Hunter spent $15k on a dog house for her two pooches? The house was created by Le Petit Maison and it resembled her own house. If you don't remember that, how about when Mike Tyson bought two white Bengal tigers for $140k and then spent a further $125k on their trainer? Who does that? Well, the rich and famous, of course.
Now that we have social media, we can watch our favorite celebrities closely as they do all this and so much more. It's clear that they put on a show for us. We watch them jet-setting and traveling to the world's most exotic places, eating the best cuisine, staying in the most exclusive and lavish 5-star accommodations. Yeah, social media pretty much highlights the vast difference between us and them. So thank goodness for the paparazzi!
Whether they're coming off a plane or just walking their dogs, the paps seem to be good at getting shots of celebrities doing the most ordinary things. They remind us that our favorite celebrities are, at the end of the day, just human beings (with loads of fame and fortune, of course). We don't want you to forget that either, which is why we've compiled this list for you. Ladies and gentlemen, start scrolling, sit back and enjoy as we bring you 20 pics of your favorite celebs being total normies.
20

Justin Bieber And Selena Gomez: Riding Bikes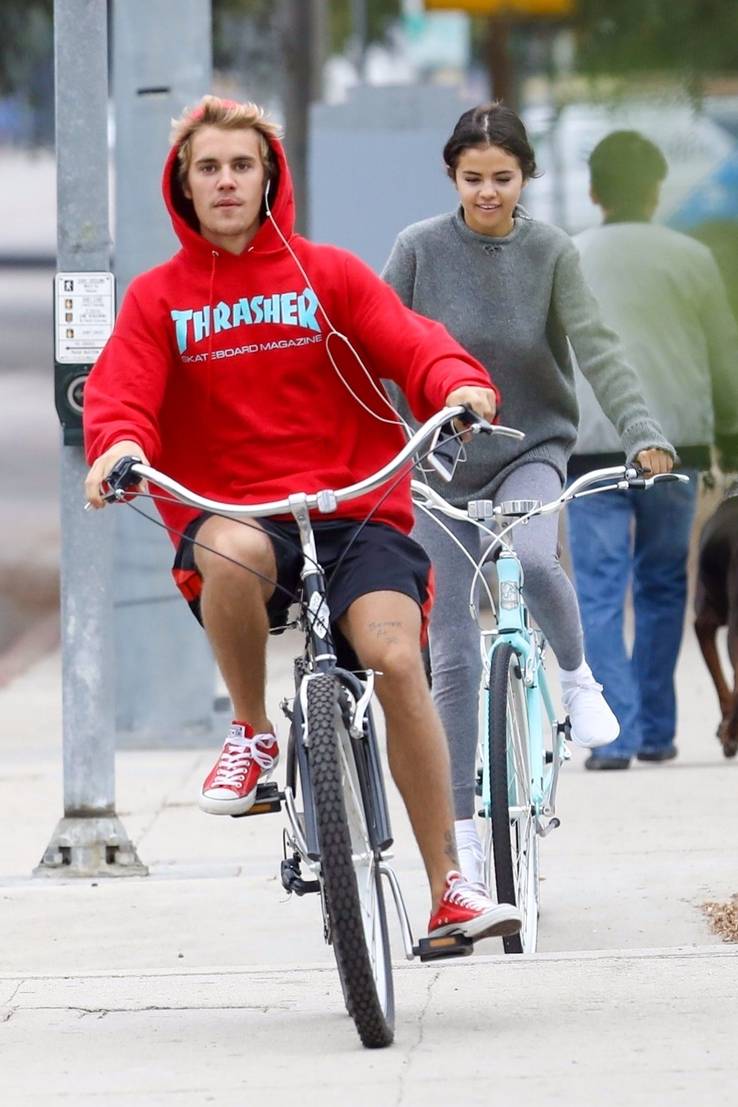 Selena Gomez and Justin Bieber are pictured here enjoying a bike ride around their neighborhood. I don't know of a single person who does not like riding a bicycle. People ride them for different reasons. The act is very carefree, fun…and compared to driving everywhere, it of course, is better for your health. I'm not sure what Selena and Justin's reason for riding their bikes is but this is not the first time the two have been pictured riding together. It seems like every time they get back together, they have to commemorate it with a bike ride around their neighborhood. Whatever the reason for their love of bike riding is, the smiles on their faces while doing it remind us all of the fun times we used to have on our own bikes.
19

Bethenny Frankel: Nap Time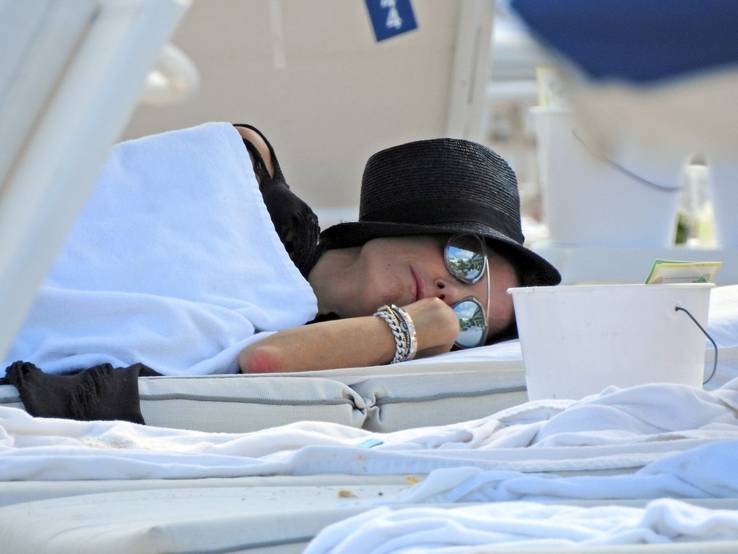 Being an adult can be hard at times. There's work, responsibilities such as kids or a mortgage, paying off student loans, dating or married life, trying to keep in touch with all your friends, trying to get ahead in your career…the list is endless. It is therefore understandable why we sometimes just need a little break. I mean, our minds are constantly busy. Well, Bethenny Frankel also needed a break as she was pictured here taking a little nap on a Miami beach. The mom of one is a businesswoman who founded Skinnygirl Cocktails, she is also an author, and has recently joined the cast of The Real Housewives of New York City. With her busy schedule, we all totally get it.
18

Adrien Grenier: Scooping The Poop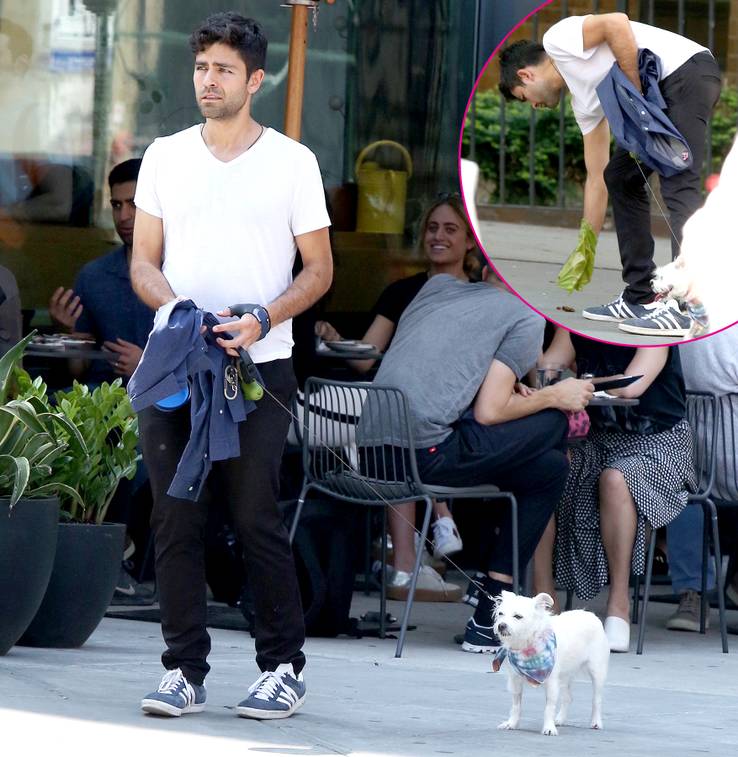 All the dog lovers out there know that man's best friend needs to be walked on a regular basis as we want them to live long, happy and healthy lives. While on these walks with our little furry friends, Mother Nature sometimes calls and well…our friends do what they need to do to relieve themselves. As the owners, we clean up after them (except for some people who for some reason, don't see the need to).  Cleaning up after our dogs is not a big deal – it comes with the package. Judging by this picture, it seems like the same applies to celebrities as well. Adrien Grenier was spotted scooping up the poop of his pup while they were on a walk together.
17

Brooke Burke: Filling Up At The Gas Station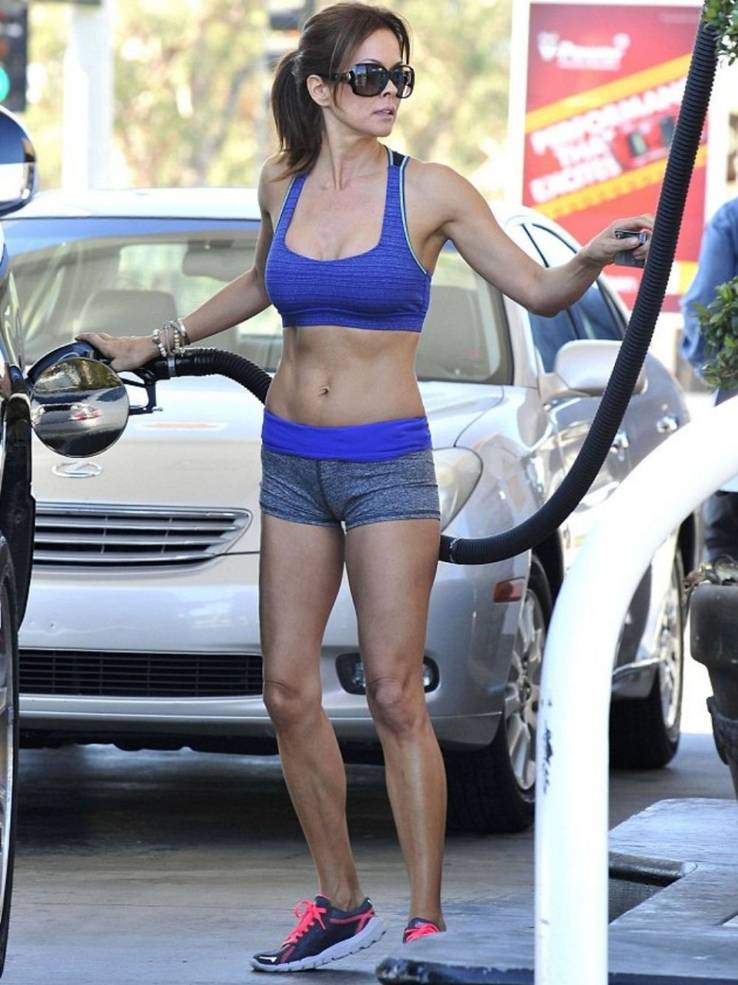 Filling up at the gas station is something we're all familiar with. No one who owns a vehicle can get out of this one because hey, we all have to get to our various destinations. Whether we like it or not, we're bound to pay our nearest gas station a visit a few times a month. That is why seeing our dear celebs filling up their cars kind of makes us feel like they are "one of us".
In this particular pic, Brooke Burke was seen at the gas station, filling up her car, after a gym session. Okay, so, I'm not so sure about you but I know that I've never looked this way while filling up at the gas station and I definitely can confirm that I have never looked this good after a session at the gym. Okay, so Brooke may not look like the rest of us but at least she fills up, just like we do.
16

Beyonce: Husbands Playing Instagram Hubby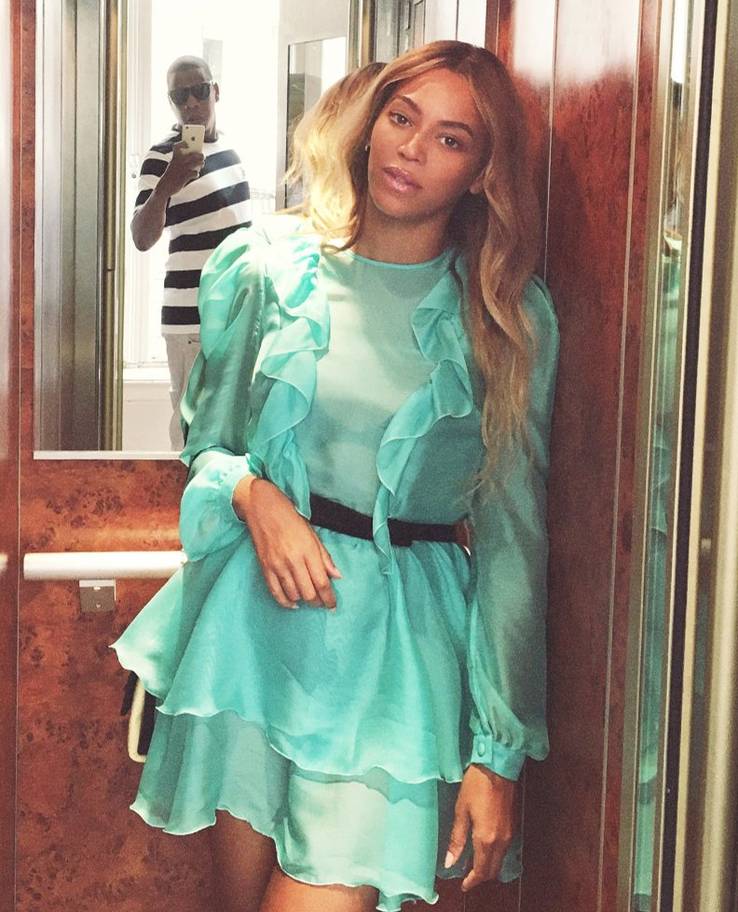 Selfie sticks are nice and all, but sometimes you just can't get the right angle with them. Sometimes you need someone to come in and take that pic for you. For many of us, our boyfriends or husbands take on the responsibility of being our photographers. We direct them, tell them exactly what we want, they take about a hundred pics and then we pick the best one to post. Our partners know their role and everyone does what they need to do.
From this pic, Jay Z is playing Instagram hubby for Beyonce as she poses in the elevator. Not sure how many pics Jay Z had to take before Beyonce was satisfied but the fact that she's posing while he is a little distance away from her, trying to get the perfect pic, reminds us of our own photography moments with our baes.
15

Rihanna: Treating Themselves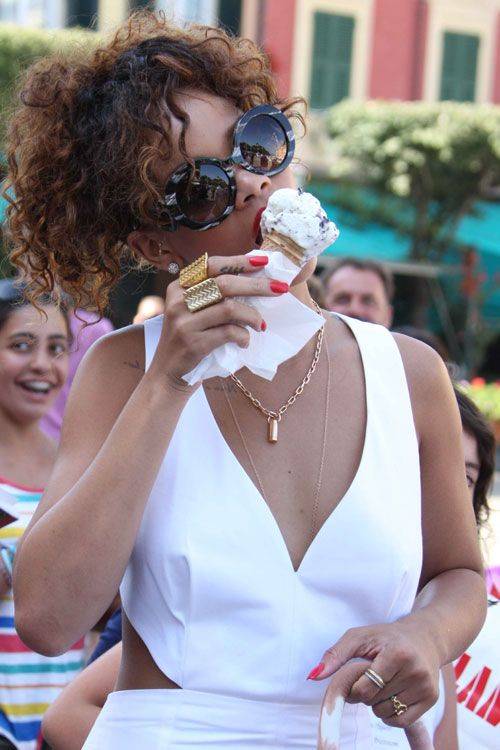 Everyone who is trying to lead a healthy lifestyle knows the importance of a "Cheat Day" and boy, do we look forward to that day. A Cheat Day or Cheat Meal is basically when you are on a healthy diet and then allow yourself to have whatever you want to have on that cheat day or cheat meal – You basically give yourself a treat for being good for that week. It seems like Rihanna opts for ice cream as her treat. We know that she recently broke up with that Billionaire boyfriend of hers so maybe she was also emotionally eating. Whether she was emotionally eating or having a cheat day, she was treating herself – just like we like to do.
14

Andrew Garfield: Riding The Subway
Many New Yorkers ride the Subway. Not only is it one of the world's most used public transport systems, it also operates all day, every day. We've seen celebrities such as Fergie, Jay-Z and Katie Holmes taking the Subway. In this pic, Andrew Garfield joins the number of celebs whom we've spotted taking the subways with us. Now, of course, sometimes our dear celebrities do it all for our attention, which is why many of their pics often have them posing for the camera and dressed perfectly, ready for the attention they are about to receive. Well, in this pic of Andrew, it is clear that the young man was not looking for any sort of attention. This was just a regular day for the American-British actor. He was out and about in New York City and saw the best way to get to his destinations was with the subway – Just like Us!
Featured Today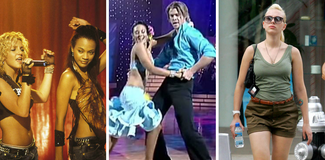 20 Embarrassing Things The MCU Cast Did Before They Were Superheroes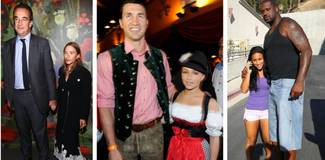 15 Surprising Celeb Couples With Dizzying Height Differences

20 Surprising People The Cast Of Friends Has Dated

13

Tori Spelling: Big Bag Problems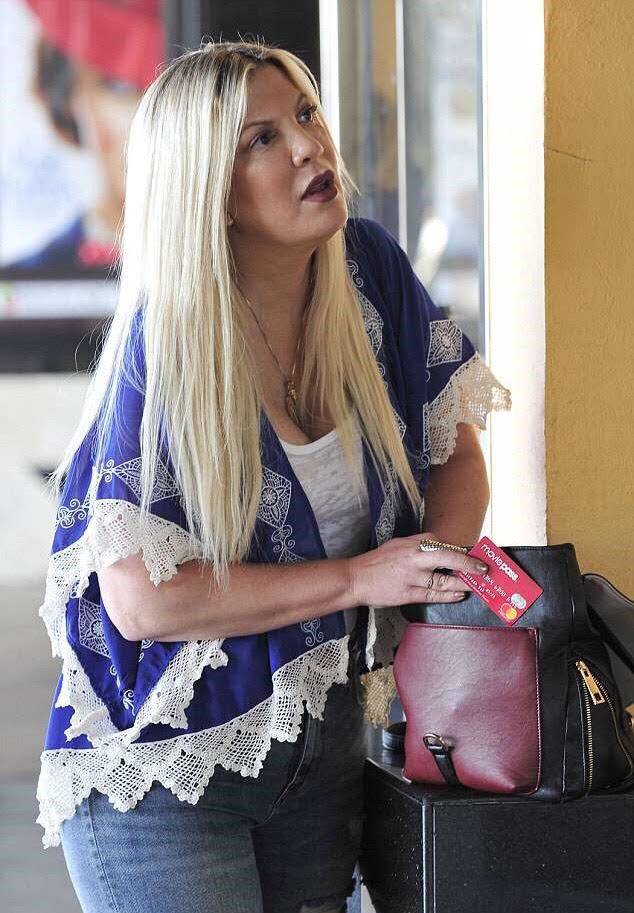 Carrying around a big bag can have its advantages and disadvantages. The good thing about having a big bag is that you can pop in all your necessities into one bag. The bad thing about having a big bag is that you pop ALL your necessities into ONE bag. The struggle is real.
It seems like Tori Spelling also knows and understands that struggle. The mom of 5 was seen digging through her big bag while looking for her movie pass. It took her a few minutes to find it. When she saw the pic in gossip blogs, she posted it on her Instagram account and made fun of it all. "It's true! I dig thru my purse and I see movies ha! ha!"
12

Anne Hathaway: No Favors From The TSA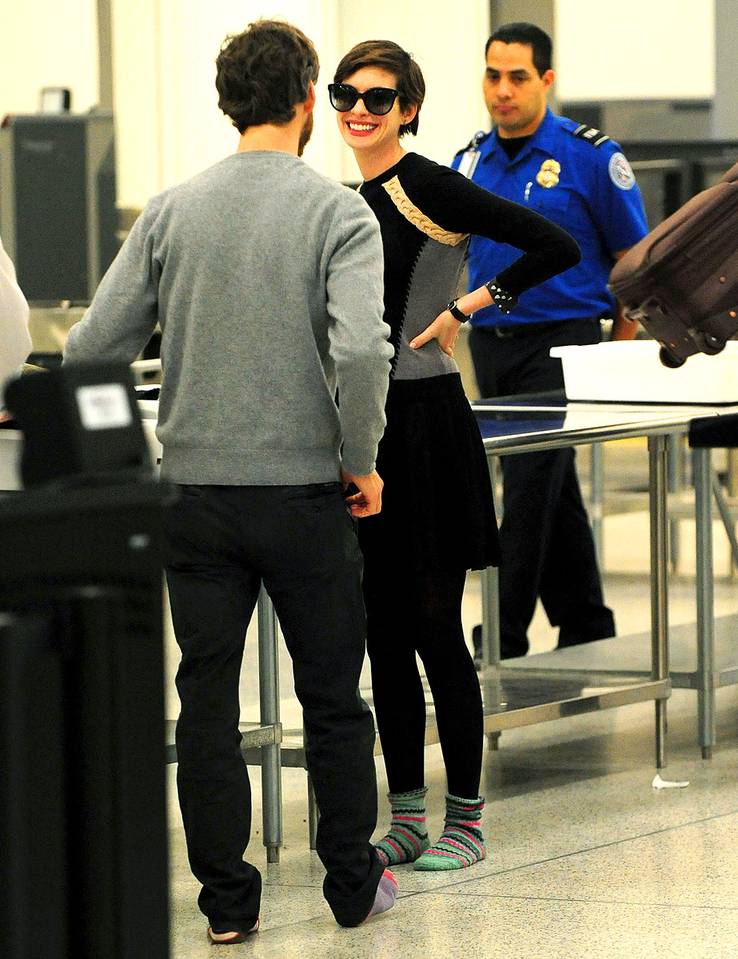 Nothing is as real and hardcore as the TSA (Transportation Security Administration) in the US. We, of course, understand why the officials need to be so hardcore these days but it doesn't make it any less intimidating sometimes. The TSA are so hardcore that they trust no one, not even celebrities. Anne Hathaway and her husband were recently going through airport security and it seems like the TSA did not care at all who they were (as they shouldn't) and went ahead with regular procedures. Anne and hubby, like many other passengers, had to take off their shoes for the security team and the pair didn't seem to mind at all – Well, they didn't really have a choice.
11

J Cole: Riding The Bus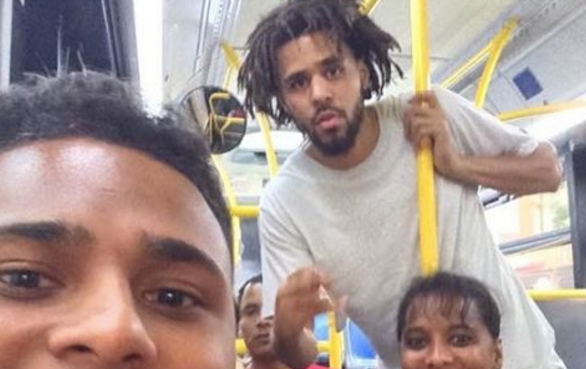 Rapper J Cole definitely seems to be down to earth. Despite his success, he can be seen regularly taking public transport in New York City. He seems to particularly prefer taking the bus as he has been photographed on numerous occasions riding a New York City bus. The great thing about it is that he is not shy about taking pics. He happily poses for fans as they take shots of him on the bus – not embarrassed at all to be seen on a public transport bus. He doesn't seem to have a problem with reminding us every day that celebs too, at the end of the day, are just human beings.
10

Benicio Del Toro: The Umbrella Struggle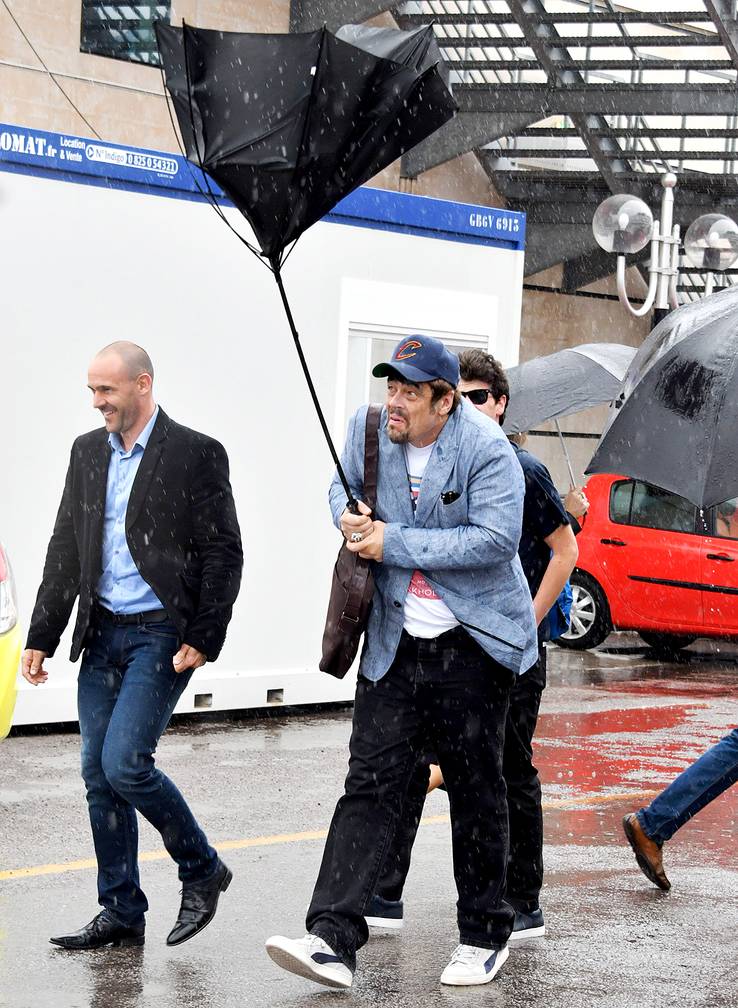 Oh, the rain. Many of us appreciate it when we see rain in the weather forecast as we know and understand the importance of it. There is simply no life without it. So when we see it in our weather forecast, we put on our rain gear and face it bravely, not forgetting our dear umbrellas. Just like our big handbags, umbrellas give us a love-hate relationship. On the one hand, they are great because they keep us dry from the rain. On the other hand, they can be so useless when there is a lot of wind.
In this pic, actor Benicio Del Toro also knows the struggle. He was pictured here at the Cannes Film Festival in May 2018 and judging by the state of the umbrella, I'm guessing that Benicio was not particularly dry when he arrived at his destination.
9

Colin Farrell: Parking Tickets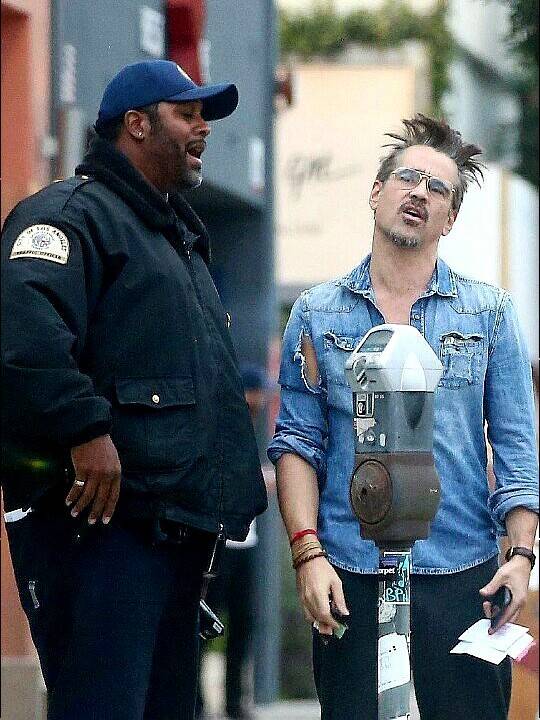 Okay, so this is both hilarious and painful at the same time. Unless you're like an extra-terrestrial or something, every driver has gotten himself a parking ticket or two in his life. They happen so unexpectedly. You tell yourself that you'll just be 15 minutes as you park to go get something quickly. 40 minutes later, you get back to your car and find yourself a parking ticket on your windscreen. In this pic, Colin Farrell found himself a parking ticket and by the look on his face, he was clearly displeased. Yet another common thing between us normies and the celebs.
8

Alexandra Daddario: Getting Something For Our Furry Friends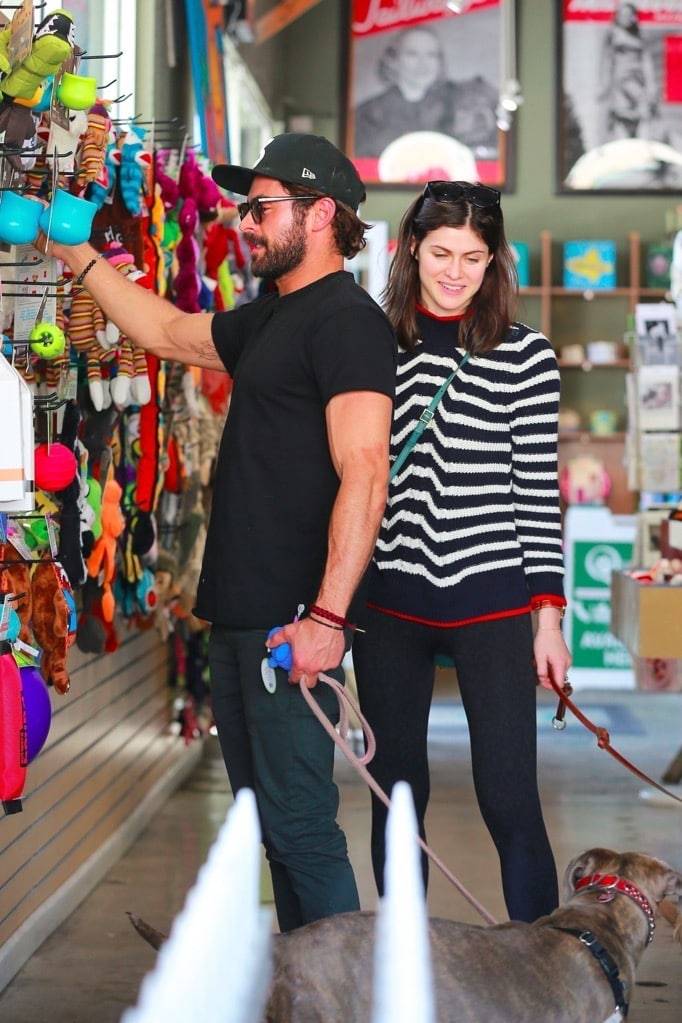 This one is another one for the dog lovers (or just animal lovers in general). In this pic, we see Zac Efron with Alexandra Daddario picking out some dog items for their pooches. One thing to make you fall in love with Zac even more, is that he adopted his pooch Maca, from an LA-based pet shop. People reported that they would have euthanized the little pooch if Zac hadn't taken her in. Zac was als proud of the decision to take Maca. "Tilly, now Maca, was being led to the kill room when we stepped in and said we would take her." I don't know about you, but Zac's hotness just went up a few notches after that.
7

Kelly Rowland: Grocery Shopping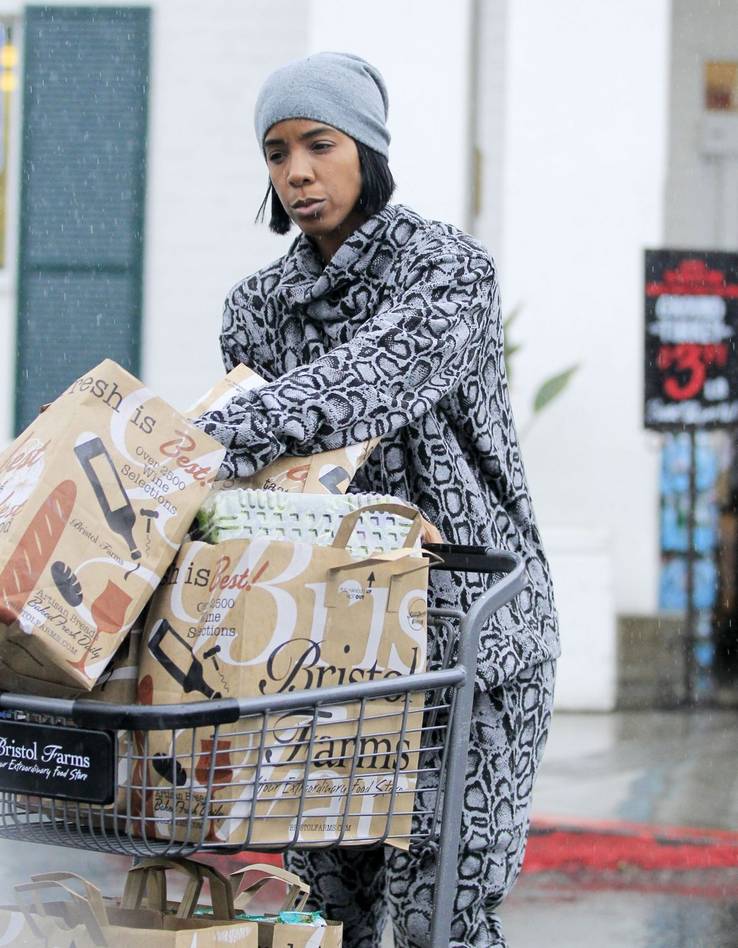 This is another one on the list that make us go: "Hey, celebs really are like one of us!" (Well, we only mean sometimes). Singer, Kelly Rowland is pictured here leaving the grocery store with a shopping cart full of groceries. I suppose the great part about this pic is not only the fact that Kelly was pictured going grocery shopping but, it's also the fact that she just looks so…regular. No flawless hair and makeup. No outrageous outfit – nothing to really grab our attention. Nothing that screams "I'm a star" – Which is how us normies usually go to the grocery store.
6

Claire Danes: Walking The Dogs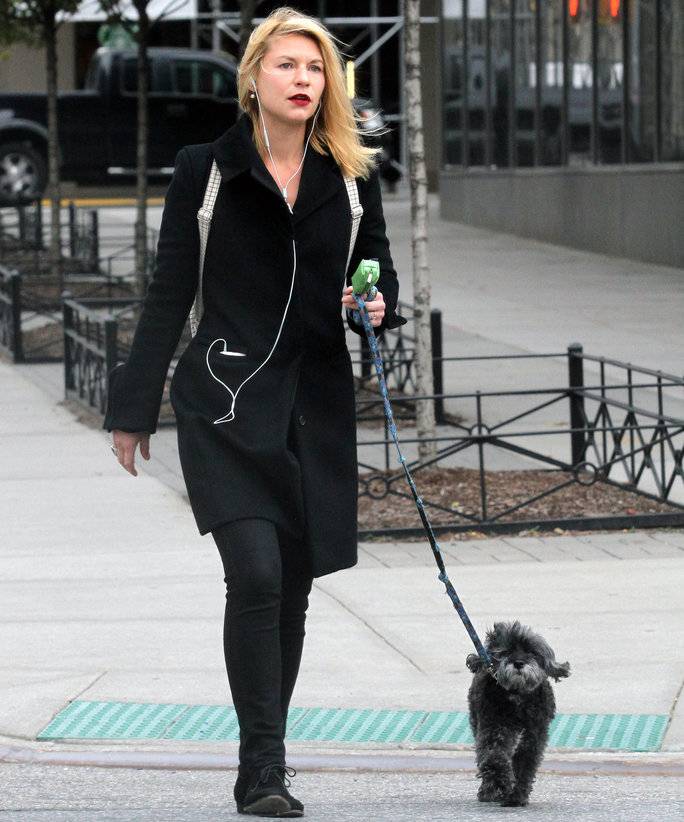 Now, we bring you probably the most chilled item on the list. This is on the list because it's just such a "regular people activity". It's not special. It's not outlandish. It is a total "normie activity" – Walking our dogs. This one proves yet again that celebs really do have their "normie" moments.
Actress Claire Danes was pictured here taking her little cutie for a walk around their neighborhood. Just like the Kelly Rowland pic before this one, the best part of this pic is how regular Claire looks. Her hair is loose and messy, she's got red lipstick on but either than that, her makeup is pretty minimal. She also has earphones on so we know she's listening to some of her favorite jams. She looks like Claire from down the street and definitely not Claire the movie star.
5

Jack Black: The Love of McDonald's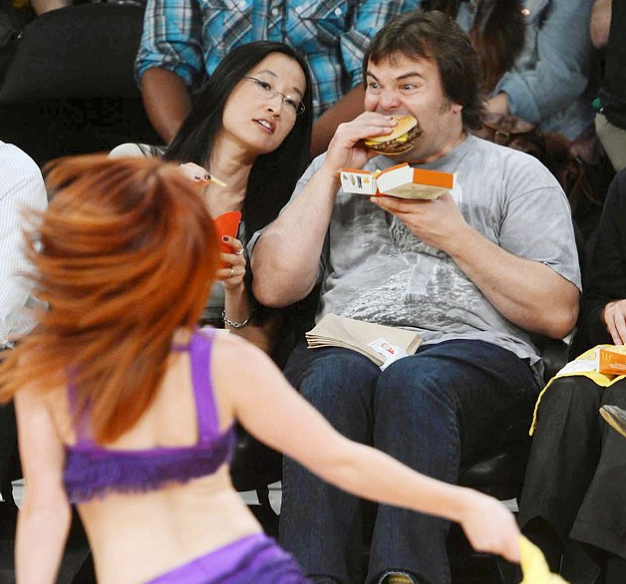 Now I'm not so sure about you, but whenever I know I'm about to eat some junk food, my go-to is, without a doubt, McDonald's as, in my opinion, they simply have the best fries. McDonald's has been around since the 1940s and the franchise is pretty much in every place in the world. From Africa to Europe, to Asia…everybody loves the golden M and it seems like some of our favorite celebs love it too. In this pic, we see actor Jack Black enjoying himself a McDonald's burger while watching a Lakers game. This calls for a "normie moment" alert! This is totes what we would do!
4

Scarlett Johansson: Casual Travelling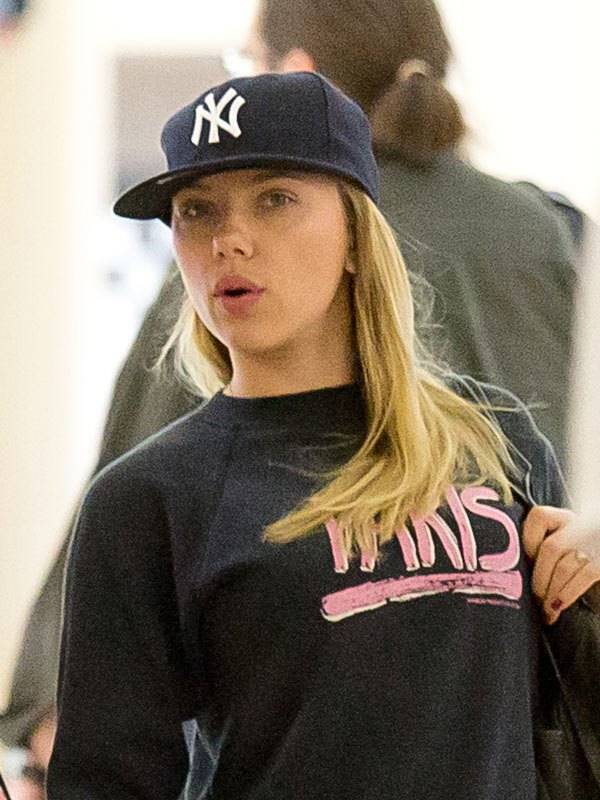 If there's one thing we normies like to do, it is to travel in comfort, especially when we're flying. Since we all can't afford to fly first class (those tickets are just ridiculously expensive), we bring that comfort through our clothes. We normally throw some sweats on or maybe our favorite pair of jeans and t-shirt on and we're good to go. Makeup is also very minimal. Scarlett Johansson also seems to have gotten this memo. Okay, so the young actress is still pretty but I like the fact that she looks like a normie while on her way to catch a flight.
3

Gigi Hadid: Walking With Curlers On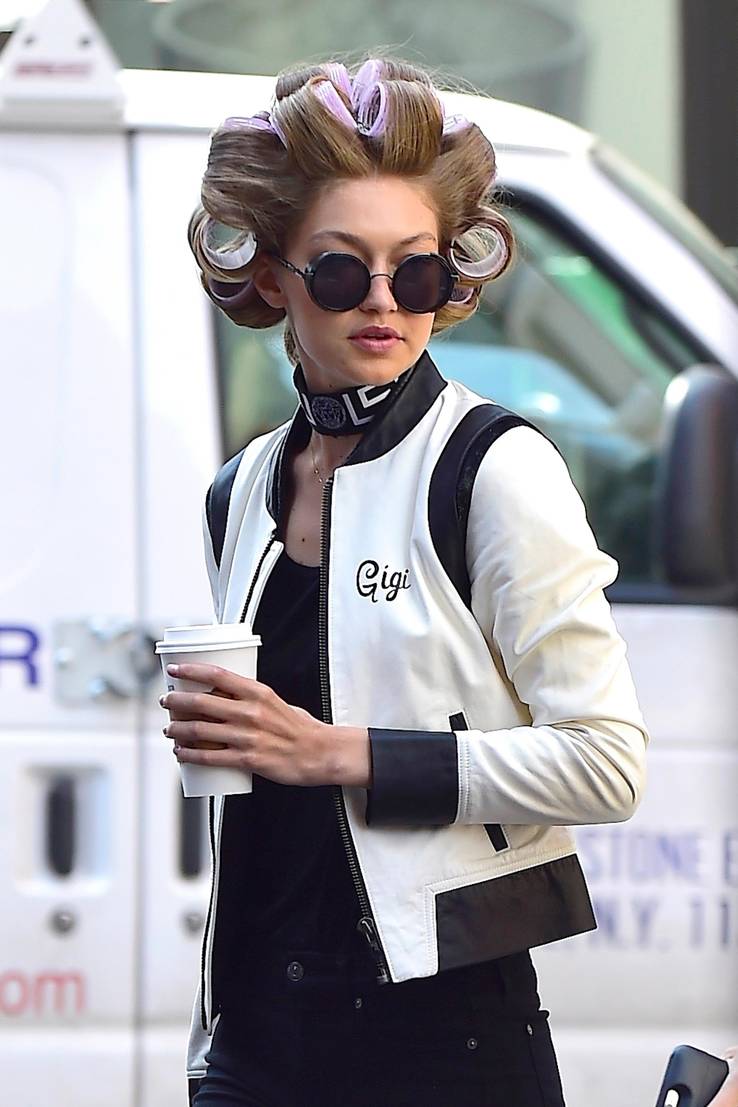 So Gigi Hadid walked around New York City with curlers on. Ladies, although this is a normie moment, realistically – None of us are going to look like Gigi with our curlers on so please, don't be tempted to try to reenact this. The people of NYC will appreciate it if we don't.
Okay, so walking around a big city with curlers on and looking like a supermodel is not something we normies would usually do but still, it is the principle behind it that caught my attention. Just like in the earlier pics of Kelly Rowland and Claire Danes, we see Gigi here going about her business and not as glamorous as we're used to seeing her. Although she is undoubtedly still very beautiful, her choker and jacket (and of course those curlers) make her seem like a regular person.
2

Kanye: Cheering For his Team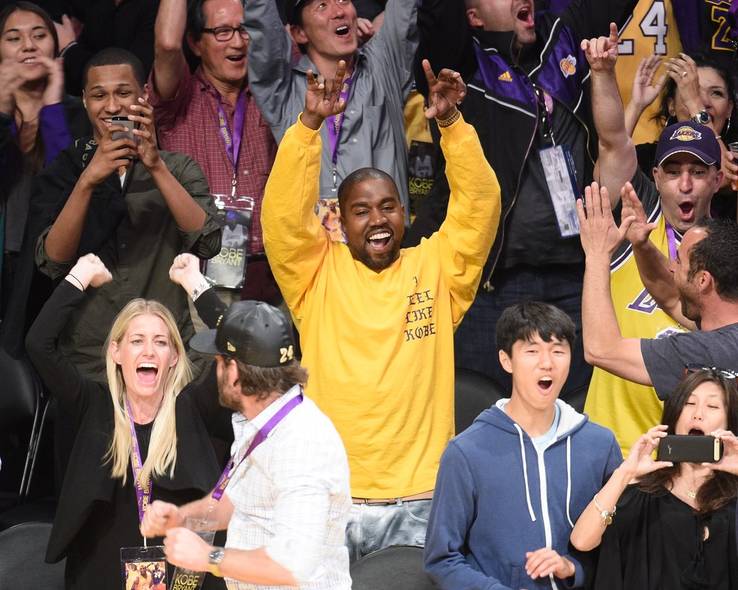 This one on the list came as a real surprise. Whenever I think of celebs that are totally like us normies, Kanye is probably the last celeb I would even consider. The man is…well…very different from the rest of us. He is the one celeb who probably couldn't make it as a regular person. I mean, just imagine Kanye having a boss to report to. Imagine him in an office cubicle. Yeah, Kanye is pretty much made to be a star. Even though he is meant to be famous, that doesn't exempt him from having a normie moment every now and then. Kanye is pictured here at Kobe Bryant's last Lakers' game in April 2016. The music star, together with other celebs, spent the night cheering their favorite basketballer on.
1

Beyonce yet again: Spying On her Man's Phone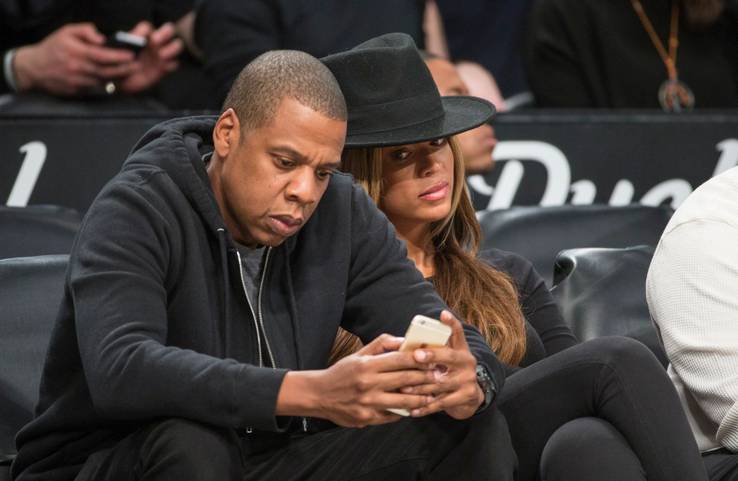 Number 1 on the list is, without a doubt, especially for the ladies. Now, we all know how amazing Queen B is. She is multi-talented, hardworking, dances like no other sings her lungs out and is definitely one of the greatest artists of our time. This extraordinary woman though is, at the end of the day, a woman…a human being. And sometimes what happens when we're in relationships is that we get a little bit nosy about what our partners are up to and who they're busy texting on their phones.
Beyonce can clearly be seen here checking out Jay-Z's phone. Of course, we don't know exactly what she saw on his phone that made her stare for such a long time, but the idea that Beyonce does this is simply just mind-boggling. This is also number 1 on the list because let's face it, Beyonce is one of a kind. This pic made every woman feel like: "Wow, Queen B also has her normie moments."
References: Rachel Hunter, Mike Tyson, Instagram, People
Source: Read Full Article