"Sorry, the old Taylor can't come to the phone right now." Instagram has a new obsession – and it's a weird one. Total unknowns are gathering followers like there's no tomorrow, just for being celebrity doppelgängers. Some of them (like Ariana Grande's lookalike) are actually being followed by the celebrity themselves. Think Game of Thrones, the MCU, or British royalty are immune? Think again.
From creepily similar facial features to makeup skills that are giving professional teams a run for their money, celeb lookalikes are popping up every day. The fascination with just how similar they look can even carve out an entire career for them. The digital space is dishing up these doppelgängers in a steady stream, one insanely similar selfie at a time. From the A-list actress lookalikes making us do a double take, to the Suicide Squad doppelgänger accidentally discovered working in a fast food joint, the pics of these women are unreal. Even the supermodels can't escape these dead-ringer carbon copies.
It's time to meet them. Spread across all four corners of the globe, these 20 lookalikes are giving the real A-listers a run for their money. These women may have similar genetics and internet access as their starting point, but they've put everything they have into being their full-time celeb twin. Some of them are even considered better-looking than the original. A fair few just left us speechless…
20

KIM KARDASHIAN: COOKIE MONSTER COPYCAT?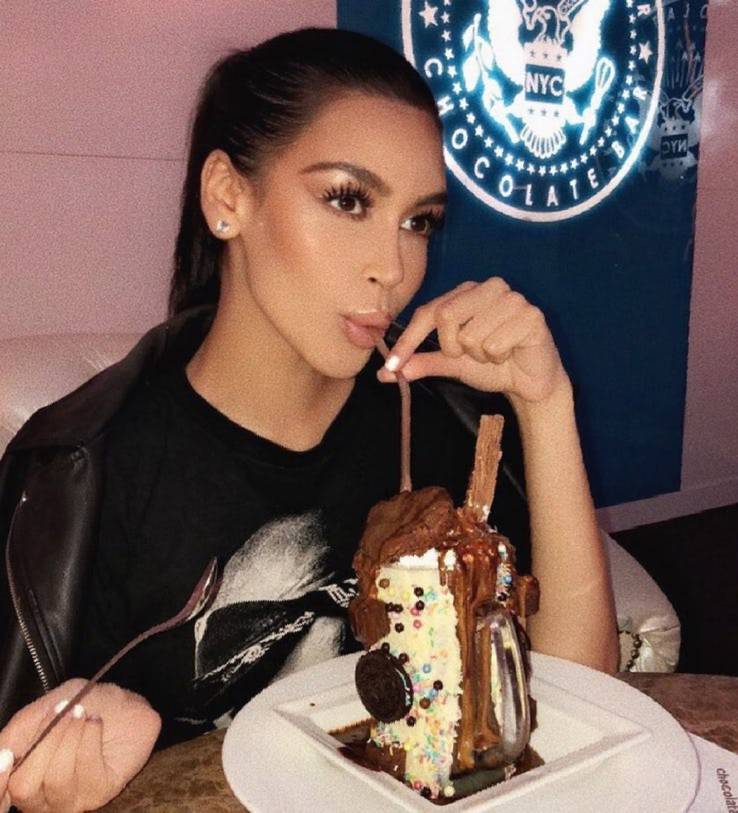 Admit it– you just did a giant double take. Kim Kardashian may be marching around with her 111 million-strong following, but the reality star needs to watch her back. Dubai may be one of Kim's favorite shopping hotspots, but this corner of the Middle East is getting popular for a whole other reason. It's time to meet Sonia Ali– the Kim doppelgänger who might as well have Kardashian DNA. The Dubai-based makeup artist is inching her towards 1 million followers on Instagram, and everything from her wardrobe to her mannerisms are literal "Kim Klones."
Inching their way towards 1 million Instagram followers, Dubai-based, Sonia Ali, and her sister are the Kardashian doppelgängers you never knew existed. Sonia gets interviewed by Vogue magazine, just for looking like Kim.
The half-Turkish, half-British sensation even has similar roots to Kim– Kim's dad was of Armenian origin, while "momager," Kris is American. It's going to take some work to build the kind of empire Kim has (KKW Beauty lines selling out in just three minutes doesn't happen by itself), but Sonia actually has a makeup line in the works. She wears Kim's Yeezy outfits, clingy khaki dresses, and everything from the contouring to the facial expressions are 100% Kardashian. Except they're not…
19

RIHANNA: IS THAT THE FAMOUS BAD GAL?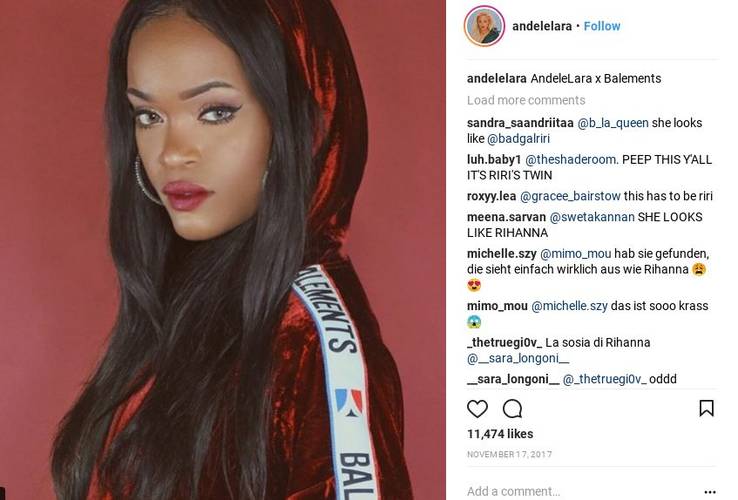 Well, look who we found in a corner of Boston. Andele Lara has been making major waves ever since she started her doppelgänger account, and Rihanna fans are losing their minds. While Andele may not have raked in the $36 million Rihanna did over 2017, this lookalike is raking in the double takes– and with good reason. The beauty influencer and founder of the website, Grow & Glow, literally puts her money where her mouth is. Glowing like Rihanna? The pictures speak for themselves. Growing? People actually listen when this girl talks.
According to Refinery29, Andele herself is already in secret talks with makeup guru, Patrick Starrr– if you need a reality check on how famous he is, Patrick's Instagram is a walking who's who of Hollywood celebs. "Any Wild Wild Thoughts on what I'm filming with my model @andelelara?? Thanks, @fentybeauty," Patrick wrote. Fenty is Rihanna's super-lucrative beauty and fashion line. Given the reactions to Andele though, the lookalike is set to laugh all the way to the bank.
"I've never had a career of not being a Rihanna lookalike," Adele wrote on her "About Me" page. "Yes, there is a little resemblance to Rihanna." A little? Please. All this girl needs is a few swipes at Chris Brown, and she'd be the real deal.
18

EMILIA CLARKE: GAME OF CLONES?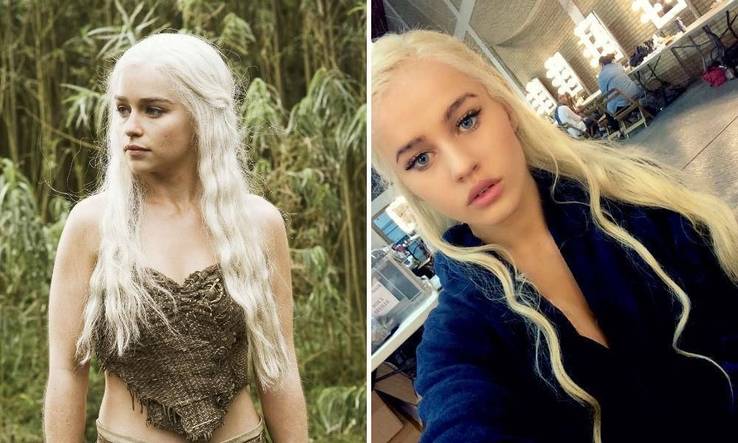 The Daenerys Double has landed– sorry to burst your bubble. Emilia Clarke has built her career trampling the fighting pits of Meereen on Game of Thrones, but the blonde Khaleesi has a double, and this one is a professional. The fantasy show's epic plot lines and dramatic season finales have made it one of the most-loved series currently airing, but the on-set reality is a different story. It's time to meet Rosie Mac– the Khaleesi you never knew existed. Rosie was discovered by total accident, after uploading a selfie of herself to Facebook.
"By coincidence, I had uploaded a selfie to Facebook with a similar hairstyle to Khaleesi, and an agent picked it up." Rosie Mac is the Emilia Clark doppelgänger you never knew existed (but see a lot of on Game of Thrones).
To be fair, that show is crawling with doubles. Daario Naharis (Michiel Huisman) has his body double, and no– the season five finale wasn't all Emilia. Harrowing as it was to be forced by the High Sparrow through the streets of the King's Landing, even Lena Headey had a double. Rosie Mac's Instagram following sits at a healthy 170,000 followers, although, Rosie is nowhere near Emilia's 17 million.
17

TAYLOR SWIFT: BAD BLOOD?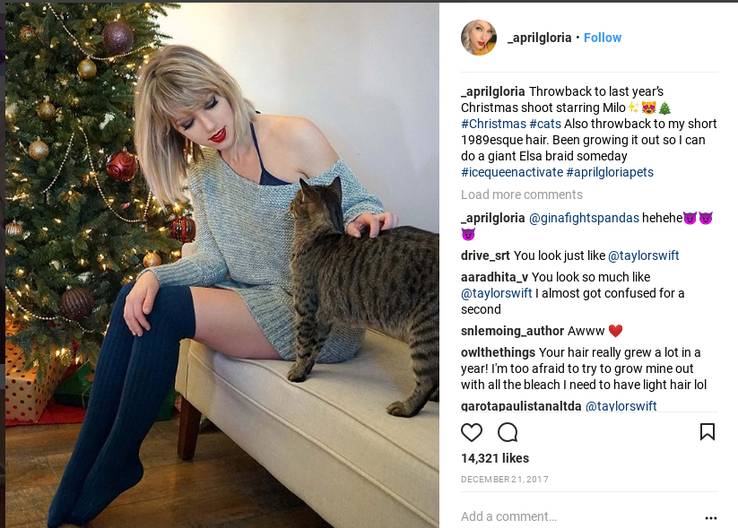 Taylor Swift is someone who knows the power of social media on a whole other level. Dramatically deleting your Instagram for the build-up to the release of your "Reputation" album is going to get people talking– but so is having a doppeglänger. Taylor is known for her classic American looks, long limbs, and choppy blonde hair. Oh, and the cats. One bedroom mirror selfie away though, is April Gloria, Tay-Tay's cosplay copycat. Mimicking everything from Taylor's smokey-eyed makeup to her statement pout, this girl is giving the real Ms. Swift a run for her money.
"Merry SWIFTMAS," April Gloria captioned one of her Instagram pics. Cozy knit sweaters, winged eyeliners, and Taylor's cat obsession all make April's Instagram a little too real. She even uses Taylor's lyrics for captions like "Red lips and rosy cheeks."
Taylor has a fair few lookalikes. Over in the UK, there's 20-year-old Laura Cadman. According to The Daily Mail, this lookalike actually gets MOBBED in the street by fans. @aprilgloria is actually worth checking out for the insane similarities. This girl is tall and slim like Taylor and manages to pull of Taylor's entire wardrobe– all she's missing is the squad. Presumably, Lorde and Gigi Hadid are too busy hanging with the real Taylor. But watch out for Gigi further down on this list…
16

KATE MIDDLETON: ROYAL REALITY?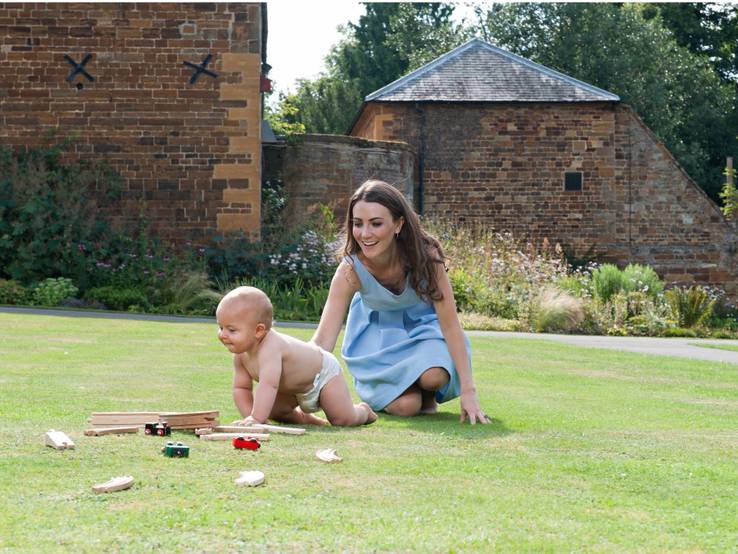 Yep, even the royals have their lookalikes. This one is the British Heidi Agan, who didn't realize how much she looked like Kate Middleton until customers at her waitressing job started making comments. Back in 2011, Kate Middleton was marrying Prince William in a $36 million fairytale wedding, according to People. Kate's face became a symbol of all things British. That said, Brits are already losing their minds with "Meghan Mania," as the second royal wedding of the decade will see Meghan Markle marry Prince Harry.
Heidi (who is a mom) was earning a measly $10 an hour dishing up Italian food at a British chain restaurant before she realized there was a much easier way to make ends meet. As customer after customer did a double take and wondered if they were getting their shrimp alfredo served by Her Royal Highness, The Duchess of Cambridge, Heidi decided to take matters into her own hands. She approached a talent agency and was immediately signed up. This lookalike is already experiencing the upsides.
"I went to Prague and had a police escort and my hotel room was the penthouse at every hotel," Heidi told Business Insider. "For me, it was more a lifestyle change than it was a financial change." Heidi is the same age as Kate and now tours the UK as Kate's doppelgänger. Not bad going for a waitress…
15

ANGELINA JOLIE: MRS. & MRS. SMITH?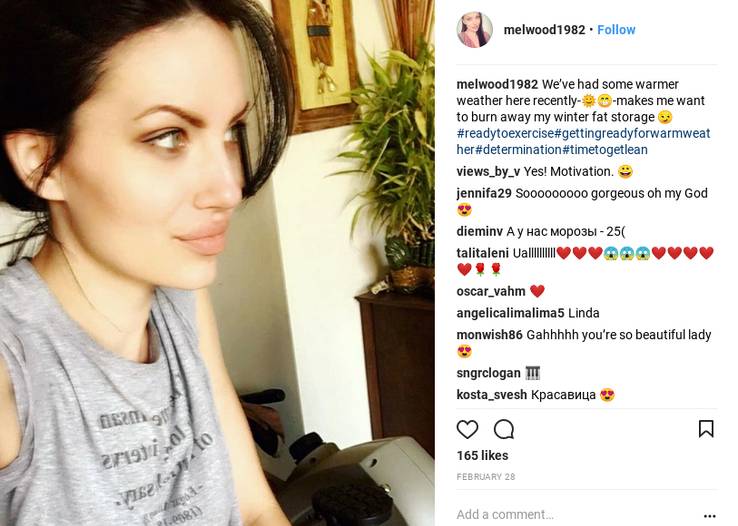 Imitating Vanity Fair's "Most Beautiful Woman In The World" is one tall order. Angelina Jolie may be in her 40's now, but the actress is still topping lists for her flawless features, captivating gaze, and her one of a kind beauty, which gets kind of tricky when you have a lookalike as similar as this woman. Melissa Baizen doesn't live in a $20 million mansion, but she's got the million dollar smile, alright. This Wisconsin-based mom started getting comments years ago, but she's a huge Angelina Jolie fan. In an interview with The Sun, Melissa revealed that her uncanny resemblance to the actress has actually given her an insight into what superstardom is.
"I get stared at quite a lot. It's quite surreal. Angelina has always been an idol of mine." The iconic cheekbones and Angelina-like pout even encouraged this lookalike to dress up as Maleficent.
Melissa admitted that her personality is "completely different" than Angelina's, but that she does admire the actress hugely for her humanitarian work. Amazingly, Melissa doesn't think she's all that good-looking. "I wish I had her smile," she told The Sun. "I hate my teeth." At 35 years old, Melissa is younger than the Lara Croft: Tomb Raider star, but she still gets called "Angelina" by her work colleagues. Check out @melwood1982 for more pics.
14

KOURTNEY KARDASHIAN: EVEN HAS THREE KIDS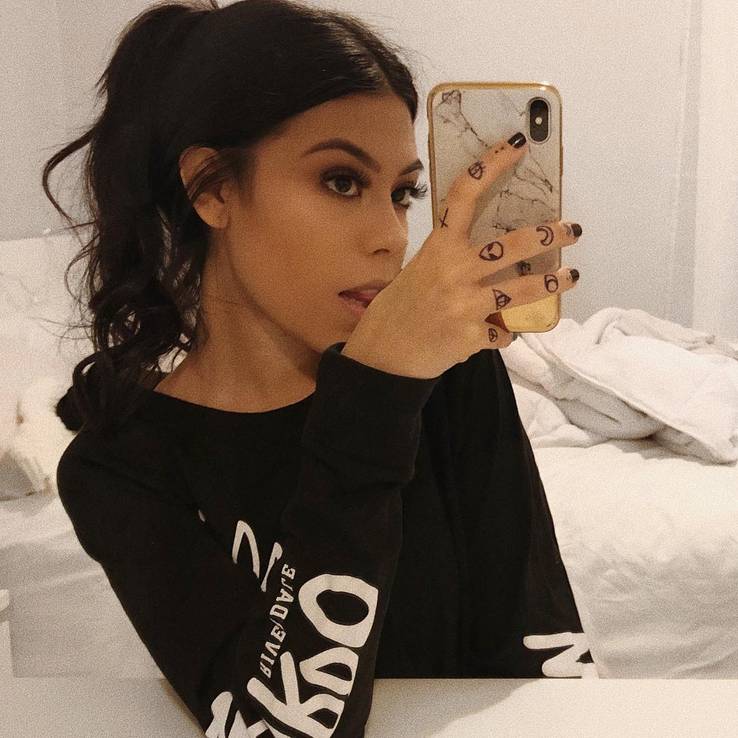 This one is so uncanny, we literally don't know where to start. Instead of layering on the war paint to hide the disparage, this Kourtney Kardashian lookalike is so similar, she barely needs makeup. The 22-year-old doesn't stop there. Much like Kourtney, Daisy is a mom of three, although, snowy Michigan is her home. There might be 2,400 miles of freeway separating these two, but if you stuck them in a room together, you wouldn't know the difference. This girl has "California potential" written all over her face, and she's getting noticed.
Speaking to the French media outlet, Public, Daisy said that she feels "flattered" at the attention she receives. Seriously though, just look at her. The doe-eyed expression, chocolate-brown eyes, and wavy curls are 100% Kourtney.
Daisy Gonzalez' Mexican roots also fit in nicely with Kourtney's favorite vacation spot. Of course, this girl's life is probably easier than the real-life Kourtney. Daisy didn't give any details about her baby daddy, but not many women have to put up with someone as unreliable as Scott Disick. The entrepreneur reality star makes frequent appearances on Keeping Up With The Kardashians– where we can't help but notice that Kourt is blatantly still in love with him. Still, we're completely crushing on this girl.
Featured Today
20 Things Fans Of The Royal Family Ignore About Prince Harry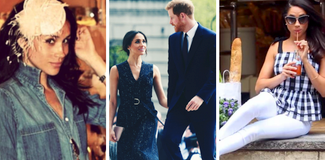 20 Royal Perks Meghan Markle Will Enjoy After Getting Hitched

15 Things People Should Know About Kylie Jenner's Bodyguard Tim Chung

13

J-LO: JENNY FROM THE BLOCK?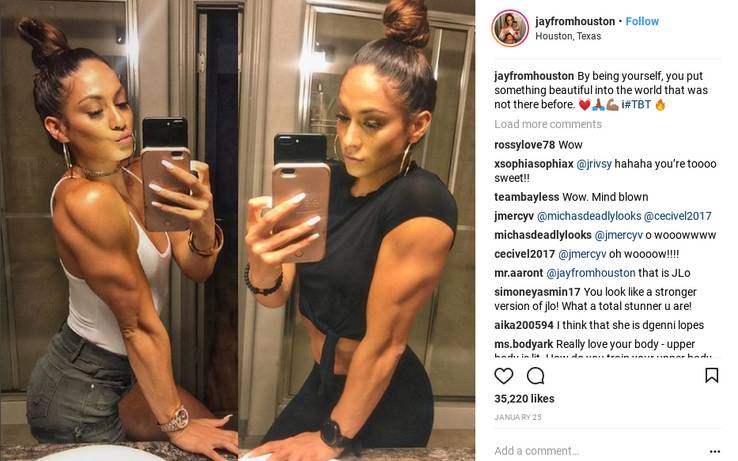 Taking social media by storm, this isn't the real Jennifer Lopez. It's the Texan bodybuilder that J-Lo needs to watch out for. While the singer posts #BloodSweatTears workout shots with Dwayne Johnson, this 29-year-old is getting a one-up. @jayfromhouston is the American Idol judge's walking twin, and this girl comes with some serious muscle. Janice Garay is a fitness guru from Houston, Texas. If she isn't clanging around her own body weight in dumbbells, she's posting side-by-side Instagram posts that even her own fans can't figure out.
With over 150,000 Instagram followers, Janice Garay is Jenny From The Block's "New Kid On The Block." Her uncanny J-Lo resemblance is taking social media by storm, and she's even a fitness spokesperson.
Confessing to People that she'd "love to meet Jennifer Lopez one day," Janice has mixed views on looking that similar to the real-life J-Lo. "So what, you guys are telling me that everybody has a twin and @jlo happens to be mine?" she posted in 2017. "I'll take it." These two are rubbing shoulders in everything from their love of balanced nutrition to their grueling workouts. Janice has even competed in dance contests, although she admitted that it "took her a while to notice the resemblance." What, is she blind?
12

MARGOT ROBBIE: HARLEY TWIN?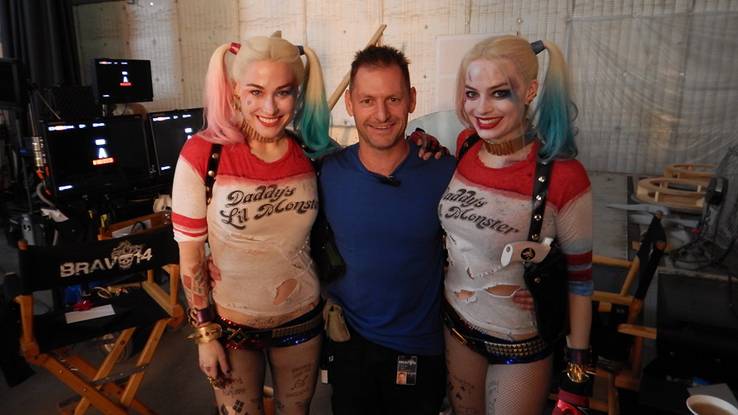 Margot Robbie is a busy lady. Climbing the Hollywood ranks from her Wolf Of Wall Street origins to the current A-lister she is has been a hard grind for the actress. Being featured in Forbes' "30 under 30" list doesn't happen overnight, although, starring in a movie like Suicide Squad will help. Fans are always a teeny tiny bit disappointed to learn that a stunt double was hovering around on-set, but they respected Margot for having the nerve to pose with her.
While Margot did the majority of her own stunt work for Suicide Squad, the production team did hire a double for the more challenging parts. Here's Margot with Ingrid Kleinig, a professional who is no stranger to Hollywood sets. Ingrid's combat fighting and triple flips have landed her double roles in Justice League, Ant-Man, and The Wasp, plus, she was also Margot's double in The Legend of Tarzan.
Ingrid started out on the popular TV series, Gladiators, before becoming a regular on Rescue Special Ops and The Hobbit movie franchise. Speaking about her Suicide Squad double work to The White Space, Ingrid said: "Margot is a classically trained dancer, so has a level of physicality you only really see in people that have serious formative training. She's stubborn and fiercely competitive." Still, she's got a "Harley Quinn Twin."
11

ARIANA GRANDE: HAS A VENTI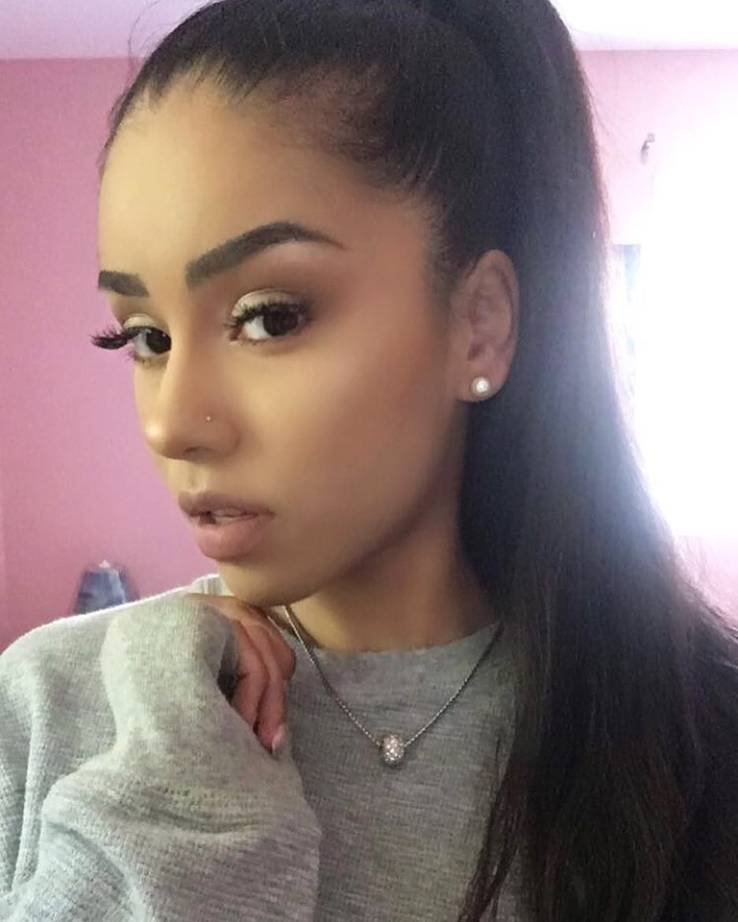 If you can't quite place that high ponytail and angelic face, it's because you're looking at Ariana Grande's lookalike. Attracting hundreds of thousands of Instagram followers – not to mention major media outlets — it's time to meet Jacky Vasquez. This girl doesn't need dog-ears to prove that she's Ariana's most-successful doppelgänger, and this 21-year-old is inching closer and closer to the real "Dangerous Woman." People started making comments back in 2010 with Jacky, who is from Virginia. Accepting that she was probably put on this earth to be Ariana's double, Jacky has gotten pretty busy making sure every inch of her matches up to the pint-sized pop star.
"I remember I got mistaken in Washington D.C. because Ariana was at the Verizon Center that day and I dressed up like her, since she was in town." Virginia-born Jacky Vasquez is gathering up a huge following, and even Ariana herself follows Jacky.
Speaking to Teen Vogue, the lookalike dished out her top tips for nailing the Ariana look. "To emulate her style, you need to work that high voluminous ponytail," Jacky said. Cat-eye winged eyeliner, super-long lashes, and an innocent facial expression are what Jacky feels "make Ariana, Ariana." Jacky has a long way to go before she'll reach Ariana's 119.5 million followers, but something about this lookalike feels ambitious.
10

EMMA WATSON: NEEDS RE-SORTING?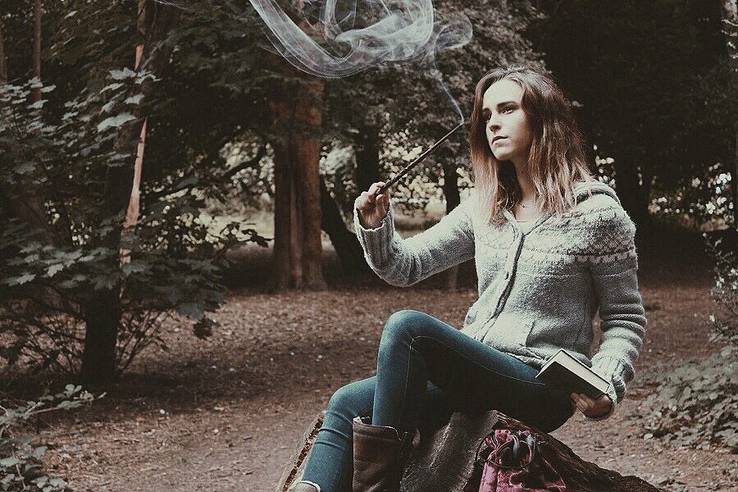 Just as Emma Watson manages to shake off nearly a decade of Harry Potter roles, her doppelgänger surfaces. This girl doesn't just look like Emma Watson, she also sounds exactly like her. Time to meet Meghan Flockhart, the British lookalike who is one sorting hat away from being Hermione Granger. Amazingly, Meghan had no idea that she resembled the Harry Potter actress until one random Halloween– when she figured she'd dress up as Hermione. Brandishing her wand and in full Gryffindor robes, Megan walked in and the whole room fell silent.
Meghan told The Daily Mail that the reaction has felt "amazing," saying: "In the past year, the comments have become almost daily, in person and online." Meghan even feels that she has similar character traits to Emma, although, she spends her days blogging, dressing up, and aiming to "go to as many Comicons as possible." Meghan's Instagram isn't 100% Harry Potter-themed, although the double has admitted that she's a "total Potterhead."
Meghan clearly has an extensive dress-up wardrobe, and you can see her in anything from Beauty And The Beast to iconic throwbacks that could easily stick her in Hogwarts School of Witchcraft and Wizardry. Particularly creepy, are the pics where Meghan poses holding Harry Potter books. We're only halfway done, and the best is still to come…
9

KATY PERRY: GOT A DARK HORSE?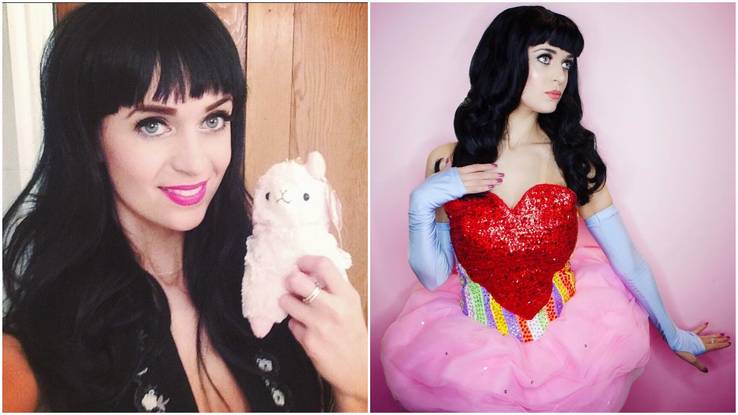 Nope, not a side-by-side with the real Katy Perry. These are both her lookalike. Talk about a "Teenage Dream." Over in London, fans started getting very confused when their favorite American singer seemed to have made a trans-Atlantic move. How Katy Perry could be in both California and London was getting a bit overwhelming– exactly why Francesca Brown was recruited by a talent agency back in 2011. The London-based lookalike was working as an actress in the UK, but she wasn't nailing many of her auditions.
Casting directors couldn't get over how similar Francesca looked to Katy Perry. Amazingly, this girl had never even heard of Katy Perry when the comments began. "A group of casting directors started singing 'Roar' to me," Francesca told The Express. "I knew the lookalike work might harm the acting, but I needed to pay the bills." The British sensation has since fully taken on being Katy Perry 2.0, and her Instagram is a literal mind-warp of Katy's eye-popping costumes, colorful wigs, and signature red lipstick.
This girl has even been mistaken by Katy Perry's own security team as the singer. During Katy's 2008 world tour, someone from Katy's own crew came over and said: "Follow us." Francesca's Instagram following currently sits just below 20,000. If you fancy seeing what all the fuss is about (really, there's fuss for a reason), check her out @francesca_brown.
8

BEYONCE: PUT A RING ON IT?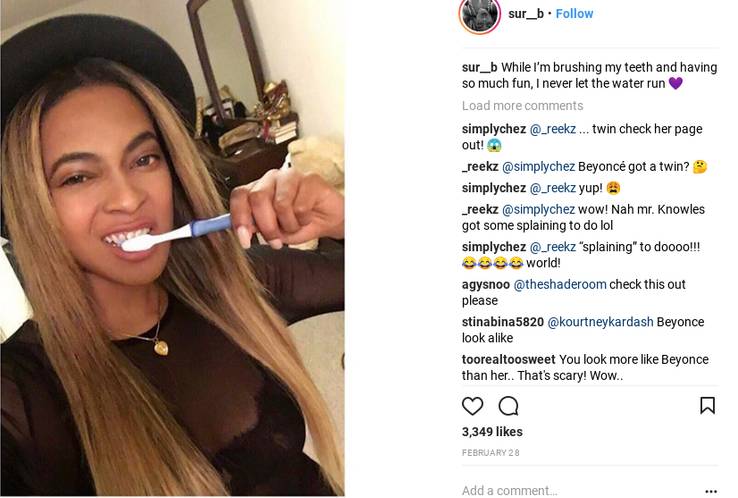 This Detroit resident looks so much like Beyonce, she can't leave the house without fans chasing her. Filling Beyonce's shoes isn't for weaklings. The music mogul raked in more cash than her husband, Jay-Z last year– $104 million, according to Forbes. It's time to shift the limelight, though. Brittany Williams may have started out with an Instagram account, but now, she's getting interviewed by Time. Groups of women chase this lookalike in the street singing "Single Ladies," although, Bey's doppelgänger is proud to have a lot in common with the real star.
"I get approached all the time; whether it be on planes at the airport or in the street. I've been chased, had pictures taken of me without my consent, and pranks done. A group of women once chased me and my friend to my car, singing 'Single Ladies.'"
Well, you get what you ask for there, Brittany. Especially when you caption your images: "So many after her, Ain't no upgrade after her… -B." This lookalike hugely identifies with her idol, and she told Time that she's just as proud of her Southern roots as Beyonce is. "We're also both strong, dominant women, fearless and God-fearing." Right, except when your similarities put the fear of living God into people reading this…
7

GIGI HADID: VICTORIA'S ACTUAL SECRET?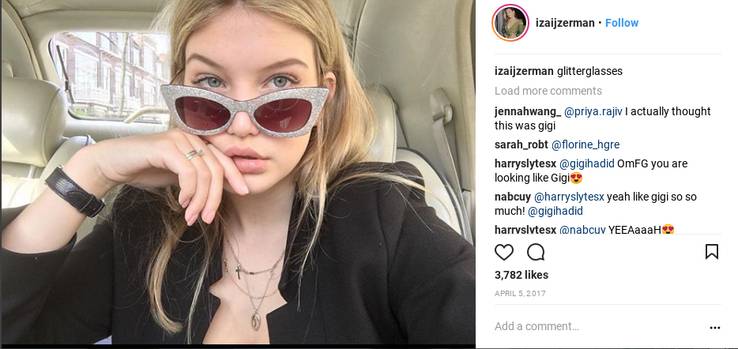 Competing with someone whose face is already plastered all over the place is no small challenge. Gigi Hadid is everywhere. If she isn't flying the flag for Victoria's Secret, she's being the poster child for mega brands like Fendi and Versace. This model's celeb status also firmly sits as one of Hollywood's "it girls," thanks to high-profile BFFs like Kendall Jenner (and ex-boyfriends like Zayn Malik). Gigi is worshipped for her model physique, steel blue eyes, and effortless street style. Here's the thing, though. When you're a dead-ringer for the original, you don't need to make an effort.
Over in the small Dutch town of Papendrecht, Iza Ijzerman is proving that two can play at this game. The model and blogger is based in The Netherlands, but everything from her striking blue eyes to pouty poses is saying: "Gigi." This pic of Gigi's trademark piercing stare made particular waves on Iza's Instagram– well, enough to get Iza properly interviewed. Did you know that Gigi's own mom is from that exact same town?
Sitting there with her tinted lenses and wavy blonde hair, Iza told Refinery29: "The first time someone mentioned it was on Instagram. When I signed with MiLK, they posted a picture with the caption 'The new curvy Gigi Hadid,' so that's the moment I realized it might be true!" Iza actually thinks she looks more like Gigi's sister, Bella. We're just still staring…
6

KYLIE JENNER: LIP KIT KLONE?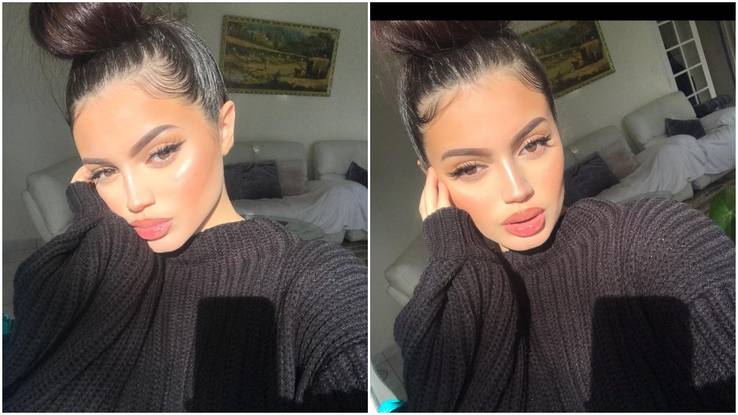 Kylie Jenner has bigger fish to fry than figuring out who her lookalike is. As rumors pour out that Stormi Webster's baby daddy may indeed be her bodyguard– and not Travis Scott— the reality star has a lot on her plate. Tim Chung is denying the rumors thrown out by The Daily Mail, but Kylie herself is keeping quiet. Minus the baby (and the millions), but still pulling off the Jenner genes, is 17-year-old Amira Boualleg. This teen has become an internet frenzy, thanks to her Kylie-esque selfies and full "Kylie look."
Amira doesn't just plump up her lips and contour her cheekbones. This girl has Snapchat dog ears, Kylie's famous sweaters, plus, she's launching her own beauty line. "The dream is to create my own brand like Huda beauty or Fenty," Amira told The Sun. To be fair, none of these girls are likely to ever turn the staggering $420 million in sales that Forbes reported The Kylie Cosmetics line as making in 2017. Yes. Nearly HALF A BILLION DOLLARS.
The Algerian-born lookalike lives in Paris, where she's actually living a surprisingly non-Kardashian lifestyle. Amira is studying economics, although, she has warmed to the comments she gets. Amira said that it started out with people not quite being able to place her. With the rise of "all things Kylie" though, this girl is now stopped every time she goes grocery shopping.
5

CHLOE GRACE MORETZ: A RANDOM DISCOVERY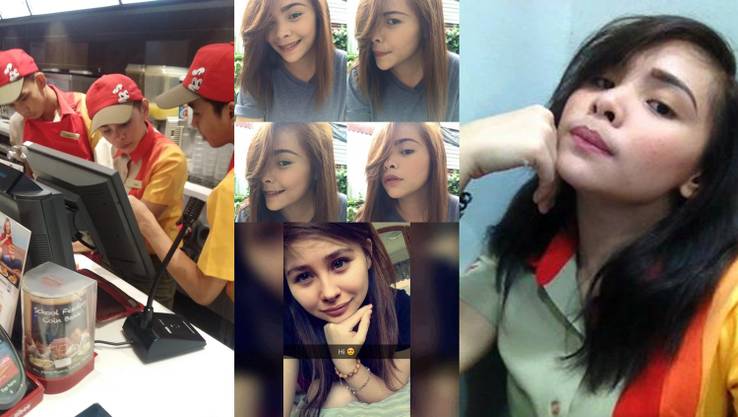 Talk about a parallel universe. In 2016, Chloe Grace Moretz discovered her own doppelgänger – she literally walked into her lookalike's life. It's time to fly all the way to the Philippines. After pics of this 20-year-old fast food worker went viral, the real Chloe Grace Moretz was alerted to the fact that someone very similar to her was flipping burgers in the country's capital, Manila. The Kick-Ass and 30 Rock actress' reaction was priceless.
"WHOAAA we do look very alike," Chloe Grace Moretz tweeted after her doppelgänger's picture went viral. Edcell Ched was a fast food worker flipping burgers in the Philippines when a pic of her went viral.
With over 40,000 reactions and 6,000 shares in a matter of days, a very overwhelmed Edcell couldn't believe that she'd actually been acknowledged by the famous actress. Edcell was, according to Teen Vogue, "obviously thrilled that Chloe had noticed her," saying that the actress' response was #legit. This one is kind of ironic since so many celebs started out flipping burgers themselves. Eva Longoria pulled five long years at Wendy's. Nicki Minaj was fired from Red Lobster. Even MCU star, Chris Pratt, started out serving shrimp and living out of an RV. Edcell has decided to continue with her studies in the Philippines, but she won't forget this moment.
4

MILEY CYRUS: CAN'T BE TAMED?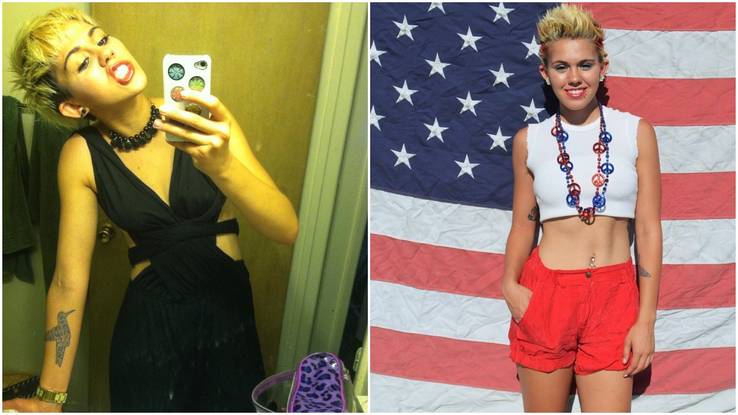 Just when Miley Cyrus thought she'd finally shed her former Hannah Montana image, someone goes and creates a carbon copy of Hollywood's punk "grownup." In what's becoming a bizarre pattern, this lookalike is yet another waitress who found fame after being mistaken by fans for the real Miley. 23-year-old, Mardee Schackleford, was going about her daily life in California when she started getting stopped in traffic. Mardee told The Daily Mail: "Several times I have been sitting in traffic and people have slid open the back door of their car and kids will start yelling: MILEY!!!"
Mardee is a smart girl. In no time, she was using her doppelgänger looks to sneak herself into concerts, although, the next thing is something she didn't see coming. When Mardee ran into Miley's dad, Billy Ray Cyrus at a gig, he was so taken aback by the striking resemblance, he actually insisted that they take a selfie together.
Mardee started getting the comments back when she was 17. "At almost every table I waited on, someone would say I looked like her. I couldn't go anywhere without hearing it." So Mardee made it her career. Her Instagram is basically skinning the real Miley alive for every inspirational outfit, punky hairdo, and tongue-in-cheek attitude. To be honest, it's a pretty good one. @mardeeraquel is where you want to look.
3

SELENA GOMEZ: BAD LIAR?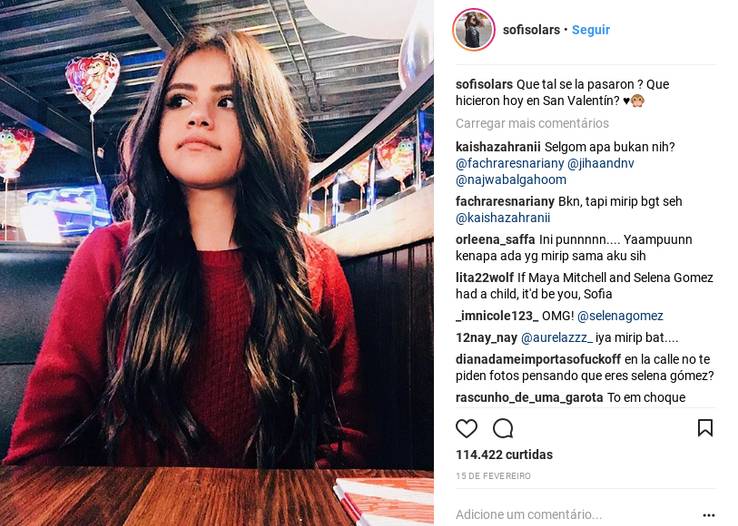 Risky. If you're going to name your album, Bad Liar, you'd better prepare for some action. Selena Gomez may be sharing the "teen queen" throne with the likes of Ariana Grande– not to mention having epic taco birthday parties thrown for her, but there's another Selena floating around the digital space. Sofia Solares is building up a healthy Instagram following on account of her uncanny Selena looks, Gomez wardrobe, and fresh young vibe.
"I love Selena Gomez and I declare myself a fan of her," Sofia said about her visual twin, Selena Gomez. The 23-year-old Mexican said she would "cry with happiness" if ever she got to meet the real Selena.
The internet pretty much freaked out when this lookalike surfaced. Sofia's Instagram is nothing pretentious– just a string of cute selfies, chilled outdoor dining, and lots of takeout iced coffees. But E! News isn't profiling this girl for her chai lattes. Sofia is drawing attention for being candid in every single shot of herself. It won't be long before @sofisolars has one million Instagram followers. Much like the real Selena though, this doppelgänger says "Come And Get It," without the #attitude. Somehow, we feel Selena would totally invite Sofia to those legendary taco parties.
2

KHLOE KARDASHIAN: WISHING SHE WAS HER DOUBLE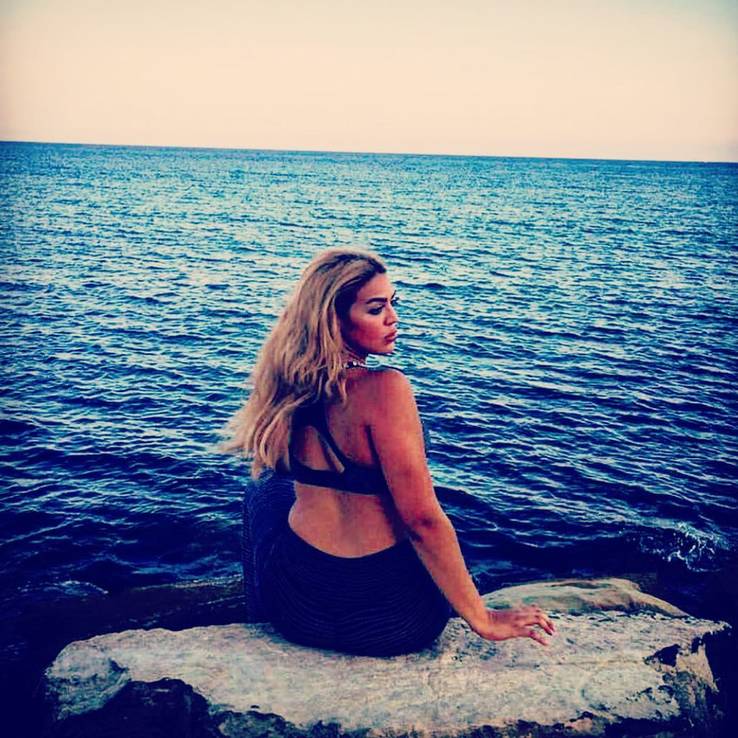 No one in Hollywood is toughing it out as much as Khloe Kardashian right now. The shocking news that her baby daddy, Tristan Thompson, had been caught with another woman just days before Khloe gave birth to their daughter, Truth, was too much for us to handle. First, it was only rumored. As video after video emerged of Tristan with an unknown woman at an NYC bar (and TMZ reported that they'd spent the night together in a hotel room), big sis, Kim went on The Ellen Show and showed some much-needed sister support. Even Kim had no words, though.
Looking a million times more peaceful (and probably feeling a million times happier) is Khloe's carbon copy– PrincessRozay. Free-flowing blonde curls and Khloe's trademark workout gear give this lookalike the extra support she needs, although, this ocean lover doesn't need to play around with her face.
PrincessRozay is one of the lesser-known Kardashian lookalikes. Really emulating with Khloe's love of fitness and wellbeing though, she's actually more convincing than the makeup clones who are just trying too hard. In ways that the real Khloe is probably desperate for, this lookalike isn't undergoing any media attention. The lens is firmly on Khloe, baby Truth, and how this single mom may just be taking Tristan back into her life…
1

PARIS HILTON: PULLS OFF A DECENT KIM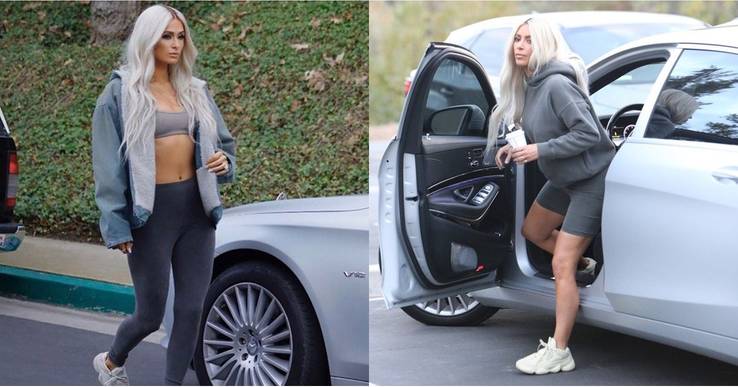 Hey! We can be fun too! Saving this one until last for the sheer LOLs, here is Paris Hilton proving that she does have a sense of humor. Ditching her usual wardrobe of ultra-clingy mini dresses and everything pink, Paris showed her fun side in 2017, as she stepped out in full Kim K gear.
Of course, when Paris Hilton is doing doubles, budgets aren't a problem. Much like the real Kim K, she's nailed the look right down to the $400,000 Rolls Royce Ghost – just one of Kim's fleet of vehicles.
Kim is a huge fan and spokesperson for her husband, Kanye West's, Yeezy line. Paris knew she didn't stand a chance as Kim unless she was fully kitted out in Yeezy, and she matched Kim's blonde hair with the trademark Kardashian baseball cap to complete the look. There was no mention of the well-known history between these two that's proven a bit of an embarrassment for Paris, though. Back in the day, Kim was Paris' stylist. Oh, how the tables have turned. While Paris is an heiress set to inherit a fortune, she's fallen way behind on the popularity front. Kim is now the internet's front-runner. Not surprising then, that Paris chose Kim for her doppelgänger inspiration. Remember when Kylie Jenner dressed up as Christina Aguilera for Halloween? Yeah, these girls are something else.
Admit it– some of these girls made you do triple takes. If your jaw dropped, get ready for a thousand more. It's time to hit share on Facebook and give your friends a reality jolt. Whether they're MCU fans, total Kardashian nuts, or Ariana worshippers, there's a lookalike in this list for your squad. Leave us a comment, too, particularly, if you think one is more convincing than the other.
Source: Read Full Article