Here's something that guys will keep repeating (and girls will never understand). A metric ton of makeup isn't what men are interested in. Ask any guy. It doesn't matter whether their list is Scarlett Johansson, Angelina Jolie, Jennifer Lawrence, or the Victoria's Secret models. The girl is what they're interested in– not the layers of makeup she's wearing. In fact, the more fake eyelashes, mascara goop, and spray tan she's parading around in, the less appealing she is.
When Gigi Hadid reached 19 million Instagram followers, she celebrated by posting a #nomakeup shot. Her sister, Bella isn't far behind, and she captions her posts: "Bags are real today" – complete with some very visible under eye bags. Have you seen the model that Leonardo DiCaprio is dating? Camila Morrone posts double chin pics of herself surrounded by pizza – not a lipstick in sight. The only people who benefit from the makeup panic are the cosmetics companies.
If you're a guy, this might sound familiar. "Hey, let's just catch a movie and hit up Taco Bell on the way home." Consider yourself lucky if your girlfriend is ready in under 10 minutes. Consider yourself even luckier if she can pick an outfit without trying on her entire closet, twice. FYI, from a woman herself, here is how you go about that. You do not say "you look fine" without looking. Trust us– that will only drag the process out longer. Without the terrible tans and clay faces, here are 20 female celebrities who are natural beauties, and have always been.
20

KENDALL JENNER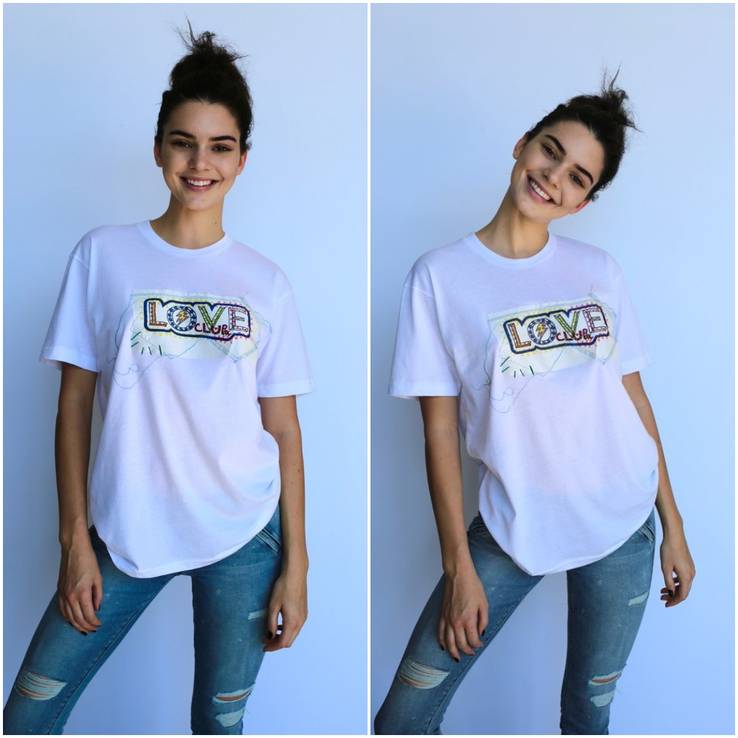 "Nothing too crazy… less is more." That's what Kendall Jenner had to say to a rather disappointed interview crew from W Magazine. In 2017, the magazine sent reps out to the supermodel – and they didn't get much. Instead of listing some impossibly complicated beauty routine with 50 different kinds of lotions and potions, Kendall just sat there with her air-dried beach waves and gazed into space. The Victoria's Secret model is the Kardashian-Jenner black sheep. While her sisters layer on the contouring (and make millions from their own ranges), Kendall is the hipster who hangs out in her Corvette and eats In-N-Out.
"Kendall is on the anti-model diet!" Khloe said. Kendall really struggled to give makeup tips in an interview. "Less is more," she said.
If you're a guy who loved Kendall from day one, nobody is arguing with you. If you're a girl who spends every hard-earned cent emptying the makeup counters at Sephora, you might want to read this. "Showering before bed, then sleeping with wet hair," is Kendall's tip to lived-in hair. Her only non-negotiable rule is "not going to bed fully clean." The girl who is the face of Calvin Klein, La Perla, Adidas, and Estee Lauder earned $18 million in 2017, according to Forbes. How? By just being herself.
19

KALEY CUOCO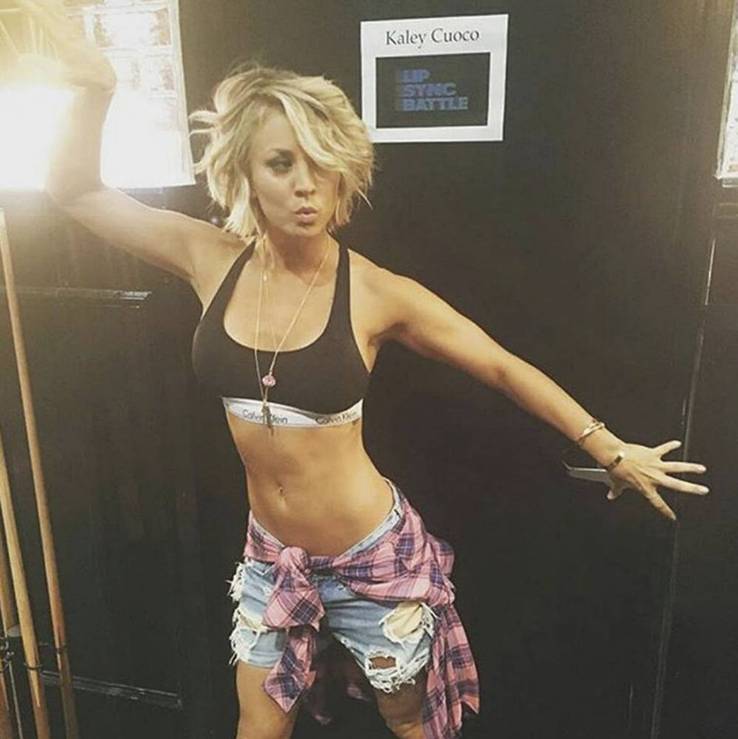 If Kaley Cuoco isn't proof that "less is more," we don't know what is. Remember those early Penny days from The Big Bang Theory? Fully hooked on World of Warcraft? Check. Picking Cheetos out her hair (then eating them)? Check. Messed-up apartment with stained sweats and trash everywhere? Check. Kaley is about as outdoorsy as you get. The formerly nationally ranked amateur tennis player is more into horseback riding than designer cosmetics, and her laid-back attitude is literally, "I don't care."
With 20,000 pics of a makeup-free Kaley hitting the streets of L.A. for her morning workouts, this is a Hollywood star who has probably never set foot in Sephora. She starts the day with "the same little bit of peanut butter on toast," and she considers being toned with muscle to be the definition of "beautiful."
"I have to have a cheat day," Kaley told Shape. "I know when I'm being good all week that come Sunday, I'm going to lie by the pool, have a drink, and eat some pizza." In a separate interview with the magazine, Kaley admitted that her evening plans were to hit up In-N-Out for their grilled cheeses, massive fries, and a shake. Kaley had guys worshipping her from day one on BBT. The more they see of the real Kaley, the more they keep falling for her.
18

RIHANNA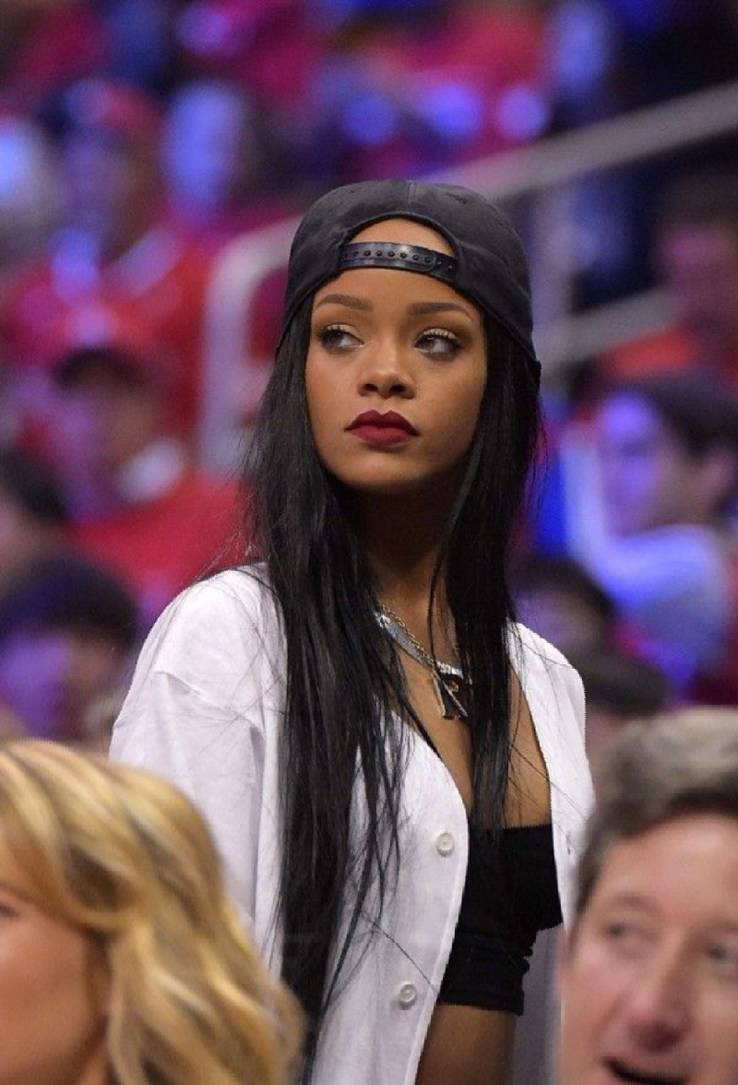 "Staying Real, No Matter What." Those are the words that Vogue chose for their 2018 Rihanna cover. With just a tiny bit of makeup here, Rihanna is only polishing what's underneath. Almond-shaped eyes, bouncy hair, and that playful smile make @badgirlriri just right for her moniker – but Rihanna is no amateur. She's conquered music. She's conquered fashion. With her Ocean's 8 role, Rihanna's Hollywood footprints are just beginning. Even her co-star, Sandra Bullock said, "It's a combination of being starstruck and being immediately put at ease. She has this warmth, and when she shines on you, it makes you feel pretty damn amazing."
When Rihanna signed with Def Jam Records, Jay-Z was so impressed, he demanded that Rihanna stay in the building until the contract was signed.
Rihanna is down-to-earth as they come. She knows that she's got the guys, but she doesn't alienate women. If anything, her #GirlPower kind of intimidates, well, everyone. In a good way. Calvin Harris told The Sun that his "We Found Love" collaboration with Rihanna was "the best thing that could have happened, career-wise." Fans aren't buying Rihanna's Fenty fashion and beauty line because Instagram told them to. They're buying it to connect with a celebrity who has a solid (and very beautiful) head on the most robust shoulders in Hollywood.
17

MILA KUNIS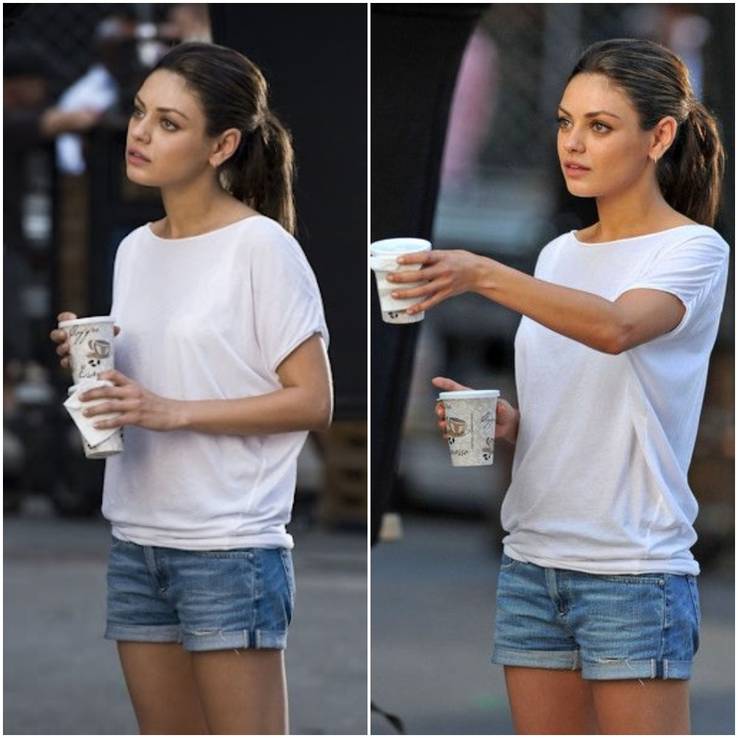 A crash course on beauty from Mila Kunis won't take long. The Friends With Benefits actress is a roll out of bed kind of girl, and what you see is what you get. The ultimate girl-next-door, Mila is one of Hollywood's lowest-maintenance actresses– the kind who shakes her head and says: "No, no, no," when people mention lipstick. Ashton Kutcher is one lucky guy. Smoky eyes, a dimpled smile, and that contagious giggle are what make Mila who she is, and she isn't going to change. Mila's idea of a perfect day is slouching around at home playing World of Warcraft, which she has personally admitted she is "addicted to."
Mila's family moved to the US with just $250 to their name. "Wear makeup, don't wear makeup," she shrugged. "Do what makes you feel good."
Mila may be worth millions now, but she knows what it's like to "have ketchup soup for dinner." Her family moved to the US from the Ukraine with just $250 to their name. In an interview with The Metro, Mila said, "When we came to America, we were really poor." Makeup isn't something Mila spends money on.
16

SELENA GOMEZ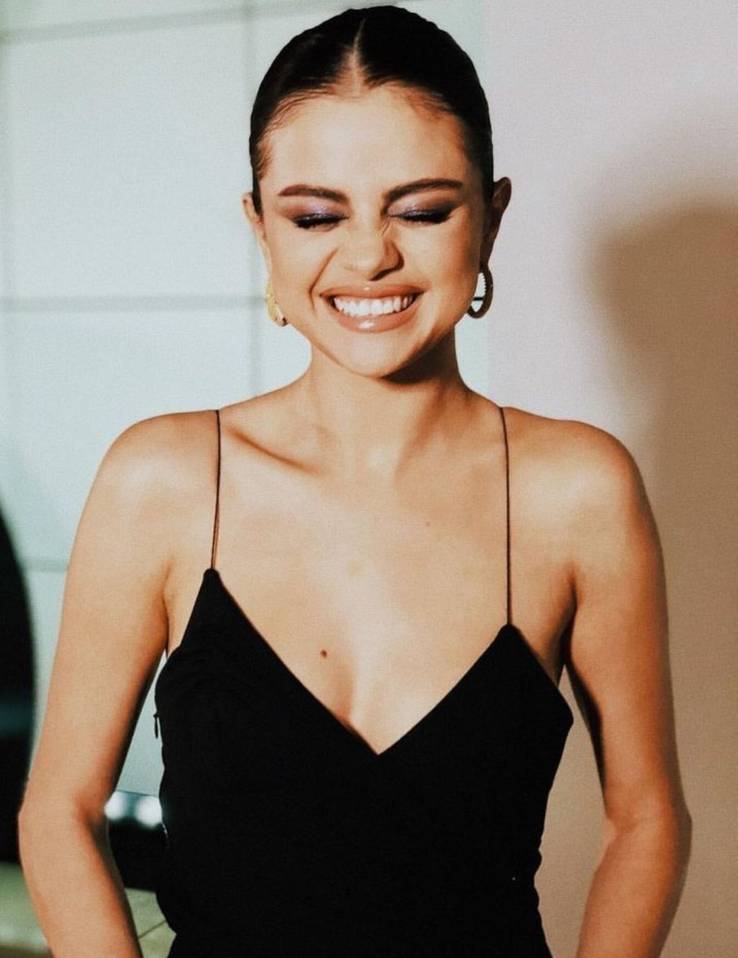 It's all a bit of a fresh start for Selena Gomez, who announced her split from Justin Bieber in March 2018. The girl with a voice is the most-followed person on Instagram, and she isn't doing it by taking her clothes off. There's something incredibly real and raw about Selena – even more so when you find out what this girl is fighting. In an incredibly brave interview with Elite Daily, Selena opened up about the anxiety and depression that have crippled her since her teen breakthrough.
"To be frank with you, I was going through a really hard time," Selena said. Speaking about her time in rehab, Selena calmly said: "I went away for 90 days. It was so confusing. I had no idea who I was going to be, what I am still going to become." Those 90 days came with a full abandonment of her social media – something that can easily ruin a star's career when they're that famous.
Selena also has the auto-immune disease, lupus. In 2017, Selena's health took a turn for the worse, and she underwent a full kidney transplant. Her Instagram recovery post thanking her best friend for being a kidney donor rocked the internet for all the right reasons. "It was what I needed to do for my overall health." Amazingly, lying in that surgery gown, Selena looked more beautiful than ever.
15

GIGI HADID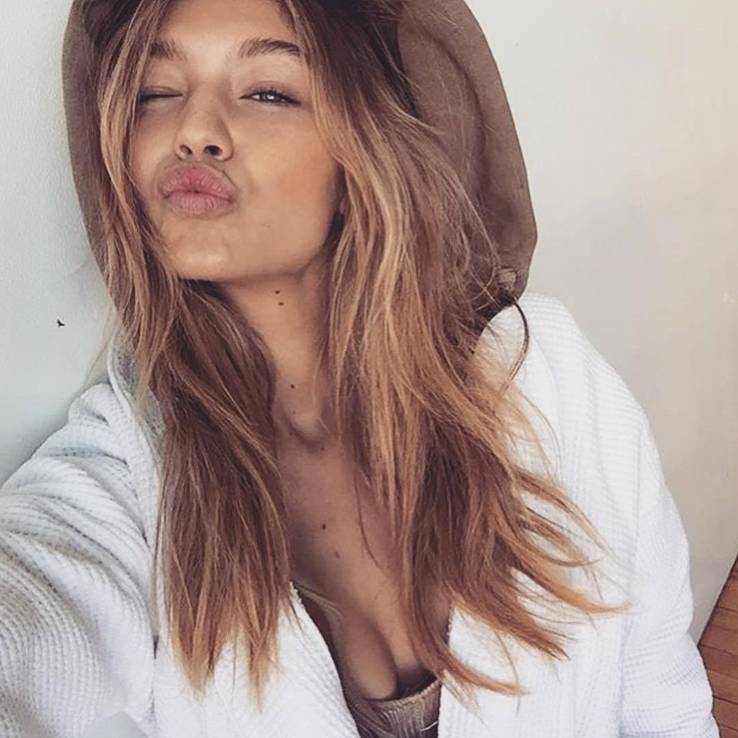 Where did Gigi Hadid head to with Kendall straight after the 2016 Victoria's Secret fashion show? A burger joint. Gigi might be a supermodel, but she didn't land her Vogue covers by wearing foundation. "Burgers keep me sane," she told Time. If you don't believe her, watch her chow down on a cheeseburger during her 2017 Jimmy Fallon appearance. For all the Versace and Tommy Hilfiger runways this model has walked, the most you'll ever see her wearing in real life is a low-key gym outfit with her hair in a ponytail. Gigi ranks sister power above fakery – oh, and burgers.
"Burgers keep me sane," Gigi said. When her favorite ice cream store closed, she decided to "Postmate pints of it to my apartment."
The line of guys for Gigi is about as long as this model's legs are. How did she celebrate her 19 million Instagram followers? By posting a #nomakeup pic, like this one. Gigi's favorite foods are scrambled eggs, bacon, and toast. Also, Grasshopper pie ice cream, sushi, and her own, home-cooked food. "I'm not allowed to do anything with my hair," Gigi told W Magazine. "My goal is to keep it healthy. Gigi recently ended her two-year relationship with Zayn Malik, but they are already back together.
14

GAL GADOT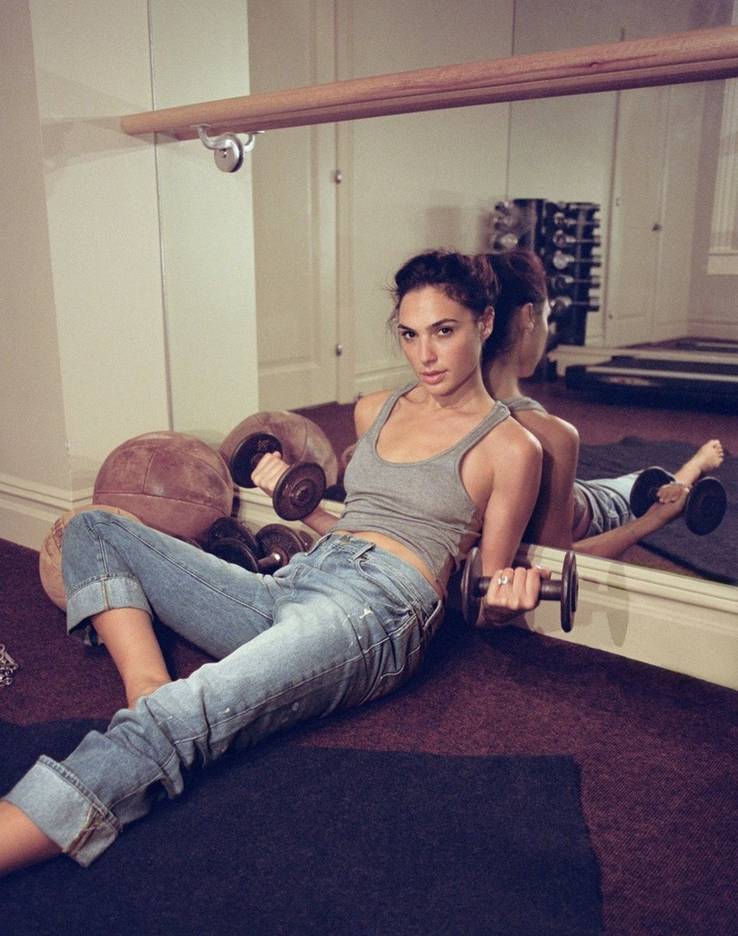 GQ was pretty much spot-on when they called the Wonder Woman actress "The Gal Next Door." They were also pretty shocked when Gal offered up home-made egg sandwiches as they interviewed her. It's kind of meant to be the other way around. Gal Gadot hasn't earned her "real life superhero" nickname from nothing. The Fast & Furious producers were interested in this Israeli model's "knowledge of weapons" – and with good reason. Gal served for two years in her home country's military as a combat instructor. Pulling her own Fast & Furious and Wonder Woman stunts? Please. Gal can do that in her sleep.
"Wonder Woman has brought me the egg sandwich wrapped in cellophane," GQ wrote. The magazine met her at the beach, where Gal wore old rubber flip flops, distressed denim cut-offs, and an old bathing suit. Gal wasn't just the perfect choice for the Amazonian beauty, Diana Prince on looks alone. Her 5ft 10-inch frame is a muscle machine, and the recent Instagram pic of her training for Wonder Woman 2 is living proof.
It's when Gal scrunches up that face and smiles that you just can't resist her. She is so effortlessly natural, it hurts. Don't be fooled, though. Full-on weapons training and mixed martial arts mean that Gal can beat you to a pulp and eat you for breakfast, which only makes her more appealing.
Featured Today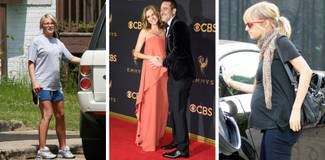 25 Pregnancy Pics That Broke The Internet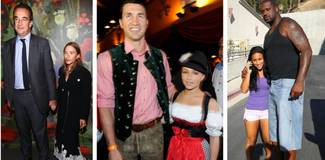 15 Surprising Celeb Couples With Dizzying Height Differences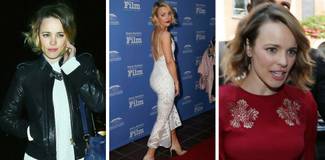 15 Reasons Why Hollywood And Rachel McAdams Don't Work Together Anymore

13

SCARLETT JOHANSSON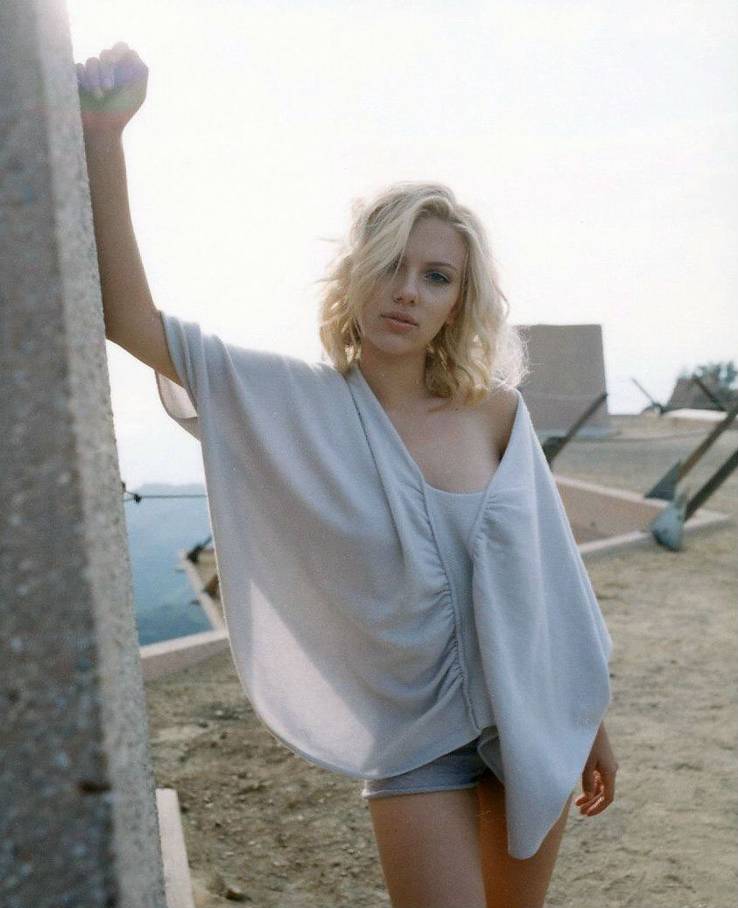 Admit it – Scarlett Johansson is completely fascinating. The more you try and put your finger on what makes ScarJo so unique, the more you just can't. There's a mysterious, exuding vibe from this actress that doesn't come with a label. Dripping in femininity and strong enough to pull off a pixie cut, Scarlett is the kind of actress who makes guys put the popcorn down (and women want to be her). The Avengers star looks amazing whether her hair is red, blonde, or any color under the sun. Her hand-to-hand combat with Tony Stark's Iron Man 2 trainer was 100% real, and so are her unconventional views on marriage.
Scarlett isn't into monogamy. "It's not natural," she said. Black Widow had us hooked long before Iron Man 2, although Tony Stark's trainer is probably still recovering.
Ironically, Scarlett isn't unique – she's a twin. She's also insanely irresistible, whether your eyes are open or shut. A syrupy voice is what you'll hear in the epic movie, Her (where she plays a robot). Ryan Reynold's ex-wife has her own views on marriage, though. "I think the idea of marriage is very romantic," she told Vanity Fair. "It can be a very beautiful thing." But being monogamous "isn't natural" for her.
12

EMILY RATAJKOWSKI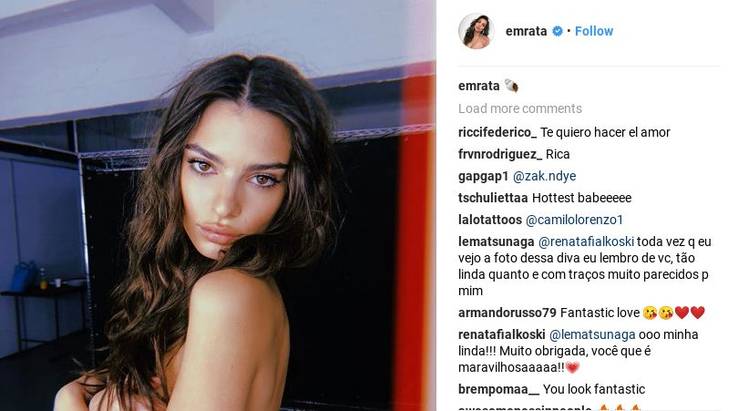 Emily Ratajkowski doesn't have 17.8 million Instagram followers because she's showcasing her 17.8 million makeup brushes. For a model and actress who shot to fame in a music video called "Blurred Lines," the looks here are alarmingly clear. Em is a feminine, taco-loving beauty you can't tear your eyes off. Her apartment is filled with chess sets made by her dad and super-weird paintings of lip collages. "Eclectic" is how Emily described her aesthetic when Vogue knocked on her door for their 73 questions. "Very messy," Emily admitted when prompted whether she is messy or neat. Breakfast is black coffee, granola, and yogurt.
Emily has a really hard time choosing between her favorite desserts: "Maybe chocolate or dark pumpkin cheesecake? I LOVE sweets."
To be fair, this girl isn't the best at answering in the favorite food category. She is supposed to answer with one word, here. Favorite food? She shrugs, "Sushi, Thai, Italian…" Actually, Emily then interrupts the interviewer to ask him: "What's your favorite kind of pizza?" (FYI, hers is "anything with lots of meat and cheese"). So, to sum EmRat up. A very beautiful girl with a very big appetite. There's more to EmRat, though. Feminism, fun, oh – and that flirtatious smile.
11

 JENNIFER LAWRENCE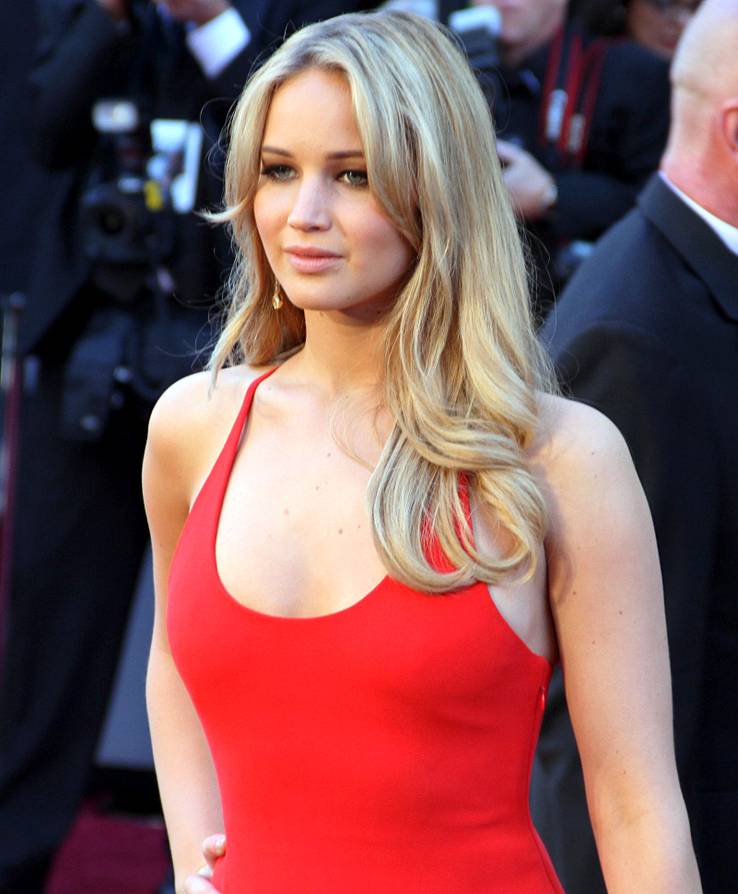 A bonafide beauty? Yes. Any old Hollywood star? No way. 27-year-olds in Hollywood generally come with a "waiting for my Oscar" status. Leonardo DiCaprio waited over 40 years for his. Jennifer Lawrence is a hard-hitting, stunt-pulling actress with a pulse. Standing on a pedestal isn't on this blonde's watch. Here's the thing about Jennifer. It doesn't matter what you watch her in. Whether it's The Hunger Games, X-Men, or American Hustle, you're getting the same beautiful face a million different ways. Never forced. Never fake. Always worth it.
"Why can't I say anything normal?" J-Law is a hard-hitting, stunt-pulling beauty who is 100% real.
For The Hunger Games, Jen was scaling rocks, jumping trees, and pulling those arrows herself. For X-Men: First Class, Jen was training her body six days a week and following an all-vegan diet. For Winter's Bone, Jen insisted on living with Ozarks and skinning squirrels to "get into character." As Vogue interviewed the highest paid actress of 2017, they didn't get much on the beauty tips front. Jen was more interested in getting rid of body shaming. A "new normal" body type is what she wants to see in Hollywood. "At least so I don't feel like the fattest one," she joked. Far from it. This girl trains like a warrior.
10

KEIRA KNIGHTLEY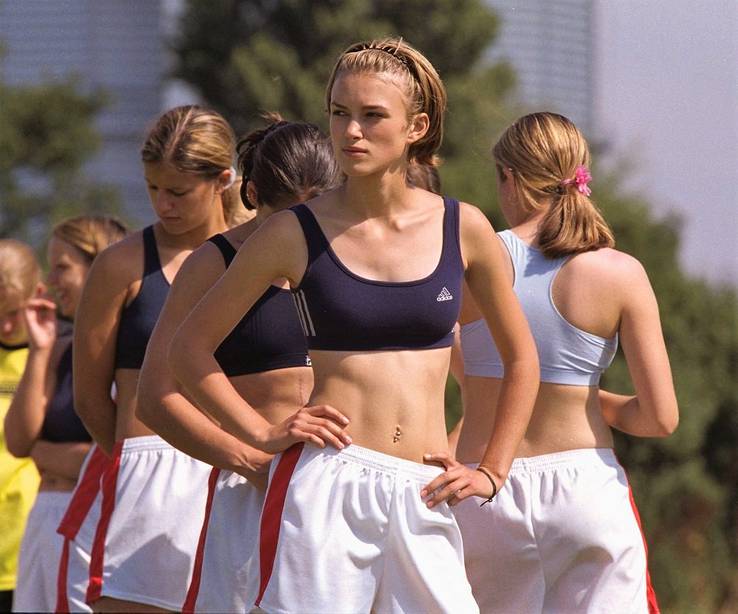 It wasn't always billion-dollar budgets and a co-star wearing more eyeliner than she was. Keira Knightley is best known for her roles alongside Captain Jack Sparrow in The Pirates of The Caribbean series, although this pic takes us way back. Bend It Like Beckham was one of Keira's earliest movies, back when she was just a small-time British actress. The 2002 movie saw Keira play an aspiring female soccer player bound by societal rules, but Keira never played by the rules.
Keira's name is a typo – it was meant to be "Kira." Keira is 100% classic beauty with a twist– probably why she's riding motorcycles around Paris for Chanel's fragrance ad.
"I'm a spelling error," Keira revealed to ET. "I was meant to be Kira, after a Russian ice skater. My dad fancied her and nicked her name for me. But it was my mum who went to register my birth, and she accidentally spelled 'ei' instead of 'i.'" Keira quickly climbed the Hollywood ranks in iconic movies like Love Actually and Pride & Prejudice, although you'll find her most at home in her elaborate Pirates of the Caribbean corsets. Chanel doesn't just hire anyone for their face, FYI. Keira was just too good to turn down.
9

GISELE BUNDCHEN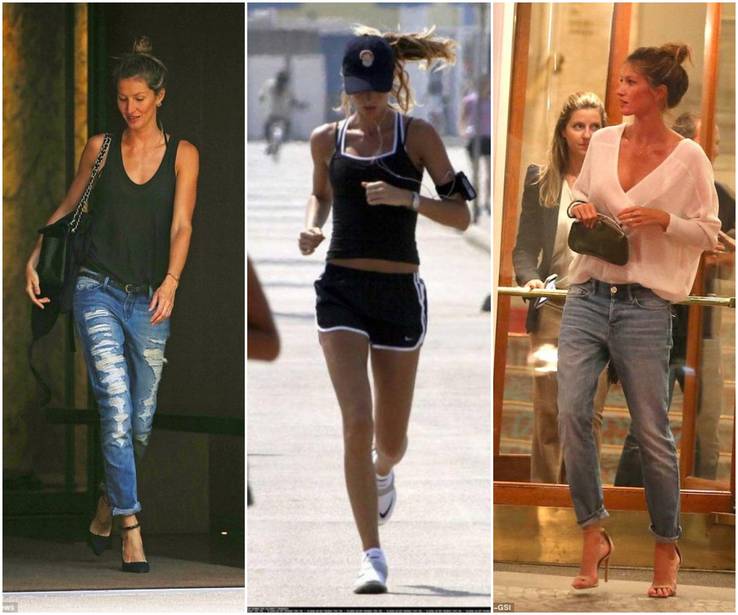 No wonder Tom Brady married her. Gisele Bundchen is a supermodel with a little something different. The modeling world desperately needed a breath of fresh air, and this Brazilian beauty delivered it in one, 5ft 11 inch package. Gisele was the highest-paid model in the world until Kendall came along and knocked Gisele off her pedestal, but the Victoria's Secret Angel values other things. Gisele's Instagram is like walking into a sunset-filled, zen world of love, peace, and all that yoga that keeps Gisele in such sensational shape.
Gisele has described her beauty routines as "depressingly simple." She doesn't even own a hairbrush. 139 Vogue covers later, Gisele is still considered one of the most beautiful women in the world.
In 2014, Gisele was once again on the cover of the iconic magazine. When you photograph Gisele, though, you play by her rules. Gisele insisted on a fully no makeup look, and the philosophy behind it pretty much explained itself in her interview. "I don't even own a hairbrush," she said. Gisele has been eating a plant-based diet for 10 years, and she pits taking her kids to the beach over exclusive model after-parties. "Disappointed" is basically every guy's reaction when they land on Gisele's Wikipedia page and find out that she's been married to an NFL quarterback player since 2009.
8

MARGOT ROBBIE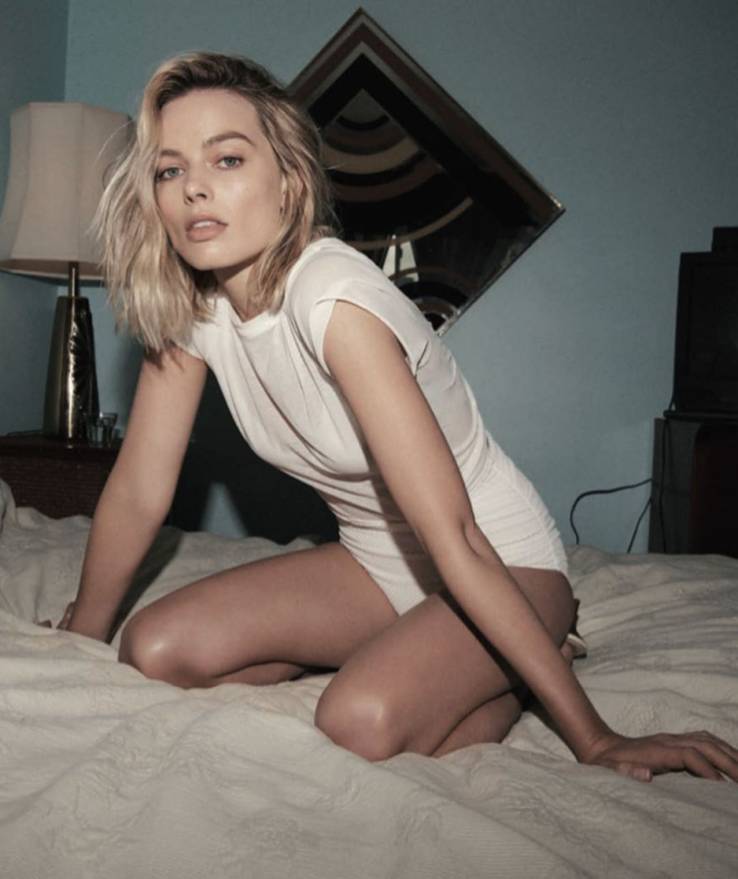 Margot Robbie is the girl that every guy wants (and every girl is ever so slightly jealous of). The new kid on the block isn't so naive anymore, though– The Wolf Of Wall Street's blonde bombshell was five years ago. This girl is going places, and you should probably hear what the producers had to say about her Harley Quinn role in Suicide Squad. They wanted it "on the record" that Margot's stunt double "sat in a chair and watched," but this beauty comes with many strings to her bow. She learned pro ice-skating from scratch in three weeks for I, Tonya.
There's one downside to finding Margot attractive, though. You'll have to keep up with her total chameleon abilities. In The Wolf Of Wall Street, Margot was a 1980s trophy wife and devilish blonde. In Suicide Squad, she was, well – every color under the sun (plus completely crazy). For the real Margot, who is surprisingly low key, her Instagram is your best bet.
Don't think that Margot is a diva, either. She was backpacking off an island in Croatia when she got wind of an audition. With damp shorts and no sleep, she traveled non-stop for over two days to audition – and Will Smith was late. For a girl who grew up on a rural Australian farm, Margot is doing just fine in Hollywood.
7

ANGELINA JOLIE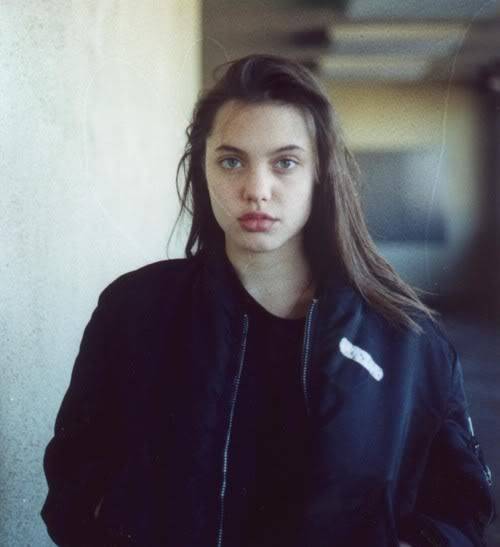 It is literally impossible to peel your eyes away from this woman. Angelina Jolie does not consider herself to be particularly beautiful (although the world disagrees). Her name means "beautiful" in French. Vanity Fair voted her "The World's Most Beautiful Woman." As Lara Croft: Tomb Raider made every guy on the planet put the Nintendo down, it was blindingly obvious. This woman had beauty on a whole other level, and other celebs don't even come close.
Angelina feels that she has "big features." She doesn't see why she was voted The World's Most Beautiful Woman.
There's something incredibly angelic about Angelina's face. At the same time, we all know that "temptress" gaze she ha s– probably why those opponents of hers take their eye off the ball. In an interview with Today, she admitted that she's afraid to put makeup on both her eyes and lips. "I have very full, big features, so if I did everything, I'd look like a bit of a clown." That "clown" was enough to nab Billy Bob Thornton and Brad Pitt (although for some reason, it didn't keep them). Back when Angie was still married to Brad, Vanity Fair asked her about her "Most Beautiful" title. "As long as Brad thinks I'm beautiful," she said. "I just don't think about it."
6

ZENDAYA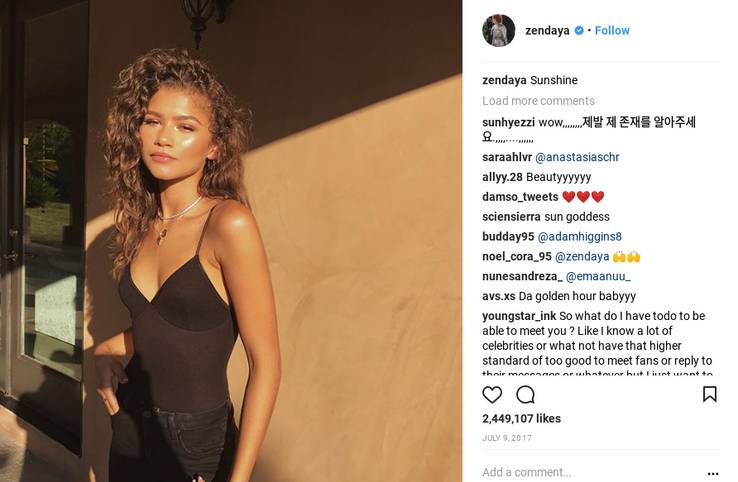 This is the kind of glowing sunshine shot that would make Kylie Jenner jealous. Zendaya started out as a child model and backup dancer, but when you look like this, you don't need backup. The singer and actress has established herself as a 21-year-old who actually has something to say. When Vogue wanted to interview The Amazing Spider-Man actress in 2017, they didn't title Zendaya's cover with words that revolve around beauty. Why? Because Zendaya thinks that beauty is a result of personality (of which she has plenty).
"I'm trying to wrap my head around how a 20-year-old Disney star could be so insanely normal," the Vogue interviewer wrote. FYI, juggling a superhero career alongside a Disney one is easier said than done. People are digging Zendaya for her core values, chilled vibe, and effortless beauty. Just look at the picture. Does any of it say, "Hey! I spent $400 on eyeshadow brushes and another $8000 on a Photoshop expert! Didn't want to disappoint you!" No. Designers are calling this star "fashion fearless." Her 2018 Met Gala gown pretty much outshone every other celeb out there. Why? Because the person wearing it is so  unpretentiously beautiful. "To me, [wearing my hair in] locs is a symbol of strength and beauty, almost like a lion's mane."
5

EMILIA CLARKE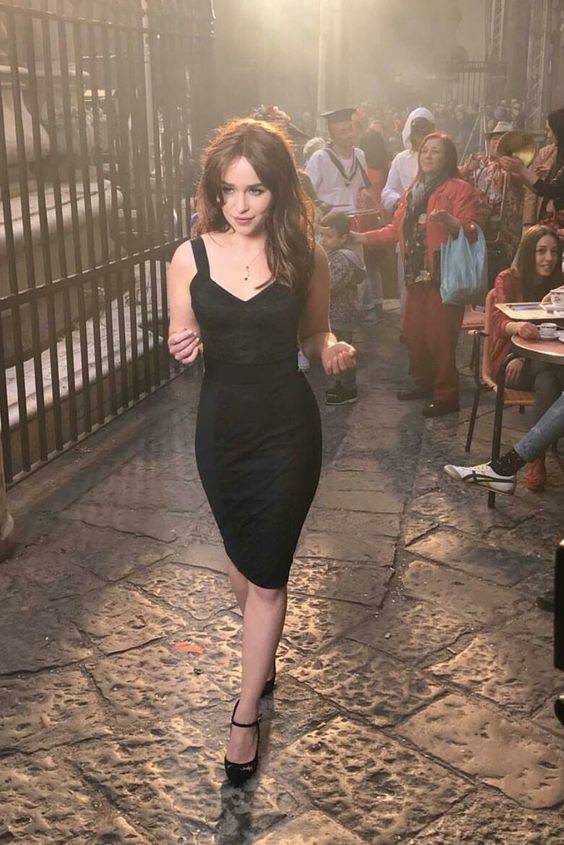 Emilia Clarke turned down 50 Shades of Grey. If that weren't enough, the producers on Game of Thrones knew that they'd found their Khaleesi the minute they clapped eyes on Emilia. Furthermore, Emilia's biggest fear was that her career would end up as "being somebody's wife and somebody's girlfriend," according to her interview with LA Times. The Solo: A Star Wars actress might have the cutest face possible, but Emilia is made of hard stuff. Monetizing on fame doesn't sit right with this actress. She's more the type to put her all into her roles. If that means portraying the raw and cruel world of abuse (or eating a horse's heart), Emilia will show it.
"I warned my dad, you're not going to be able to watch the first five episodes…" Emilia told Vogue. Mother of Dragons she may be, but this British-born star knows how to be humble. "I owe the show everything," she said. Think Emilia just sat around as the filming for Terminator Genisys approached? "It was such a beast," she said. "They demanded a lot from me." To take on Sarah Connor, Emilia trained up to six hours a day. "Hunger and determination" are her drive. Beauty is just her gift.
4

EMMA STONE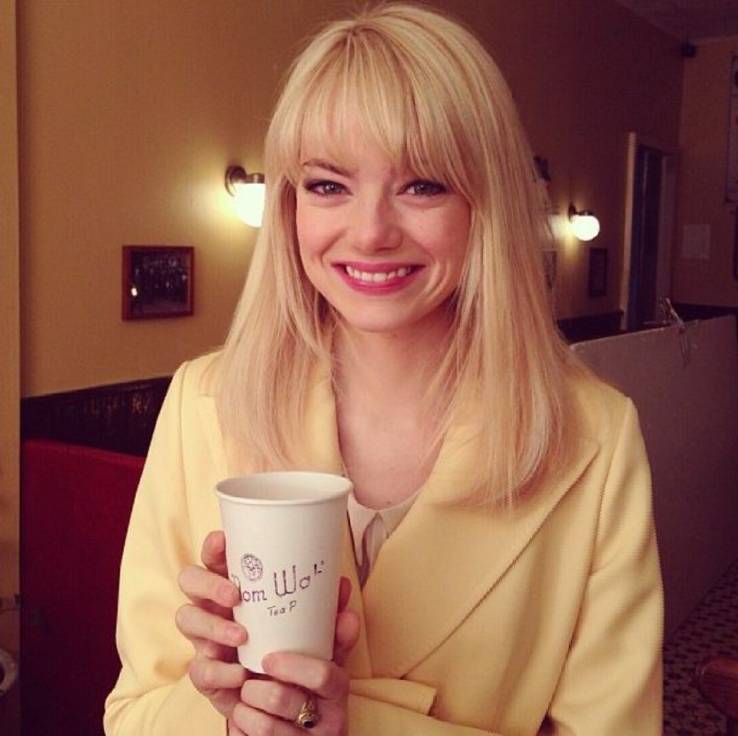 Here's what Emma Stone brought to the party. The completely adorable, freckle-faced girl from high school that every guy loved – and very few got. For girls, same deal – without the Mean Girls vibe. Take a minute to think about all of the Hollywood actresses out there who are either huge divas or totally over the top. When the La La Land actress let Vogue into her home for "73 Questions With Vogue," Emma did the unthinkable (for a celebrity). She came and opened the door herself. Her hair was all messed-up. Her jeans were actually affordable.
"I once read that I look like a fish inside of a chicken," Emma said. She was brave enough to pull out her phone with a pic of it."It's uncanny," she said.
"Name one thing you can't live without," Vogue prompted her. Instead of listing some stupidly expensive face mask or the $45 cobb salad at The Plaza, Emma just said, "love." French fries and Brussels sprouts are her favorite foods (not necessarily at the same time). Oh, and "anything with mayonnaise." The more you watch the interview though, the more you notice one thing. How naturally beautiful Emma is. Easy A was a while ago, but a part of Emma is still that fresh-faced, freckled girl whose couch you'll always be welcome on.
3

AMBER HEARD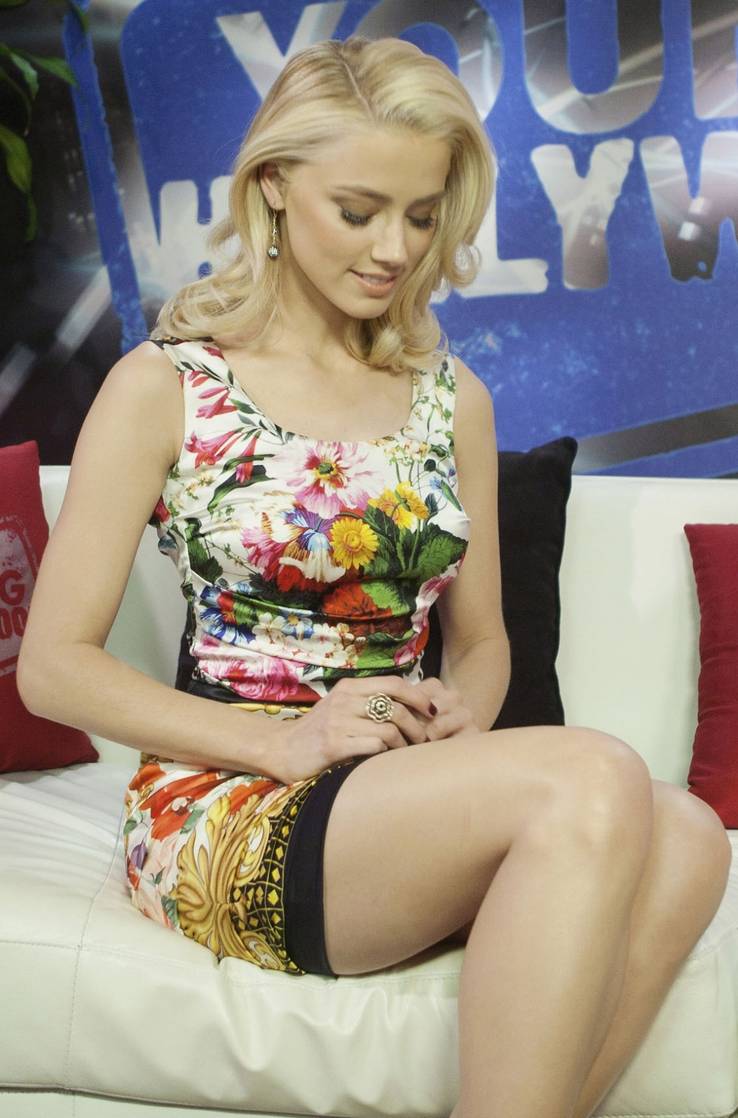 It's tough to establish yourself when you're basically known as either Johnny Depp's ex-wife or the girl who dated a billionaire. When Elon Musk admitted to Rolling Stone that he was "really in love" and that their split "hurt bad," it didn't take rocket science to figure out why. Amber Heard is one all-American, Texas-born blonde with a little something extra. That $9 million divorce settlement Amber received from Johnny Depp, according to The Mirror, went straight to charity.
If you're a guy, we're not going to sugarcoat it. Amber Heard is on your list for her looks (and there's nothing wrong with that). The Rum Diary and Justice League actress is known for her piercing gaze and beauty that's conventional and unconventional all at once.
Bohemian, modern, eclectic, punchy, and classic all at once, Amber will happily list her favorite DC superheroes in Allure interviews. Amber is opinionated, though. "You know you're getting too good at putting out fires when you notice others' ineptitude. Why am I so good at this? People call me Calamity Jane." Amber is a beauty who eats hard-boiled eggs for breakfast – and no, not every guy gets to share them in bed with her.
2

EMMA WATSON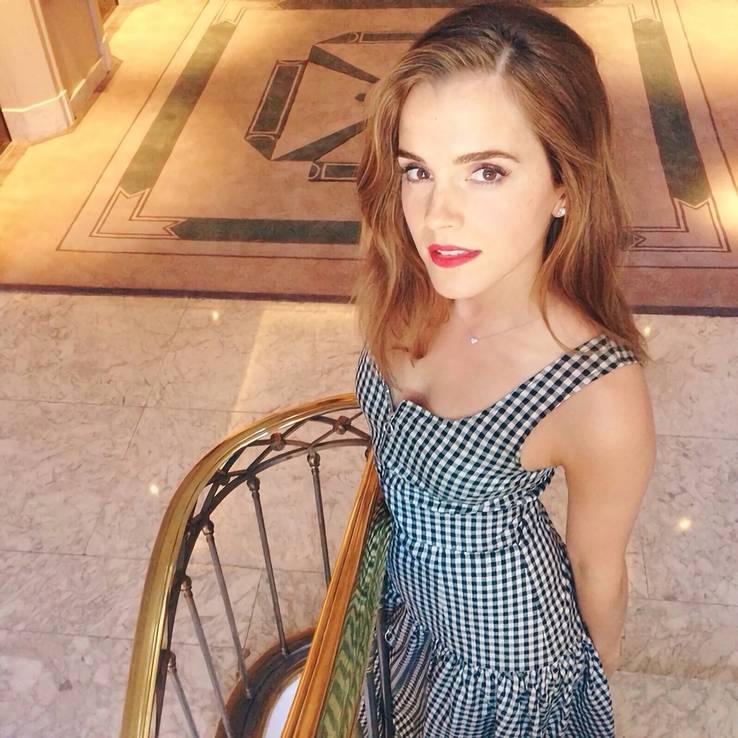 Here's something unusual. A Hollywood actress whose fan pages don't center around her legs or other body parts. It's actually almost jarring – Emma Watson is so beautiful, people are staring at her face for hours. Little Hermione Granger grew up. Emma is loved for her strong jawline and unconventional beauty. The Harry Potter actress is now the face of Burberry, women's' rights, and the signature Emma Watson style.
Low-cut dresses and plunging backlines aren't Emma's style. Why? Because they aren't necessary. When your face is beautiful, you don't need to draw attention away from it with $5000 purses and oversized everything. Oh, and there's that British accent. Watching Emma in The Circle though, you'd never know that she is British. (Well, French-born, actually)
Emma has an androgynous beauty that attracts both guys and girls. "Relating to a real person" is what Emma told Vogue was most important during her recent movie roles. Somehow, despite the $60 million Harry Potter paycheck, Emma remains real as they come. Her porcelain features aren't spray-tanned. Her lips aren't suspiciously puffy-looking. Her street style isn't dripping in Versace. "Toast," she said, when asked what her favorite food is. Emma is the ultimate simple beauty.
1

TAYLOR SWIFT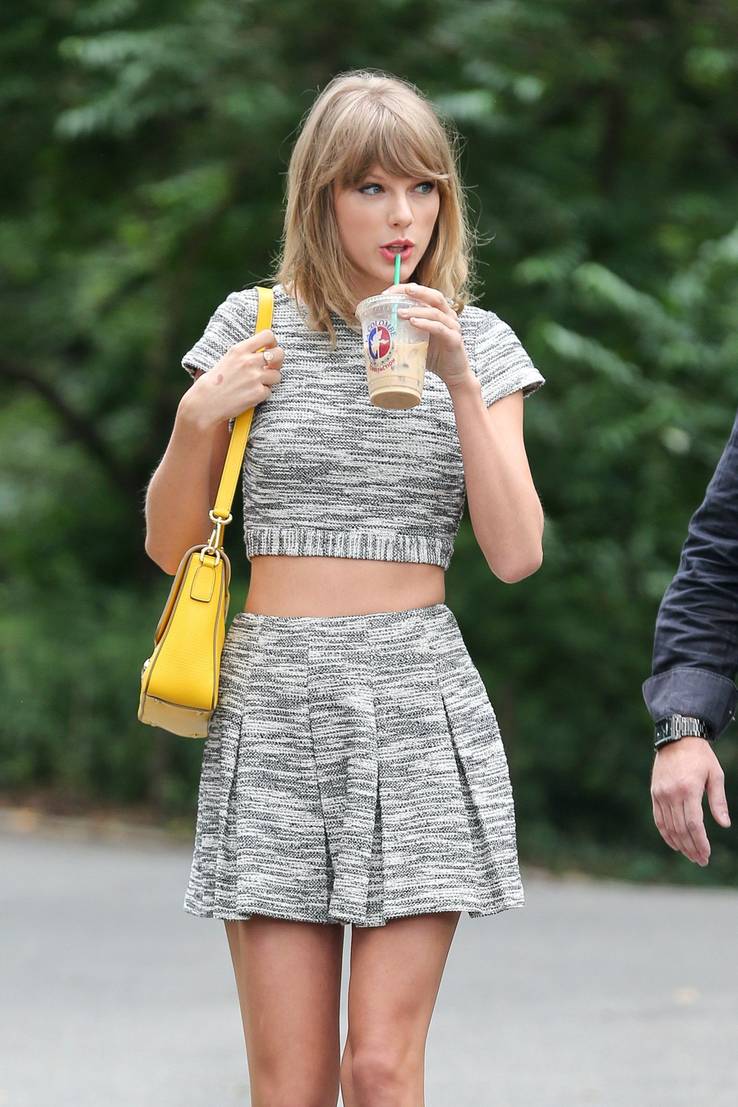 This girl needs no introduction. Call her what you will. Chances are, Taylor Swift's reply would be, "Sorry, the old Taylor can't come to the phone right now." Taylor has the kind of windswept charm that's impossible not to fall in love with. She's tall without being a giant. She's leggy without being a supermodel. When she smiles, everyone kind of melts a bit inside. But when she's mad, it's diamonds between those teeth and an iron fist. And just when you thought Taylor had "your name and it's written in red underline," the singer is back to those wooly sweaters, log fires, and cat cuddles. Vogue interviewed her with 73 quick-fire questions.
"I'm a very spontaneous person." Taylor would eat chicken tenders every day if she could. Don't get her started on her favorite cake…
This baking enthusiast had just baked gluten-free chocolate cake before the interview. That isn't what struck Vogue, though (and this interview is something you can watch on YouTube). What struck them was how casual Taylor was. Beautiful and casual, by the way, being something that girls find very difficult to multi-task. Taylor? She was born with it.
20 women. All naturally beautiful. You don't need a formula here. It's called the "share" button. If you've got a Selena, Emma Watson, or Kendall friend (or any of the other 17 girls here), hit share. They will be thanking you for it…
Source: Read Full Article