When it comes to celebrity mothers in Hollywood, it can be easy for the public to look skeptically at some of the beautiful starlets that set out to start a family. Kourtney Kardashian was shown on Keeping Up with the Kardashians during labor and she appeared utterly calm and stress free and she actually was able to reach down and pull out her own baby. Then, there have been numerous starlets that have completely bounced back after giving birth and have looked impossibly fit, less than a month of having a baby. These sort of things have made regular moms feel a bit insecure about their own lives, especially when it comes to the day-to-day routine that can be a bit gruelling at times.
Yet, there are some celebrity moms that have dared to reveal a bit more of their lives and it has caused the public to love them even more. Rather than depicting their lives as utterly perfect and always luxurious, some celebrity moms have shared moments that have allowed the public to really relate to them as just another mother trying to make the most out of their lives. This means treasuring the fleeting moments of a child's life, enjoying the little things that really make a mark on the childhood years, and just trying to survive from one day to the next. Check out our list of the 20 photos showing celebrity moms parenting just like everyone else and see if your favorite starlet made the list.
20

Zoe Saldana has three boys running around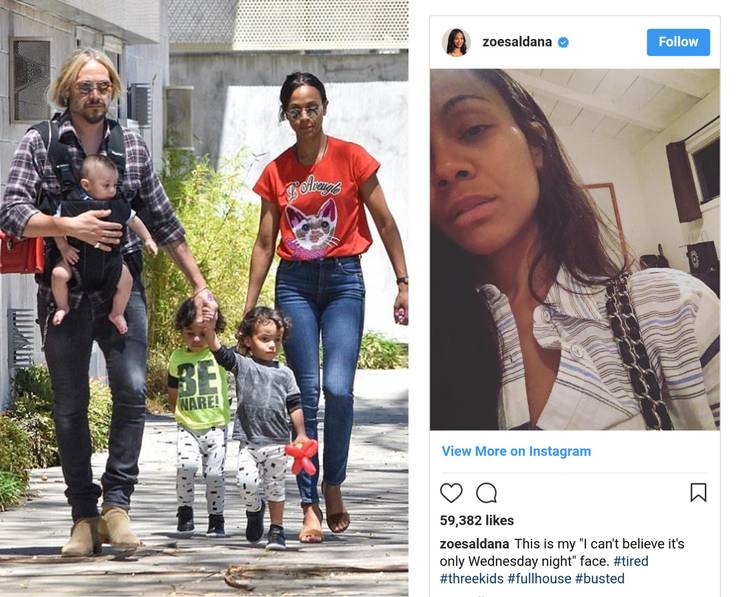 There aren't many Hollywood actresses that can boast having the amount of success in their professional careers as Zoe Saldana. She's had the privilege of acting in some of the biggest films on the big screen and has portrayed a number of iconic characters. From appearing in the Star Trek film series to her role in the Guardians of the Galaxy franchise to her lead role in Avatar, it seems like she's truly found her niche as a Hollywood actress. Yet, she's not just making great choices in her Hollywood roles since she's been able to sustain a happy home life as well. Saldana married Marco Perego back in 2013 and there are hardly any headlines that come about regarding her marriage.
While other Hollywood couples have constant media attention regarding their explosives breakups and harsh words exchanged, the biggest news surrounding Saldana's marriage has revolved around their growing family.
The couple has three children together, all of them boys. For any mother with sons, it can be a little daunting to have so many boys with them all being young in age. Yet, Saldana further added to her fan base when she posted this photo of herself and captioned it, "This is my 'I can't believe it's only Wednesday night' face. #tired #threekids #fullhouse #busted."
19

Jessica Biel's shoes were invaded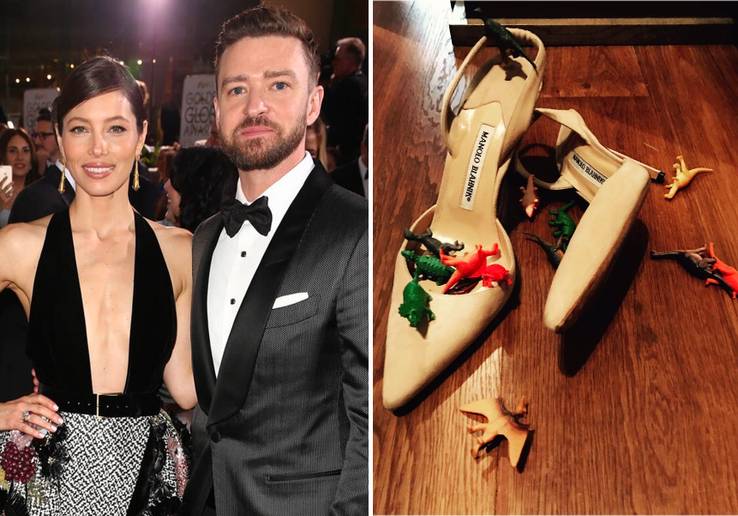 When Jessica Biel first starting being romantically linked to Justin Timberlake, people didn't quite know what to make of it. He had previously dated big-name pop artists and it seemed like Jessica Biel had a completely different type of persona. Yet, that seemed to be the winning recipe in finding the right partner for him since the couple walked down in the aisle in 2012. They've seemed to be going on strong and even had a child together, a son named Silas Randall Timberlake. Timberlake's career has continued on an upward trajectory since the birth of their child but Biel has seemed to take a backseat in regards to her career. She was once thought of as one of Hollywood's hottest new leading ladies on the big screen and there was quite a bit of buzz around her when she starred in The Texas Chainsaw Massacre remake. However, her most recent leading role has been as the wife of Justin Timberlake and the mom to their young son.
In 2017, Biel posted this photo on Twitter and captioned it, "Prehistoric pumps by Dino Blahnik. #momlife #partytime #momchella."
While not every mother can afford Manolo Blahnik heels, every mother can relate to small toys being strewn on the floor and finding the occasional toy in a favorite shoe.
18

Charlize Theron wanted to be a mother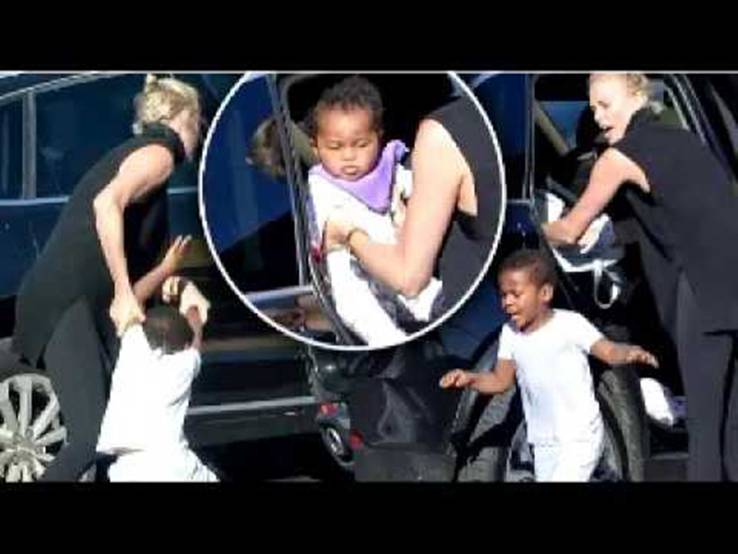 Despite the fact that Charlize Theron has had a hugely successful career and is thought of as one of Hollywood's most stunning leading ladies, she hasn't seemed to have the best luck when it comes to the romance department. While other Hollywood starlets have made it down the aisle at least once, Theron has yet to find that true love of her life. Yet, that seems to be by choice since she undoubtedly could have her pick of any number of men. During a 2014 interview with Vogue magazine, Theron talked about her stance on love and marriage and said, "Let's put it this way: I never had the dream of the white dress." She went on to say,
"And watching other people getting married? I think it's beautiful for them, but to be quite honest, usually I'm sitting there just devastated. It's supposed to be this night of celebrating love, and all you see is a couple separated all night making sure everybody else is okay. It just looks like a lot of work. And as you get older, you start sifting through the stuff that really matters."
However, that hasn't stopped her from becoming a mother and proudly adopted a boy and a girl. During one outing with the kids, she was photographed trying to wrangle her son while putting her daughter in the car. While she was heavily criticized for seemingly manhandling her son, millions of mothers around the world can sympathize with this exact situation.
17

Jennifer Garner is a girl scout mom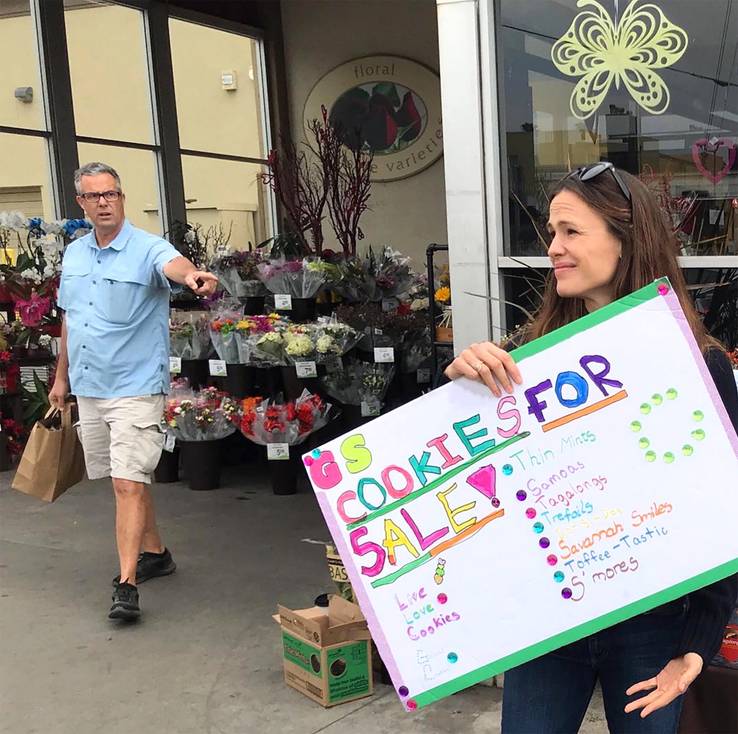 When Jennifer Garner first became romantically linked to Ben Affleck, not everyone was completely onboard with their romance. She had previously been married to Scott Foley and there were some that speculated that she had interest in Affleck while she was still married. It didn't help things that her divorce from Foley was finalized in 2004 and she was already married to Affleck by 2005. Once this Hollywood couple made it down the aisle, the public started to make peace with their romance after they started to grow a family together. Garner seemed to take a backseat to her husband's career and she became known as one of Hollywood's most devoted and capable mothers. She was often seen with her children at various farmer's markets and kid-friendly events and she gained a reputation of being one of those over-achiever moms that can be seen at any elementary school across the nation.
She really made headlines in February 2018 when she posted an Instagram photo of herself selling Girl Scout cookies with her kids.
The post was captioned, "Why yes, kind sir, we do have Thin Mints. #tistheseason," "#comeandgetem" and "#whodoesntloveagirlscout." The homemade sign and the spot in front of the grocery store is something that so many other Girl Scout moms know all too well.
16

Pink was scrutinized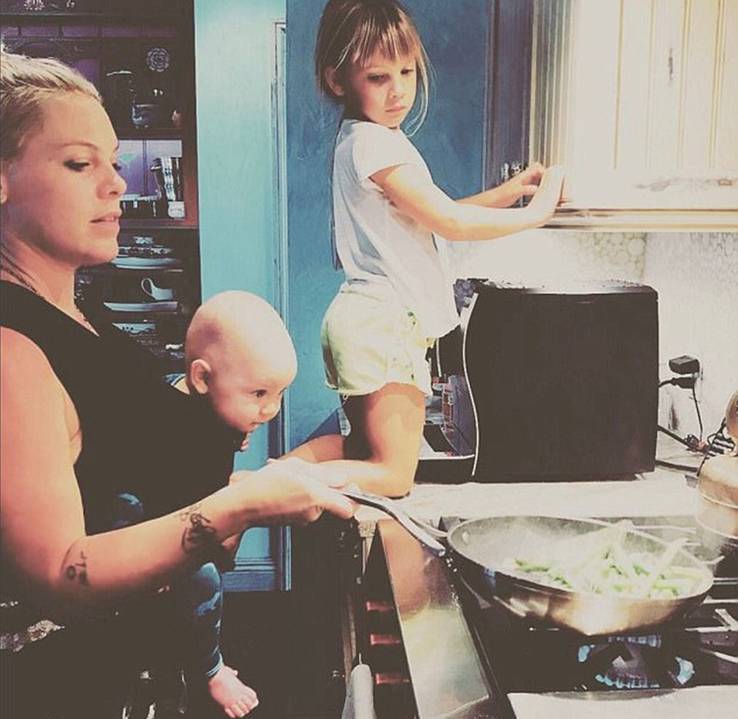 There was a time when Pink was seen as a music artist with a huge amount of rockstar energy, including some candid paparazzi photos where she could be seen urinating on the side of the road. She's never really been categorized into one specific genre of music but she's released songs that have resonated with a wide array of music lovers. While her public persona seemed a bit prickly in the beginning, it started to soften once she found love in her life. Her relationship with the freestyle motocross competitor, Carey Hart, seemed to really change Pink and it didn't take long for them to start a family together. The couple was married in 2006 and had a daughter and son together, Willow and Jameson. While Pink and Hart have had their issues over the years, it seems like they've found the winning recipe on how to parent their children.
Yet, that doesn't mean that Pink doesn't go through some of the same challenges other mothers go through in regards to a busy lifestyle and trying to encourage healthy eating for her kids.
She posted this Instagram photo in 2017 and it showed her with her 7-month-old baby strapped to her body, while her daughter knelt on the counter and Pink was sautéing some vegetables on the stove. She underwent a bit of backlash from some people commenting on how close her baby is in relation to the stove but any mother struggling to get dinner on the table with her hands full with kids can relate to this picture.
15

Kristen Bell does laundry like everyone else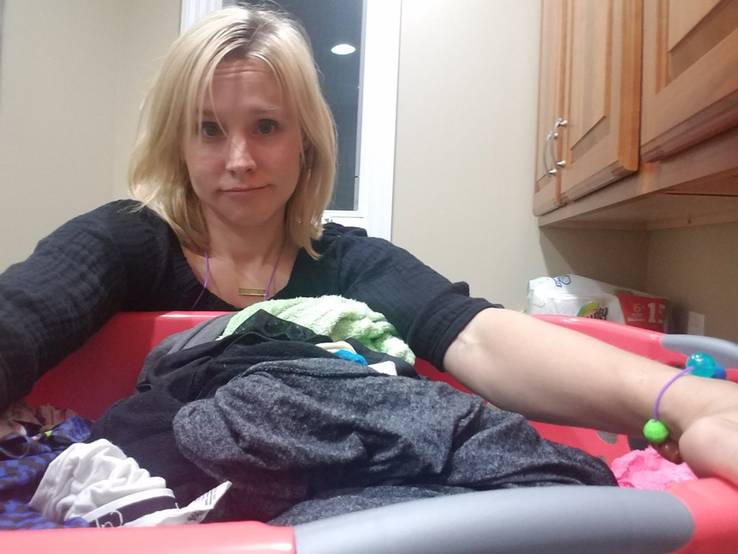 When Kristen Bell first became romantically linked to the comedic actor, writer, and director, Dax Shepard, there were some that found it difficult to believe that these two would be a great fit for marriage. Yet, they wound up proving all of the naysayers wrong when they were married in 2013. They became a huge hit with the public and their love was so dynamic on the red carpet and social media that they ultimately landed themselves a lucrative endorsement deal with Samsung. Their Samsung commercials became a huge hit for the brand and for themselves as a Hollywood couple that seemed to really hit it big in the love department. Everyone loved seeing their Samsung refrigerator commercial to showcase the Smart refrigerator and all of the apps that it could utilize. Yet, it was the Samsung washer and dryer machines that everyone seemed to really love.
It showed how their busy family life could be enhanced by the Samsung washer and dryer but not everyone was buying that Kristen Bell, the beautiful Hollywood actress, was actually doing her own laundry.
In 2016, one of Bell's Twitter followers posted "@mbearn and I are Samsung people, but I'm calling bull on @IMKristenBell and @daxshepard1 doing their own laundry. Suspension of disbelief?" Bell responded with a photo of herself sans makeup with a full laundry basket and the caption, "I'm working on a batch of dirties as we speak."
14

Chrissy Teigen got backlash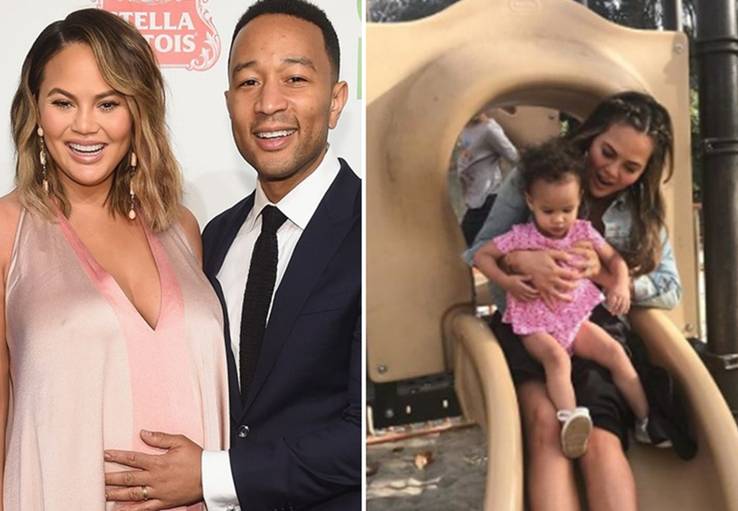 When Chrissy Teigen first started dating the R&B singer, John Legend, people couldn't help but fawn over their love. The couple seemed so much in love and Legend was proud to have her on his arm and use her as his muse. The couple married in 2013 and wound up starting a family together, with two healthy children. Everyone still thinks back on Legend and Teigen's relationship during the time when she starred in the music video for "All Of Me," the song that Legend wrote for her. Yet, seeing them as two doting and loving parents seems to be an even better look for the happy couple. However, Teigen's time as a new mother didn't come without any criticisms. After she gave birth to their first child, people criticized her for going out on a date night with her husband seemingly too quickly after giving birth.
Then, there were criticisms regarding her figure after giving birth and then there were a number of criticisms regarding the photos that she shared with the world.
This particular photo was one of those heavily criticized photos, even though there are millions of mothers around the world that don't see anything wrong with it. Teigen and her daughter, Luna, could be seen on a playground park going down a slide in her 2018 Instagram post but there were some that criticized her because they said that she was endangering her child.
Featured Today
15 Things People Should Know About Kylie Jenner's Bodyguard Tim Chung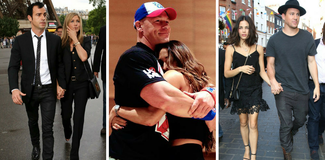 10 Celebs Who Dropped Their Partners This Year (And 10 Who Might Regret It)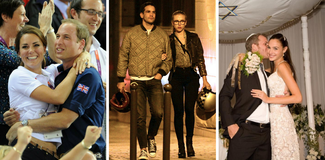 10 Hollywood Stars Who Married Non-Famous People (And 10 Who Stuck To The A-List)

13

Kim Kardashian had a restless kid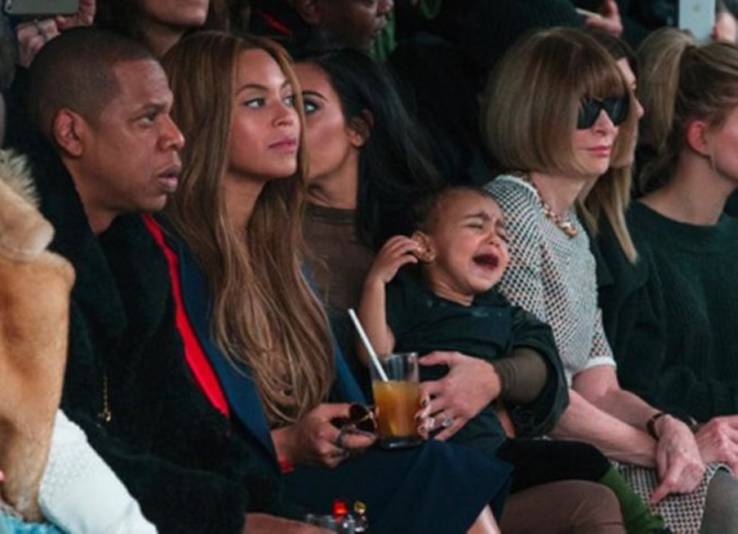 When it comes to Kim Kardashian, there aren't many things about her lifestyle that the general public would be able to relate to in their own lives. Not everyone is jet setting all over the globe, living in lavish mansions, and being hounded by the paparazzi. Yet, there are some universal truths that are the same for Kim Kardashian as the rest of the mothers in the world. When Kim married Kanye West in 2014, they had already had their first child together. North West had become a bit of a star in her own right, with high designers sending over couture baby gifts and North wearing a wardrobe that was more expensive than a year's pay for some people. It seemed like Kim and Kanye were finally going to settle down into their lives as a married couple and parents, and most recently welcomed their third child to their home. Yet, their lives aren't always picture perfect selfies and posh ballerina classes at studios in Los Angeles. This particular photo was taken when North West began crying incessantly during the NYC fashion show debuting Kanye West's Fall/Winter 2015 partnership with Adidas at New York Fashion Week.
While it's hard to relate to sitting next to Beyoncé and Anna Wintour during New York Fashion week, every mother can relate to having a screaming baby in a place that isn't exactly seen as kid-friendly.
While there are things that can sometimes work in consoling a screaming baby, they're definitely not all foolproof.
12

Jessica Simpson has a mini her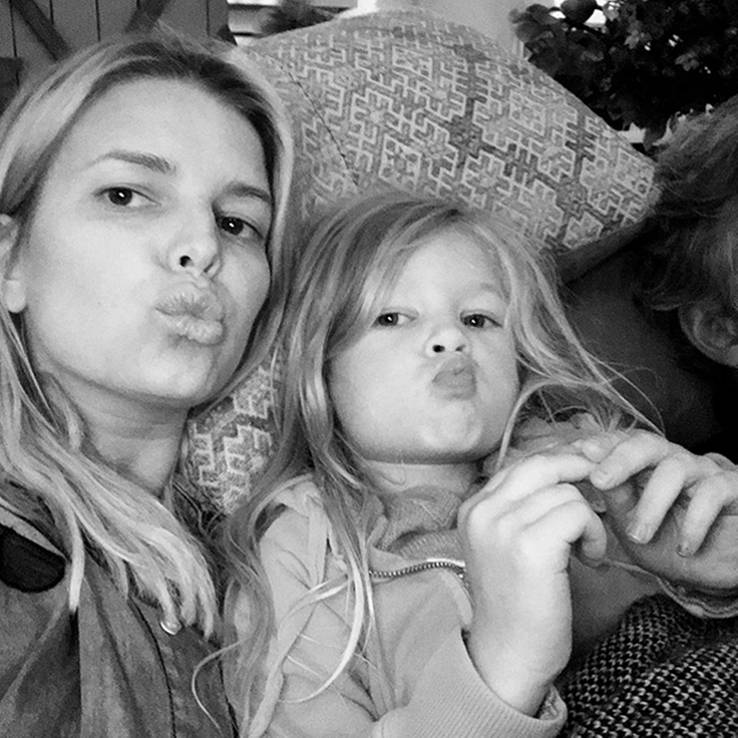 When Jessica Simpson was first introduced to the world as a pop artist, she definitely seemed to have her very own niche in the music industry. Her popularity was only strengthened when she appeared on the reality television series, Newlyweds: Nick and Jessica. She was seen as incredibly relatable and people loved seeing this impossibly beautiful woman doing the same sort of things as other housewives around the world. Yet, a lot has changed since Simpson mistook tuna as being "chicken from the sea." The reality series came to an end in 2005 and she ultimately divorced Nick Lachey in 2006. Yet, she didn't just sit in a dark corner after her divorce. Instead, she stepped up her game and built a billion dollar fashion and empire and eventually found love again. She married Eric Johnson in 2014 and the couple wound up having two children together.
Her daughter, Maxwell, became known as a miniature version of her mother and Jessica has been known to post various photos of her that have fuelled a bit of backlash. One of the photos included Maxwell holding a milkshake and jutting out her hip.
The caption read, "My milkshake brings all the boys to the yard and they're like it's better than yours." This particular photo seems to be a bit milder since there are so many mothers around the world that regularly take silly selfies with their daughters with the patented duck lip, even if it's just for a few giggles.
11

Christina Milian has a girly girl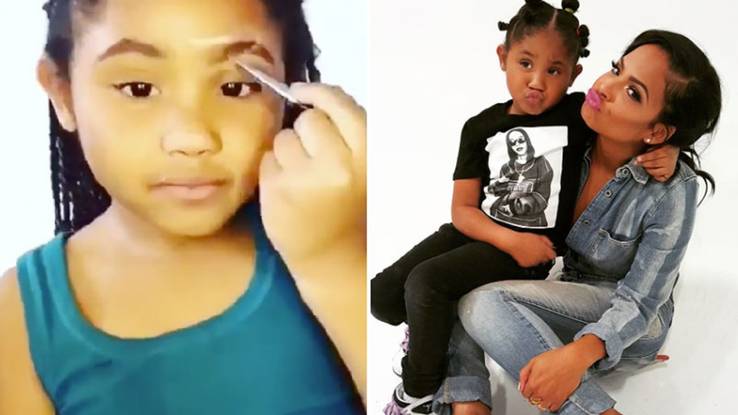 There was a time when Christina Milian was seen as one of the world's hottest R&B singers and an up-and-coming actress with a sparkling personality that always seemed to win over fans. While she had a pretty high-profile romance with Nick Cannon, it was the hip hop artist, The-Dream, that she ultimately married in 2009. Yet, their relationship was short-lived and they wound up divorcing in 2011. Their relationship had made a number of tumultuous headlines but there was something great that came out of their union. Their daughter, Violet Madison Nash, seems to have the same glowing cheekbones as her beautiful mother and she also seems to have the same love for makeup and hair. Her daughter took to the Internet and posted a makeup tutorial at the tender age of 5 years old. Milian came under fire when the public saw how grown up her daughter looked with the dark purple lipstick and full eyebrows that were perfectly shaped.
Yet, every mother with a little daughter can relate to how little girls can be obsessed with playing with their mom's makeup or just dressing up around the house.
While some people took issue with how perfectly she applied her contour, this is probably just due to the fact that she's seen her mother get her makeup done professionally on more than one occasion.
10

Anna Faris is a private mom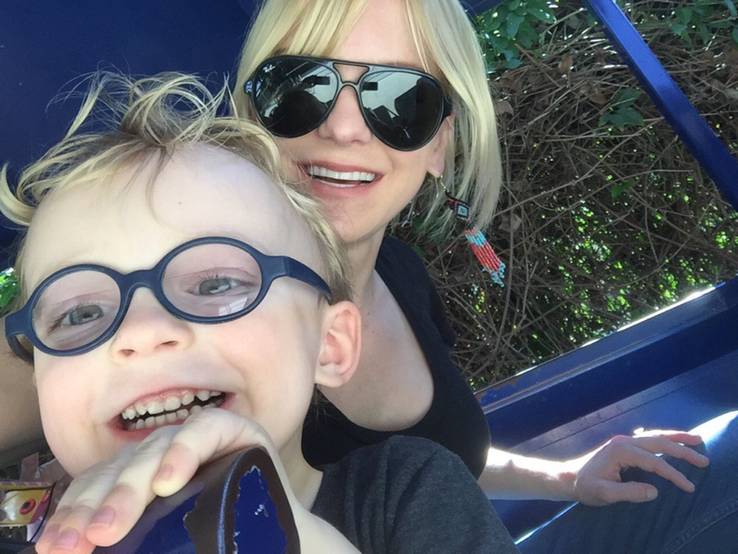 When Anna Faris first married Chris Pratt in 2009, she was the one that seemed like the bigger star. She had an incredible amount of success as a comedic actress on the big screen and she even had a small role on the hit HBO series, Entourage. Chris Pratt was seen as the comedic actor on Parks and Recreation and wasn't exactly fitting the look as a big Hollywood big screen actor. Yet, all of that changed once he lost a tremendous amount of weight and garnered the role of Star-Lord in the hit blockbuster film series, Guardians of the Galaxy. Pratt suddenly became the bigger star and Faris seemed to fall by the wayside with her TV role on Mom. Yet, the public seemed to be rooting for their love since they had been married for quite some time and they had a child together.
While their marriage ultimately came to an end, the two have committed to putting their differences aside for their son, Jack. Faris has always been seen as a doting mother and there was not much that was heard about what her life was like at home.
Yet, she gave the public a bit of insight when she took to Twitter to share a photo of her and Jack at the train museum. She captioned it with, "Train museum! For the 223rd time!" Any mother with a train enthusiast son can relate to this sort of outing and the funniest part of it is the fact that she was able to muster up a smile for the photo.
9

Reese Witherspoon was burned out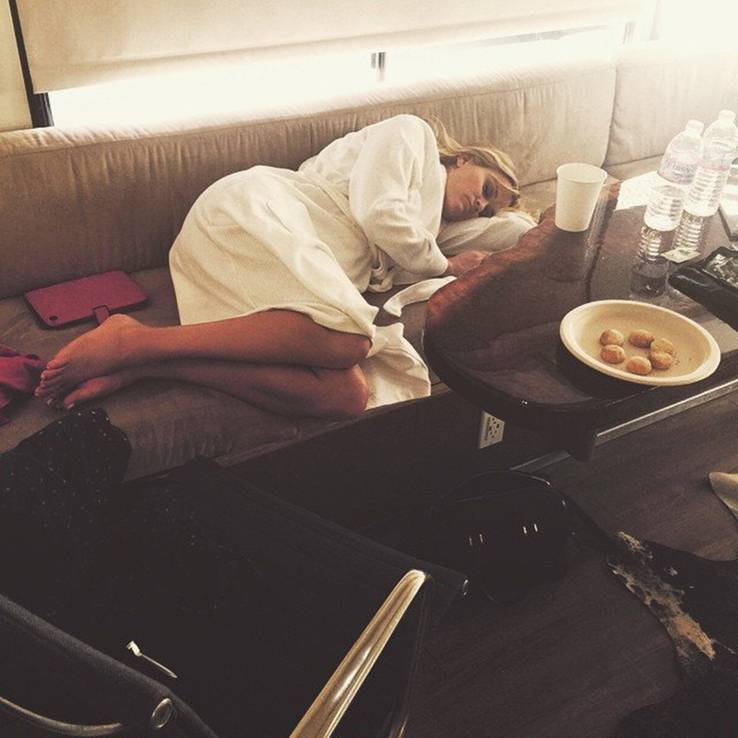 When Reese Witherspoon first married Ryan Phillippe in 1999, it seemed like she had found her true love. When the couple began having children, Witherspoon wasn't shy about bragging about her lovely children and even talked to them at various award show podiums. The public was heartbroken when Phillippe and Witherspoon divorced in 2007 but seemed genuinely happy for her when she remarried in 2011. She is currently a mother of three, with two children from Phillippe and her son with Jim Toth. Yet, being a mother of three hasn't stopped her from actively pursuing her goals in her professional career. She's starred in a number of high-profile films in recent years and achieved a huge amount of success when she starred in the 2017 hit HBO series, Big Little Lies. In 2015, Witherspoon took to Twitter and posted a photo of herself curled up on a couch in something that looked like pure exhaustion.
She captioned it by saying, "How do I do it all — with 3 kids and a full-time job? This is how. Me and every other mom. #Naptime."
People couldn't help but notice the disarray of the coffee table and the fact that this spontaneous nap wasn't exactly looking like something in the lap of luxury. This made many moms around the world feel better about their own impromptu naps.
8

Olivia Wilde is a multitasker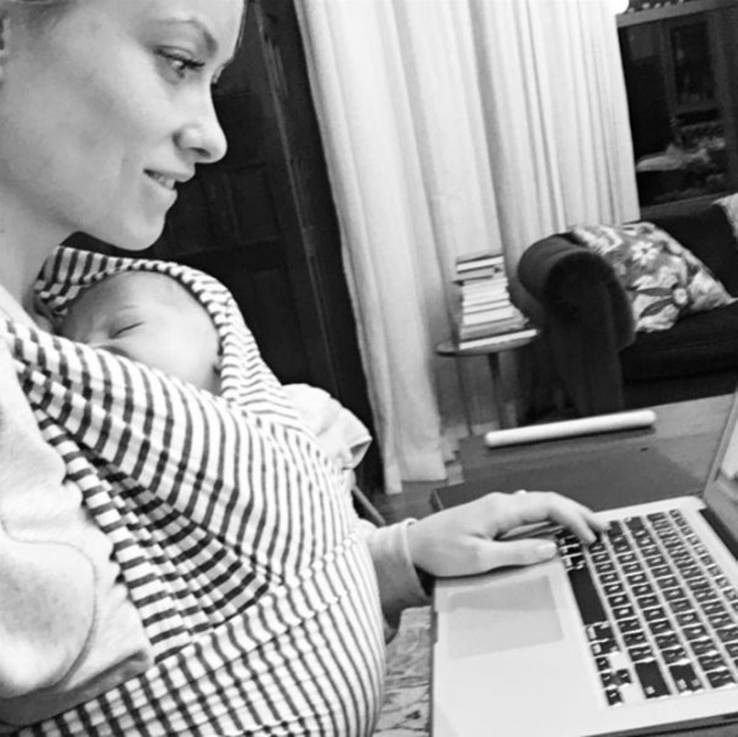 Olivia Wilde was once thought of as one of Hollywood's most beautiful women and was seen as an up-and-comer as a huge favorite as a leading lady. Yet, her success on the big screen in her professional life seemed to be overshadowed by some of the headlines that she's made regarding things in her personal life. As a mother of her son, Otis Alexander Sudeikis, and her daughter, Daisy Josephine Sudeikis, she's been very outspoken about everything from politics to breastfeeding. She posed for Glamour magazine in 2014 and in the pictorial spread, there was one photo of her breastfeeding her son, Otis, in a diner booth. Yet, the photo wasn't completely received well. There were some that claimed that her Glamour breastfeeding photo was meant to shame other mothers and Wilde was heavily criticized. During 2016, Wilde gave an interview with Yahoo! Beauty and stated, "I've learned a lot about [the breastfeeding] debate since that [September 2014 Glamour] photo shoot and certainly since becoming a mother.
One thing that is very clear to me is that it should be every individual woman's choice what she wants to do."
She's since posted photos of herself breastfeeding online, with mixed reviews. Yet, this social media post of Wilde trying to get some work done with her baby strapped to her body is something that so many other mothers can relate to since quiet moments can be few and far between.
7

Kelly Clarkson lets her kids be kids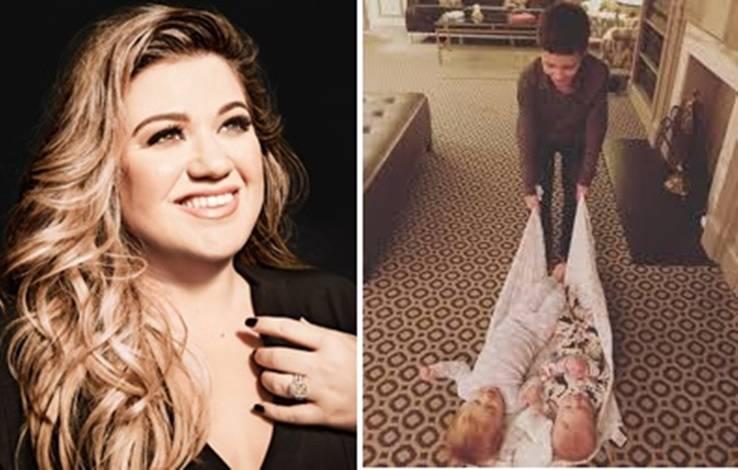 When Kelly Clarkson became the very first winner of American Idol, she was seen as everyone's favorite success story and the public rooted for her to achieve a huge amount of success in the music industry. She proved that she was definitely worth the title of being an American Idol through a string of hit singles, hugely successful albums and a number of hit songs that she had written herself. She became a heavily respected music artist and the person that everyone strived to emulate when they appeared on a reality singing competition. When she started dating the son of the country iconic singer, Reba McEntire, it seemed like a match made in heaven. McEntire had once covered Clarkson's song, "Because of You," and she had come out to the public about how hugely talented she thought Clarkson was as a singer/songwriter. Clarkson married Brandon Blackstock in 2013 and the two wound up starting a family together, which included Blackstock's other two children. The public fell in love with how well this couple had managed to create this incredibly loving household to their kids and Clarkson even embarked on writing children's stories. This particular photo definitely gained a few laughs since it showed her two babies being dragged along the floor of her hotel room.
She captioned it with, "3 of our kiddos playing in the hotel room. When they're not breaking/spilling something I'm cool with anything."
She went on to talk a bit of politics but it was the statement about allowing her kids to fool around as long as nothing gets broken that really won over the hearts of mothers everywhere.
6

Hilary Duff isn't afraid to show affection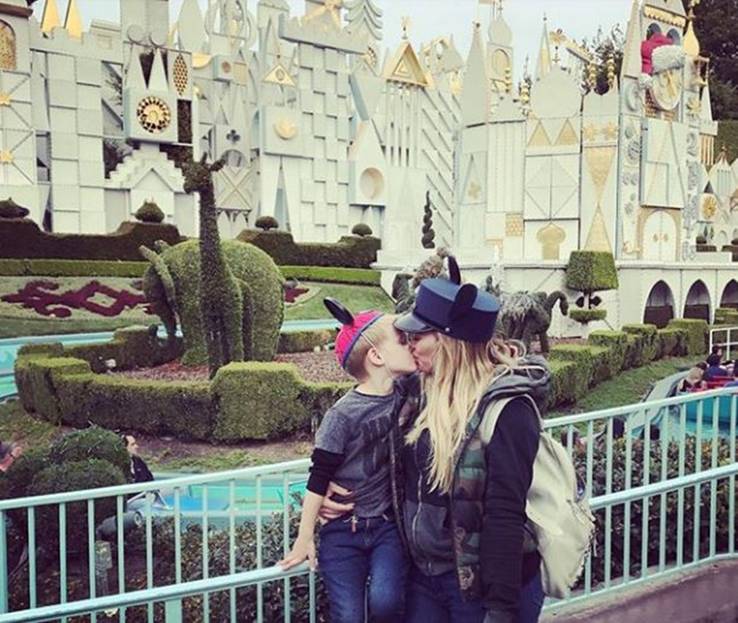 Hilary Duff was once thought of as a hugely talented singer and actress that got her start at a very young age. Yet, a series of missteps in her career seemed to push her down the line when it comes to A-listers in Hollywood. The public started to tire of the squeaky-clean shtick regarding her and her older sister as actresses on the big screen and then there was a huge amount of backlash regarding her porcelain veneers. While she's not the first pop star or actress to get a few cosmetic enhancements, this was definitely a blow to her career since there were so many criticisms regarding the size of her brand new teeth.
Duff seemed to take some time away from the limelight when she married the Canadian retired professional ice hockey player, Mike Comrie, in 2010. The couple seemed to have a great relationship and even had a child together, Luca Cruz Comrie. Yet, their marriage ultimately dissolved in 2016. It was during this tumultuous time in her life that Duff took her son to Disneyland when he was just 4 years old. She took a photo of herself with her son in front of the Its A Small World and shared with her followers a mother and son moment of her kissing her son on the lips. There was a huge amount of backlash but there were millions of moms everywhere that would have undoubtedly felt the same way that it was a great moment for a mother and son to share a smooch at the happiest place on earth!
5

Drew Barrymore is a kid herself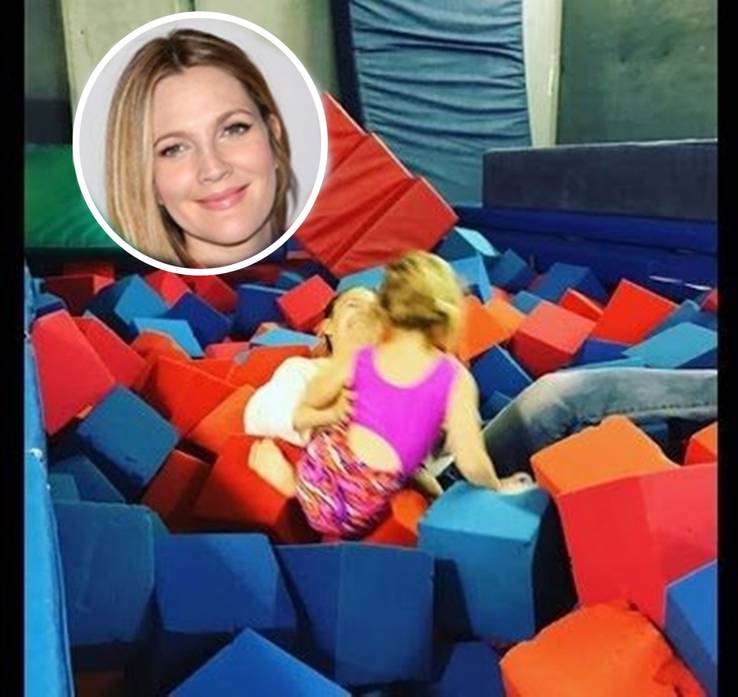 Drew Barrymore is one of the actresses in Hollywood that has been able to make a huge turnaround from her tumultuous childhood. While she was a hugely successful child star, she also made a series of headlines due to her difficult relationship with her parents. She was ultimately emancipated but she had already delved into substance abuse at a young age and needed to battle her demons throughout her adolescence. Yet, she ultimately became a huge success story and the public consistently rooted for her. She starred in a series of successful films throughout her adult career, with everyone having their own favorite movie roles. While she had achieved success on the big screen, she seemed to have a bit of trouble in regards to her love life. She has been married three times, with all of them ending in divorce. Her most recent split with Will Kopelman in 2016, people wondered whether or not she would ever find true love again. Yet, her failed marriage hasn't stopped her from thoroughly enjoying her role as a mother.
This particular picture shows Drew Barrymore jumping into a giant foam pit with one of her daughter and it took the Internet by storm.
People loved seeing her get down and dirty with her child since it reminded so many mothers of when they were forced to get into the ball pit with their little one.
4

Sarah Michelle Gellar is a diy mom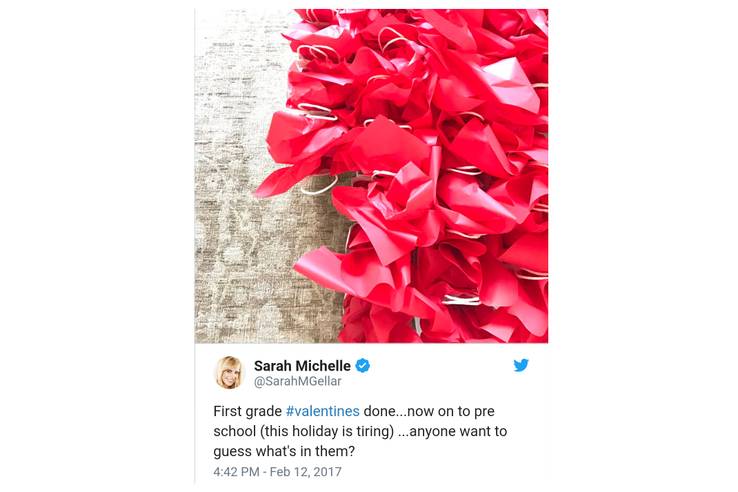 Sarah Michelle Gellar was once thought of as one of Hollywood's favorite leading ladies and she starred in a number of ultra-memorable roles. While many people still seem to reference her Buffy the Vampire Slayer role, she's also appeared as Daphne in the Scooby-Doo film series. Yet, she's definitely let her professional career lack a little bit over the years and she's not often seen on either the small or big screen as she was in the 1990s. However, that doesn't mean that she doesn't have her hands full since she is a wife and mother of two. She married Freddie Prinze Jr. in 2001 and the couple had two children together.
Proving that she's determined to take her role as a mother seriously, Sarah Michelle Gellar took to Twitter to share with her followers Valentine's packages for her first grader in 2017.
Any mother that has a child in elementary school could relate to this picture since it seems like the Valentine's Day has increasingly become more elaborate over the years. From the holiday parties throughout the school year to Teacher Appreciation Week to all of the volunteer responsibilities along the way, this photo shows that Sarah Michelle Gellar is undoubtedly one of the many Pinterest moms that pop up in grade school.
3

Rachel Zoe's kid has an impressive social life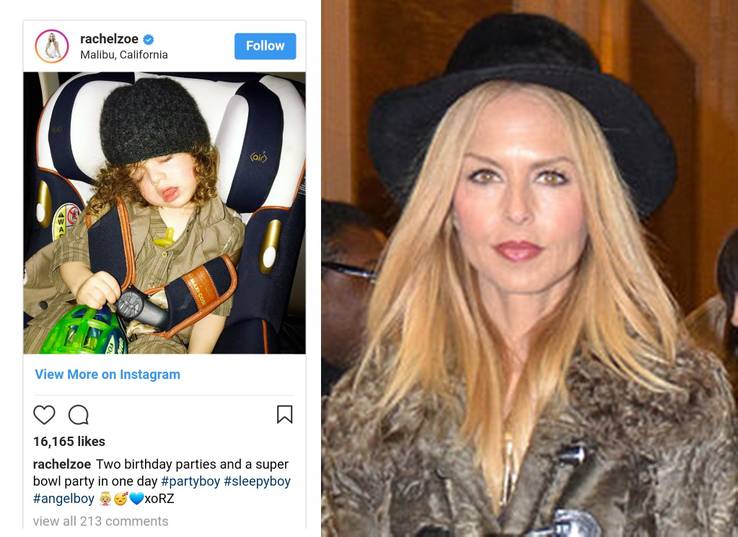 Rachel Zoe is seen as an incredible success figure in the world of fashion and has made quite a name for herself as an American fashion designer, businesswoman, and writer. Yet, her busy life as a working woman hasn't stopped her from finding love and starting a family. She married Rodger Berman in 1996 and the couple wound up having two sons together, Skyler and Kaius.
With Zoe constantly being known for her over-the-top fashion choices and her incredible love of hats, this photo of her son didn't seem that surprising. He can be seen in a black stocking cap and an eclectic ensemble but the real focal point of the photo is the fact that he looks utterly knocked out and pooped.
Zoe captioned the photo by saying, "Two birthday parties and a Super Bowl party in one day #partyboy #sleepyboy #angelboy." While she did receive a bit of backlash over the fact that the chest straps on the baby car seat weren't properly placed and the shoulder strap can be seen slipping down in a fashion that wouldn't exactly be helpful in the case of an accident, there were millions of mothers that could relate to the picture.
2

Debra Messing helped her son catch Pokémons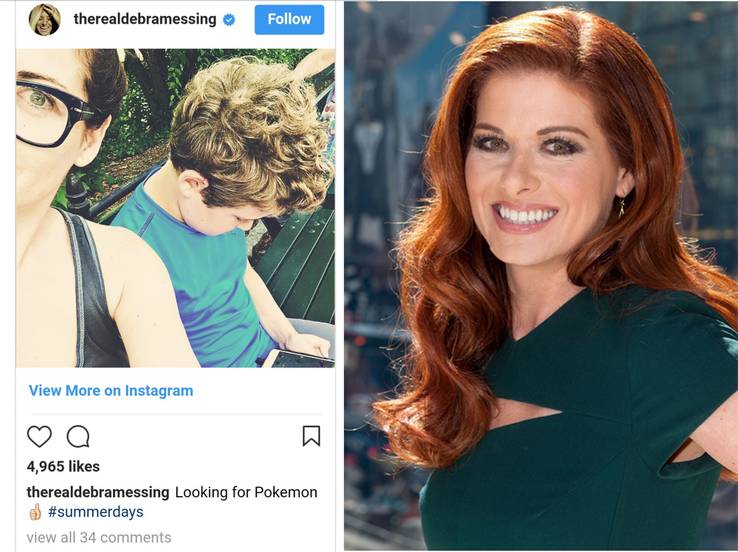 Although Debra Messing has had an array of amazing roles throughout her lengthy career, most people can't help but reference her character on the hit TV show Will & Grace. She became a beloved actress in the minds of so many TV watchers and people really hoped that she'd be able to find true love in her personal life. She wound up marrying the actor, screenwriter, producer, and director, Daniel Zelman in 2010. Their marriage lasted until 2016 and the two wound up having one son together. Messing has been photographed with her son during their travels and at various kid-friendly activities but it was this photo that she shared on Instagram that really won over people's hearts. With the bursting popularity of the Pokémon GO app, it seemed like millions of parents from around the world were getting roped into taking their kids Pokémon hunting. This is exactly what happened to Debra Messing since she was seen on a park bench beside her son and he seems utterly enthralled by the phone.
She captioned the photo by saying, "Looking for Pokémon," and millions of other moms all undoubtedly had a bit of a chuckle.
Messing didn't look all that glamorous as the world is used to seeing her on the red carpet. Instead, she looks like just another mom trying to look enthusiastic as her child looks for imaginary Pokémon.
1

Busy Philipps does what she has to for her kid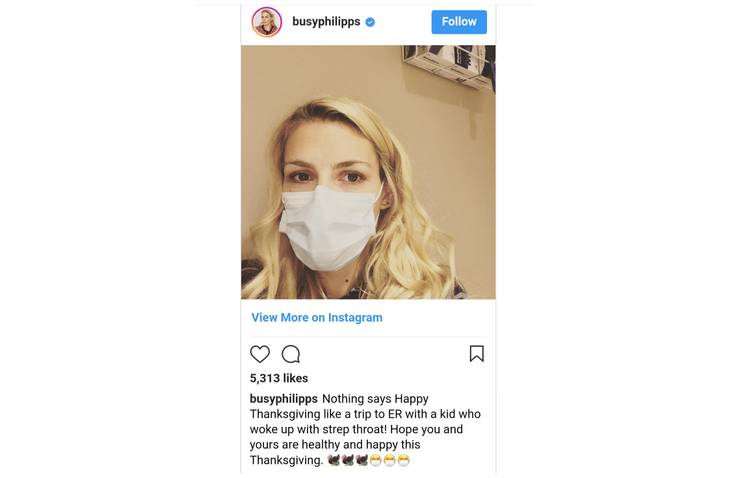 Busy Philipps is an actress that has had quite a number of different roles throughout her career, from appearing on Dawson's Creek to starring alongside Courteney Cox on Cougar Town. Yet, she's appeared in a number of films on the big screen, as well. Philipps married the famed American screenwriter, Marc Silverstein in 2007 and the two have two daughters together. While some people have criticized the couple for naming them Birdie and Cricket, people in Hollywood didn't even bat an eye because of all of the outlandish baby names over the years. With both her and her husband having hugely successful careers, many people have wondered how they have been able to hold down their family without much ever being said about their personal lives. They've remained quite low key in the tabloid headlines and there is hardly anything that's ever said about their marriage or children.
Yet, this particular Instagram post just showed the world that Philipps is simply going through the same sort of thing that other moms have to deal with when her child suddenly woke up with strep throat.
She captioned the photo, "Nothing says Happy Thanksgiving like a trip to ER with a kid who woke up with strep throat! Hope you and yours are healthy and happy this Thanksgiving."
Sources: Instagram, Twitter, People, Daily Mail, Good Housekeeping, Celebrity Dirty Laundry, Hollywood Gossip, Pop Sugar, Celebuzz, US Magazine, Vanity Fair
Source: Read Full Article