On February 1, the reality star and cosmetic mogul, Kylie Jenner, shocked the world by sharing a video titled "For Our Daughter" on social media to announce the birth of her baby girl. The 20-year-old had successfully hidden her pregnancy from the public for the entire nine months, thanks to her near-disappearance on social media and tight-lipped circle of friends. Kylie may have kept the pregnancy a secret from her fans but she announced the news only three days after giving birth, seemingly not being able to wait to tell the world.
Since Stormi Webster was born, Kylie has been wrapped up in her love and is full of happiness. Although, of course, since she is a celebrity, everything she does is in the spotlight, so she has received some criticism as well. Some have said that she is not a good mother and that her relationship with Travis Scott is doomed. However, it does not seem like Kylie even has time to give the tabloids any attention—she's too busy with her new family.
Reports have said that Kylie is the happiest she has ever been and her friends agree—she was born to be a mother. She is so obsessed with her newborn daughter that she hardly wants to put her down! Travis has also been more present ever since Stormi was born and he apparently loves being a father.  While she was once known for her relationship with Tyga, partying, and taking selfies on social media, it seems like Kylie is proud to take on her new identity—Stormi's mom. Here are 20 photos showing that Kylie Jenner has done a total 180 since becoming a mom.
20

Introducing Stormi Webster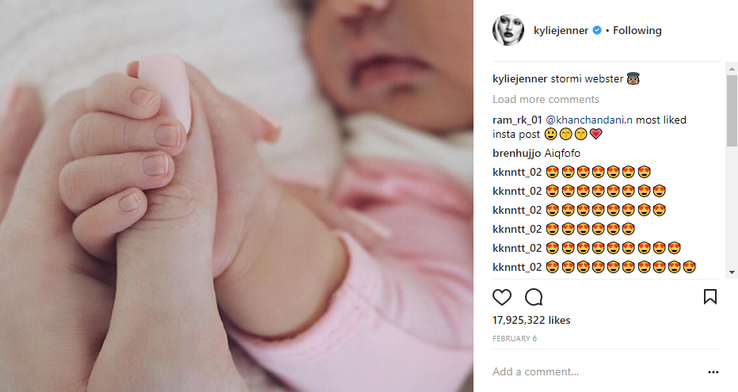 Right from the moment she knew she was pregnant with Stormi, Kylie Jenner decided that she was going to change her life. For starters, she managed to hide her pregnancy from the public for the entire term of her pregnancy, which was thought to be next to impossible, considering she is part of the Kardashian clan, and was used to sharing everything and anything. Kylie decided that her baby was going to come first from now on and that in order for her not to be stressed, she would need to be shielded from the public's prying eye. This was a huge step for Kylie, who seemed to be addicted to social media sharing before her pregnancy. Kylie was careful to wait until the right moment to introduce her new daughter, Stormi Webster, to the awaiting world.
Although it was highly suspected and widely rumored that Kylie was pregnant with Travis Scott's baby, the reality star family was mostly successful in keeping the story under wraps.
Kylie posted the first photo of her daughter on February 6, 2018, holding her tiny, little thumb. The world went nuts and the photo became the most-liked photo on Instagram in history, according to People.
19

Learning As She Goes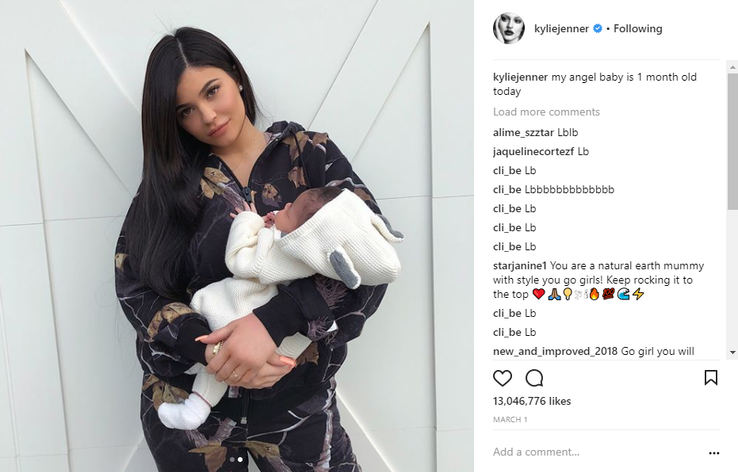 Kylie got some flack for her long nails in this picture, with fans saying they're too long to properly care for Stormi. A lot of people forget that Kylie is only 20 years old because she has seemingly lived so much life already. Plus, she looks well beyond her years, thanks to heavy makeup and changing her look. She is a young woman who has just become a young mother, so she will undoubtedly make some mistakes along the way.
The hard part about being a celebrity is that people are always going to be waiting to watch you fail (and to snap a photo of you on their cell while they're at it). Celebrity moms are some of the most harshly-criticized people.
Kylie received some harsh criticism when she posted this photo on Instagram. She had only posted a few photos with Stormi at this point. It seems that her fans (and some internet trolls) thought that Kylie could not properly care for her daughter because of the length of her nails. While they might have a point (how does she change diapers with those?!), Kylie learned that in order to be the best mother that she can be, she needs to trust her instinct, ignore the haters, listen to the advice of those surrounding her, and continue to learn as she goes!
18

The Happiest Time In Her Life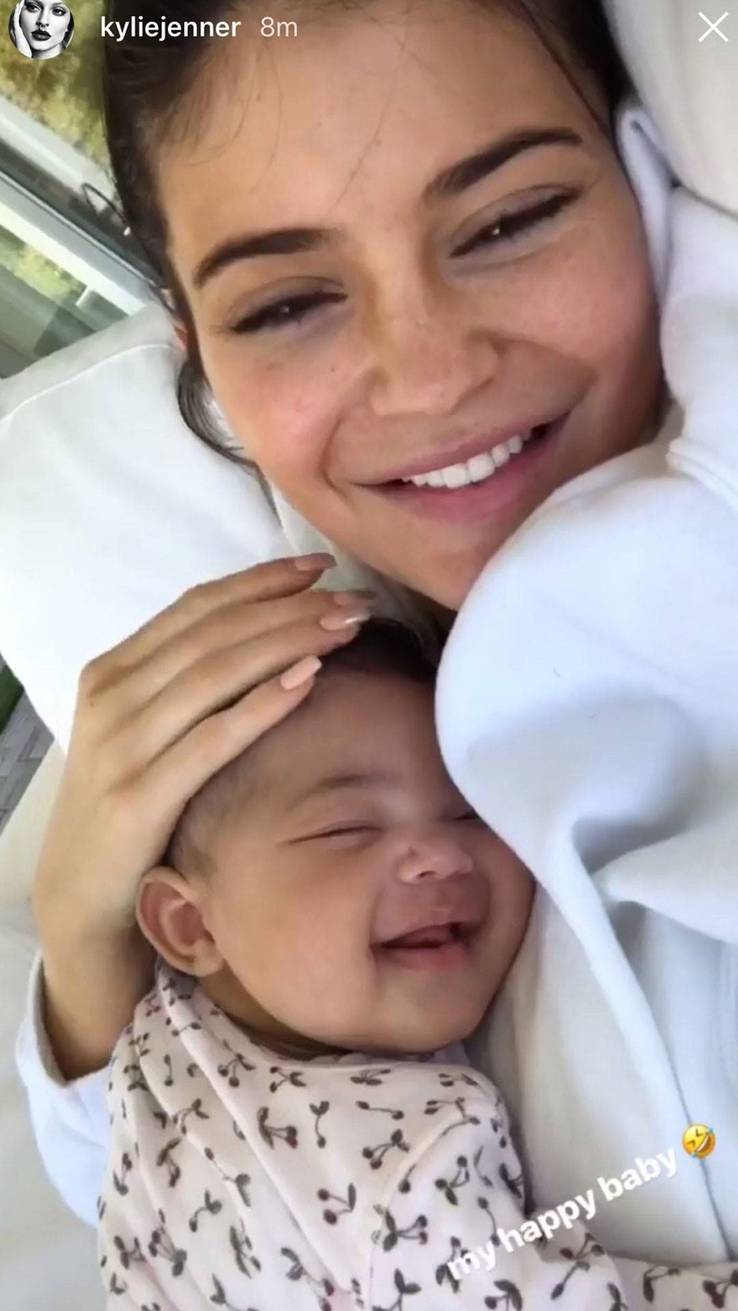 Kylie is really soaking in all of the love. She is obsessed with spending every waking moment with her sweet, bundle of joy—and who could blame her? Jenner is in the honeymoon phase with her newborn and she says it is the happiest time of her life. Having Stormi filled her with a kind of love and overwhelming happiness that she never understood before. She is also happy that having Stormi improved her relationship with Travis Scott, according to People.
Insiders claim that she is "very in love" with Travis, that he is a "great dad and loves spending time with their daughter," and that he has "very much stepped-up," in comparison to before the baby was born.
It seems like everything is falling into place perfectly for Jenner and she could not be more thrilled. She has mostly spent time relaxing at home with her baby girl because she just can't get enough! She has been so happy that she has shared some super cute Snapchats of her daughter to let her fans in a bit. The other day, she shared a cute snap of Stormi laughing in her sleep, with Kylie joking about both of their hair being a mess.
17

Her New Best Friend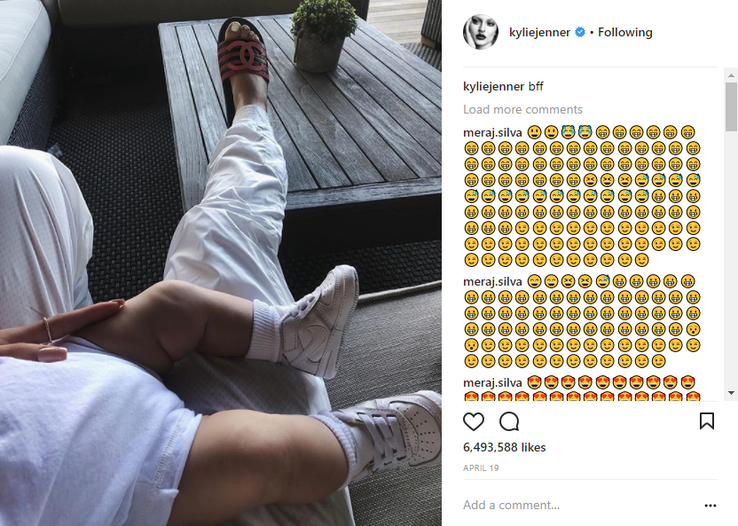 Kylie has a newfound best friend with Stormi. She practically popped out a mini-me. Kylie has always wanted to be a mother and she has a very close, friendly relationship with her own mom, Kris Jenner. It's obvious that Kylie will raise Stormi to have a close-knit relationship with her and the rest of her family. She will definitely grow up to be mommy's little girl.
In fact, Kylie is best friends with so many of her family members and she is probably thrilled that Stormi will be able to grow up in a similar situation. Kim had her third child, Chicago, with the help of a surrogate just before Stormi was born, and Khloe gave birth to her first child, True, a little while after Kylie had Stormi—and all girls! This family is full of BFFs. Kylie has plenty of great friends who she loves, most notably, Jordyn Woods, who Kylie often refers to as a sister, but now she has a permanently built-in best friend for life! Whether she and Stormi's father, Travis Scott, end up staying together is unknown, but what is known is that Kylie will always have Stormi by her side, and that has to be comforting for her.
16

Being A Mother Is Her True Calling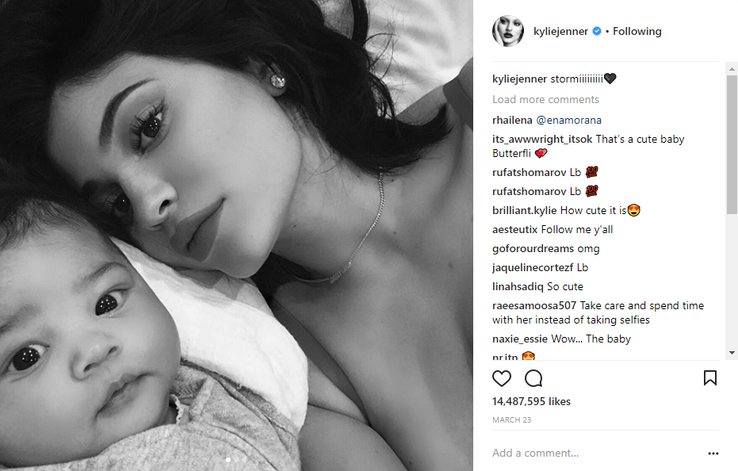 Kylie has been a dog mom for years to her beloved pups, nurturing and loving them. She has also said in the past that she felt that it was her true calling to be a mother in life. Her friends all agree—Kylie was meant to do this. In the video that Kylie posted after announcing that she had given birth, which updated her fans on the past nine months, her close friends spoke about Jenner at the baby shower saying that they were so happy for her because they knew that this was something that the reality star had always wanted deep down inside.
All of the money, clothes, cars, and houses can only do so much when it comes to true happiness. Kylie has already built herself a massive empire before the age of 21. She does not need to worry about money, but she does need to worry about her own personal happiness.
Being a mother is something that Kylie feels will bring her true happiness and it looks like she succeeded in that. According to ET, the 20-year-old has been "overwhelmed with joy" ever since welcoming her baby girl into her life, and sources say that she has "never been happier in her life."
15

Dressing Up With Stormi On The Daily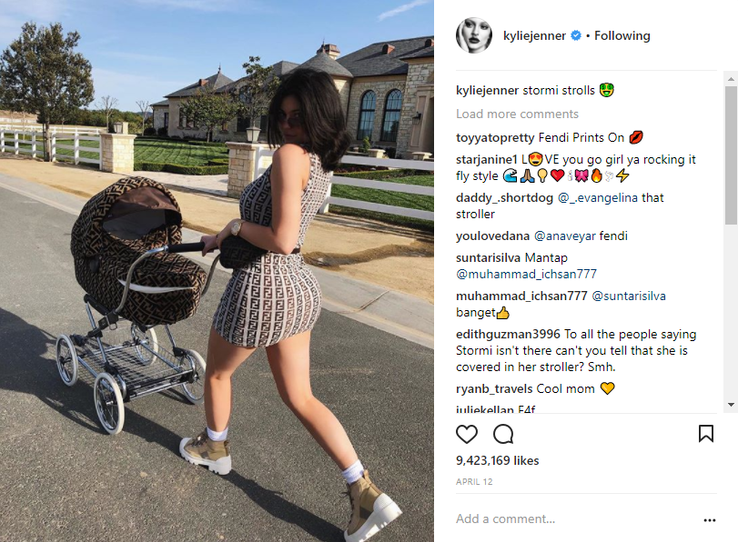 One of the most fun parts of being a new mom for Kylie is getting to dress up baby Stormi every day! Now, she has a little mini-me to dress in designer threads and the cutest ensembles. Kylie will choose matching, mommy-and-me outfits and is sparing no expense for her baby girl! Kylie recently posted this Instagram photo of her strolling through a wealthy neighborhood with Stormi, capturing the photo, "Stormi strolls," on April 12, according to Us Magazine.
The reality star was decked out a Fendi ensemble and Fendi fanny pack, with a matching Fendi stroller, which runs for around $1,700.
It must be nice being a celebrity mom because Kylie can afford to buy her baby the best of what life can buy. A child usually outgrows their clothes quickly, which is why a lot of parents see no sense in buying expensive clothes for kids. The Life of Kylie star is, by no means, a regular mom, and is definitely on her way to being a cool mom. In her behind-the-scenes pregnancy reveal video, Kylie revealed that Stormi's closet was already full of designer clothes, accessories, and shoes. This will be one well-dressed celebrity child, that's for sure.
14

Exhausted And Emotional, But So In Love!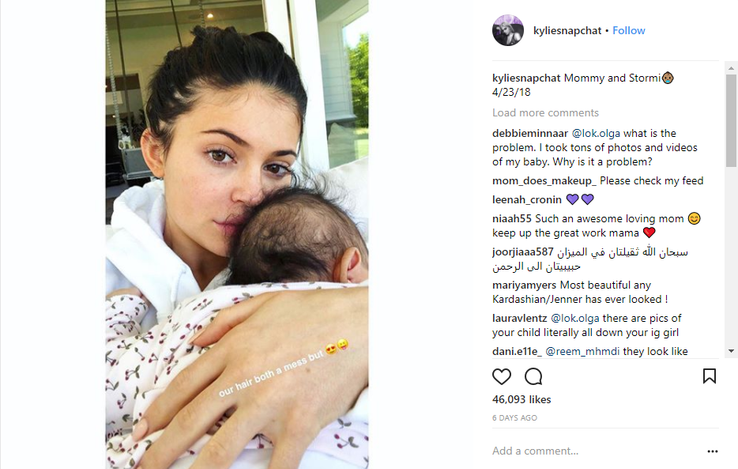 The 20-year-old is, understandably, a bit "overwhelmed" by motherhood. Being a mom is hard, for anyone, let alone a 20-year-old celebrity, who has all eyes on her. Metro reported that she was having trouble figuring out to get Stormi to stop crying. Despite having her older sisters around to give her advice, they are all so busy with their own lives and children.
Although Travis has stepped up to the plate more now that their daughter was born, he is often working, and she finds herself alone with the baby.
Of course, being a celebrity, she has a few baby nurses to help her out but motherhood can still be a lot for anyone to handle. Like with all things, this will take time for her to get used to and before she knows it, she will be mothering Stormi like nobody's business! Her sisters have all become great mothers and, although her sister Kourtney seems to have a natural knack for it, her other sister, Kim, was definitely overwhelmed with her first child as well. She had a difficult pregnancy and had a hard time adjusting, but now she is happily the mother of three! So everything that Kylie is feeling is 100 percent normal.
Featured Today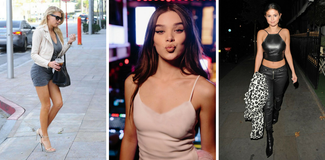 20 Female Celebs In Their 20s Who Are Still Single And Available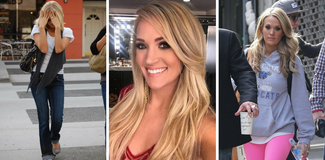 20 Things About Carrie Underwood That Make Fans Rethink Her Nice Girl Image

20 Regular People Who Tried To Look Like A Kardashian (And Are Outshining The Originals)

13

Spending More Time With Family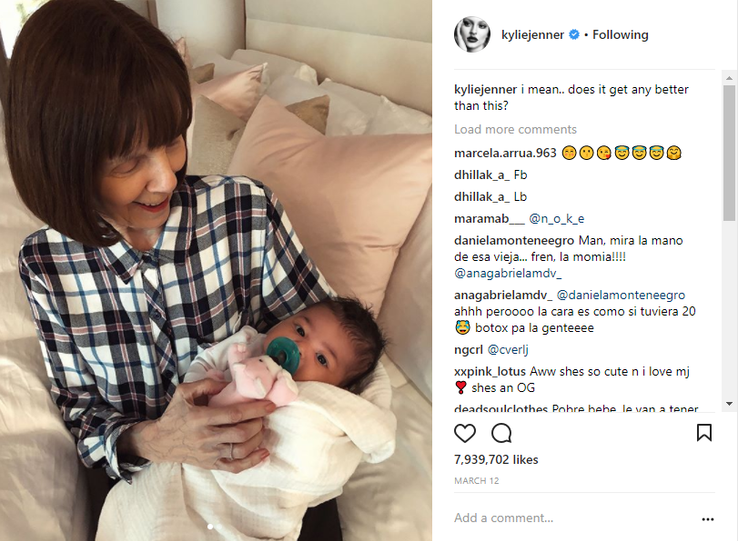 It is nice to see that Kylie has been spending more time with her family and those who care about her. Having a daughter has made her realize now, more than ever, that family really does come before everything and anyone. She leaned on her family heavily during the nine months of her pregnancy to keep the baby a secret and now she will lean on them heavily to help her raise her little girl. The Kardashian-Jenner is notoriously tight-knit and involved in each other's lives.
Kylie used to be the family member who would ditch get-togethers and even vacations to hang out with her friends or do something more exciting. But now, it seems that she has really recognized the value of having a close family.
She shared a sweet photo of Stormi with her grandmother, Kris Jenner's mom, Mary Jo, a.k.a. M.J., captioning the photo, "I mean… does it get any better than this?" Her grandmother gently held the newborn, while an additional photo featured the newborn holding onto M.J.'s finger. Jenner has been very protective of Stormi as far as the outside world is concerned, so she has been leaning heavily on her family for support, according to People Babies.
12

Leaning On Sisters For Guidance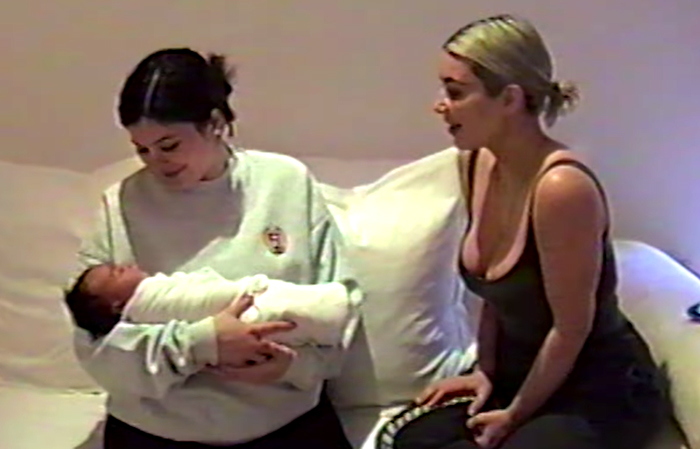 As previously mentioned, Kylie is fortunate to have older sisters who have all (except for Kendall) had children of their own. Coincidentally, Khloe was also pregnant with her first child at the same time. Kylie relied on taking advice from her older sisters about pregnancy and parenting. Oh, and her mother, Kris, helped too! Kim and her husband, Kanye West, welcomed their third daughter, Chicago, about a month before Stormi was born, while Khloe just recently gave birth to her and Tristan Thompson's daughter, True. Stormi is lucky to have two cousins who are the same age to grow up with.
Kim and Kourtney's older children, North and Penelope, have already formed a tight bond—two peas in a pod—and are often spotted holding hands and dressing up together. Kylie is thrilled that her daughter will have some locked-in best friends for life. Kylie had sometimes struggled to keep her relationships with her sisters close in the past, as seen on Keeping Up With The Kardashians, but this will surely bring them closer than ever. She even had a girls night out with her sisters at the end of March. She took a break from motherhood and pigged out with Kendall and Kourtney at Mr. Chow, according to People. More recently, Kim, Kendall, and Kourtney all joined Kylie at Six Flags, where she rented out the entire amusement park for Travis Scott's birthday.
11

Soaking Up Some Sunshine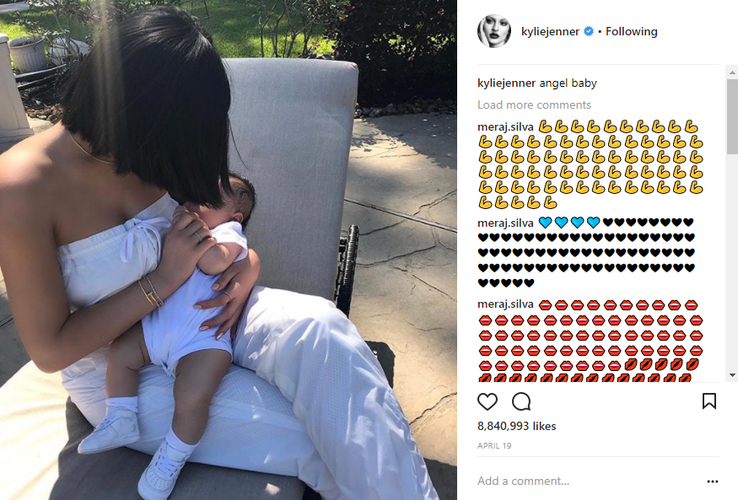 Ever since she had Stormi, Kylie seems to really be enjoying herself and living life to the fullest. She recently uploaded this photo to Instagram, holding Stormi, and soaking up some sunlight. The mother/daughter duo wore matching white outfits, Refinery 29 reported. She captioned the photo, "angel baby," which seems to be a common theme for Kylie, referring to Stormi as her angel. Kylie is more in love and happier than she has ever been and it is made clear from the photos. She has a glow and a beam in her smile that was never there before.
Stormi looks so cute, all cuddled up in her mama's arms! The photos are only bound to get cuter and cuter. It will be interesting to see how much of Stormi's life Kylie allows to be in the public eye.
Her sister, Kourtney, allows her children to be on the family's reality series, Keeping Up With The Kardashians, while Kim's children are less present. However, both Kourtney and Kim's kids are pretty visible on social media. Kylie is said to be extremely protective of Stormi, but she has also shown the public quite a lot of her so far via social media.
10

Mommy's Little Angel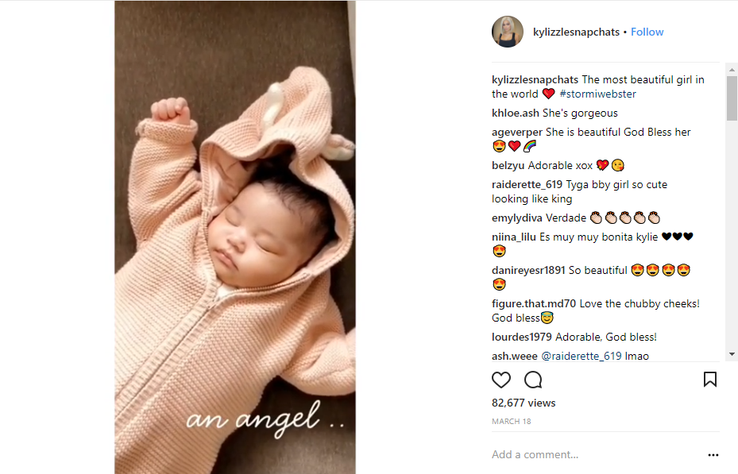 As we said, Kylie seems to be sticking to calling Stormi her "angel," as it has been published a few times on social media. She truly does feel that her daughter is an angel and a blessing on her life. She can't help but share Snapchat videos and Instagram stories of her precious baby girl with her fans because she knows people are dying to get a glimpse of her. Kylie has shared the most adorable photos of Stormi, with the chubbiest cheeks. In this photo, she calls her new daughter "the most beautiful girl in the world." Stormi was dressed in a pink onesie with a hood that seemed to have animal ears attached to it— adorable.
Despite the fact that she hid her entire pregnancy from the public, once her baby was born, she couldn't wait to share her with the world, according to Refinery 29. In fact, she only waited a few days after giving birth to post that video, revealing that she had, in fact, been pregnant all along. People were happy to receive an update after nine months of almost total silence. Plus, Kylie gave people the first glimpse of her daughter in the video. Now, her followers have almost come to expect a few Stormi Snapchats a week. We're not complaining—who wouldn't want to see pictures of this adorable baby?
9

Snapchat Filters For Stormi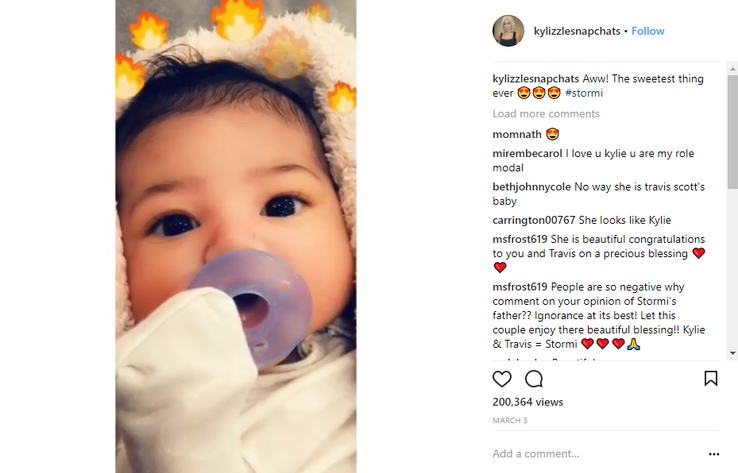 Speaking of Snapchat, the first actual photo that Kylie shared of Stormi's face was with a Snapchat filter on! It was a little hard to tell if this was actually what Kylie and Travis' baby looked like, seeing as the Snapchat filter blurs out the fact a bit and can make the eyes look a little different, but people were thrilled to see a photo of the baby regardless.
Stormi became an Instagram star within the first few days she was alive on the planet! That's more than most of us can say—much more.
She is destined to be a little star already. I mean, aren't all of the Kardashian/Jenner children? Kylie is going to spoil her little girl rotten and she can't stop taking pictures of her. Insiders told People that "all she talks about is her baby girl." Is it not just a little freaky to think that Stormi Webster will never live in a world where Snapchat filters don't exist?! Kim and Kourtney's kids are practically Snapchat professionals these days, which makes sense because their mothers practically live on the app, so it surely won't take long for little Stormi to catch on. It is surprising that the reality star family hasn't developed their own Snapchat filter yet.
8

Making Sure That Stormi Gets Plenty Of Daddy Time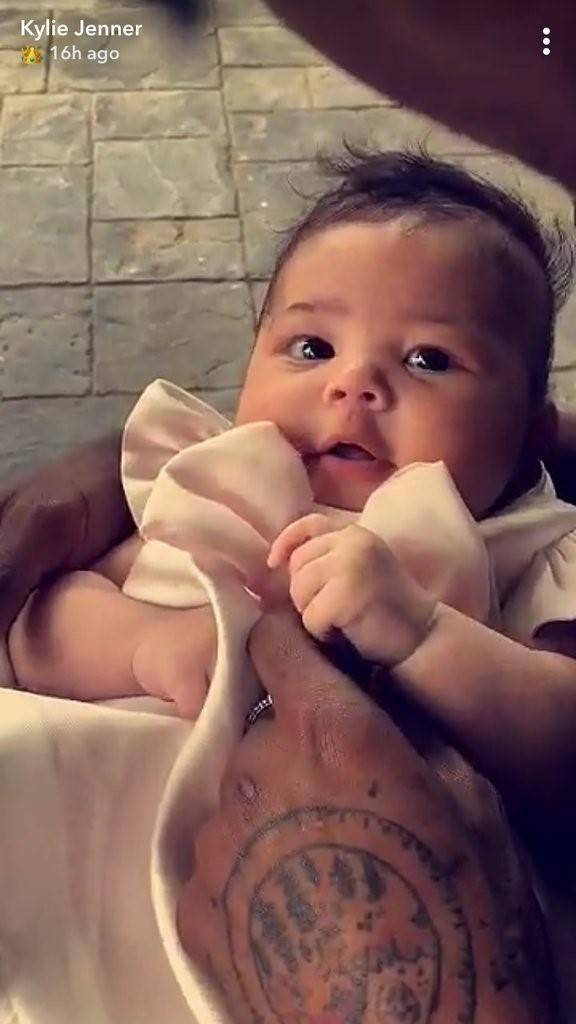 Like we mentioned earlier, Travis has reportedly been a better boyfriend and a father ever since his little girl, Stormi, arrived. While she was pregnant, there was some cause for concern, as the rapper did not necessarily seem like he wanted to be involved. There were even reports that Kris Jenner had to whip him into shape and that Kim issued him some warnings as well. Travis and Kylie have been dating since last April, so just over a year now. Kylie's pregnancy was something that occurred very early on in their relationship, but they have remained a united front throughout the experience. They are both thrilled to be parents and Kylie loves for Travis to spend as much time with the baby (and her) as possible.
Travis' family has been a big help as well, sticking around to support the new mom and dad. Sources told People that Kylie is "surrounded by her and Travis' family. Everyone is pitching in and helping Kylie so she can do things like shower. But all she wants to do is hold her baby."  A source previously told People that Stormi definitely helped bring the couple closer and that Travis really seems to love being a father.
7

Enjoying Her Downtime With Close Friends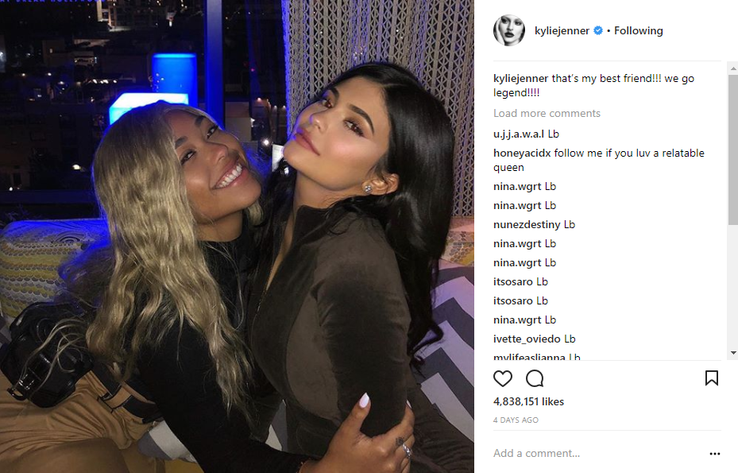 Kylie is, of course, loving being a new mom but she still has to take a break every once in a while and relax. She loves hanging out with her friends. Kylie keeps her circle of girlfriends very close-knit. She has to. I mean, she managed to keep her pregnancy a secret without any one of her friends or even staff ratting her out to the tabloids for a big payday. Kylie's friends are extremely important to her, so she makes time for them. Recently, Kylie was spotted at the Coachella music festival in California with her close pals and her boyfriend.
The getaway served as the first time that the 20-year-old had taken a trip away from her daughter since giving birth. Although she was away from her baby girl, it was reported by Seventeen that Kylie's outfit had a hidden Stormi reference, which is sweet. She uploaded photos of her many outfits and many hairstyles on Instagram. People who criticized Jenner for being away from her child should also realize that she is a young girl who needs to have some fun, too! Surely, it was hard for her to be away from Stormi but she has to continue to have new experiences on her own as well.
6

Her Friends Help Out With The Baby, Too!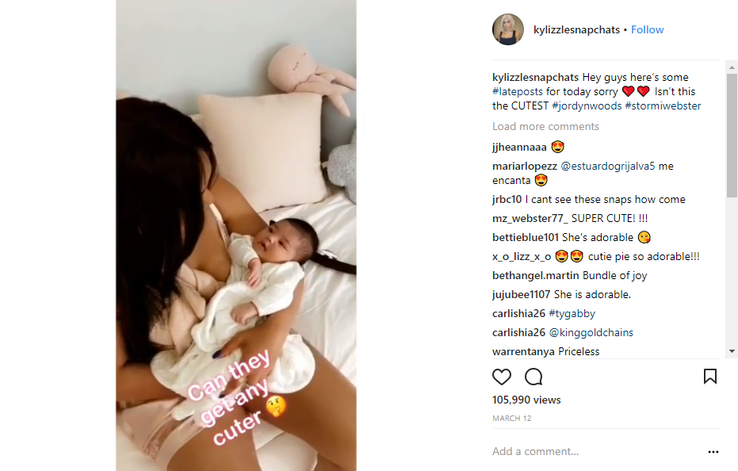 Kylie Jenner leans heavily on her family but she also relies on her close friends. They have been there throughout this entire journey, holding her hand along the way, and supporting her no matter what decisions she made. Now that her baby is here, her friends are totally still there for her! And now Stormi, too! Close pals like Jordyn Woods have absolutely loved getting to know Kylie's daughter, helping her in any way that they can.
Jordyn has no problem prying the little girl out of her mama's arms to get a good squeeze in. She loves her! Jordyn and Kylie are so close that they are practically like sisters, so it is likely that her friend will be a big part of her daughter's life as well. According to People, Jordyn said that Kylie was taking on motherhood one day at a time and, although Woods has never had a child, she figures that "you figure it out as you go" because "it's just a whole new experience." She praised her friend for being so strong throughout this whole experience saying, "I think that it takes a really strong woman to carry a child," and "I admire any woman who gave [birth] because that […] is crazy."
5

Keeping Her Relationship Under The Radar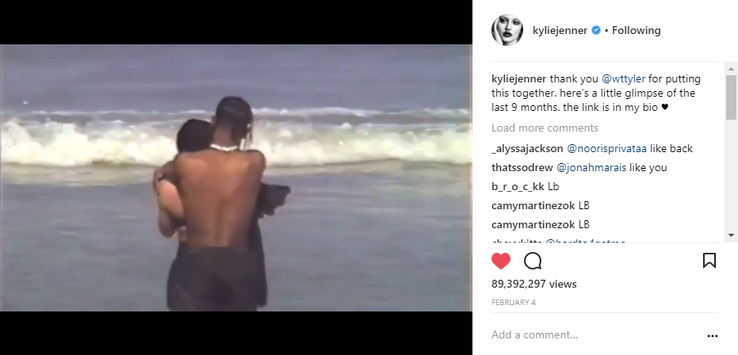 Kylie has been much more low-key with her relationship with Travis Scott than she was with her ex-boyfriend, Tyga. Tyga was all over Kylie's Instagram page constantly. He also made appearances on the family's reality show, Keeping Up With The Kardashians. In fact, many people have suggested that the rapper was using the teen to rise to stardom. Now that Kylie is not the only one in the picture, and she has Stormi to consider, she is treating her relationships differently.
Although she and Travis Scott got pregnant very early on in their relationship, she is not rushing into moving in with him, Complex reported. Despite the fact that the two now share a child, they are not taking any major advances in their relationship. Kylie and Travis are working on co-parenting and being in a romantic relationship. Although she does share some photos of him on her Instagram, the reality star's profile is mostly filled with selfies, snaps with her girlfriends, and shots of Stormi. The rapper is constantly performing and making new music, while Kylie has her empire to run, but if the two are really in love, they will make it work. Perhaps that is why Kylie is more protective of her relationship with him from the public.
4

A Lip Kit In Honor Of Stormi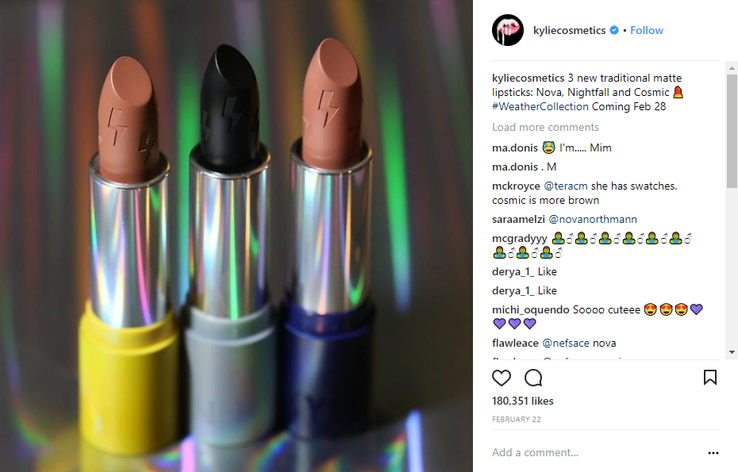 Of course, the cosmetics queen had to do a line of makeup inspired by her brand new baby girl. On February 22, Kylie revealed that her latest line would pay homage to Stormi—The Weather Collection—which is complete with holographic packaging, according to Allure. All of the colors and shades were named appropriately. For instance, Lightning Bolt is a loose powder highlighter.  The Highlighter Palette will cost you around $44 but the reviews have been positive, with customers saying that the formula is silky and blendable. The eyeshadow palette is appropriately named The Calm Before The Storm Eyeshadow Palette, which includes coordinating matte and metallic pastel shadows like a vivid, electric purple, and a bold, forest green.
It is only natural that with a huge change in her life like bringing a child into the world, that Kylie would want to incorporate this into her work. Her work is her whole life and now that Stormi is a part of that life, she wants to make her a part of Kylie Cosmetics as well. After all, Kylie has featured every other member of her family in her cosmetics line at one point or another. Her current collaboration palettes with her older sister, Kourtney, are selling like wildfire!
3

Kylie And Stormi Are Getting Plenty Of Sleep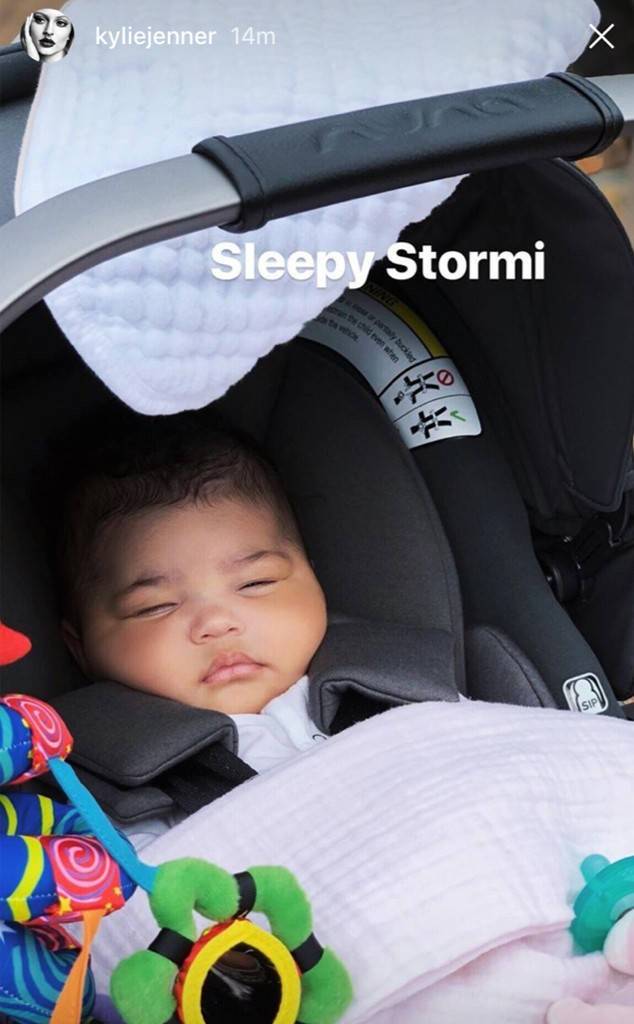 One thing that is super important for both a new mother and her baby—sleep. A new mother is obviously exhausted from having carried a baby in her body for nine months and now having to care for them full-time. Mothers who do not get enough sleep can struggle a lot.A baby is exhausted from just being a baby! Kylie shared this sweet snap of a very sleep Stormi.
Thankfully, Kylie has hired help and her family, friends, and Travis' family to support her through this time and help her out so that she can take the occasional nap and necessary shower. According to Metro, Kylie was struggling to get Stormi to stop crying and sleep for the first few weeks that she was home, but she will get the hang of it and will learn how to tune into her daughter's needs soon enough. If Kylie does not get enough sleep, she cannot be the best mom to Stormi, so while tending to her needs is important, so is getting the proper amount of quality sleep. Hopefully, Travis Scott is spending some nights at Kylie's mansion with the baby so that he can take turns waking up when the baby cries with her.
2

Embracing Her Post-Baby Body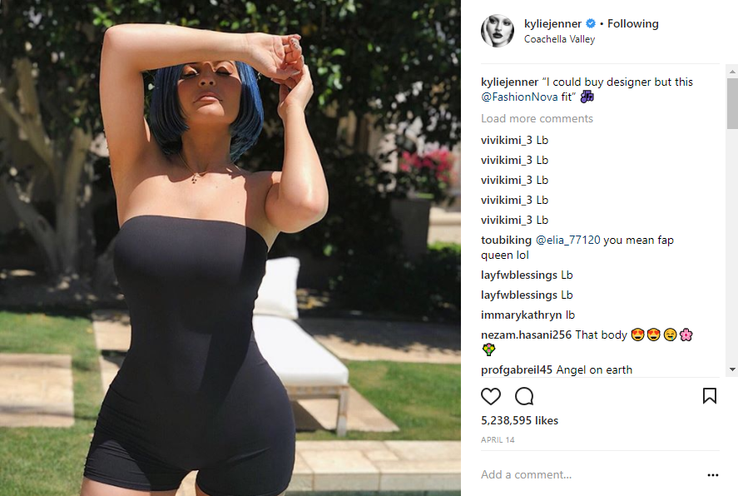 Kylie has always been known for her curvy figure. She has no problem showing off her body in tight clothes. When she found out that she was pregnant, Kylie was initially worried that she would not be able to lose the baby weight. She was concerned that she would never get her body back to the way that it had looked when she was 19 and in her prime. Having a baby can certainly take a toll on a woman's body but you wouldn't have guessed it from the look of Kylie. Just a month after giving birth, Kylie was looking amazing, but now, almost three months after Stormi was born, she showed off in a skin-tight bodysuit ensemble for Coachella. The outfit did not hide anything, not that it needed to—she looked incredible.
It is hard to believe that she really carried a baby for nine months, but hey, I guess that is one of the perks of getting pregnant at a young age. Kylie's body is back and looking as curvy as ever. The reality star was not shy about posting tons of photos for her fans, who were happy to see her looking like herself. The 20-year-old looks absolutely incredible, revealing an hourglass figure in remarkable time.
1

Figuring Out Who She Is As A Mom And A Woman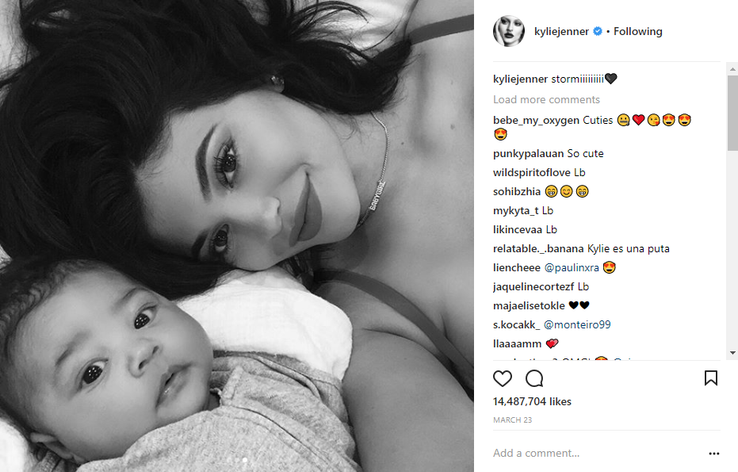 People tend to look past the fact that Kylie is only 20 years old. She still has so much more to learn and so much more life to live. She had a child early on in life, which means that she will have to figure some things out a lot sooner than most. Although, being a celebrity meant that she already had to figure things out quicker than others. Kylie has been living life like she was an adult since she was a young teen. She has a multi-million dollar company, is a social media star, and is on her way to becoming a young billionaire. Having this baby will only help her to find true happiness and meaning in her life. She is still figuring out who she is and what she wants in life but now that she has Stormi, she will need to remain grounded and focused.
Things may or may not work out with her baby daddy, Travis Scott. It seems like she is doing the right thing by not rushing into moving in with him or bragging about their relationship (too much) on social media. She is realizing what is important in life and while the money, the cars, and the clothes are nice, it is her family and those who love her who truly make her happy and matter in her life. Kylie may get tons of criticism, but she has proven that she has her head screwed on right and welcoming Stormi into her life will only brighten the horizon for her.
Source: Read Full Article