We've all experienced the feeling of confusion, envy, and sheer surprise as a car roars past, looking like it's from about 25 years in the future. In 2018, sports cars are looking more and more spectacular, and they're reaching speeds that were previously considered impossible. Should these cars even be anywhere near a public road? Maybe not. They were designed on the racetrack, and they've been fitted with engines we'd be more likely to find in a formula one car than on something we would pick up groceries with. But people do buy these engineering masterpieces, and why wouldn't they show them off by driving down the street?
Wouldn't you do the same if you were the proud new owner of a Ferrari 812 Superfast, or an Aston Martin Vanquish? Or what about a Lamborghini Aventador? These are just a few notable cars that are considered the best and brightest in 2018, and they all have price tags to match their fearsome reputation in the auto industry. All of these cars are over $100,000, and some are even worth millions. That mere fact alone is enough to blow our minds, but that's before we even start mentioning all the top speeds, the futuristic features, and the sheer amount of horsepower all of these cars offer.
20

Acura NSX – $157,800
The Acura NSX is without a doubt one of the most exciting cars of 2018, and it's one of the most technologically advanced automobiles on the market. Of course, that's not all the car offers, and we can expect amazing speed from the wheel of this fine creation. With prices starting at $157,800, it's certainly not a cheap car, although it's not quite as expensive as some of the other sports cars in this article. It has a unique system that combines three electric motors and a turbo V6 engine.
19

Audi R8 – $139,950
The Audi R8 is another car that has the power to turn heads wherever it may be, and this is a model that has been around for a few years now. But the 2018 model is all-new, and it comes with some interesting and thrilling features. For instance, the car has no gauges, and instead relies on a 12.3 inch display screen to show the driver all the relevant information. It also has an extremely powerful engine that offers 540 horsepower from a V10 powertrain. At $139,950, the car definitely isn't cheap either.
18

Lamborghini Aventador – $402,995
One look at the 2018 Lamborghini Aventador, and it's clear that this car manufacturer has stumbled onto something truly special. However, perhaps the word "stumbled" isn't quite correct, as everything Lamborghini does seems to be highly methodical and calculated. That's beginning to sound boring, which the Aventador is clearly not. Priced at $402,995, this is one of the most expensive Lamborghini autos you can buy in 2018, but buyers get their money's worth. The car is almost obscenely powerful, offering 730 horsepower from a V12 engine.
17

Mercedes AMG GT – $113,395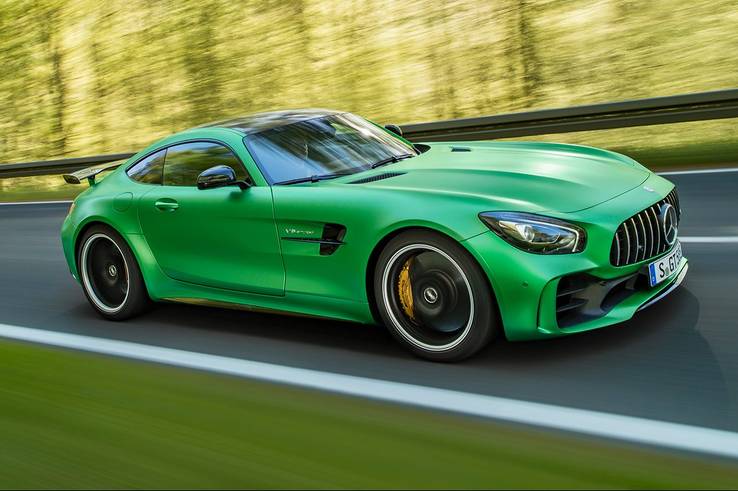 As one of the cheapest cars in this article, the Mercedes AMG GT is priced at $113,395, and it's probably one of the best bargains for those seeking to spend over $100,000. But don't get the wrong idea – this car is neither cheaply made or designed to appeal to money-conscious individuals. Mercedes has an impeccable reputation in today's auto market, and the AMG GT is a shining example of why. It boasts a twin turbo V8 Engine, which will give any of the other cars in this article a run for their money.
16

Aston Martin Vanquish – $297,775
Aston Martin is another manufacturer with a fabled reputation in the auto world, and cars like the 2018 Vantage continue to tempt buyers of high end luxury sports cars. Priced at $297,775, it's one of the most expensive cars we've mentioned so far, but the experience this car provides is almost priceless. And for the Vantage in particular, the experience is the main focus, with luxury at times taking precedent over sheer speed. It's still fast with a V12, 568 horsepower engine, but it's definitely deserving of its "super grand touring" moniker.
15

Ferrari F88 GTB – $256,550
Ferrari is one of the oldest and most successful auto manufacturers in existence, and they've been winning both on the racetrack and in the domestic market from the very beginning. All of that history and prestige culminates in 2018 with the release of the F88 GTB, one of the prize jewels of the Ferrari lineup this year. It comes with a twin-turbo V8 Engine, capable of delivering up to 661 horsepower. The price tag on this stylish, trendy machine is $256,550, and it's filled with technological innovation.
14

McLaren 720S – $288,845
If there's one car capable of taking our breath away in 2018, it's the McLaren 720S. The British manufacturer is proudly showing other supercar designers how it's done, and this car is both fast and beautiful. This is without a doubt one of the fastest cars in this article, and people probably have a strong case when they argue that the 720S has no place being on a public road. This is a car designed by racing experts, and it shows. The lightweight design and obnoxious yet refined 710 horsepower, twin turbo V8 can reach 60 mph in a stunning 2.7 seconds, blowing other supercars out of the water. It is priced at $288,845
Featured Today
30 Of The Most Expensive (And Useless) Baby Products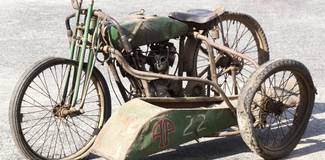 25 Random Things People Bought That Made Them Very Rich Later

25 Random Things Found In The Desert That Were Worth The Most Money

13

Bugatti Chiron – $2,998,000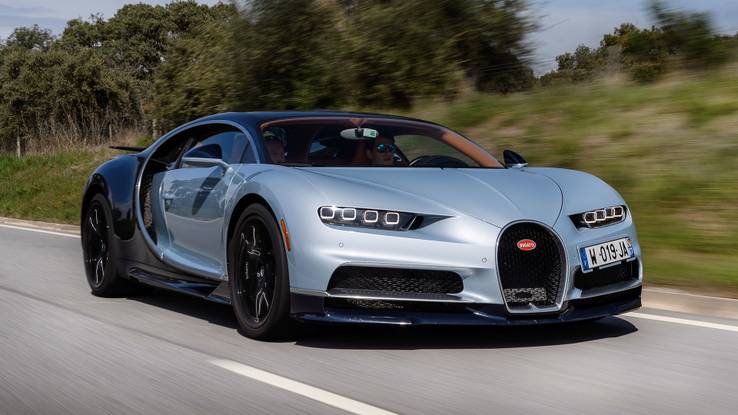 The Bugatti Chiron is by far one of the most expensive cars on this list, but it's also one of the fastest and most powerful. The specs are just jaw-dropping. 1,500 Horsepower is supplied by a 16 cylinder engine with a top speed of 261 miles per hour. The price tag on this engineering marvel is $2,998,000, which is actually pretty understandable given the fact that this car is almost twice as powerful as most of the other cars in this article. Does it even belong on public roads? Probably not.
12

Ford GT Coupe – $453,750
There's a lot of history behind this car, and the Ford GT was originally created many decades ago specifically to battle Ferrari on the racetrack. Many years have passed, but the Ford GT remains one of the best hypercars on the market in 2018. Only 1000 of these will be built this year, making that $453,750 price tag understandable, if not just a tad overwhelming. Under the hood, this car offers a twin-turbo engine capable of delivering a respectable 647 horsepower from a V6 engine. It's made for speed.
11

Chevrolet Corvette ZR1 – $119,995
Although this auto just barely scrapes in at over $100,000, the Chevrolet Corvette ZR1 remains one of the most adored sport scars of 2018. The exact cost is $119,995, but there is a lot to love about this refined, lightning quick favorite. There are cars that cost many times the price of the Corvette ZR1, and yet the cheaper option outmatches these cars in many areas. Take the engine, for example – a V8 that delivers a blistering 755 horsepower. It's fair to say that this car's relatively high price tag is well-earned.
10

BMW i8 – $164,295
Probably one the most striking designs of 2018 comes from the BMW i8. The car looks positively futuristic, and it promises to get a lot of admiring glances from those on the street. Despite this, it remains surprisingly cheap when compared to some of the other supercars of this year, priced at $164,295. That might be explained by the fact that the car boasts a relatively tame 369 horsepower from its hybrid engine. But the futuristic nature of this car is much more than skin deep, and it offers amazing mileage per gallon.
9

Jaguar F-Type R – $100,895
The cheapest car in this article is surprisingly supplied by a very high-class brand, and the Jaguar F-type R comes in at just $100,895. Buyers receive a nice assortment of goods packaged inside a beautifully styled car for this chunk of change, and this Jaguar certainly does not disappoint in 2018. Its powerful V8 engine boasts 550 horsepower, and this model is noted for its loud cracks and pops that spit from the exhaust and engine, which is music to any sports car enthusiast's ears.
8

Maserati Gran Turismo – $134,775
Another Italian auto manufacturer known for making fast, beautiful cars is Maserati, and they've come out with an interesting entry for 2018 in the Gran Turismo. This car is priced at $134,775, and it's clear that an incredible amount of attention to detail has gone into the outward appearance of the car, delivering a typically stylish Italian ride that is refined and daring all at once. Of course, its engine is also a thing of beauty, delivering 454 horsepower from a well-designed V8.
7

Lotus Evora GT430 – $140,000
Lotus has been making very interesting cars that go against the grain for countless decades, and these are definitely not mainstream automobiles. But cars like the Evora GT430 might just be the best kept secrets in the world of sports cars, because there's something truly special about them. While sports cars have been getting fatter, heavier and more digital, Lotus has gone in the complete opposite direction, focusing on lightweight design and analog interiors. Carbon fiber make this the lightest ever Evora model, and its supercharged V6 Engine delivers 430 horsepower. It's priced at about $140,000, and only 60 will be made.
6

Porsche 911 GT2 RS – $294,250
This isn't your average Porsche. But that should be painfully obvious just by looking at this car, as this is an extremely modern take on an old masterpiece. The 911 has had some major upgrades in 2018 with the GT2 RS, and its price tag reflects the amount of work Porsche has put into making the fastest 911 ever. At $294,250, this amazing car is all about power, offering a surprising 700 horsepower from its twin turbo flat-six, propelling the driver to 60 miles per hour in just 2.7 seconds.
5

Ferrari 812 Superfast – $315,000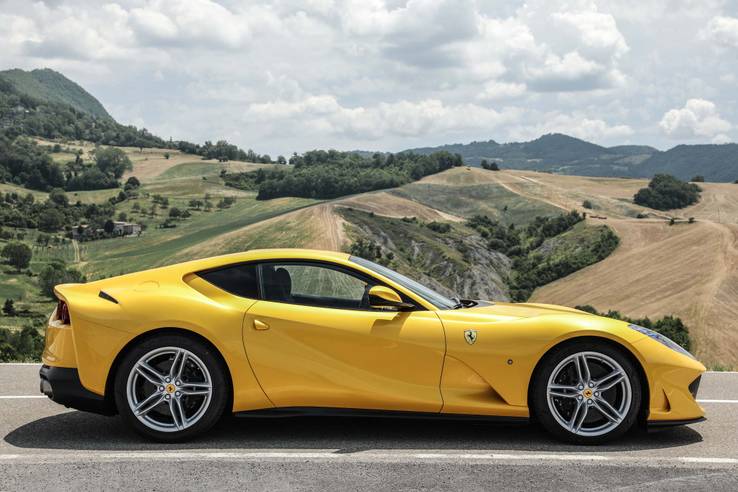 The name of this creation from Ferrari cuts straight to the point – and so does the car itself. The Ferrari 812 Superfast is certainly worthy of its imposing moniker, and it's one of the speediest cars on the road in 2018. Just how fast is the Superfast? How does a top speed of 211 miles per hour sound? Or a 789 horsepower V-12 engine? The Superfast boasts both of these, and many more technological features such as extremely clever and modern airflow systems. All of this and more explains the $315,000 price tag.
4

Lamborghini Huracan – $203,295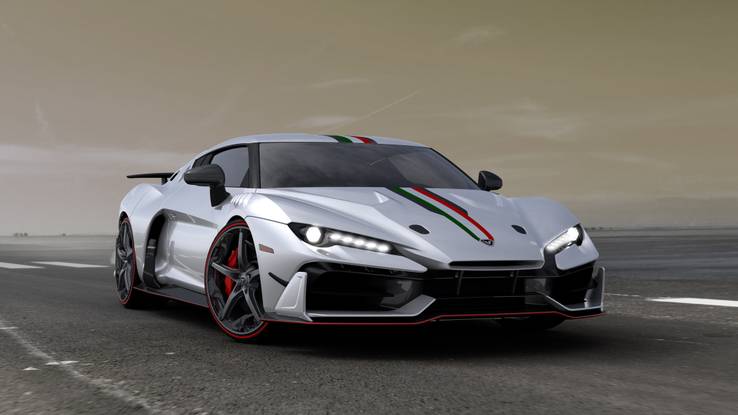 You'd be hard-pressed to find a more beautiful Lamborghini on the market in 2018, and every sports car enthusiast would love to be behind the wheel of one of these fine automobiles. We've already mentioned the Aventador, and believe it or not the Huracan is almost half the price of its sibling in 2018. It's still much more than $100,000, though, and buyers are being asked to shell out $203,295 to take a Huracan home. But with a V-10 engine pumping out 631 horsepower, it's hardly a hard sell.
3

Hennessey Venom F5 – $1,600,000
Now, let's finish off the article with some truly extraordinary cars truly worthy of being called "supercars." The next three cars definitely do not belong on any public road, and we'll start with the Hennessey Venom F5, a car poised to hit a top speed of 300 miles per hour next year. With a horsepower of 1,600 and a V-8 engine, it's probably going to achieve its goal. The Bugatti Chiron is its competitor in this regard, but the Venom has the slight edge in horsepower. The car has a price tag of about $1.6 million.
2

Pagani Huayra BC – $2,500,000
Only 20 of these cars were ever made. The Pagani Huayra BC represents an improvement over the regular Huayra model in many ways, including a lighter body and an upgraded suspension. It's V12 engine provides an impressive 750 horsepower, but the real reason this car is worth so much is its exclusivity, and its interesting design features, such as a carbo-titanium weave construction. In case you're wondering, the car is priced at about $2.5 million. It's considered one of the holy grails of sports cars in 2018.
1

Koenigsegg Regera – $1,900,000
This Swedish car has had a reputation for being one of the best sports cars ever made, and this holds true in 2018. The newest models have well over 1,500 horsepower under the hood, which is surprisingly provided by a plug-in hybrid engine. Three electric powertrains compliment an impressive V-8 engine, and it's this unity and fusion that allows the car to operate at such unreal speeds. Unreal as in 249 miles per hour in just 20 seconds. Yes, it really is that fast. The price tag? About 1.9 million dollars.
References: caranddriver.com
Source: Read Full Article