Sofia Richie is in the gossip headlines a lot these days because she's dating Scott Disick, who is fifteen years older than she is. Sofia is the daughter of Lionel Richie and his second wife, Diane Alexander.
Anyone who is curious about Sofia and how she's managed to captivate so many famous guys, including Brooklyn Beckham, Justin Bieber, and Scott Disick, will probably enjoy this list. It's loaded with interesting facts about Sofia, many of which aren't commonly known. Scott has been dating Sofia for a full year, so he knows all of her secrets. These secrets are going to be exposed today.
Sofia grew up privileged because her father is an extremely successful musician with a velvety-smooth voice and plenty of charisma. She's a Hollywood kid, just like her half-sister, Nicole, who was adopted by Lionel and his first wife, Brenda.
Hollywood kids grow up with big bucks and famous last names. Their connections open a lot of doors. Sofia may have found it easy to get into modeling because she is the child of a legendary pop and R & B star. Her famous family knows a lot of other influential people. Would Sofia walk the high-fashion runways if her Dad wasn't Lionel Richie? Maybe not. But her Dad is Lionel Richie.
20

Scott Disick Wants Sofia to Have His Babies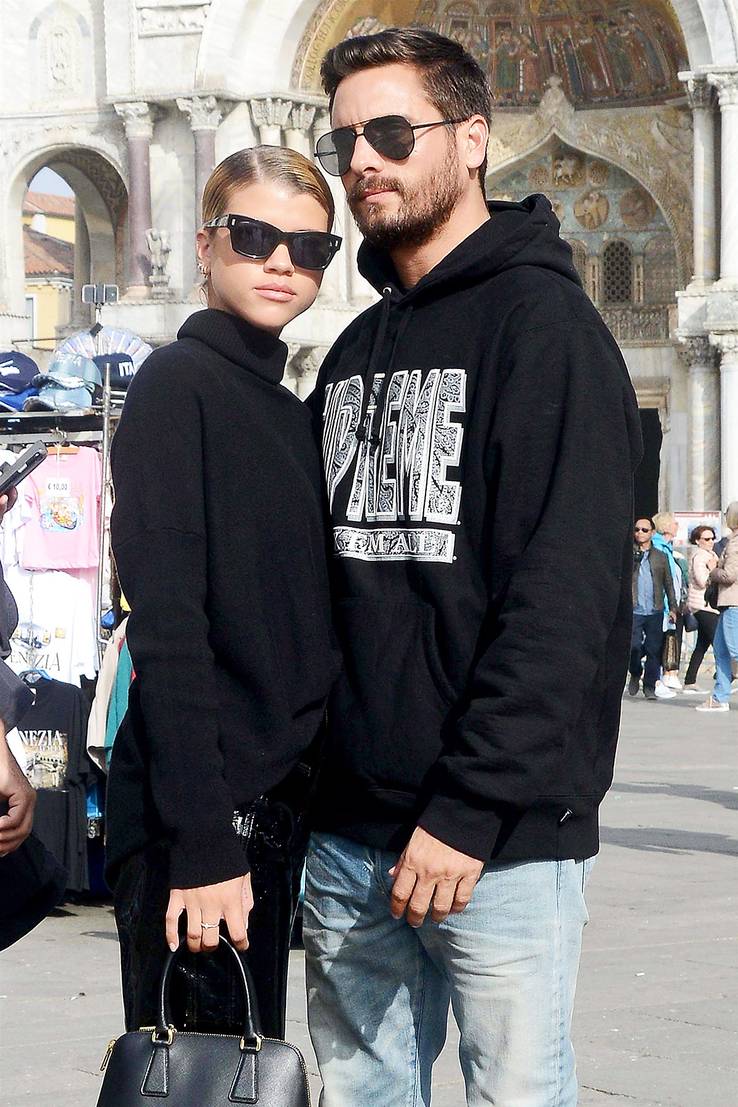 A recent story at the Hollywoodlife.com website is all about Scott Disick and his "baby fever". Apparently, Scott is interested in having children with his much-younger girlfriend, Sofia Richie. Scott is 34 and Sofia is 19. They've gotten so close, so fast, and they've been dating for twelve months now.
It looks like Scott is ready to take things to the next level, but is Sofia ready?
Scott already has three children with his ex, Kourtney Kardashian. According to a source who reportedly knows Disick well, "Lord Disick" is primed to discuss starting a family with Sofia. He wants their relationship to be more official. He's not necessarily interested in marriage, but he does allegedly want children with Sofia.
In the past, Hollywoodlife.com has reported that Sofia is not interested in getting pregnant. She's still a teenager, so it's not hard to believe that she's resistant to becoming a Mom. She's extremely young to be a  mother.
Why would Scott want to have babies with Sofia? Is he trying to lock her down, so she will find it hard to leave him? Is he just someone who wants a huge family? It's possible that Scott may be trying to put his connection with the Kardashian family behind him forever, by moving forward and creating a second family with Sofia Richie?
19

She's Not Adopted Like Sister Nicole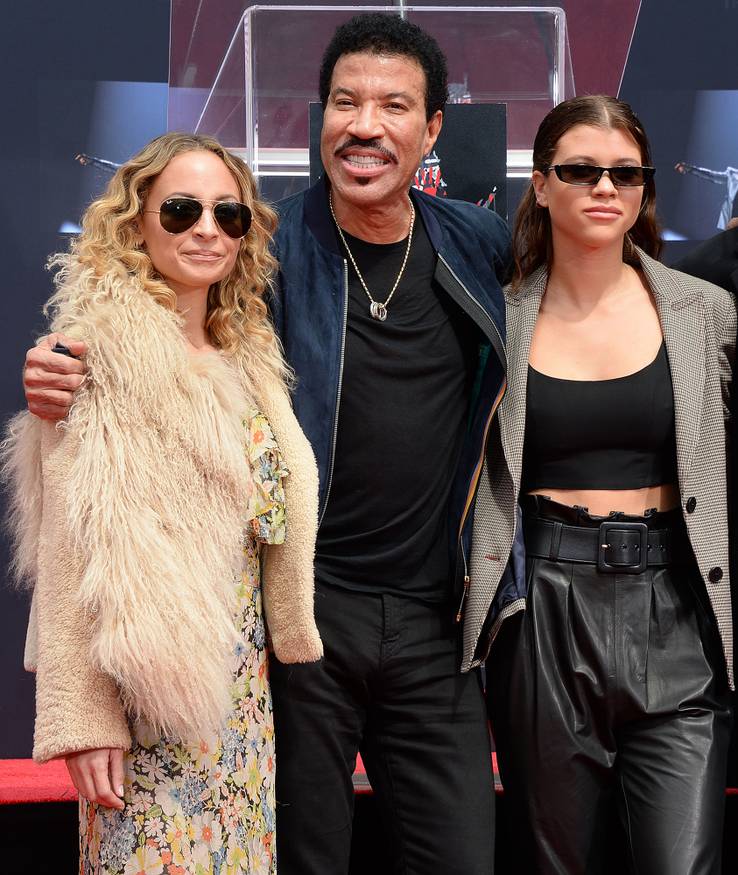 Sofia is Lionel Richie's biological child. Sofia's half-sister, Nicole Richie, was adopted. Lionel and his first wife met Nicole at a concert. They were bewitched by the cute little girl, who didn't have a lot of stability with her "bio" family. They decided to adopt her, with the permission of her bio parents, who had trouble taking care of her.
Lionel's marriage to his first wife, Brenda, did not end well. Brenda found out about Lionel being scandalous while she was at home taking care of their daughter, and ended up following him one day. The rest is history. All of Hollywood and anyone who has not been living under a rock knows exactly what he did.
That's a lot of family drama! Lionel has said that he'll never tie the knot again after going through two divorces. Lionel feels that his ex-wives (he married Sofia's mother before Sofia was born, and then they got divorced) interfere with his new romantic relationships and ruin them. He says that kids don't damage his relationships. It's the ex-wives.
Lionel was very famous and desirable back in the 70s and 80s. He's still well-known today and tours extensively. He plays the hits that everyone wants to hear, but he's failed to succeed at marriage.
18

Her Brother is a Model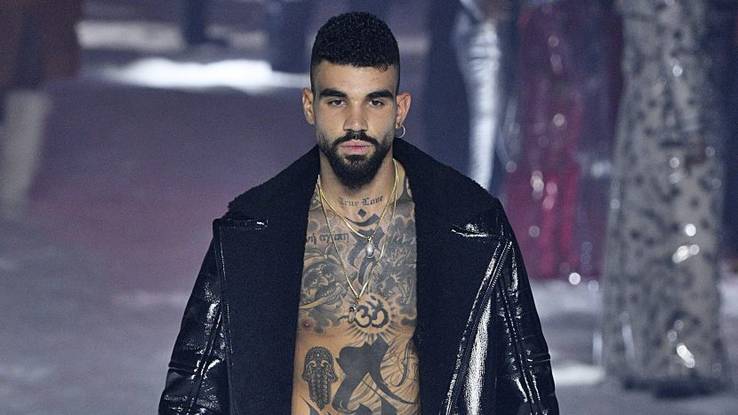 Sofia's brother, Miles Richie, was born on the 27th of May, 1994. He is now 23. In 2018, this male model walked the runway for Philipp Plein. He's just starting out in the competitive modeling business, but his famous last name has probably made it easy to get a career as a male model up and running.
So many celeb kids end up modeling. Examples include Brooklyn Beckham (son of Posh Spice and David Beckham), Rafferty Law (son of actor, Jude Law), Ava Phillippe (daughter of Ryan Phillippe and Reese Witherspoon and Dylan Jagger Lee (son of Motley Crue drummer Tommy Lee and Pamela Anderson).
Sometimes, these kids get a bit of shade because a lot of people think that they aren't good-looking enough to be models. Sofia Richie has modeled and she's actually gotten the same type of criticism.
Do you think Miles looks like a typical male model? He is cute, but is he as glam as models who don't come from famous families?
Sofia and Miles seem close. Sofia has said that she's had to grow up in Nicole Richie's shadow. It hasn't been like that with Miles. They are lots of pics of Sofia and Miles online which show a lot of affection between the siblings.
17

Justin Bieber Once Flew Her to Mexico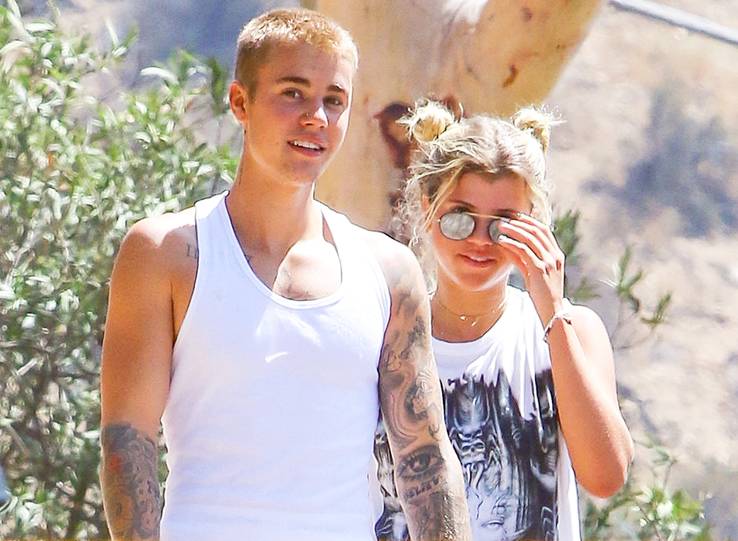 Sofia Richie seems like catnip to a bunch of very well-known guys. There must be something about her looks and personality that they just can't resist. Justin Bieber took Sofia to Mexico so they could celebrate her eighteenth birthday outside of Los Angeles.
Justin was reportedly pretty smitten with Sofia but was reluctant to get into a serious relationship at that point. Justin does seem to struggle with commitment, but he's young and has so many women throwing themselves at him. Justin is currently 24.
The romance between Justin and Sofia fizzled out, but Justin has "liked" pics of Sofia on Instagram since they stopped spending a lot of time together. Justin is known for remaining interested in his exes. Just look at his relationship with Selena Gomez, which appears to be over for good, for now. Justin and Selena often find it hard to stay away from each other.
The fact that Sofia Richie and Kourtney Kardashian are both rumored to have dated Justin Bieber is yet another reason why Sofia and Kourtney are probably at odds with each other. Scott Disick is the other reason.
Sofia definitely fits Justin's type. She and Selena both have the same type of look, especially when Sofia has darker hair. When Selena goes blond, she looks a lot like the Sofia when she's also blond.
16

She Is Rumored to Have Dated Lewis Hamilton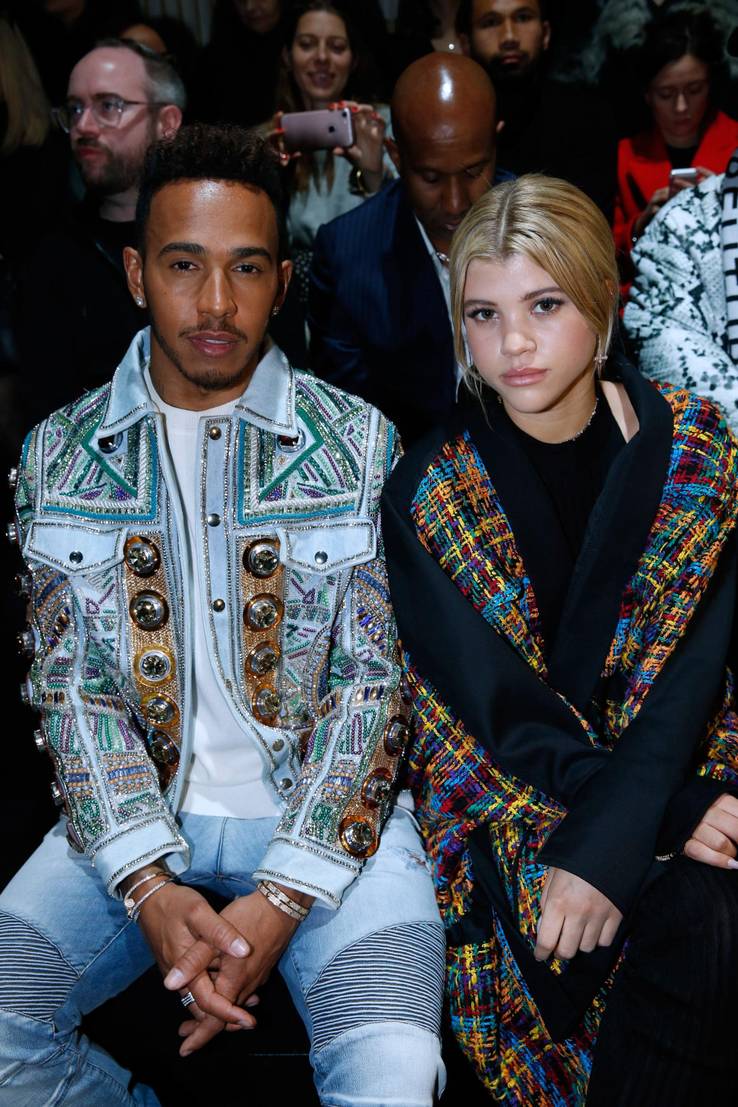 There is another famous ex in Sofia's past and that is Formula One auto racing champion (he's won the world championship four times, which is rare), Lewis Hamilton. Lewis is a total alpha male. He's fiercely talented behind the wheel, he's so cute he models for Loréal and he's had his fair share of romances with models and pop stars.
Lewis' most publicized relationship was with former Pussycat Doll, Nicole Scherzinger. He's also rumored to have dated Rihanna and Rita Ora, to name just a few. Recently, there were rumors linking him with Gigi Hadid. Some people thought that he might be the reason why Gigi and her One Direction ex-boyfriend Zayn Malik, decided to break things off. There have been sightings of Gigi and Zayn lately, so it looks like Gigi is more interested in reuniting with Zayn than getting together with Lewis.
Few men could be considered more eligible bachelors than Lewis Hamilton, but no woman has ever been able to get him to the altar. Apparently, Nicole Scherzinger tried and failed and it took a toll on their relationship. He called her racing legend ex "selfish".
Lewis is 33. He's older than Sofia, just like Scott Disick is. Was the age gap part of the reason why they don't date anymore? Lewis spent years with Nicole Scherzinger, who was older than him. Maybe he ultimately prefers women who are more mature than Sofia?
15

She Says Lionel Richie Tracks Her Phone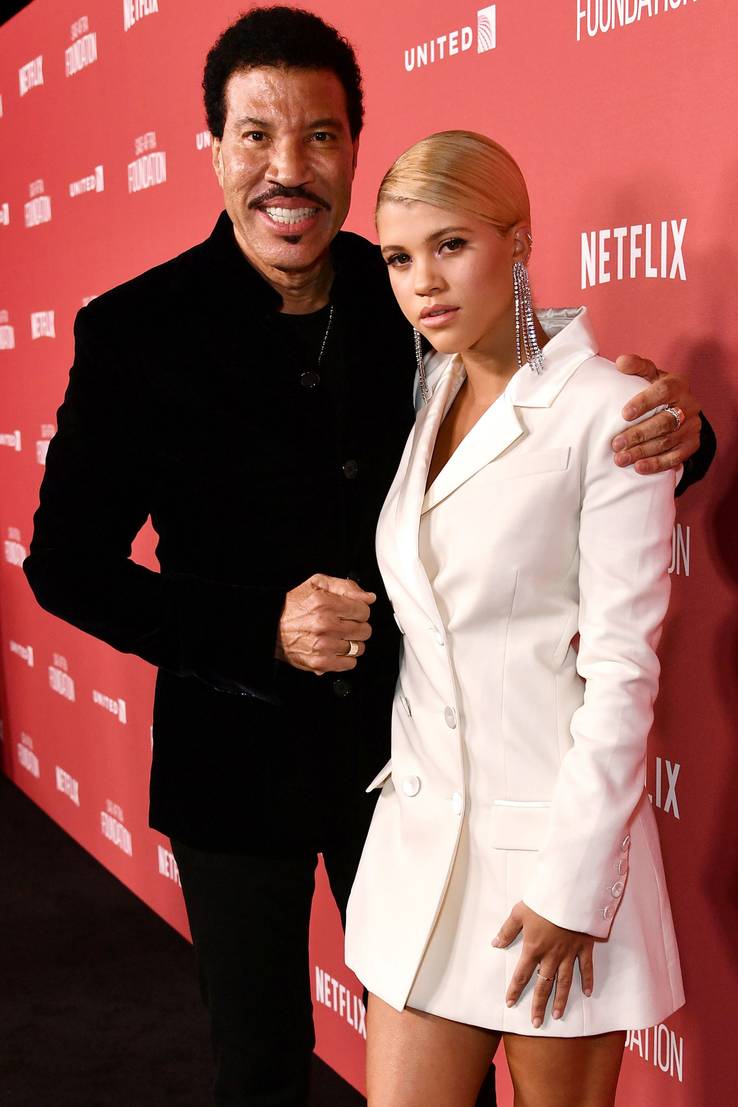 Is Lionel Richie the type of Dad who has to keep tabs on his little girl at all times? Sofia Richie says he is. According to a US Magazine website story, Sofia has noticed that her famous father tracks her cell phone at least once every single day. She shared this information in spring of 2017.
Sofia says that she actually receives a notification on her smartphone after Lionel tracks her, which is pretty funny. She finds it all a bit awkward. She also thinks it's amusing. She was 18 when she shared this information with the press. She's been caught FaceTiming with her father while she was in the South of France. This was when she decided to bust Lionel Richie for tracking her mobile device. Sofia claims she never let Lionel know that she was aware of the tracking. I guess the cat is out of the bag now.
It's possible that Lionel is more intense about monitoring his daughter since she started dating Scott Disick. That's enough to make any protective father turn up the heat.
Lionel thinks that her new boyfriend, who is way older, is a "phase". He doesn't sound too optimistic about the Sofia and Scott's future. Also, he's concerned that his daughter is going to get caught up in the whole Kardashian circus. Fair enough.
14

She was once pictured with selena gomez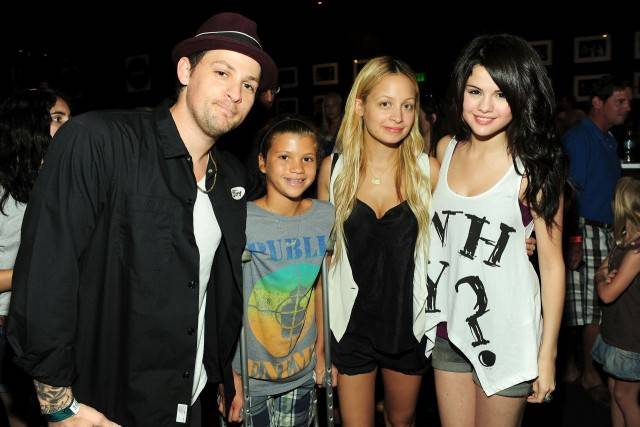 Fate is a funny, fickle and interesting thing. Who could have known that Sofia would have been in the same photo as Selena Gomez? I know, I know, famous people end up in photos with each other all the time. But how interesting and hilarious, and quite frankly, subtly ironic that two ex-girlfriends of Justin Bieber would end up in the same photo together! It's even funnier because Sofia looks way younger than Selena.
This was way back in 2009, where Sofia, a fan of Selena Gomez, attended her concert in California with her sister and father, and brother-in-law, Joel Madden of Good Charlotte.
The irony, however, continues considering the fact that as time went on, and Sofia began to date Justin, Selena was the one who decided to go out of her way to talk down to the two of them when they engaged in a relationship. His fans were leaving very rude and hateful comments on his Instagram about the two of them, and Selena instead of being a grown-up, backed the fans and didn't tell people to stop harassing Sofia. In the end, Justin left Instagram and Selena eventually apologized through Snapchat.
Featured Today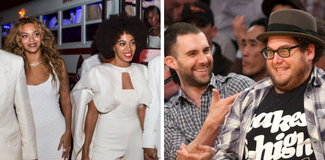 15 Celeb BFFs Who Are So Close, They Were In Each Others' Weddings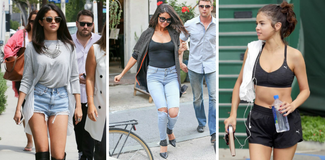 25 Paparazzi Photos Of Selena Gomez Everyone Needs To See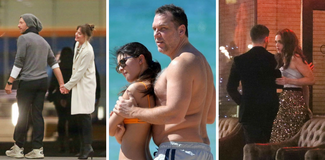 15 Surprising Photos Of New Celeb Couples When They Thought They Were Alone

13

Her Parents Discouraged Her From Being a Child Star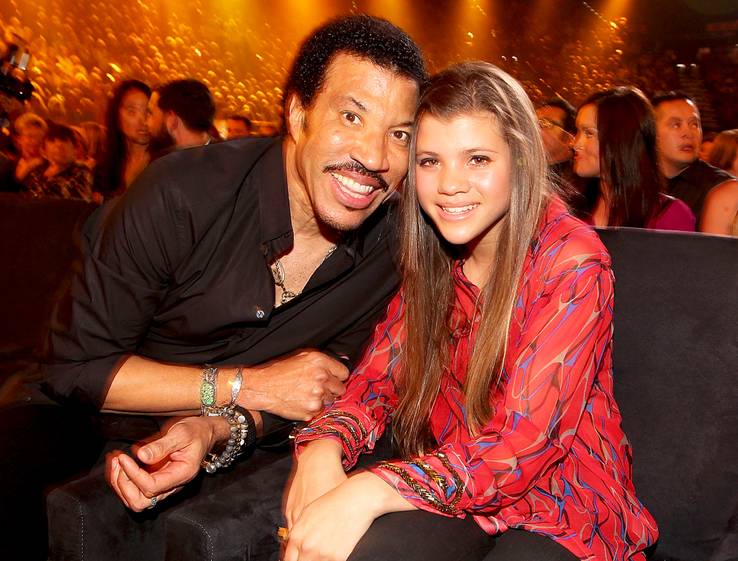 Sophia apparently had musical ambitions at a very young age, but her Mom and Dad tried to steer her away from life as a child star. Instead, they let her know that transitioning from childhood stardom to a successful adult career in show business is extremely tough. They recommended building a career when she hit adulthood and she seemed to have followed their advice.
Lionel and his ex-wife, Diane, clearly love their daughter Sofia a lot and want to shield her from problems if they can. Lionel has seen the dark side of showbiz, so it's safe to say that he knows how tough the business is on young kids.
Sofia started modeling when she was 14. She appeared in Teen Vogue, according to Wikipedia.com. That is young to start modeling, but it's a bit different than recording an album at that age and then being scrutinized by music critics (and the public), who would surely spend a lot of time comparing her to her father.
Will Sofia have a musical career in the future? Can she sing like her father does? She might go for music as a career choice, as she's sung in some YouTube clips and also sung with her father onstage. Check out the videos if you want to rate her talent.
12

Her Style is Very Different from Her Sister's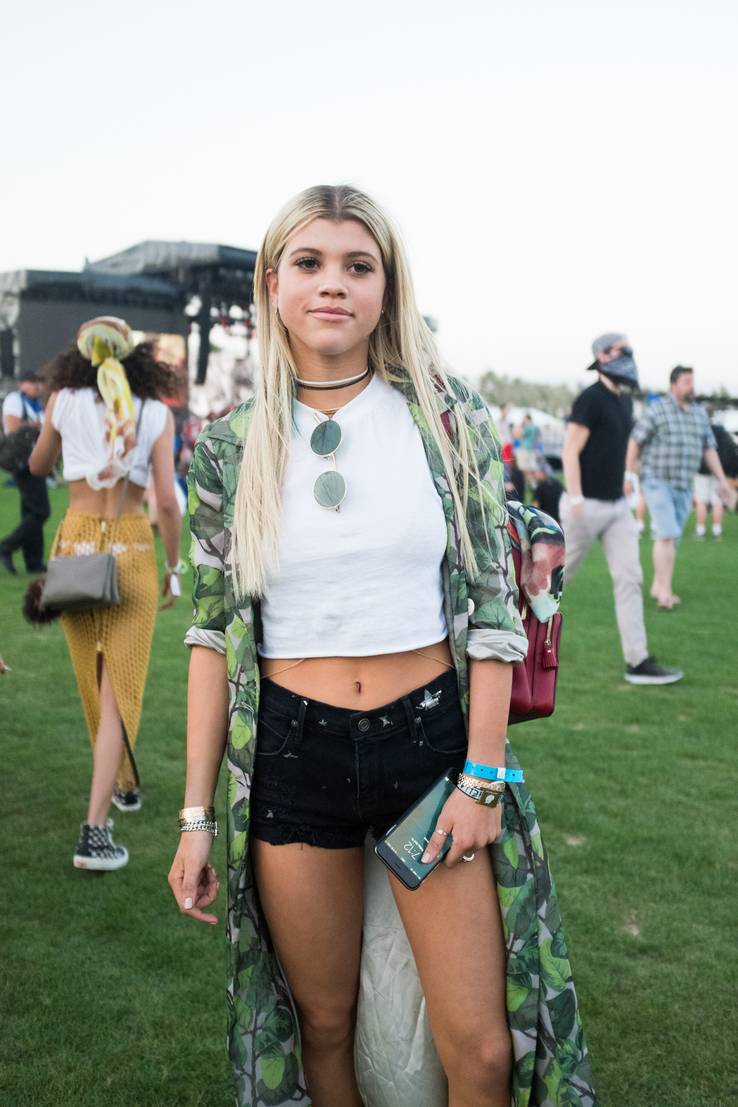 Occasionally, both sisters go for boho style, but, usually, Sofia prefers to dress a bit more sporty and hip-hop. Nicole Richie's style has evolved and she's becoming very elegant. Most of Nicole's outfits are refined and sophisticated. Sofia is a lot more casual most of the time. In fact, when pictures of her all dressed up surface online, it's usually surprising, unless they are shots of her modeling clothes from Jeremy Scott, Yeezy or Chanel.
Sofia's tomboy type of style is attractive. She has a cute figure but doesn't show it off all of the time. She also seems very relaxed about hair and makeup. She's happy to go without makeup and she doesn't really need it. Her hair may be blond or brown, but it's always simple, with a center part, just like Kourtney Kardashian's signature style.
It's possible that Sofia's passing resemblance to Kourtney was one of the reasons why he was attracted to Lionel Richie's daughter. When Sofia goes back to her dark natural hair color, she definitely looks a fair bit like Kourtney. Lots of people have commented on the similarities between the two women online.
Nicole Richie says that she doesn't offer much fashion advice to her sister, because their styles are just not the same.
11

Sofia Walked Runways for Chanel and Yeezy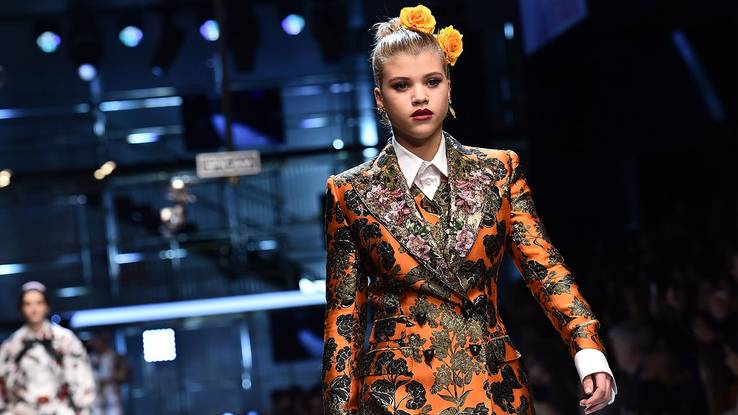 Sofia started modeling at age fourteen. She appeared in Teen Vogue and then moved onto the high fashion runways. To date, she's modeled for Jeremy Scott (who so often dresses Katy Perry), Yeezy and Chanel. She's also appeared in ad campaigns for Michael Kors and Tommy Hilfiger.
Do you think that Sofia has what it takes to be a top model? She's only five-foot-six, so she's definitely short in terms of modeling industry standards. This is why I think that her famous name is one of the reasons why she is on the runway.
Usually, there needs to be something very special about a model for her to make it when she's under five-eight or five-nine. Kate Moss was a shorter model (five foot seven) who was able to rise to the top of her field because of her unusual and beautiful face, as well as her ability to project a lot of attitude and emotion in front of the camera.
I'm not sure Sofia has the same type of beauty, but she's definitely a pretty young woman. Time will tell if she continues to get work, or if she's just a novelty because of her father and her relationships with famous guys.
In the age of Instagram, celebutantes like Sofia get tons of attention and fashion designers use them to attract a younger demographic. Sofia currently has 3.5 million followers on Instagram. That's quite a few and it may be one reason why fashion designers hire her.
10

She Dated Brooklyn Beckham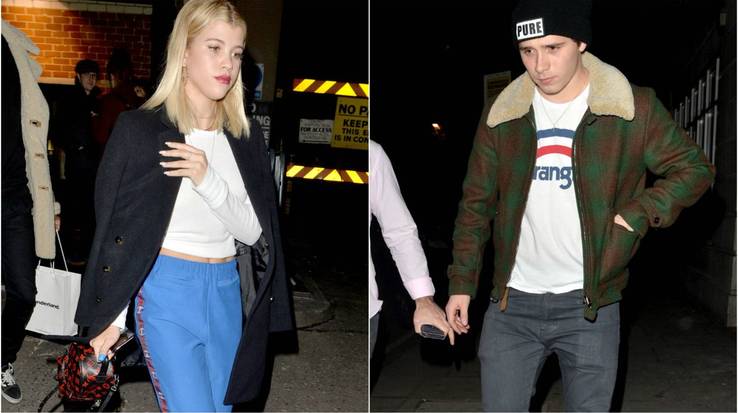 Around New Year's in 2017, Sofia Richie was spotted canoodling with David Beckham and Posh Spice's son, Brooklyn. Brooklyn has gained some fame as a photographer, although a lot of people online have made fun of his book of photographs, which is called, "What I See". Most of the criticism was/is centered on the fact that Brooklyn didn't seem to have legit photography skills. Many detractors found the photos amateurish.
Sofia and Brooklyn were papped when they went bowling together. They were in London at the time. This was after Sofia had dated Justin Bieber. When they went bowling, they were in a group, according to a Daily Mail story, so it's possible that Sofia and Brooklyn were just friends.
It's also possible that Sofia was Brooklyn's rebound after his relationship with Chloe Moretz failed. Then again, Brooklyn might have been Sofia's rebound after her romance with Justin Bieber tanked.
Sofia was blond when they dated. Her hair looked a fair bit like Chloe Moretz' hair. Chloe and Brooklyn reunited for a while in 2018, but split again in April. Now, Sofia is with Scott Disick.  In Hollywood, couples tend to split a lot and tend to date new people within the same circle. It sometimes seems like everybody had dated everybody.
9

Paris Hilton Gives Her the "Best Advice"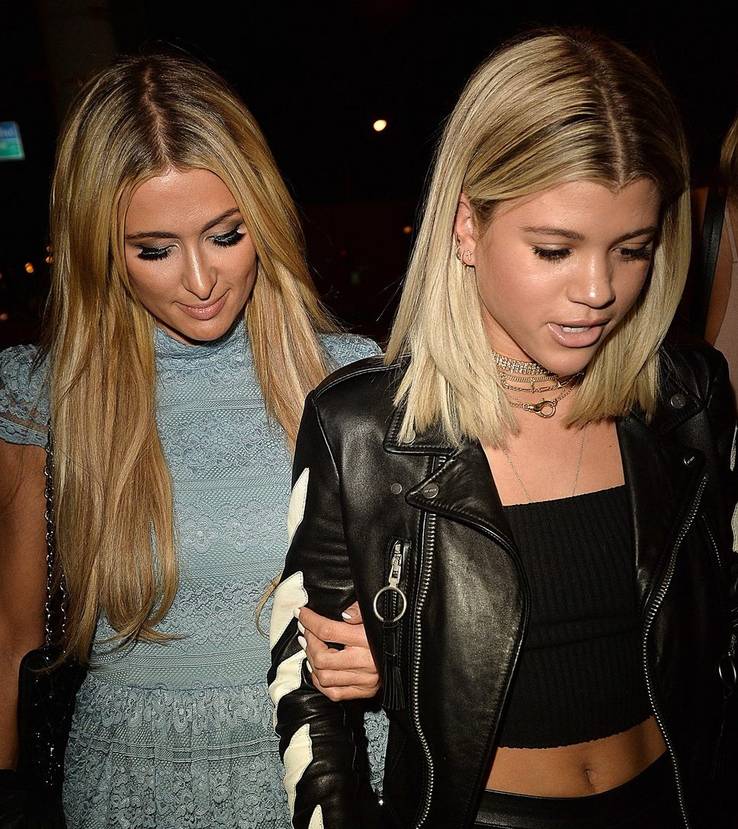 Does Paris Hilton offer wise counsel to Sofia Richie? Sofia says that the Hilton hotel heiress, reality TV star and DJ offers "the best advice", according to a story at the Daily Mail UK website. In fact, Sofia considers Paris her closest buddy in Hollywood. This is interesting, as Nicole Richie lives in Hollywood, too. Is Sofia closer to Paris Hilton than to her own half-sister? If so, that would be odd, as Paris and Nicole starred on the reality TV show, The Simple Life, together. Then, they reportedly had a pretty severe falling out.
Paris famously said that Nicole "knows what she did" and why the Simple Life stars aren't friends anymore. Wonder what happened?
According to a report at the Intouchweekly.com website, Nicole showed her "friend's" tape at a party and this incensed Paris once she found out about it. Nicole says that they just drifted apart like people do sometimes.
Does Paris give Sofia Richie advice about relationships, or career, or fashion and makeup? Whatever she helps with, Sofia seems to trust her greatly and value her judgment. Has Sofia's loyalty to Paris damaged her relationship with her half-sister, Nicole? Maybe. There are rumors that Nicole and Sofia are not that close.
8

She May Not Be Very Close to Nicole Richie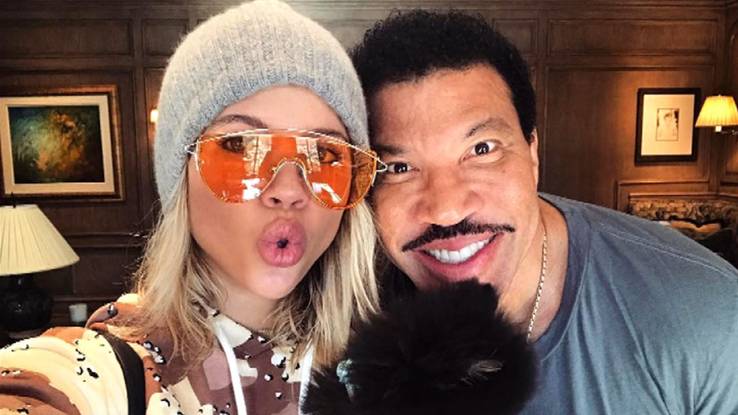 Nicole Richie was really famous for a long time because she and Paris captured the world's imagination. People loved watching the spoiled rich girls act up on their reality TV show, The Simple Life. In an interview with Wonderland Magazine, Sofia said that the process of growing up with her famous half-sister was "bizarre".
In 2017, a Hollywoodlife.com story reported that Nicole was really mad at Sofia because of Paris Hilton. In fact, the story indicated that the two sisters stopped speaking because Sofia is so close to Paris. Paris and Nicole called it quits as BFFs years ago. They haven't been close for a long time and may actually dislike each other intensely. Sofia is caught in the middle and apparently has as much loyalty to Paris and she does to Nicole. This allegedly makes Nicole angry.
Paris is a lot older than Sofia Richie, so it's kind of surprising that they hang out so much. Sofia doesn't seem to mind doing things that are controversial. For example, her Dad, Lionel, probably isn't really thrilled that she's dating someone fifteen years older, who is enmeshed with the Kardashian clan. But his daughter does it anyway and she does it very publicly. Scott's and Sofia's Instagram feeds celebrate their romance regularly.
Maybe Sofia is a bit of a rebel.
7

 She May Not Be Happy with Scott Disick Lately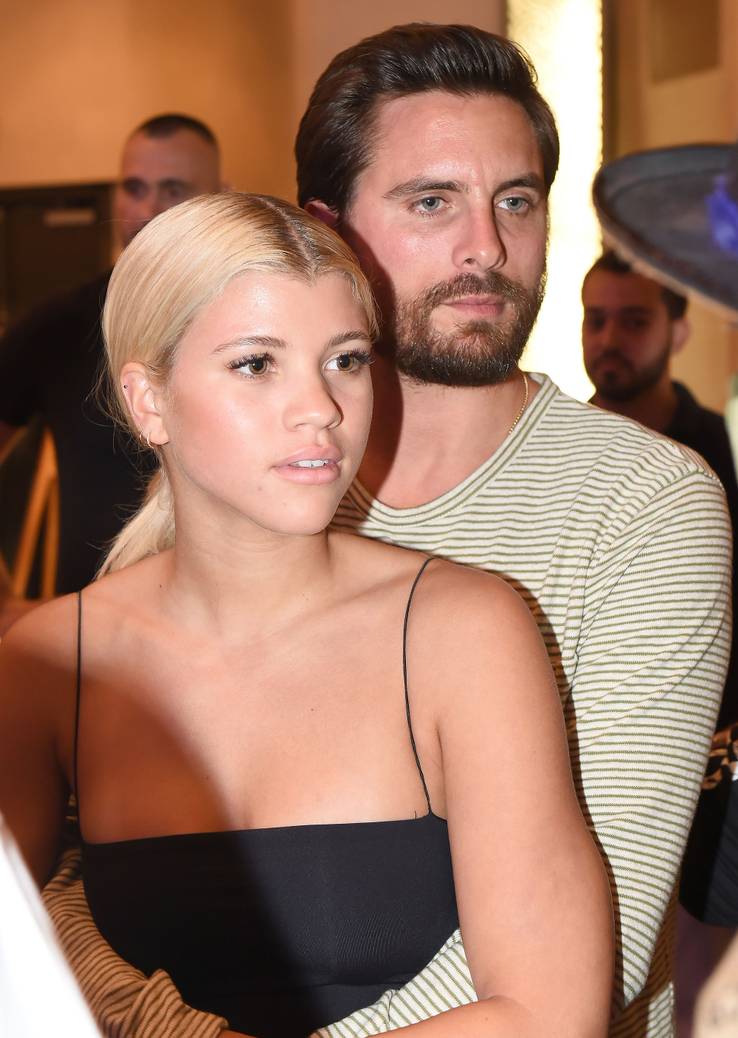 Are Sofia and Scott having relationship problems? There were rumors of relationship troubles a couple of months ago, but Sofia defused the rumors by posting a "throwback" pic of herself and Scott. While Sofia doesn't load her Instagram feed with pictures of Scott, they do appear sometimes and the throwback photo of her and Scott was probably designed to calm down rumors that Sofia and Lord Disick were on the rocks.
In January of this year, Gossipcop called foul on a story that Scott's adventurous bedroom habits were all about enticing Sofia to add another partner to their escapades. The debunked report said that Sofia was considering doing what Scott wanted.
Sofia is young and young women have major energy. That's probably one reason why older guys like Scott Disick want to date them (along with youthful beauty, of course). Young people may also be more likely to forgive issues that might destroy a relationship between older people who have more life experience.
It's possible that Sofia and Scott do have problems sometimes but that she is young enough to overlook a lot. An older lady, such as Kourtney Kardashian, might not be able to stay quiet or forgive when things go wrong.
6

Sofia's and her mother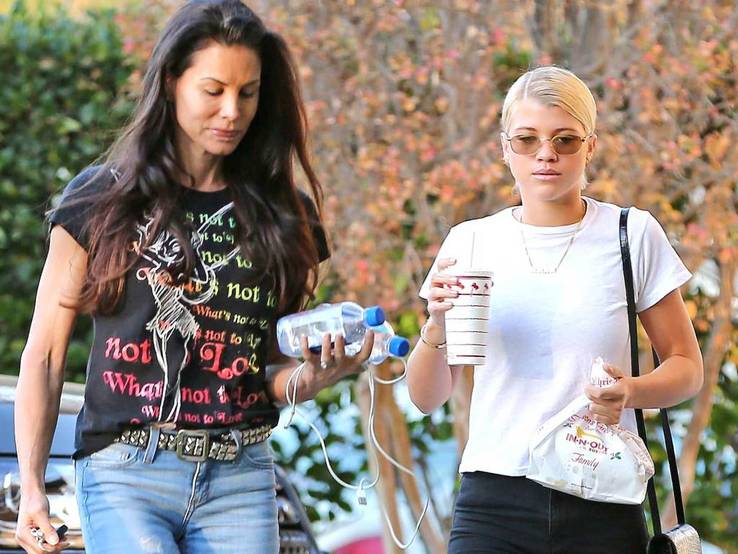 There might also be tension between Nicole Richie and Sofia Richie because Sofia's Mom was Lionel Richie's playmate. Lionel was married to high school sweetheart, Brenda and they adopted Nicole together. Then, Lionel decided to have an affair with raven-haired Diane Alexander, while he was still married to Brenda. Brenda found out and freaked out. The police were involved because Brenda got violent when she found Lionel an in intimate embrace with his mistress. The mistress is now Sofia's mother.
Lionel married the mistress but that marriage eventually failed. Lionel and marriage do not seem to mix. Perhaps he's not meant to be monogamous, although he is currently in a steady relationship. He is adamant that he will never marry again and his partner seems to be ok with it.
Failed marriages cost famous men huge amounts of money and they also create a great deal of stress. Lionel's ex-wives were jealous and angry. He says that they contribute to the failure of his new relationships.
I'm pretty sure Lionel, who definitely did have a mistress, deserves some blame for hurting the women that he married. But he's a mega-rich star and his ex-wives aren't. This means that moving on may be easier for him than it is for them.
5

 She's Been with Scott Disick For a Full Year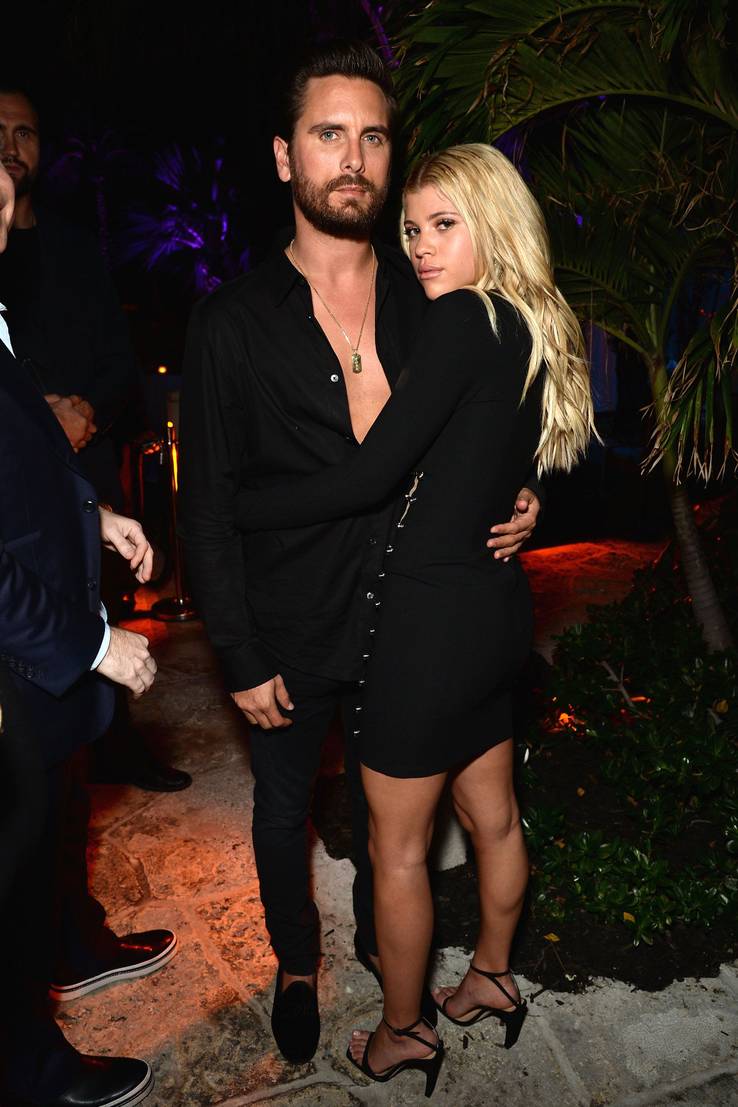 A year is a fairly long time for a very young woman to be with a much-older man. Sofia and Scott are still hanging in there and Scott sometimes does very romantic things. Whether he's doing these romantic gestures (which he advertises online) to please Sofia or to annoy Kourtney Kardashian is anyone's guess. Probably a bit of both!
Scott's latest grand romantic gesture was decorating Sofia's hotel bed with a plethora of rose petals. I'm sure Lionel Richie will love that gesture and the way that the photo of the hotel bed was plastered all over the Web. Poor Lionel. Lionel has said that watching his daughter veer into Nicole Richie territory by entering the world of fashion and fame has been "terrifying".
A cynical person might think that Scott was using Sofia, who resembles a younger Kourtney Kardashian, in order to make his ex jealous and show the world that he can find a younger version of his ex. Hopefully, the relationship between Scott Disick and Sofia Richie is more meaningful and authentic than that.
Do you think these two will get married? Is Scott going all out with the romance because he's met the love of his life?
4

She Likes Extreme Sports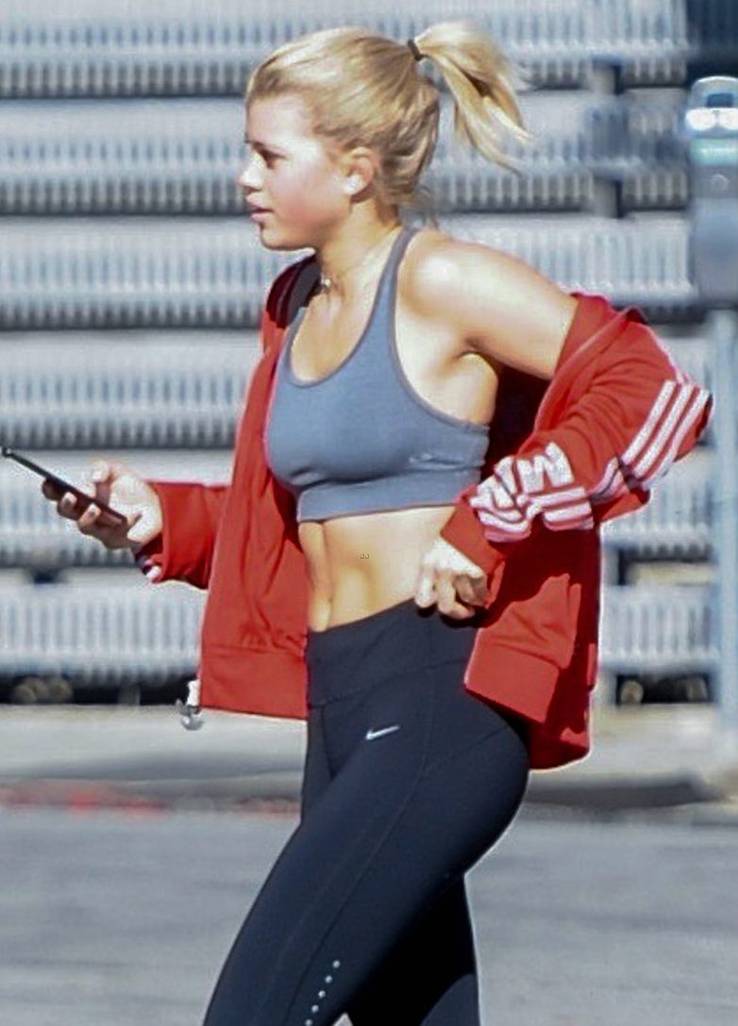 Sofia has a bit of daredevil edge to her, which is probably why she gravitates towards the bad boys, like ladies' man, Lewis Hamilton, temperamental pop star, Justin Bieber and party boy, Scott Disick. She obviously has something in common with these guys and maybe that is a taste for adventure.
Sofia likes to go fast in large machines. She's not afraid to take risks. She seems to be a bit of an adrenaline junkie. She has been spotted smooching Scott on a Jet-Ski and she is also rumored to be adventurous with Scott in ways that are more intimate.
Even Sofia would know that the chances of building a stable, long-term relationship with a guy like Scott Disick are slim, but she doesn't seem to care. Maybe she's into living in the moment. She may not be looking for a "forever" romance anyway.
Sofia never seemed heartbroken when her other relationships with famous men went downhill. She kept making the scene and found new love interests. Her rich upbringing means that she always has a safety net, so she can take some chances. If things go wrong, she's always got Lionel Richie to fall back on. Sofia's Mom, Diane, is also very wealthy thanks to a huge divorce settlement from Lionel.
3

She Used to Be Friends with Kourtney Kardashian's BF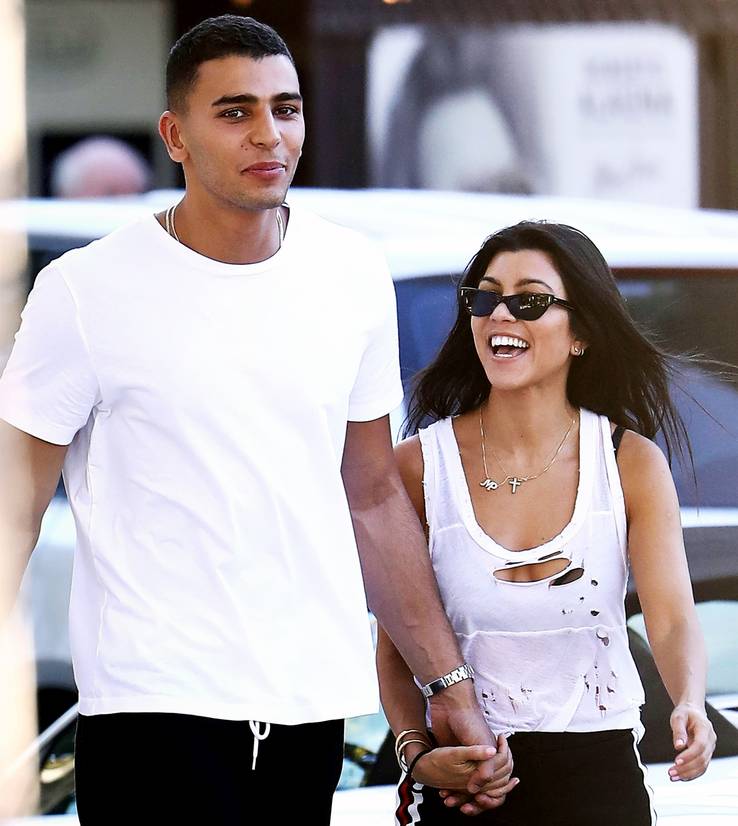 Here is some juicy gossip – apparently, Sofia used to be buddy-buddy with Kourtney's current boyfriend. According to Hollywoodlife.com, there is an interesting twist here. When Kourtney decided to "unfollow" her boyfriend on Instagram in March of 2018, Scott Disick "unfollowed" Sofia Richie right afterward.
This seems shady to me. Is Scott just dating Kourtney lookalike, Sofia, in order to make his ex mad? Is he really just biding his time until he can try to get back together with Kourtney again? Maybe Sofia should date Kourtney's man,  Younes Bendjima, instead?
Sofia is allegedly not friends with Younes anymore and Kourtney is still dating him, even though she unfollowed him at one point.
Kourtney and Scott Disick have such a long history. He apparently wanted to marry Kourtney back in the day, but she wants to avoid marriage because her childhood made her realize just how traumatic divorce can be.
Scott and Kourtney have three kids. Can Sofia handle the pressure of dating a man with so much emotional baggage? So far, Sofia seems to handle things fine, but maybe it all gets to her sometimes. Now that she's spending time with Kourtney's kids, Kourtney may really be gunning for her, along with the other members of the Kardashian family.
2

Kendall Jenner Doesn't Approve Of Her Romance with Scott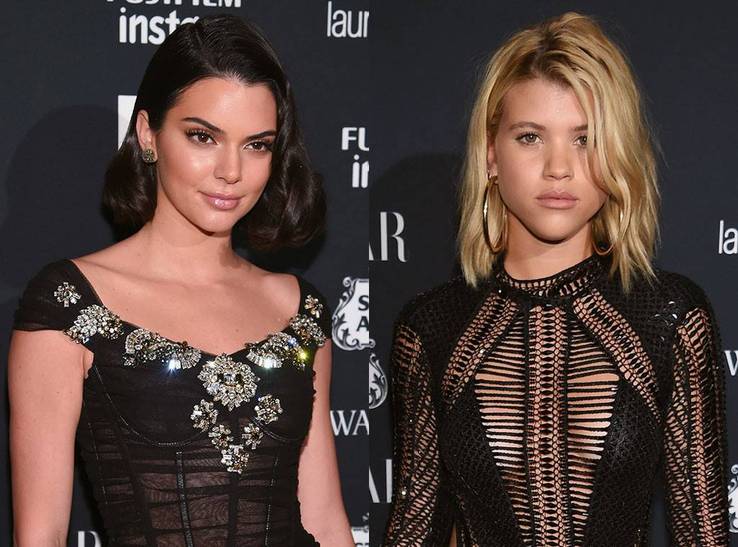 Kendall Jenner and Sofia Richie both come from wealthy, well-known families with famous family members. They both work as models. While Kendall is a lot more successful as a model than Sofia (at least, so far), the two young women seem to have a lot in common. However, Kendall is not likely to be confiding in Sofia Richie anytime soon or calling her up and asking her to go shopping or for a manicure. This is because Kendall reportedly disapproves of Sofia's relationship with Scott Disick.
This is understandable. Kourtney is someone that Kendall feels loyal to. They are family. According to a story at TheCut.com, and a million other gossip websites, Kendall cut Scott to the quick with a snarky Instagram comment. When Scott posted a pic of Sofia and his children, Kendall left the following comment – "Awww scott and his kids". Ouch.
Scott is a little touchy about the age gap. Sofia does look very young. She may look even younger than she actually is (she is nineteen). Scott is a grown man of 34. Kris Jenner grilled Scott about Sofia, but had to acknowledge that her ex-husband, the late Robert Kardashian Sr, had also been quite a bit older than her when they got together.
1

Kourtney Tried to Keep Sofia Away From Her Kids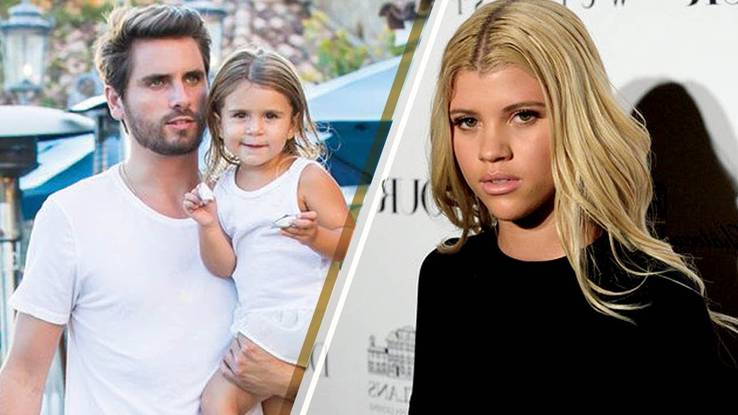 Relationship breakups where kids are involved often get messy and Scott and Kourtney's split was no exception. According to a story at TheHollywoodGossip.com, Kourtney wants Sofia to back off when it comes to hanging around her three children! The same story indicated that Sofia is unconcerned about what Kourtney thinks.
Another tabloid story reported that Sofia wants the children to refer to her as "step mom Sofia". Kourtney is not sure that Sofia is an appropriate role model for her kids and she's quite worried about her children getting attached to her.
A lot of this is probably just jealousy. It's hard to watch a new partner of a baby daddy move on with another woman, especially when that young woman looks like you and is spending time with your children. Part of growing up is accepting that, post-breakup, an ex-partner can spend time with whomever he wants to, whether the kids are around or not.
By tangling with the Kardashians, Sofia has doomed herself to a life of scrutiny by the paparazzi and media, but maybe she loves the attention. Maybe she knows that dating Scott is the ideal way to get famous in her own right in no time flat.
Sources: Wikipedia.com, Popsugar.com, People.com, Usmagazine.com, @sofiarichie, Dailymail.co.uk.com, InTouchWeekly.com, Hollywoodlife.com, TheCut.com, TheHollywoodGossip.com
Source: Read Full Article