Imagine going to New York and having the time of your life all on a budget? Serena van der Woodsen was the "it" girl that lived on the Upper East Side of New York. She shopped wherever she wanted to, ate wherever she wanted to, and did whatever she wanted, all without having to budget anything. Not everyone has an unlimited budget like she did. New York is considered to be the most expensive city to visit in the United States. So how on Earth do you visit it and still have a good time like the girls on Gossip Girl did? It's easier than you might think it is.
There are lots of fun and exciting things to do in New York that you can do on a budget. There is no need to worry about whether or not you have the bank account of a socialite. "Manhattan will do that to a girl. You'll be happy to know; it never wears off." Everyone should see New York at one time or another and we're going to show you how to do it right. Check out these 25 ways to do New York like Serena Van der Woodsen on a budget.
20

Hit Up The Metropolitan Museum of Art (The Met)
One of the best museums in the world is in New York City. It's also home of the Met Gala every year. You can expand your love of art and learn new things by taking a visit there. You will feel more cultured before you know it. You can have a coffee with a friend outside on the epic steps and then take a walk through the museum to see all the breathtaking pieces of art. You can see art by renowned artists from all over the world for only $25 a person. Even if you want to take your kids, it's still not going to cost you a lot. If you happen to be a student, then it's only $12. But the secret is, the price is only a suggestion. They ask if you want to make a "donation" of $25, but really, you can pay whatever you'd like.
19

Great Food At A Great Price
If you happen to be traveling to New York in July and August, then you should check out Restaurant Week. It is held in New York twice a year and one of the times is between July 25 and August 19th. You get three courses at a table that is overlooking the East River. You can also get a table with a sunset view at the Chelsea. There is a ton of delicious food there that will have you feeling like a Queen. The cost is $29 for lunch and $42 for dinner. It's a great price considering what those restaurants normally charge to dine there.
18

Go Out On The Water
There is nothing better than being out on the water regardless of where you are traveling to. The Staten Island Ferry is free and gives you a great view if the Statue of Liberty, Manhattan, and Ellis Island. You will love being out on the water. The Ikea ferry is free on weekends but $5 during the week and it will take you from Wall Street to the Swedish furniture store in Red Hook. It's a great way to spend the day.
17

A Day At Central Park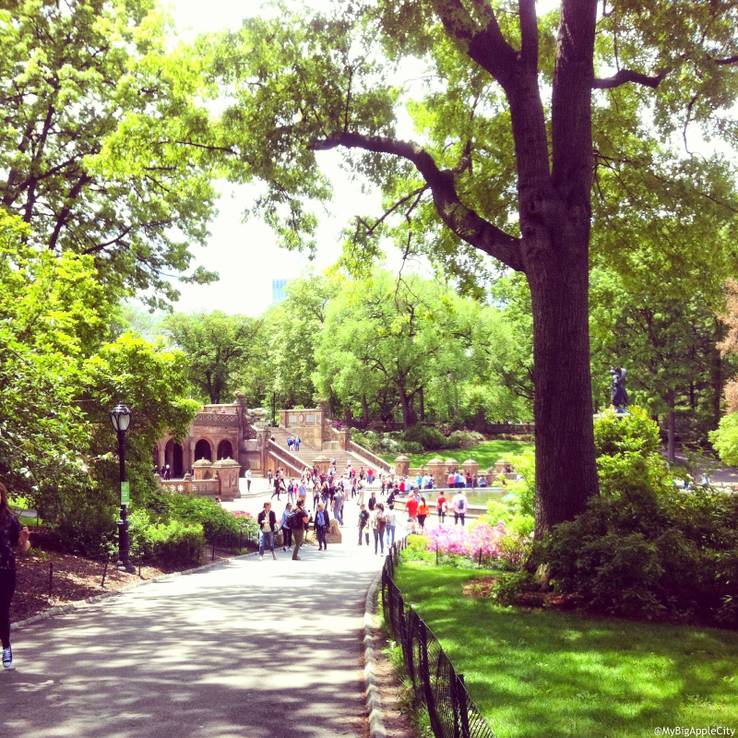 You could certainly spend a whole day at Central Park, no problem. It's a great way to get a break from the city and once you're inside, you will find it hard to believe that you are still in New York. You can spend the day there with your family, friends, or that special person in your life. There are so many things you can do there as well like feeding the ducks just like Blair Waldorf used to do. You could also go for a boat ride through the park, have a picnic with your famil,y or get some exercise by going for a bike ride or a run.
16

Go to Broadway
If you have ever wanted to see a Broadway show but haven't had the money, don't fret, we have the answer for you. Every year, New York has something called Broadway Week where they offer customers the chance to buy two tickets for the price of one. There are always great shows playing and all you have to do is go to their site to get all the information.
"You can buy tickets at a TKTS booth anytime of the year for same-day Broadway tickets that are up to 50% off.
There are currently 3 TKTS locations in NYC: Times Square, South Street Seaport, and Brooklyn."
15

Try Out The Golden Unicorn Restaurant
If you are a fan of Gossip Girl, you will remember that Blair and Chuck went on a double date to this restaurant with Nate and his new girlfriend Bree. You will be able to reminisce about the show while having a great meal. The restaurant is located on 18 E. Broadway and if you love Chinese food, then you are sure to love this place. It's classic Chinese cuisine, formerly called "dim sum," but there are also plenty of other tantalizing things on the menu.
14

Accommodations Aren't That Expensive
If you need somewhere to stay, you don't have to worry about the steep hotel costs. There are plenty of bargains to be had, even for high-end accommodations. Check out Airbnb and see what they have to offer you in the area that you are looking for. You can get an apartment to yourself for $100 or if you want something cheaper, you can get a room at someone's place for around $60. Rooms at the Bowery House run about $109 which is pretty standard anywhere.
Featured Today
20 Things We Could Ask Hotels For That Are Surprisingly Free

25 Futuristic Things Sold In Japan We Can't Find Anywhere Else In The World

13 Healthiest Fast Food Options (12 To Avoid)

13

Go to Mezzrow Jazz Club
If you like Jazz, you are going to want to hit this place up. There is a lounge and listening room right in the middle of Greenwich Village's historic district. You will feel like you have been pulled back to the Great Gatsby era with this club. You can relax and have some drinks with friends or a significant other. The general admission is a fair price and it's even better if you are a student at $10 a person. Chuck Bass used to love a good speakeasy and you will feel the same when you go to this jazz club.
12

Try Out A Few Burger Joints
Serena van der Woodsen's mother Lily loved to eat French fries when she was stressed. If you want to grab a burger and fries, there are a ton of great places to choose from. The Waverly restaurant is an old-school diner with red booths. The cheeseburgers run for about $8.05 and are to die for. There is also a market in Williamsburg on Saturday where there are always open-air food stalls. There are plenty of places to get some good eats at a decent price.
11

Free Shakespeare in the Park
New York City will often have a free show at The Public Theatre. Sometimes, it will go on all summer long and that's great news for people traveling in the summer. If you can't afford to go to Broadway, then Shakespeare in the Park is your next best bet. It's still a cultural experience, but it doesn't cost you a dime. They have had productions such as Hamlet, Othello, and Macbeth.
10

Take A Stroll Around New York
You can soak up all that New York City has to offer by walking around the city. There are so many places to explore. Not only is Central Park an option for you to check out, but you can also check out Washington Square and Greenwich Village. You can check out Times Square and even do some tours in the Upper West Side. You can grab a book called Fuhgeddaboudit: The Sounds of Travel and it will give you a list of walking neighborhoods to go to.
9

Try Out A Rooftop 
If you have never seen New York at night from the sky, then you are really missing out. Sure, you can head to the Rockefeller Center for $30 or the Empire State Building for $32 or even the new One World Trade Center for $32. If you don't want to shell out that kind of money, then all you have to do is go to a rooftop bar, have a few drinks, and really appreciate the glorious view that you have before you. If you are looking for the best in town, then go to the Standard hotel in Meatpacking District. Their rooftop garden overlooks the Hudson River and it has a copper-colored bar.
8

Grab Some Desserts At Maison Ladurée
If you are a fan of Gossip Girl, then you have seen both Serena and Blair eating macarons because they're Blair's absolute favorite. You may have wondered where you could get some of them while you are in New York. All you have to do is go to 864 Madison Avenue which is where Blair actually caught Chuck following her in. It's also the best macaron shop in the city. You will be happy that you stopped by.
7

The Russian Tea Room
Who doesn't love high tea, especially if there are sweets involved. It's apparently a great place to plan a scheme just like Blair and Georgina. Not only is the atmosphere completely gorgeous, but it's also been kept in magnificent condition. The rooms are filled with antiques and original décor. The food is authentic and delicious. There is great food and amazing desserts to try out. It's going to be a memorable experience regardless of what you order.
6

Visit Some Gorgeous Artwork
Two Chelsea residents by the name of Robert Hammond and Joshua David transformed what used to be the overgrown tracks of the old elevated freight train located along the city's west side. They turned the abandoned area into a "park in the sky." It's now one of the most popular attractions in New York and it costs you nothing to go and see it. The art is gorgeous to look and it and it will give you a much-needed escape from the city. It's so powerful that you will feel like you aren't in the city at all.
5

Upright Citizens Brigade
If you love theatre, then this is going to be a great choice for you. It's a lot of fun because it's a bit of improvisational theatre as well as sketch comedy. There have also been some big names involved in it as well like Amy Poehler. There is one in the East Village and in Chelsea as well. It's also a very inexpensive night out. Tickets are as low as $5 depending on which show you want to see. If you are planning a visit, then check out their website to see what they have to offer.
4

Get Out And Exercise
Leonardo DiCaprio is a big fan of the Citi Bikes in New York City. They are one of the best ways to explore the city plus they are environmentally friendly. There are lots of free things to do like free swimming pools to visit on East 23rd St. The Citi Bikes have stations across Manhattan below 60th St. as well as Fort Greene, Brooklyn Heights, and Williamsburg. You can have a bike for 24 hours for only $9.99 and tour the city. It's a lot of fun.
3

Do Some Star Gazing
If you are looking for a great view you don't need a penthouse view, all you need is a place to look at the stars. Go to High Line in New York and go for a romantic walk. It's a great way to spend time with your loved ones. It also lets you do some serious stargazing and that can be a beautiful moment for everyone. It used to be an old railway that they turned into an urban park on the west side of Manhattan. There's lots of local art, greenery, and great views of the city and water. Plus, it's free!
2

Cooper Hewitt, Smithsonian Design Museum
If you want to see some cool things, then you are going to want to check out this museum. It's one of the most unique museums in New York City. Gossip Girl showcased a wedding for Lily in the garden and Blair and Serena attended it. There are many extravagant events that take place at the museum. It's of course on the Upper East Side and there are so many beautiful works of art to see. There are creative technologies and interactive designs. It's not a very costly event — it can be as low as $7 to get in.
1

Eat Lots of Candy
We saw this fun store on Gossip Girl, it's one of Blair Waldorf's favorite places to go. Dan and Vanessa also went there looking for a birthday present for Nate. You are sure to find a ton of treats to enjoy in this place. Dylan's Candy bar is one place in New York that you will want to check out because it's one of the largest candy store chains in the country. The candy is not expensive and it's also very delicious. What more could you want?
References: theodysseyonline.com, interexchange.org, theguardian.com,
Source: Read Full Article