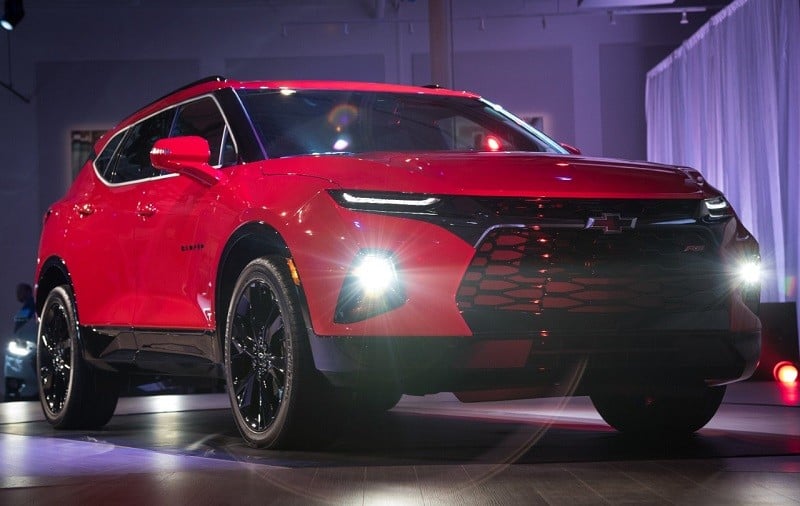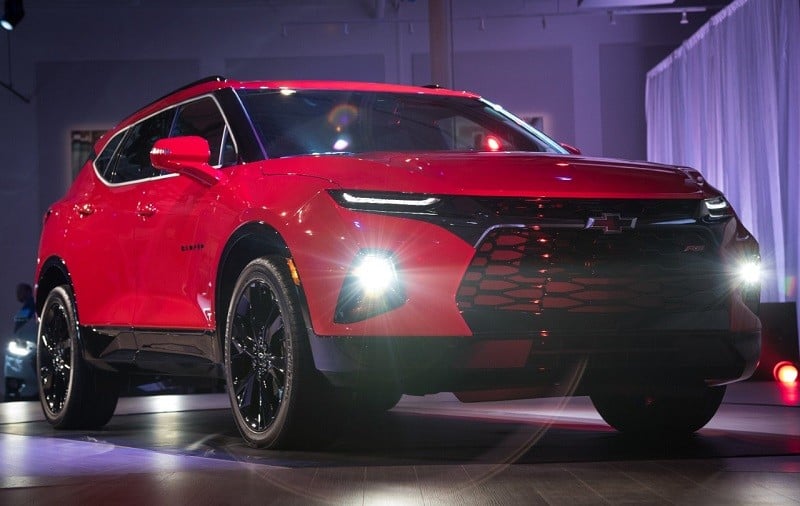 The debut of the 2019 Chevrolet Blazer | Mark Najjar/Chevrolet
If you had an old favorite truck or SUV, there's a good chance you'll see a revival in the coming years. Chevy Colorado and GMC Canyon started the trend a few years back, and the 2019 Ford Ranger will keep that momentum going.
But that's just the story with trucks. In America, where SUV sales continue to grow in every size and class, brands like GM and Ford are deciding they can't make enough crossovers and other utility models.
That's how we got the return of the Chevrolet Blazer for the 2019 model year. Here's everything you need to know about it following GM's June 21 launch in Atlanta.
1. It's now a crossover, not an SUV.
The Chevy Blazer and GMC Jimmy the automaker produced across several generations (from 1969-2005) were truck-based SUVs. Since the early 1980s, GM used the Chevy S-10 pickup platform as its basis. Eventually, one Blazer trim morphed into the Chevy Tahoe in GM's lineup today.
This time around, Chevy abandoned body-on-frame construction and made the Blazer a unibody midsize crossover with two rows (GM's only such model). That will disappoint some old-school fans and probably not matter much to the younger, more affluent market GM is targeting here.
Why it matters: Body-on-frame SUVs tend to be more durable than crossovers.
2. You won't find the old, rugged-looking Blazer here.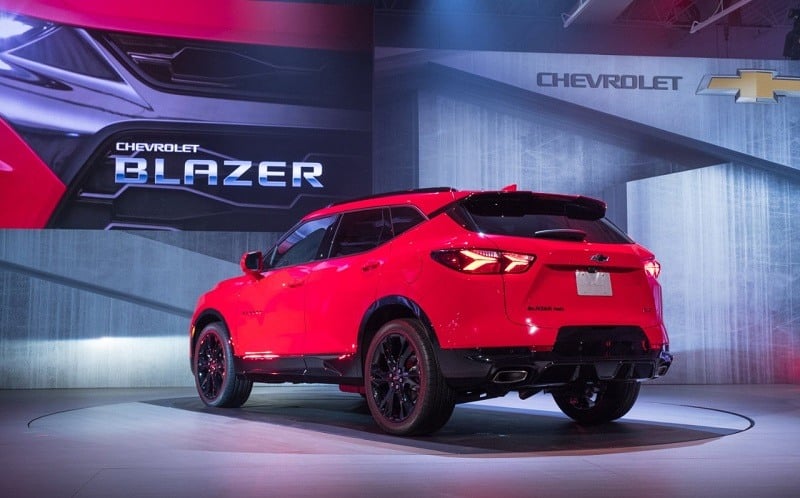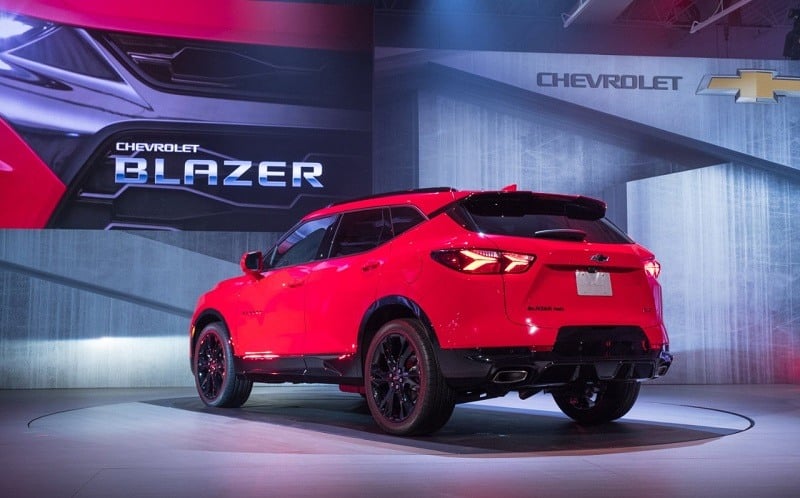 No one will call the 2019 Blazer rugged. | Steve Fecht/Chevrolet
While the Blazer's underpinnings matter for performance and (potentially) durability, looks are a whole different story. Yet you'll notice a lack of ruggedness in the 2019 model that matches its new crossover character. (Think Jeep Grand Cherokee, and its contrast from Wrangler.)
To our eyes, we detect some Lexus SUV styling in the prominent grille and aggressive stance. However, it looks like there's a whole lot more plastic here than you'll find in the NX crossover.
In other words, this model is a far cry from the days when Blazer had a badass look.
Why it matters: Anyone looking for a throwback to the original SUVs should keep looking.
3. Engine options and the standard 9-speed transmission
On the mechanical side of things, buyers will have a choice between a 2.5-liter four-cylinder engine (193 horsepower) and a 3.6-liter V6 (305 horsepower). Both get a nine-speed automatic transmission. Front-wheel drive comes standard with all-wheel drive available.
For those who want to tow, it's not going to have the chops of a Silverado or GMC Sierra, but it will handle up to 4,500 lbs. Buyers expecting to tow can get Hitch Guidance and Hitch View to help.
Why it matters: This is more reason to think of the Blazer as a high-riding car, not a workhorse or trail beast.
4. Competitors include Jeep Grand Cherokee and Ford Edge.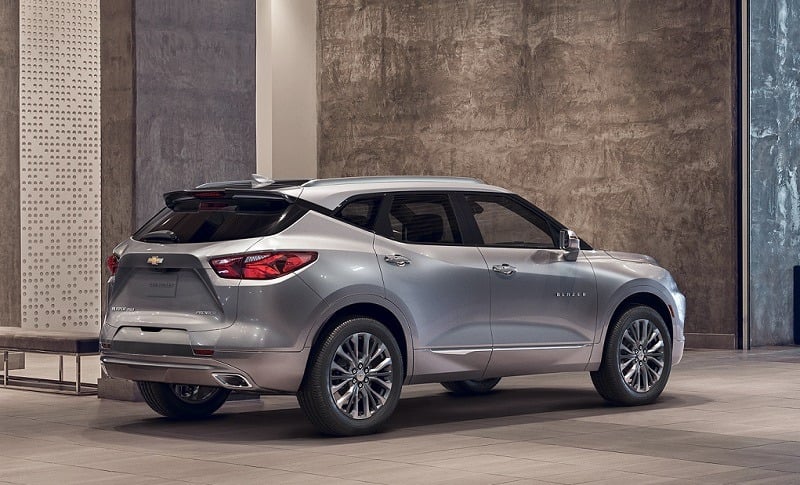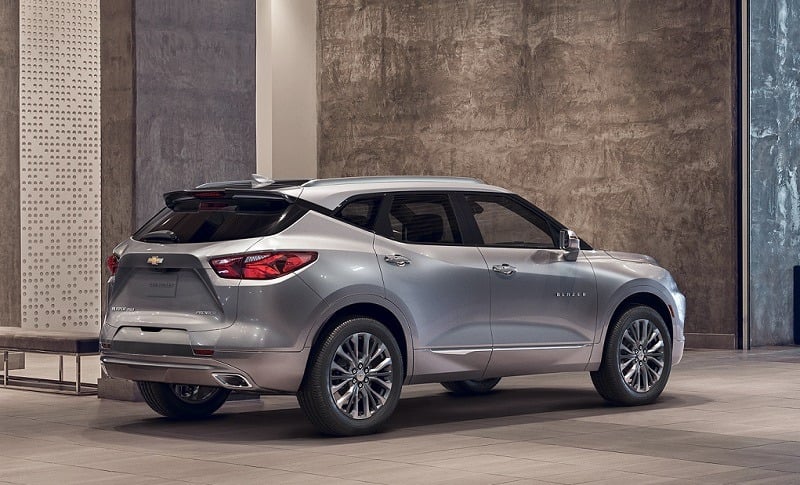 2019 Chevy Blazer | General Motors
Chevy's director of marketing told The Detroit Free Press that this model will compete with Nissan Murano, Ford Edge, and Jeep Grand Cherokee. "The Edge and Murano are at the lower end of the average transaction price [$29,000] and the Jeep Grand Cherokee is on the high end," he said.
Higher trim levels will appeal to today's affluent midsize SUV buyer, who typically earns a salary in excess of $130,000. "It's more of a 'me' vehicle," Blazer's exterior design director told The Free Press.
Why it matters: Bronco fans can cross it off their list.
5. It will be built in Mexico and arrive in dealerships by early 2019.
GM's all-new crossover will also follow the production trends of the current U.S. auto market. The company's manufacturing plant in Ramos Arizpe, Mexico will produce the next Blazer.
It will arrive at U.S. dealerships by early 2019. Chevy will reveal pricing and more details closer to that date.
Why it matters: Given the Trump administration threats on Mexican auto production, this will likely come up in the news.
Check out The Cheat Sheet on Facebook!
Source: Read Full Article