Everyone has heard of Spain's vibrant city, Barcelona; the city is full of breathtaking history, churches, museums, parks and beaches, and don't forget the partying and the tapas. Barcelona has everything any person can dream of when travelling; it is a mix of modern and historical architecture and their dining and nightlife are definitely worth experiencing; it is a slice of Europe that has a little something to offer for everyone.
However, when many tourists head on over to Europe with a limited amount of time, they try to cram as many cities as they could in, which allows little amount of time to get the full scope of the cities. And when it comes down to it, there are various charming cities in Europe that globetrotters want to visit, and Barcelona is on top of the list. However, do not despair, if you only have one full day in the city that boasts extraordinary culture with parks, museums, football matches, beaches ,and churches, cramming all Barcelona's splendid features in one day can be done. Spending 24 hours in this cultural and party city will be intense and a whirlwind, but in the end, it will be totally worth it as Barcelona gives you a taste of the best worlds. Got only 24 hours to spare? Well here is our list of 24 to-do things that will make you fall in love with Barca.
24

Get Lost In Park Güell
Want to start your day off correctly and be whisked away by Barcelona and Antoni Gaudí's architecture? Then head on over to Park Güell! It does not take much to gaze and get lost in the beauty of Gaudí's architecture at Park Güell, and it is a must-see and well worth your time. Starting the day by finding a bench to sit on at the enchanting and dream-like gardens is a must when in Barcelona. The park boasts Gaudí's modern art with vivid mosaics bordering the gardens and at the highest point, gives a breathtaking panoramic view of Barcelona.
23

Everyone Needs To Visit La Sagrada Familia
Visiting Barcelona means visiting everything Gaudí, and most specifically, the enticing and world-renowned masterpiece La Sagrada Familia. With so much hype surrounding the church designed by Gaudí, that is still under construction, visiting the Barcelona monument is suggested in the morning as there will be fewer crowds. The unfinished masterpiece and Gothic church, that is a combination of Gaudí's many stunning designs will not leave you disappointed. In fact, seeing it in person will probably take your breath away!
22

Soak In All Of Gaudí's Masterpieces
Now that you are still amazed and in awe by Gaudí, then do not hesitate to make a quick pit stop to gaze at more of Gaudí's stunning architecture and visit Casa Batlló. Not as grand and gigantesque as the park or church, a quick glimpse from the outside at the home that is made up of tiny mosaic tiles and balconies that freakishly look like masks will do. After all, it is all of Gaudí's jaw-dropping and also strange architecture that brings people from all over the world to Barca.
21

Take A Walk On The Posh Side
Following up with the previously mentioned entry, Casa Batllo is actually situated on one of Barcelona's major avenues. Fashion gurus and travellers with luxurious, posh, and designer taste will drool while they take an afternoon stroll down Barcelona's most expensive shopping street, Passeig de Gràcia. Make sure that you do not miss out on this fancy street, even if you will not enter one of the designer stores. It is not only the city's most luxurious street, but also the heart of the most modern area found in Barcelona.
20

Get Your Tapas Game On
We cannot discuss Barcelona, without talking about the gastronomy. Though Barcelona is vibrant all year long, visiting in the summer and spring, the city really comes into its own, and restaurants, clubs and bars are jammed to the brim. And since they are known for their dining, and tapas, then a chow down at Tapas 24 is no question. In one day, you can eat the most delicious tapas Barcelona has to offer, by getting a seat at Tapas 24 in the early afternoon — you'll thank us.
19

Take An Afternoon Stroll On Las Ramblas
Running out of things to do in Barcelona is nearly impossible, and so, next up, we suggest diving into an area of Barcelona that offers culture, trendy shopping, cafes, and anything else you'd like to munch on. Visiting Barcelona automatically means taking a stroll down Las Ramblas — the street day and night is heavy with foot traffic because of its friendly charm. It is the most famous street in Barcelona and is the perfect vibrant location to sightsee. Beware of pickpockets, though!
18

Grab A Peach At La Boquería
Do you love being in a crowd and enjoy the hype surrounding it? If so, go grab yourself a juicy fruit at La Boquería market. Much like Las Ramblas, the market that is full of overjoyed guests and is hectic at all times of the day. However, we highly suggest you walk on over to grab a bite of a very rare find nowadays, a.k.a. fresh fruit. The market is impressive as it is the largest public market in Barcelona that offers the freshest fruits and veggies.
Featured Today
25 Strange Towns That Everyone Should Visit At Least Once

25 Magical Destinations With The Clearest Water On Earth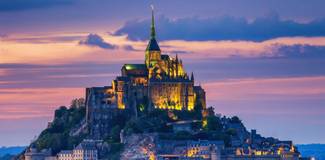 25 Facts About The Isolated Castle Mont Saint Michel In France

17

Take A Peek At Picasso Paintings
Whether you're an art lover or not, visiting the Picasso museum is must. Barcelona is full of astonishing and cultural museums, but the Picasso museum is the most famous for a good reason — it's Picasso, need we say more? This museum is home to the most extensive collection of Picasso's paintings, and we recall the magic from peeking at Picasso's works like it was just yesterday. And at the same time, you will get to see the beautiful medieval area of Barcelona.
16

Sit Back And Take A Coffee Break
Besides taking a siesta, there is something else the Spaniards are known for indulging in on a daily basis, and that is having "cafe con leche." After what will seem like an intense 24 hours, making sure to have more than one coffee break will keep your stamina up with the hectic Barcelona vibe. If you're craving a dessert and a good old cafe, then make sure to pay a visit to Café de L´Opera. And while you take a sip of heaven, you will also find many locals.
15

You Score When You Visit This Stadium
Even those who are not football enthusiasts, know of the football club FC Barcelona and how grand of a team they are, so visiting the Camp Nou stadium will definitely fully immerse you into the culture of this vibrant city. Many travellers know how big football is in Barcelona and will attend a match to live an experience they will never forget. However, since you only have one day in the marvelous city, getting a glimpse of the 3rd largest football stadium in the world will certainly wow you.
14

Gaudí's Apartments
Since you will certainly visit Gaudí's most prominent works of art, then why not visit the last residential building he designed? A tourist should definitely consider visiting La Pedrera, which is the most famous apartment building of his. There is so much to do in this city, but you will really enjoy getting a look on the inside of the head of the man who has brought tourists to Barcelona for years because of his everlasting work. And the rooftop of his apartment offers a great view of the city.
13

Get Lost In The Gothic Alleys
A visit to Barcelona is not complete without visiting the old Gothic Quarter, the Barri Gotic, with everything from wicked cathedrals to bustling shopping streets. You think you've seen it all in Barcelona after visiting Gaudí's masterpieces, but this area is the most scenic part of the mind-blowing city. Most people get lost in the Gothic streets of the quarter, but it is totally worth it as there are inspiring finds everywhere you look. The enchanting area filled with history and charm will leave you wanting to see more.
12

Meet At The Main Plaza
Visiting the pearl of the Mediterranean Sea means visiting all cultural areas in the city, including the heart of it all which is the Plaza de Catalunya. It is a landmark and is the most popular area of the city as it leads to all the spectacular avenues that Barcelona has to offer, like Las Ramblas. Here, people meet up and take a seat to chat and laugh while looking at the huge fountain and the hustle and bustle of the Spanish city.
11

The Columbus Statue Is More Than You Think
Sometimes, you need to take a breather and soak in the magic of visiting a foreign city. How do you do that? By finding a spot that will give you a panoramic view of the whole city you're wandering in. At the end of the Las Ramblas strip is a Cristobal Columbus monument that most people stop to observe only. However, we have a secret — taking the elevator to the very top of the stature offers you impeccable and dreamy views, and you may just be alone.
10

A Peaceful Stop At The Gothic Cathedral
The cathedrals in Spain are impressive, and our favourite one in Barcelona is the The Cathedral of the Holy Cross and Saint Eulalia that is located in the Gothic quarter. History buff or not, this church is like a breath of fresh air on a busy and stressful day (because evidently you will be stressed trying to visit an entire city in a day). And this is not your ordinary cathedral — the rooftop offers a garden with a pond that has white geese floating around. It's very serene.
9

Make A Splash At Barceloneta Beach
The sun loves Barcelona, and though the city has many landmarks to visit, a siesta on Barceloneta Beach needs to be on your list. Make sure to pack your swimwear because the beach will tempt you, especially on a hot day of visiting a city that is always booming from left to right with people. Some will simply sit on the sand for quiet time while others prefer to walk along the harbour with an ice cream in hand — do as you please, but do go!
8

Ever Seen A Magical Fountain?
There are so many wonderful things in the city of Barcelona, including a magical fountain. Say what? Before you leave this city, I cannot stress enough how badly you need to visit this enchanting, whimsical, and unique attraction of the city. Check the schedule ahead of time so you do not miss it, because on certain days of the week, the Magic Fountain comes to life and offers the most splendid light show; it is an illuminating attraction to not miss.
7

Visit What Is Left OF The Santa Maria Del Mar
It is easy to fall in love with Barcelona, and with centuries of history to explore, the antiquity of Barcelona churches, like the Santa Maria del Mar, leave a person in awe. It is hard to decide which cathedrals in Barcelona are our favourites as they are all wonderful, but this vintage church with vivid stained glass and slender columns has a deep history. You do not need to be a history buff to appreciate the beauty of the long-standing church that has experienced some rough patches.
6

People Watch In Passeig Del Born
To get a little break from the jammed touristic avenues and attractions and freshen up, dwindle over to Passeig del Born. This neighborhood and area of Barcelona resembles Las Ramblas but is less touristy and is lined with bars and locals who take the afternoon and evening to live their best lives. This promenade is similar to Las Ramblas, but it is very different as it boasts a vibrant nightlife and trendier look.
5

Act like a local at The Markets 
The market we mentioned before is always busy with bulldozing crowds, but, there is another market in Barcelona that will have you staying in there forever without all the people. Wander through the aisles of Mercat de Santa Caterina and you will find any gourmet food your heart desires while in yummy Barcelona. From jamon to olives, this market offers a hands-on food experience of the most desirable gastronomy that Barcelona has to offer. Make this market an essential stop!
4

A Palace Known For Its Architecture
Though Gaudí is the most recognizable face of modern art and the art nouveau, other contemporaries, like Lluís Domènech i Montaner, left their mark in Barcelona with their architecture. There is one statement we can use to convince you to head on over to the brilliantly designed Palau de la Música Catalana, and that is that the palace earned the title of a UNESCO World Heritage site for its striking architectural features. No one is telling you to view in on an opera show, but to just gaze at the incomparable architecture it offers.
3

End Your Day With A Sunset
Sunsets in Barcelona are iconic and after a long day of crisscrossing around the hectic city, what is more rewarding than the bedazzling view of a sunset? On Bunkers del Carmel, you will find a sea of locals and tourists who are anticipating the beautiful and vivid colours of a Barcelona sunset. People gather together with drinks and snacks and are seen having a great time on the hilltop, enjoying life while they wait for the sun to go down behind the mountains.
2

A Museum You Don't Want To Miss
We did mention that Barcelona is a crossover of many historical periods, so it is no surprise that they host one of the hippest modern museums that you cannot skip out on. The MACBA: Museu d'Art Contemporani de Barcelona is just as modern from the outside as it is on the inside, and though you may not be an art history lover, this building is too rad to not get a peep at. Take the risk and visit it!
1

Make The Walk To Mountain Montjuïc
Taking a break from all the mouth-watering food, marvelous Gaudí architecture and Gothic cathedrals means there is one thing left to do, and that is to visit Parc de Montjuïc. Montjuïc offers not only a prominent hill overlooking Barcelona's harbor, but also gardens, museums, swimming pools, and a vibrant atmosphere. It is an area of Barcelona with a lot of character and a funicular railway that allows locals and tourists to take a cable car ride through. Make the palace your last stop on the magnificent mountain!
References: travel.usnews.com, tripadvisor.com, timeout.com
Source: Read Full Article