Dubai is a city in the United Arab Emirates that has beautiful deserts, stunning beaches, and the most beautiful skylines, but it's also a place that's frequented by celebrities who like to share their adventures on social media; from sightseeing some of the most remarkable buildings and architectural feats like the Burj Khalifa, the world's tallest skyscraper, to day trips to the desert, which include dune rides and a camel experience.
But this is also a city that is visited for its nightlife, and when musicians are not performing there, they are enjoying everything that the party scene has to offer. From Justin Bieber, who has been spotted swimming with drinks in hand at the Zero Gravity Beach Club, to Kendall Jenner, Gigi Hadid, and Selena Gomez, who visited the city for an epic New Year's Eve celebration.
These are just a few of the big names that have chosen Dubai as their destination of choice, but some of them really try too hard when it comes to taking the perfect selfie to share on social media so that fans are jealous, or creating a snap that screams, "you should be here, and you're missing out." Below are 25 celebs who have either let their hair down or used the city as a chance to unwind and sightsee.
25

Tyga Celebrated His Birthday Surrounded By Beautiful Women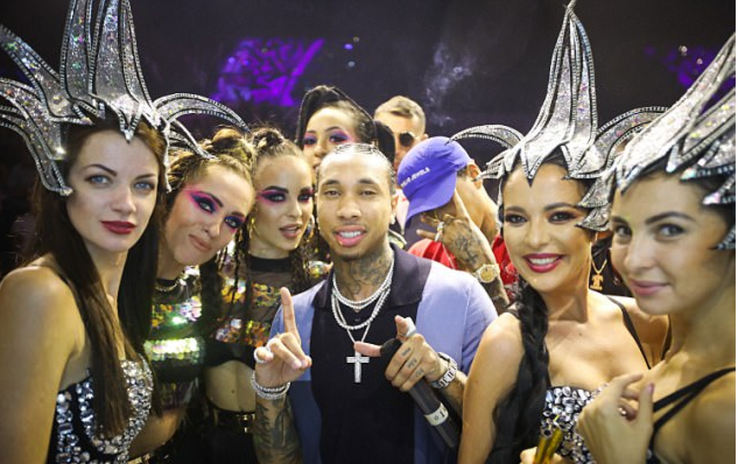 Tyga is a guy who enjoys a good party, and when he celebrated his 28th birthday in November 2017, he decided to do it in style, and also, in Dubai. The rapper jetted out to the city to perform at one of the popular nightclubs, BASE, and after he finished performing his set, according to Daily Mail, he spent time in the VIP area of the club, surrounded by around 40 beautiful women. And if the women weren't enough to keep his night interesting, there were reportedly also 20 bottles of Aces and Spades champagne on hand.
Then in 2018, Tyga was scheduled to return to Dubai to perform at BASE again, as well as a recently opened hot spot frequented by celebrities called 1OAK, What's On reports. And although he looked to be having a great time in Dubai, we all know that Tyga's lifestyle means that he is no stranger to club performances and after parties, and his nights on the town have been well-recorded. And sometimes, he's not even allowed to hit a club without a rumor about it starting. According to Hollywood Life's article titled, "Tyga Spotted Clubbing For The First Time Since Birth Of Kylie's Baby: Is He Partying Away His Sorrows?" he was upset after his ex-girlfriend, Kylie Jenner gave birth to her daughter with Travis Scott, Tyga was seen at Catch nightclub in West Hollywood, California.
24

Kendall Jenner Couldn't Get Enough Selfies In Dubai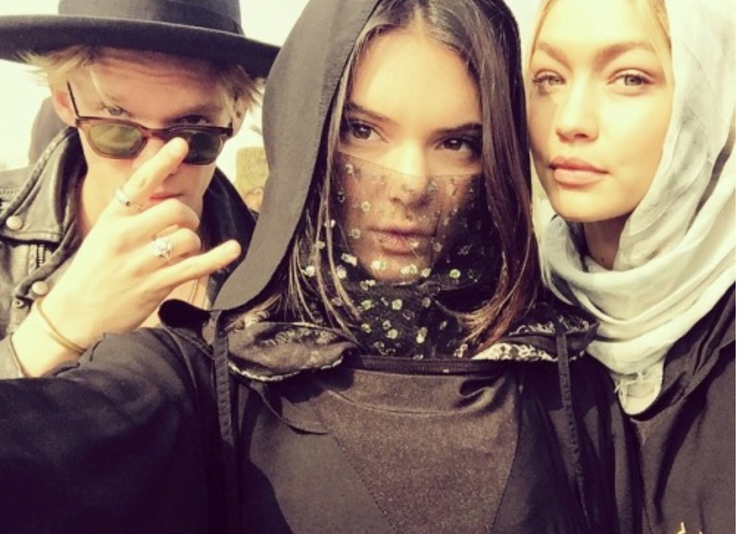 Kendall Jenner is young and beautiful, and she's also a celebrity whose every move gets reported on by the media. This includes the way she chooses to spend her downtime and she has been known to enjoy a good party or two (E! News even reported on the rumors that Kendall and her sister, Kylie Jenner, had been partying at a club when they were underage).
In 2015, Jenner enjoyed a holiday in Dubai, which included a New Year's Eve party, which according to X17, was hosted by Dubai's Department of Tourism & Commerce Marketing. Jenner was joined by some of her celebrity friends, including Gigi Hadid, Cody Simpson, and Selena Gomez. They also enjoyed a night of fireworks at the Burj Khalifa Hotel, which Jenner shared an image of on Instagram.
But her partying is not what finds her on this list, what is, is the endless stream of selfies and posed photos with her friends that were shared on social media, making it look as though Jenner was really trying to make others wish they were there. But she has 90.7 million followers on Instagram, and these people wouldn't be following her if she wasn't doing something right with her feed.
23

Selena Gomez's New Year's Eve Bash Was One To Remember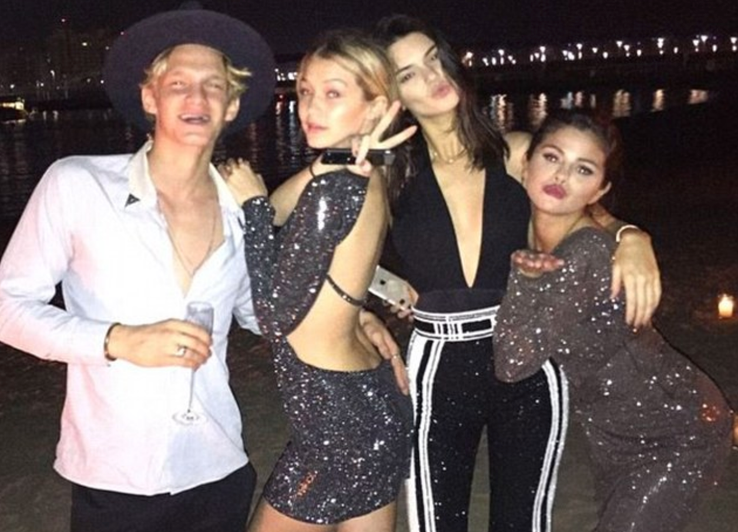 Selena Gomez was in the group of friends that Kendall Jenner jetted off to the United Arab Emirates with. She also posted several photos from her time in Dubai, including snaps of their evening partying— she and Gigi Hadid were photographed wearing sequinned mini dresses, and they also posed for a selfie on the beach in the middle of the night.
It's no secret that Gomez likes a good party, and her antics have made headlines more than once, including the time when it was reported that she was partying with then-boyfriend, The Weeknd, during his tour. InTouch Weekly claimed: "She drank nonstop throughout his Paris concert, and that night they and two other friends basically spent the entire night awake so they could party. He doesn't seem to be a great influence on her. You would think if your girlfriend just came out of rehab, you would discourage partying, but that hasn't been the case."
And Dubai wasn't all good for Gomez either, because she created backlash for being disrespectful when she showed her ankles in a mosque, which according to The Independent, is a violation of the strict rules. Gomez ended up deleting the image in question, but not before it was screenshot and shared around the internet.
22

Zac Efron Tried Too Hard With This Shirtless Desert Snap
Zac Efron is another celeb who has spent time in Dubai, and he decided to do it shirtless… with a camel. In April of 2017, Efron shared photos of his Dubai trip on Instagram, which included the image above of him posing in the desert with a camel, as well as enjoying a 4×4 ride through the sand, all while showing off his muscles.
Efron really enjoyed his trip and although it was his first time in Dubai, he intends to come back because one of the captions on a photo from his trip read: "Thanks for the love, Dubai. Can't wait to come back." That said, during his time in the city, Efron wasn't really there to party it up, and according to Us Weekly, he was there for to promote Hugo by Hugo Boss cologne, the fragrance that he became the new face of.
In 2016, Efron revealed to Elle that being sober has changed his life. He said, "What I found is structure. That led me to a balance of opposites: You get out of life what you put in. There was a moment when my morning routine was, like, get up and Google yourself. But that stopped, dramatically and instantly, probably three years ago. I realized that viewing yourself through other people's pictures is not living your own life. I wasn't really being myself. A lot of my hobbies had gone out the window. I couldn't skateboard or surf for fear of being followed. Crossing the line of fear is what leads to greatness."
21

Someone Needs To Advise Brian Atwood He Needs New Poses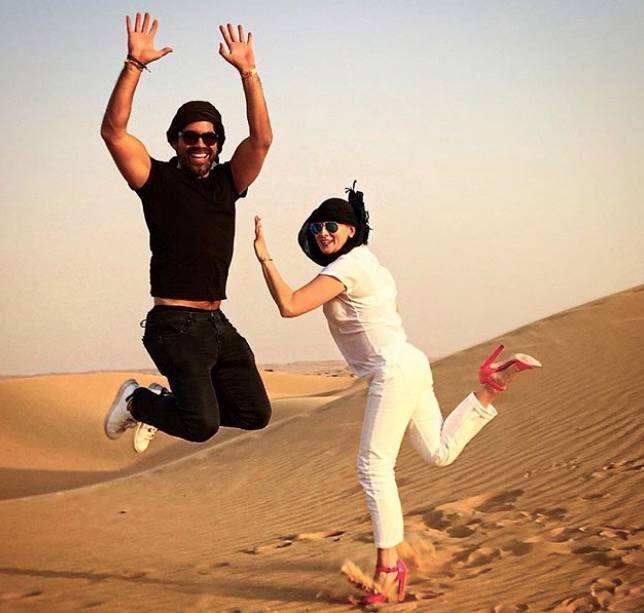 If you are looking to spot celebs, Dubai seems to be the place to go, and among the many celebs who you can spot is Brian Atwood. The shoe designer made an appearance at Level Shoes in The Dubai Mall and spoke to The National about his time in the city. When asked how Dubai was treating him, he said, "Amazingly. I can't wait to see more and I'll definitely come back for a longer period of time. I'm going to see the souq, the desert at sunset, the hawks, and camels – everything. I've been overwhelmed by the people I've met and by hearing about the city's future plans."
As you can see from the photo he shared, he definitely made it to the desert and looked to be having a great time, and there is nothing wrong with what he is doing. The only thing is, he appears to be trying a little too hard with his happy pose in this photo. That said, he did admit in the caption that it had been a great trip, and perhaps the happiness on his face reflects that. He wrote: "Thx [thanks] Dubai For an Amazing 2 Days." He then went on to tag a number of people and companies, including Level Shoes and commented about how he had a memorable trip.
20

Novak Djokovic Tested Out His Belly Dancing Skills At A Tennis After Party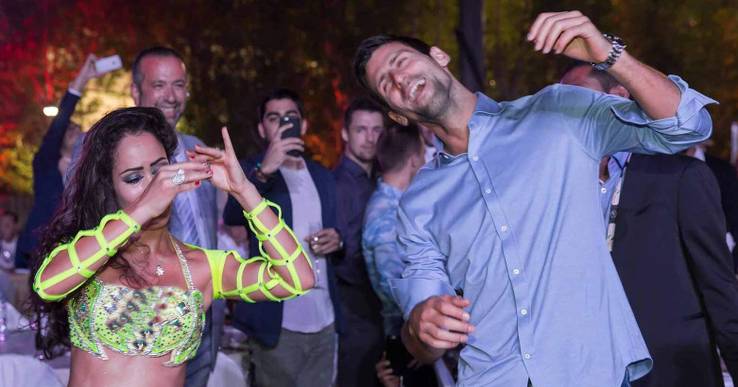 Novak Djokovic is a professional athlete, but that doesn't mean he is always training and always on the tennis court, and there are times when he takes a break from his busy schedule. Of course, Dubai is a place where Djokovic often plays tennis matches but he has also been seen taking a selfie in a water pool, and on a separate occasion, dancing next to a belly dancer at Dubai Duty-Free Tennis Championships Players Party in 2016.
But, unfortunately, there are reports that Djokovic's partying has gotten in the way of his relationship. According to a report by The Sun, in July of 2017, the tennis star was seen partying with chef, Lauren Von Der Pool, at a black-tie event, and his antics sparked concern over the status of his marriage to wife, Jelena, who was reportedly pregnant with their second child at the time. And this is not the first time that the pair were seen together because according to the publication at an earlier party in Perth, Australia, they "danced up a storm." Noting that when Von Der Pool was asked about partying with Djokovic, she said, "I think it's important to have a good time but at the end of the day, you know, I just have to stay focused on the girls (Venus and Serena)."
19

Lindsay Lohan Loves A Good Party, But She Doesn't Want Her Name Associated With That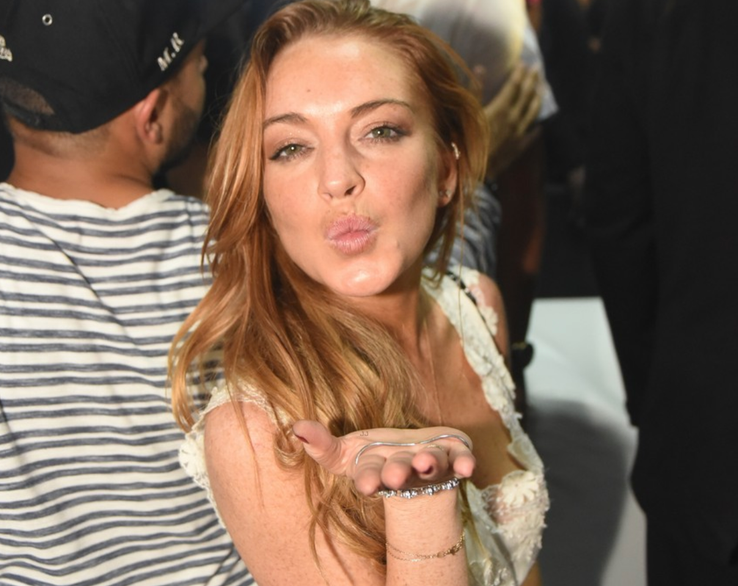 Lindsay Lohan is, unfortunately, one of those stars who fell off the wagon a bit, and at one point in her career, she was on a downward spiral. It's not surprising to see photos of Lohan partying, and she was clearly having fun in 2015, when she blew a kiss to the camera while at the VIP Room (and Kevin Hart was also in attendance that same night).
Dubai is a city that Lohan loves, and International Business Times reported that in 2017 she moved there over the holiday season, and that same year, she hosted a countdown party at the Zero Gravity hotel. But there was one other party in Dubai, back in 2011, Lohan wasn't thrilled to have her name associated with, and according to Daily Mail, she threatened legal action to a Dubai-based party planning company after they used her name to promote their New Year's Eve event.
Lohan was annoyed by having her name associated with partying, and the publication claims that her representative gave a statement to TheWrap saying, "At no point was Lindsay ever considering going to Dubai for New Year's Eve." And her attorney told TMZ (via Daily Mail) that using Lohan's name without her permission would cause her to "suffer harm and damage."
Featured Today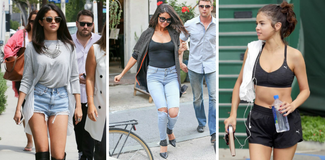 25 Paparazzi Photos Of Selena Gomez Everyone Needs To See

20 Things Fans Should Know About Rising Star Alexandra Daddario

11 Celebs Most Men Want To Date (And 11 Who Are Too High Maintenance)

18

Is Paris Hilton A DJ Or A Social Media Lover?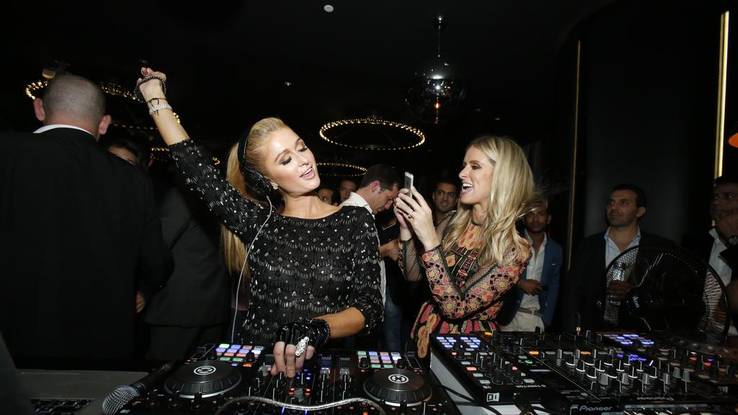 Paris Hilton has frequented Dubai and in 2013, she visited the city to DJ at Cavalli Club (yes, that's what she does these days) and also played at the launch party of Clé Dubai over a vacation celebration for her sister, Nicky Hilton's birthday. But aside from playing sets at clubs, Hilton has other, more permanent interests in the city, and in 2016, Forbes reported that Hilton intended to launch a luxury hotel chain in New York, Las Vegas, and Dubai.
Considering her grandfather, Conrad Hilton's, hotel legacy, it's safe to say that Paris knows a thing or two about hotels, and according to Forbes, she has long planned to launch her own hotels but also wants to distance herself from the Hilton brand name. As for the three cities she has chosen, this is because these are three that she frequently visits.
But back to Hilton's partying and how it has not always been good for her— in March of 2018, she made headlines that she had lost her engagement ring, worth a whopping $2 million while partying at a Miami club. Luckily for her,  Page Six reports that the venue's security did find the ring, which was in an ice bucket on a table in the VIP room.
17

Wyclef Jean Lives The Good Life, Apparently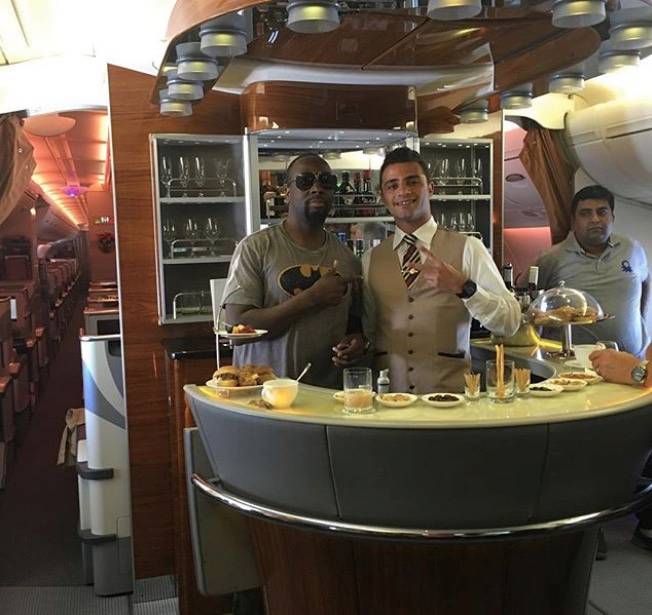 Wyclef Jean's time in Dubai is a mixture of business and pleasure and although he has previously performed at clubs in the city, including a beatboxing session with actor and rapper, Will Smith, at the VIP room, as well as a performance at the Billionaire Mansion club opening, located in Taj Hotel, the photo in question of him unwinding was actually not taken in Dubai.
Let us explain, although this photo wasn't taken on the soil of the city, it was taken on the airline on the way back from the city, and the Haitian-born musician thought it would be cool to show he flies first class. He also likes to benefit from the bar on the Emirates plane, apparently.
Then again, this photo doesn't come as much of surprise because Jean is known for liking the finer things in life and he's not afraid to show off his lavish lifestyle; and his Instagram is filled with the evidence. From videos of himself behind the steering wheel of a private boat in Mexico to riding a customized Spiderman motorcycle. The Guardian notes that he also has a collection of 32 sports cars (and that was back in 2002, so that number could have significantly increased).
16

Gwen Stefani's Dreams Came True When She Traveled To Dubai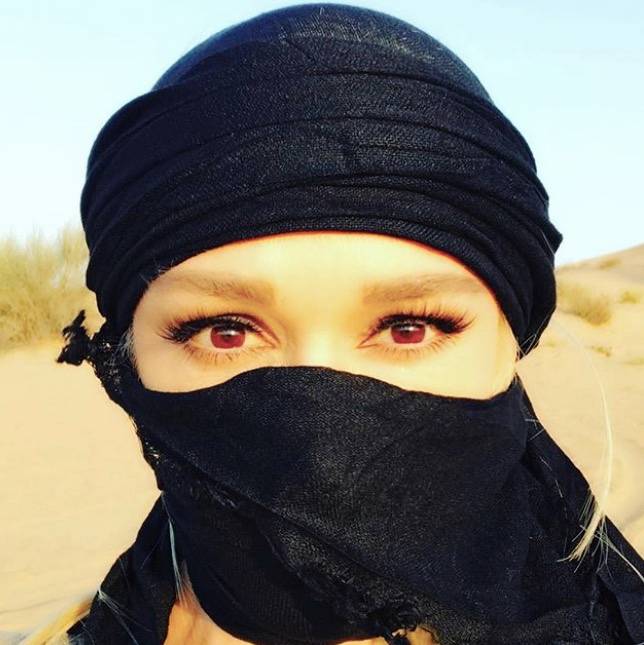 In 2017, Gwen Stefani headed to Dubai to prove she's still the ska-pop princess fans know and love, and she performed for The Renaissance Downtown Hotel Dubai to celebrate their grand opening. According to Gulf News, it was her first time in the city, and she told the crowd, "You guys realized that I never in my entire lifetime could ever imagine that I would be in Dubai, so this is incredible. My dream is being able to travel and to come to somewhere like Dubai where all the cultures are coming together. That is what I love. That is my favorite."
But despite performing an hour-long set, she also decided to use the time to spend in the desert, as well as doing other touristy things, as documented by her Instagram account. These included a trip to the Burj Khalifa, a desert safari, and a selfie with a falcon. She still likes to have fun and previously told 97.1 AMP Radio's Mornings with Carson Daly (via Entertainment Tonight) that she used to be a party girl, and there was no stopping her from going out, and she confessed, "I was literally that party girl that you hear about when their life blows up. And you're like, 'Oh, I'm going out! Watch me!'"
15

French Montana's Partying Sparked Rumors About His Relationship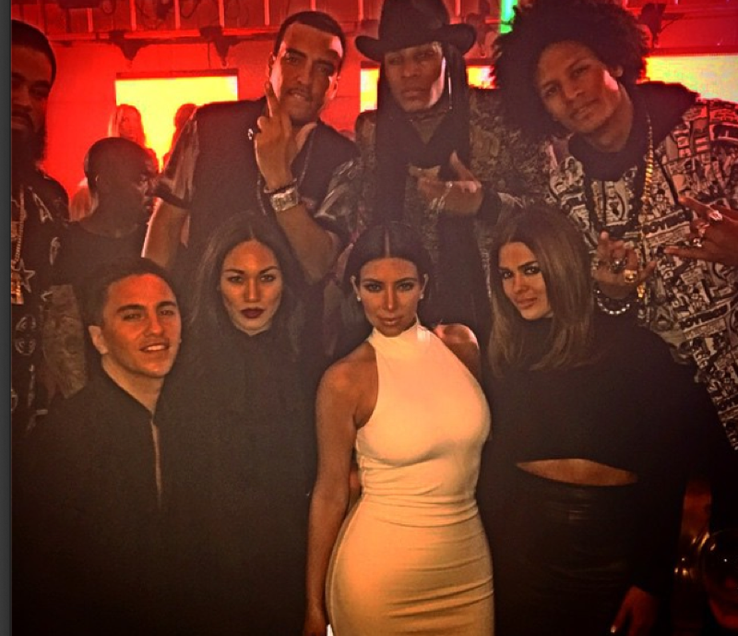 French Montana headed to Dubai to play in a star-studded lineup at the nightclub, BASE, in 2017, along with Tyga, Kid Ink, Fat Joe, and other rappers, but this is a city he really likes to unwind in. It's also the city where the rapper is rumored to have been unfaithful to his former girlfriend, Khloe Kardashian. According to Perez Hilton, when French Montana was in Dubai with Kim Kardashian, he was taking photos with her so that his girlfriend would think he was hanging out with their friends, but he was "hooking up" with another woman.
Rumors aside, French Montana also used Dubai as the destination to film the music video for his track, "Wave Gods Intro" (which according to Creative Gentleman features a lot of very famous artists, including Kanye West, Future, Big Sean, Travi$ Scott, and A$AP Rocky) and according to Billboard, it was directed by Spiff TV and shot by Michael Patti. The scene for the music video is set in the desert at night, and it sees French Montana admiring the scenery, as well as riding on the dunes. He was also trying really hard with his outfit, because according to Creative Gentleman, he was wearing a Versace Medusa-print Scarf over his head, and Yeezy Boost 350 Sneakers.
14

Anthony Joshua Is Living It Up Like A Rockstar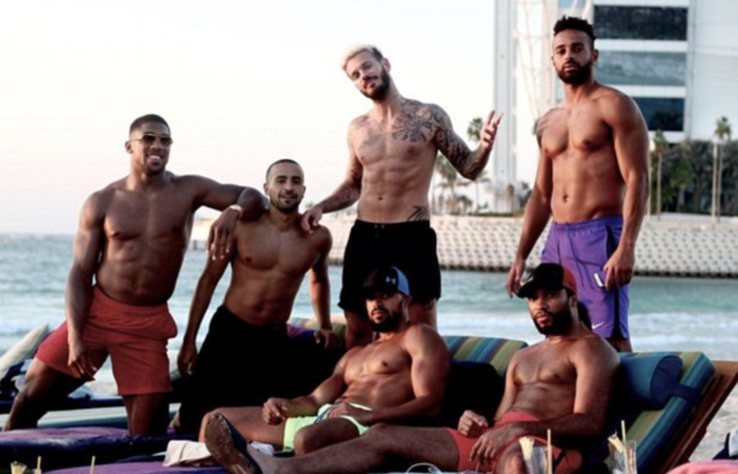 When world heavyweight champion, Anthony Joshua, is not in the ring, he likes to live it up in Dubai. He's also trained on the world's highest ring on the roof of the Burj Al Arab, where a boxing ring sat on the helipad for a promotional video, and rubbed shoulders with Novak Djokovic after the tennis player dropped out of the Qatar Open because of injury, Daily Mail reports. And in 2017, Joshua celebrated the new year with a group of friends on a beach in front of the Burj Al Arab Jumeirah hotel.
His social media makes it clear that he has a life of luxury. However, according to The Sun, Joshua isn't spending any of his money because his business partner, Freddie Cunningham, revealed that he is saving it all. So, what about these luxurious trips? Well, it turns out those are either endorsements or sponsorships.
Cunningham reportedly told Business Insider, "From the outside, it probably looks like he does [live a luxury lifestyle]. He's seen in private jets, wearing expensive watches, and driving round in nice cars. The jets are all sponsored. We've never paid for a private jet, or a helicopter, in our life…" Smart, right?!
13

Justin Bieber Works Hard And Plays Hard(er)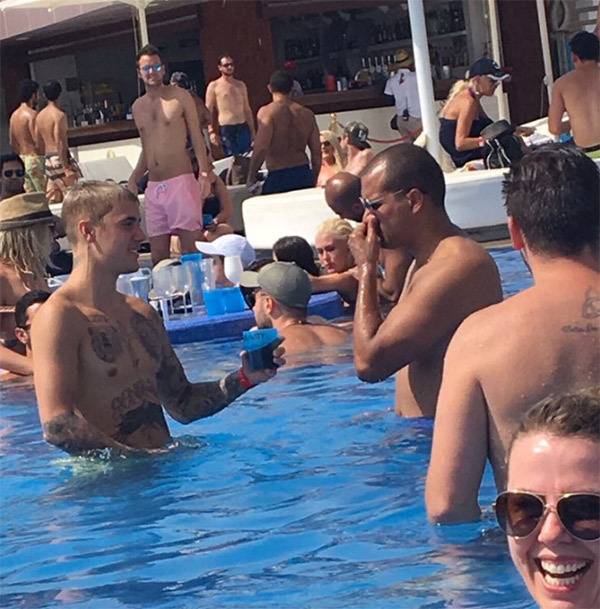 Justin Bieber was all about the rest and relaxation during his Purpose World Tour in Dubai, where he was spotted partying and enjoying the sunshine at the same time at Zero Gravity Beach Club. Speaking of Bieber's time here, an onlooker told SWNS (via Daily Mail): "Justin was in good spirits and made an effort to talk to various women around the poolside. He explained to the girls he was having a couple of days off before his gig at the Dubai Arena the next day. Everyone was pretty laid back about it all and no one gave him any hassle for selfies. His security was very discreet. Two of his guys were in the pool with him and there was additional security around the perimeter of the pool."
Bieber has had to defend his lifestyle on more than one occasion and he did so on The Bert Show (via Hollywood Life), where he revealed, "I'm 21 now – just being able to go out with your friends and be responsible and — be able to have a good time and still have fun. I do believe you can go out and have a good time – you can enjoy yourself and get a few drinks, and you can be with girls. I don't think you need to be so serious about it…"
12

Drake Wants Everyone To Be Jealous They Aren't In Dubai Right Now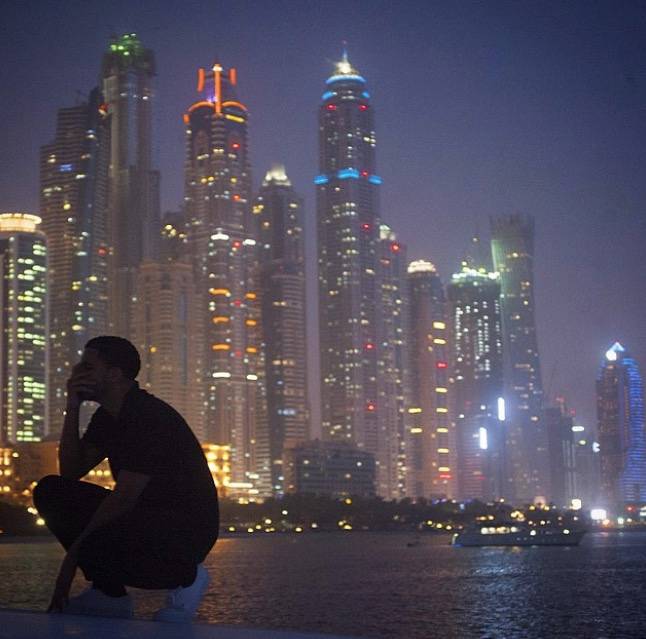 Drake is a big fan of Dubai, and according to PopSugar, his album More Life was even inspired by the country. They claim that he first visited the country for his Would You Like a Tour? world tour, and from this moment onwards he has been very obvious about his love for the United Arab Emirates, often posting his adventures on social media. And these adventures include everything from feeding a lion with a bottle, to hanging out with Prince Mansoor on Instagram, along with a caption of how he was "grateful" to know him. He also posted a photo of the prince for his birthday, which had the caption, "Happy Birthday M8!! More blessings! More life!"
And then there is this photo featured above, of the rapper posing under the lights of Dubai Marina, and making it very obvious that he wanted to get the perfect social media snap to achieve one of those "you should be here" moments. We get it. But unfortunately for him, his time in the city has not always been fun, and according to TMZ, in 2015, he was manhandled at Movida nightclub. However, the club security was quick to step in. The publication also notes that during the rapper's time here he was a guest of the Dubai royal family.
11

Bow Wow Works Hard To Make Us Think He Has A Lavish Lifestyle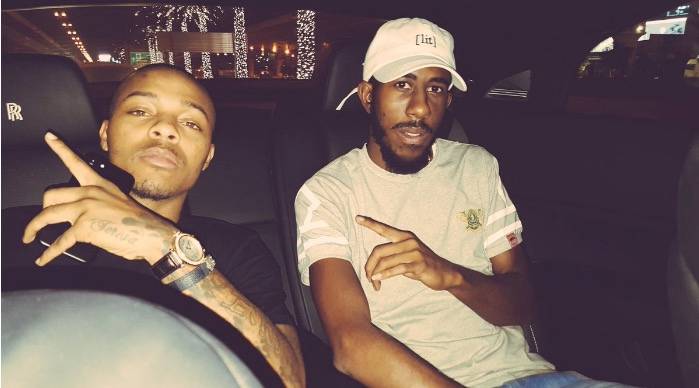 Bow Wow released his first album when he was 13, under the name of Lil' Bow Wow (he has since dropped the Lil' because he's all grown up), and he has traveled to Dubai to perform at a number of clubs, including Sensation Club, and a tour that included Toy Room Dubai, Yas Island, and WHITE Dubai.
He looks to be living it up with a photo of himself driving a car with the cities lights shining brightly behind him, but Bow Wow is a celebrity who has had to defend himself because his lifestyle has been slammed as "fake." This happened after the musician shared photos of a private jet on Instagram, but then was later seen on a commercial airline and HipHollywood claims he was called out for lying. In fact, after a passenger wrote on social media that Bow Wow was on his flight, the #BowWowChallenge was started as fans shared hilarious images that made fun of the rapper's lifestyle.
He responded to the backlash on an Instagram live story, saying, "You don't live my life. Everybody talking about the plane. I didn't know that was news. That ain't news. What is there to talk about? I've been doing this […] for too long."
10

Joe Jonas Isn't A Big Partier But He's All For Cliche Photos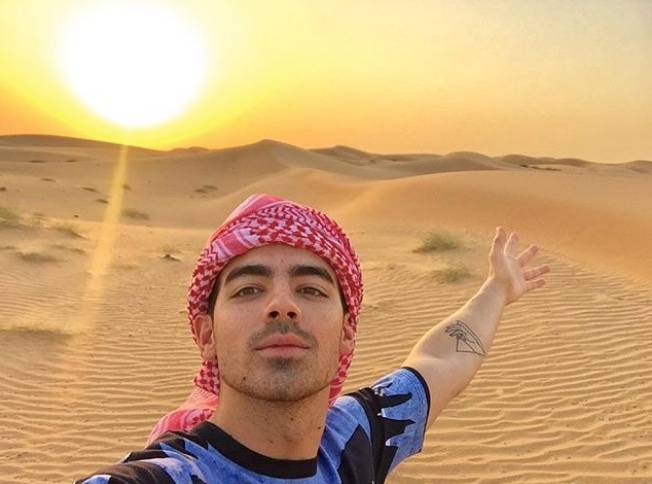 Joe Jonas is a celeb who likes Dubai, and has even shared a photo of himself in the desert along with the caption, "LOVE U DUBAI." He was in the city with his band, DNCE, to perform in 2016, and according to Gulf News, the CEO of organizer 117 Live, Thomas Ovesen said, "With DNCE now on the bill we are also thrilled to welcoming Joe Jonas to Dubai for the very first time" — but it may not be the last, considering how much Jonas enjoyed it.
That said, Jonas is not really one to love partying anymore. He made this clear in an interview with Vulture (via Stuff) saying, "I was caught drinking when I was 16 or 17, and I thought the world was going to collapse. But I was in another country, and it was legal there. My 21st birthday, I fell down a flight of stairs. I was unconscious that time, and my whole team was scared to death that somebody was going to get a picture. Now I appreciate wine or a vodka-soda at the end of the day every once in a while."
So, then why is he on this list of people partying and/or trying too hard in Dubai? Well, it would seem this selfie explains all that.
9

Floyd Mayweather Spent A Night Feeling Like A King, With A Camel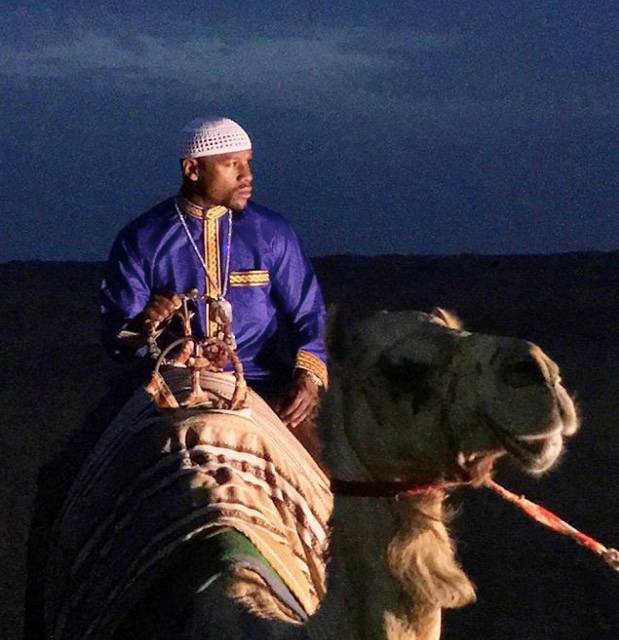 Riding a camel in the beauty of the desert must be an incredible experience, and for Floyd Mayweather, it was also an experience that he was keen to share on Instagram. He posted this photo and captioned it with a message that seems to suggest he views himself as a king, but also as a world traveler. The caption read, "#Dubai All the King does is travel the world."
Mayweather retired from professional boxing in 2015, so he can certainly afford to live it up like a king, as well as take all the time he wants and needs to travel the world, and he also has a very impressive fortune. As well as expensive taste, because his trip to Dubai included a very expensive purchase. According to TMZ, the boxer went on a shopping spree and purchased a million dollar watch. The watch in question is a Hublot and is covered in diamonds, and a rep for Mayweather told the publication, "The watch is roughly $1.1 million. This is just one of his big purchases." Just one is right because he had apparently been frequenting Dubai Mall and sources told TMZ that he had spent more than $1.5 million over two days. You do not get the nickname, Money Mayweather, for nothing!
8

Shay Mitchell Was Grateful To Ring In The New Year In The City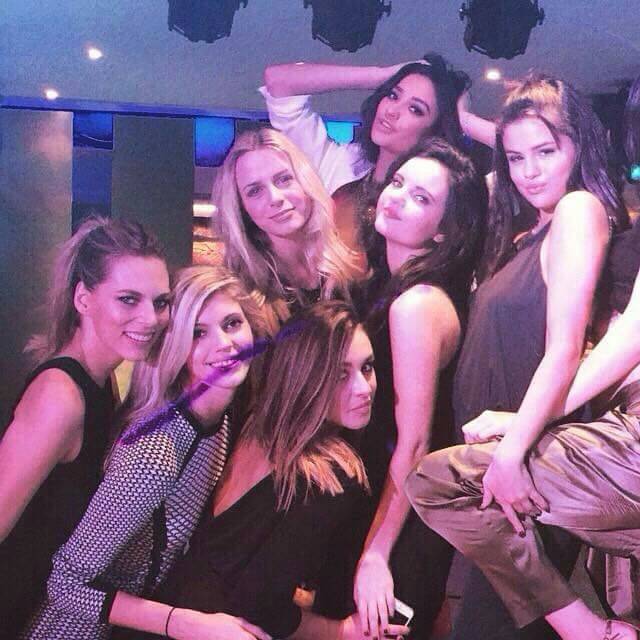 Shay Mitchell is a woman who really likes to travel to new places and she has even revealed some of her travel tips to Glamour magazine, telling the publication, that you should "Save your adrenaline junkie moments for travel" and she did that in Dubai when she went skydiving.
While in the city, she also spent a lot of time with her group of famous friends, which included Selena Gomez, Gigi Hadid, and Kendall Jenner, and this, of course, meant sightseeing. According to E! News they sat on top of the Burj Khalifa and also visited the Sheikh Zayed Grand Mosque in Abu Dhabi, and then enjoyed everything that the nightlife has to offer. The group of friends made sure to ring in the new year with a big party in 2014, which Mitchell commented on in an Instagram post. She wrote, "We love Dubai beyond grateful for a great crew to ring in the new year. "
But in January of 2017, Mitchell took to Instagram to post several bottles of alcohol and captioned it with, "Dear Mez [Mezcal, the alcohol brand], I've had a lot of fun…maybe a little too much. I mean you're amazing and I thoroughly enjoyed our time together but I'm going to need some space…It's not you, it's me."
7

When In Dubai, Flo Rida Smokes Cigars And Hangs Out At Fancy Clubs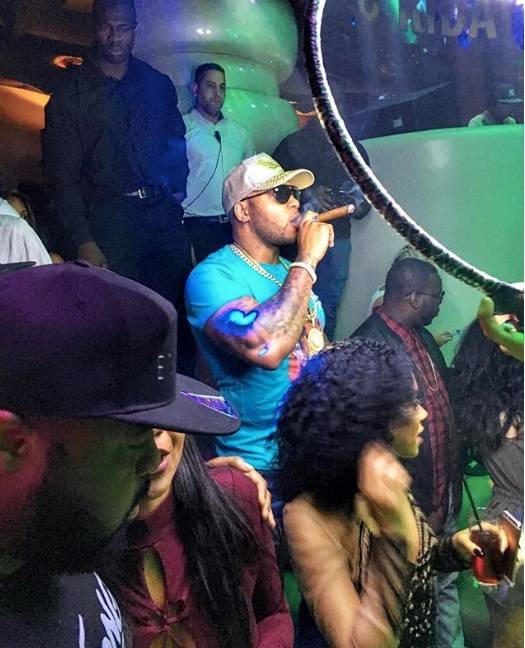 Flo Rida likes a good party— he even has a track called "Hangover" that he featured on with Taio Cruz— and his tracks definitely get people in the mood for fun, so perhaps it's not all that surprising to see photos of him living it up. And he has been spotted having a good time at Club Pacha, smoking a cigar and taking in the surroundings of the Dubai hot spot, looking very, very relaxed.
But this was most certainly not the first time that Flo Rida has enjoyed hanging out in clubs, and he has performed several times at some of the cities clubs. He was also scheduled to perform in 2018 at the Dubai World Cup after-party— which, according to TimeOutDubai, is an event that has seen a lot of famous people grace its stages before, including Sia and Janet Jackson. He also chose to feature Dubai in his music video for the track, "Wild Ones," which sees him traveling from Miami to Dubai, where he skydives.
He works hard, and he also seems to party hard, sometimes maybe a little too hard because as Rolling Stone notes, Flo Rida got a DUI in Miami Beach back in 2011.
6

Tyrese Gibson Is A Really Big Fan Of The City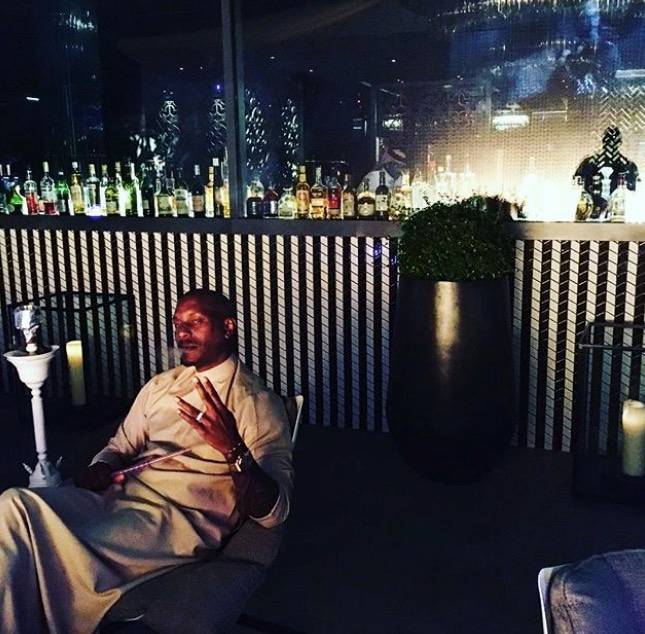 Tyrese Gibson is the person on the list who may love the United Arab Emirates the most, and according to The National, he often visits the country to see his royal friends, who he refers to as his second family. He said, "I've never traveled to any country and felt more welcomed than in the UAE. People think it makes me happy because so many folks out there got money but that's not the case. If you had a bunch of royals with money, and everybody was mean and arrogant then it would be one of the worst places. But the UAE is one of the safest places I've ever been. And outside of the mega-yachts and the big royal palaces – the common men and women of Dubai are nicest people I've ever been exposed to. I don't remember ever sitting at so many dinner tables in people's private homes and feeling a part of the family as I did in the UAE."
But by the looks of this Instagram photo, he also likes to party and the background of this photo is lined with bottles of expensive looking alcohol. And Gibson clearly felt he had a reason to celebrate because he captioned this photo with a message about the success of his latest Fast and the Furious film. He wrote: "We made history in the region the MOST PRE-SALES in the history of these theaters put here!!!!!!! YOU GUYS ARE AMAZING you guys make me feel most welcome here I'm humbled by your love and support! Shout to our hardworking CAST and CREW who worked in 5 countries and multiple states to create our baby #FateOfTheFurious to all of the fans worldwide we LOVE YOU appreciate you more than you could ever know!!!!!!!!!"
5

Michelle Keegan Went To Dubai To Celebrate Her Wild Bachelorette Party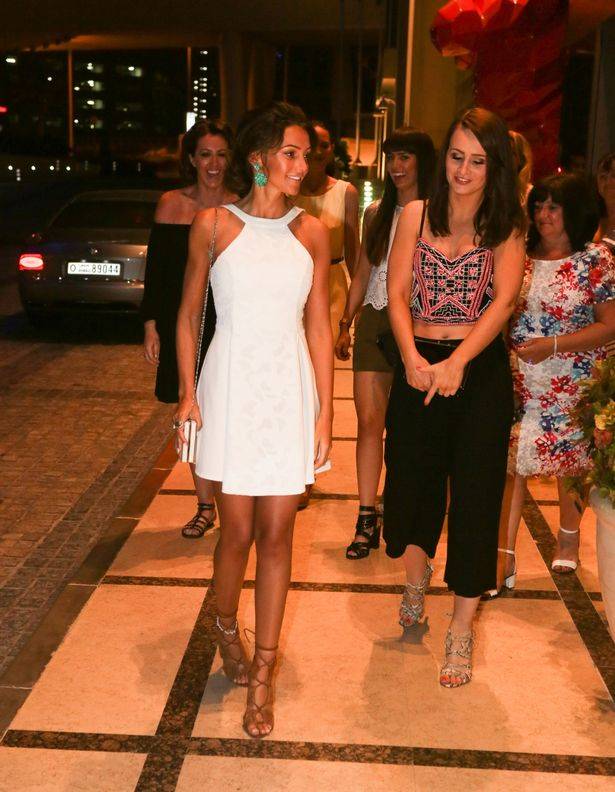 British celebrity and television star, Michelle Keegan, jetted off to Dubai ahead of her marriage to Mark Wright, and this was the place she chose to celebrate her hens' party. Dressed all in white, Keegan was spotted out with friends, and although this photo probably isn't an accurate description of what happened, according to The Mirror, she revealed that the bachelorette party was probably going to be quite wild.
But partying aside, Dubai holds a very special place in Keegan's heart because it's where her now-husband proposed to her. On an appearance on The Jonathan Ross Show (via Hello! magazine), Keegan spoke about how Wright proposed and revealed, "It was all planned. It was when we were in Dubai when we were on holiday and it was four days into the holiday, so I had no idea. He did it on the beach, and there was a table set out with a waiter and candles. When we first started speaking actually, I did say that one day I'd like to get proposed to in a white dress and all that, the fairytale. He told me a story that on the beach there was going to be a white party, so I got a white dress, didn't think anything of it because it was two years down the line. But he had it all planned out, so I wore the white dress, I was on the beach, it was very romantic!"
4

Khloe Kardashian Sparked Controversy With Her Niqab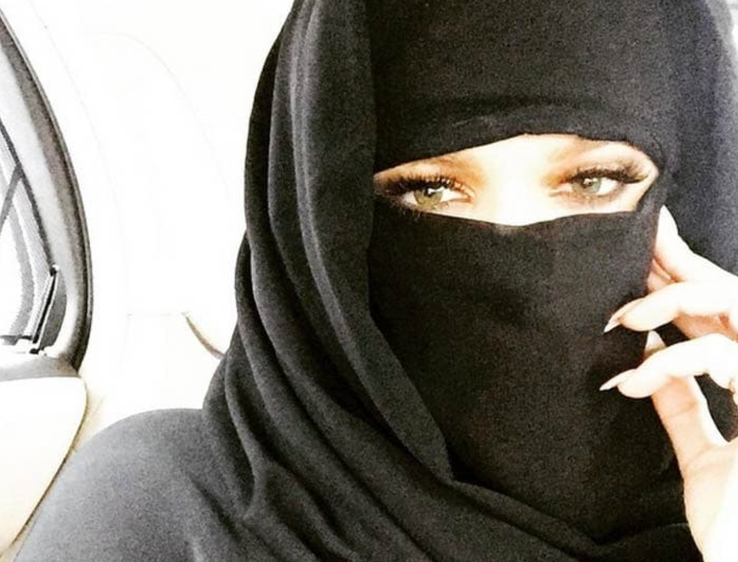 In 2013, Khloe Kardashian visited Dubai Mall to promote the Kardashian sisters' fashion line for Lipsy, and according to E! News, she took to social media to announce her arrival. But when Khloe returned to the city again in 2015, she was slammed for her selfie.
TMZ reports that Khloe landed in Dubai and not long after she shared a photo of herself wearing a niqab, and she received backlash for being disrespectful to the tradition of the garment by doing so. People accused the reality star of wearing the niqab, not because she wanted to be respectful, but because she was using it as a fashion statement. She captioned the photo in question with "Habibi love," but New York Daily News notes that the Arabic term of endearment is Habibi for a man and Habibti for a woman (which would mean that Kardashian also used the wrong terminology).
Yes, this photo doesn't show her partying, but if you agree with the backlash then she is trying too hard. The comments on the image she posted are varied and while some fans think she did a good thing, others disagree. One follower wrote, "Why would you want to wear this???
3

Nicki Minaj Thinks Dubai Is 'Turnt Up'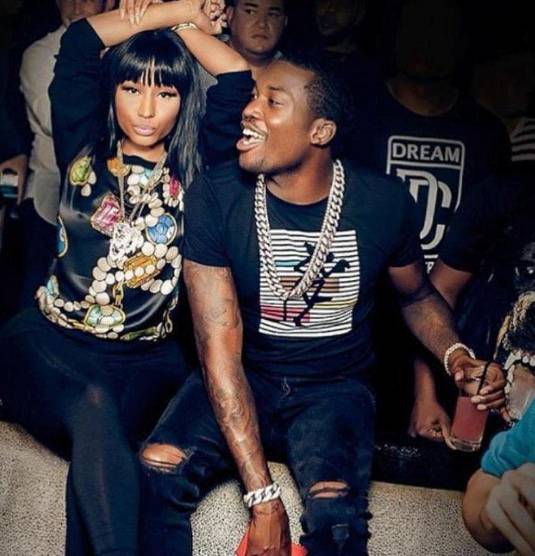 The most recent party that Nicki Minaj made headlines for was at Coachella 2018, when she hung out with some surprising people, including Kylie Jenner and Shania Twain (and she gushed about how awesome Twain is in real-life on Instagram after their meeting). But before this event, Minaj was partying it up at N'Dulge club in Dubai with her ex-boyfriend, Meek Mill, and if this photo is proof of anything, she looked to be having a really good time.
In 2016, she performed the last show of her Pink Print World Tour at the outdoor performance space, the Autism Rocks Arena, located beside the Dubai Outlet Mall, The National reports. And she was also joined on stage by Mill for their track, "All Eyes on You."
Although the show was a little tamer than Minaj's usual performance, and her dance moves were not as freaky, as she told the audience she wanted to "tone down the show" for the United Arab Emirates, and added, "I usually get really freaky on this one but I can't get freaky on this stage." She also admitted to enjoying her time at her concert, and according to the publication, towards the end of the show she exclaimed, "I didn't think Dubai would be this turnt up."
2

Kim Kardashian Has Big Plans For Her Future In The Middle East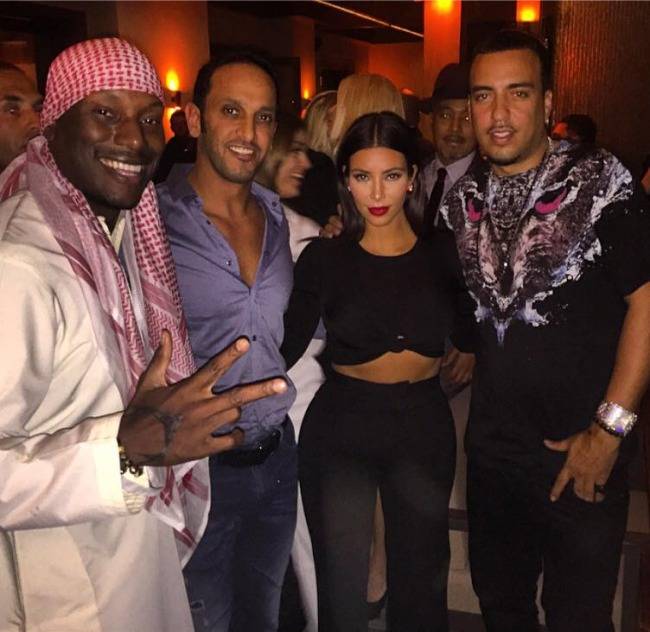 Kim Kardashian West liked the United Arab Emirates, and Dubai was actually the city she made her comeback in after her Parisian robbery. She chose the city to do a Dubai masterclass with her make-up artist, Mario Dedivanovic, which according to Emirates Woman, was held at The Music Hall, Zabeel Saray on Palm Jumeirah.
Following her masterclass, Kardashian, who stayed at the Royal Bridge Suite at The Atlantis Palm, tweeted about how she had had a fantastic time, and wrote, "Such a fun day today! I felt so much love here in Dubai, thank you guys for coming out to Mario's Master Class!"
But it's not always business for Kardashian when she's in the country, and she has previously been photographed partying it up with French Montana in Dubai. And back in 2011, she told Arabian Business that she would consider opening a nightclub or hotel. She said, "Absolutely [I would look at real estate], if it made sense and there was something there I'm hoping that I fall in love with the Middle East. I want to go out there all the time. I want to bring my sisters so I hope the right opportunity comes about and I'm able to really do my homework and research some great real estate opportunities or other opportunities in general."
1

Jay Sean Posted A Snap To Instagram To Make Fans Jealous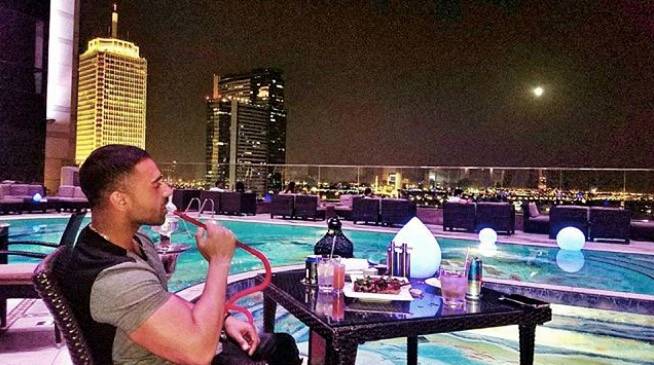 British singer-songwriter, Jay Sean, is another celebrity who has visited Dubai, and it appears he enjoys sharing photos with his Instagram followers that show him living the good life. This is not so much a party image, especially when compared to some of the other celebs on this list who have been spotted getting wild in the clubs, but it is photographic evidence of the singer trying a little too hard to look cool. He's seated at the poolside rooftop bar, smoking a shisha and looking out onto an incredible view of the city's skyline.
Jay Sean was asked to perform in Dubai and in 2018, Gulf News reported that he had returned to the city (having previously performed at White Dubai for a URBN Special Edition event in 2017) on January 31, to perform at the Cavalli Club's urban night called Rosay— and just because he was working the event, doesn't mean he was not enjoying it! One thing we do know about Jay Sean is that he has made headlines for his night's out before, so he is a fan of partying in most cities, although, his most memorable party was when he was seen with his friend, Priyanka Chopra, at an after party for one of his shows.
References: dailymail.co.uk, arabianbusiness.com, emiratewoman.com, thenational.ae, people.com, nydailynews.com, eonline.com, mirror.co.uk, timeoutdubai.com, glamour.com, tmz.com, gulfnews.com, me.popsugar.com, hollywoodlife.com, intouchweekly.com 
Source: Read Full Article