Royal wedding mania is gearing up for round two. Meghan Markle's engagement to Prince Harry is all we can talk about, and everyone is wondering whether the American actress will manage pulling off being a royal. You'd need to be living under a rock, though, not to know about Kate Middleton and Prince William's 2011 wedding. Over 24 million people tuned in live to watch the most hyped wedding of the year, where Kate Middleton walked down the aisle to become Her Royal Highness The Duchess of Cambridge. Handmade lace for her designer gown and a ceremony in London's Westminster Abbey meant that this wedding came with a staggering $36 million price tag, according to People.
Following her $36 million wedding to Prince William, Kate Middleton became a royal overnight. As she continues to make front-page news with the new arrival of their third baby, it's time to look at Kate: "pre-princess." The wife and future queen has had to adjust to a whirlwind of change from being a regular person, but the "regular" pics haven't disappeared. You won't have seen these before, so get ready for a very different Kate.
Kate Middleton was still a student at the University of St Andrews in Scotland when she and Prince William met in 2003. Unlike Prince William's mom, Princess Diana, Kate had no official title when she met Prince William. She literally was just Kate Middleton. Kate has been a clothing store employee and a marketing officer for an events company, but we're going way back with these rare pics. For all the fancy designer clothes and carriages Kate may ride around in now, she was once just an ordinary girl (leading a very ordinary life). Here are 25 rare pictures of Kate Middleton pre-royalty that you absolutely have to see.
25

ROLLER DISCO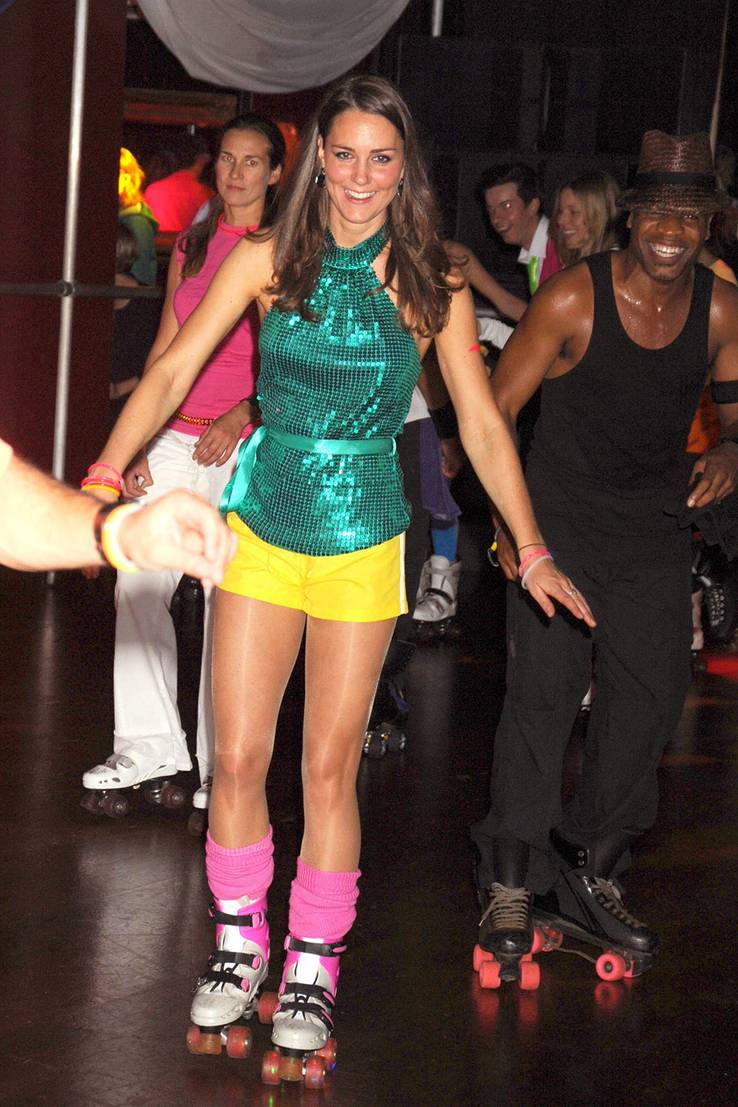 Safe to say Her Majesty The Queen would not approve of this look. Taking us back to 2008, this Halloween pic showed Kate's lively side as she took part in a charity roller disco in London.
If you thought shimmer halter necks and tiny yellow shorts were just for Britney Spears, think again.
The event may have been held at the Renaissance Rooms in South London according the The Daily Mail, but nothing about this says "renaissance." Kate's current wardrobe is a super-formal affair of button-down jackets, fine cashmeres, and neutral tans and beiges.
It was glitter all-round for Kate at this 2008 roller disco, where she seems to be having the time of her life. Kate was 26 years old here, and while she and Prince William were nowhere near being engaged, they were already dating. Metallic greens, neon pink socks, and cut-off shorts here are a million miles from her now very-royal wardrobe.
Kate has climbed the fashion ranks to be a veritable style icon. Her classic dresses and suede pumps can fly off shelves as soon as the press figure out which designer Kate is wearing. This garish outfit isn't one we'd count as getting approval by the Queen though, although Kate seems to be having a blast here. Keep reading for more rare pics of The Duchess of Cambridge back when was just regular old "Kate."
24

CAMERA READY?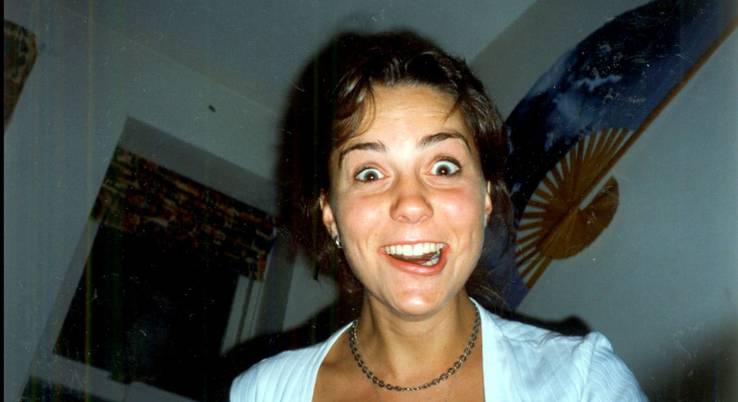 Ha! This one is so awesome. Kate was a teenager back in this 2000 pic, where she was attending a house party with friends. Celebs these days put so much effort into their Instagram poses and pretentious selfies, so it's actually just refreshing to see a truly candid pic. Kate was clearly enjoying herself, and this plucky lady wasn't afraid to have a camera near her without exactly being "camera ready." Kate has mostly reported her childhood as being happy, but it didn't come without its problems. In 2011, The Daily Mail reported that Kate's school days were a torturous time of bullying and rejection. A former classmate of Kate's spoke out to the newspaper:
"Kate said that there was a group of girls that called her names and they stole her books and stuff. They rounded up on her a bit because she was quite a soft and nice person," Jessica Hay said. "When she used to go to lunch, they all used to get and sit on another table."
A separate former classmate reported that Kate was flat-out bullied and left feeling "like a fish out of water." Kate reportedly left that school after less than a year. Watching the underdog rise is one of the greatest things about celebrities. Okay, so Kate isn't Eminem. But she did push past the bullies and became the future Queen of England. Unlikely, we'd be getting a statement from those bullies any time soon…
23

HER MAJESTY WOULD NOT APPROVE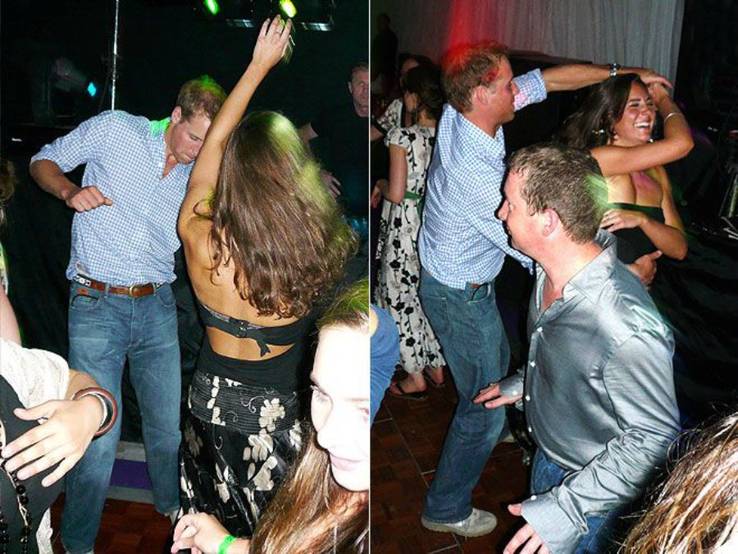 Let's get something straight here. There is a major difference between royal parties and regular parties. Back when Kate and William were just a college couple, they got to party just like we do. This super-rare shot of them enjoying a club night in London is one of the only times a photographer has ever snapped the two of them dancing. They look like they're having the time of their life.
Kate and William's university days were the beginning of their blossoming romance. Looking at this pic, though, we're not sure Her Majesty the Queen would be too happy about it.
It's unlikely the Queen would approve of this slightly wild shot of Kate and William partying the night away during their university days. It's clear though that Will feels he's got the girl of his dreams, and Kate is likewise having the time of her life. Married life as a royal, though? More like garden tea parties with cucumber sandwiches, scones, and lots of jam and clotted cream.
When The Telegraph interviewed Kate about meeting the Queen, Kate said: "I first met her at a wedding and again it was in amongst a lot of other guests and she was very friendly." The Queen can have a bit of a scary old lady image, but seriously, ask any Brit. The Queen is adored for her boss sense of humor. A regular old granny, she is not.
22

KATE'S NICKNAME WAS "SQUEAK"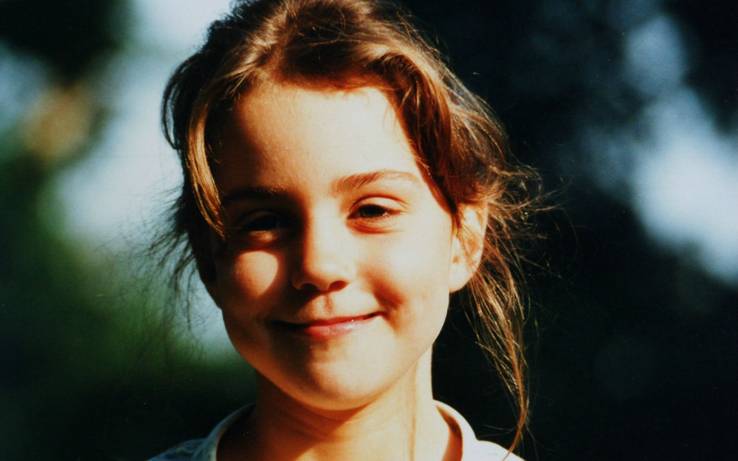 Nope, Kate wasn't born a royal. Far from it. On January 9th, 1982, Kate Middleton was born. Her parents, Carole and Michael worked pretty regular jobs. Kate's mom and dad worked as flight attendants and dispatchers, although Kate's dad did have ties to the British aristocracy. Kate grew up with her sister, Pippa and younger brother, James. This is the kind of five year-old you could see in any family photo album (back before the internet existed).
Kate did pretty regular things as a kid. Aged three, she climbed boulders in The Lake District in Northwest England. By the age of four though, her family had already relocated to Jordan, where they lived for nearly three years. Fresh-faced and adorable, little Kate is five years old here. Her childhood nickname was "Squeak."
Kate opened up about her early days to Marie Claire in 2017, where she said: "Squeak was my nickname. It was also the name of the school's guinea pig. There was one called Pip and one called Squeak, so my sister was Pip and I was Squeak."
Brits went pretty nuts at sister, Pippa's wedding, although it didn't come close to the mania that was "Kate and Prince William." While Kate may now be a royal figure, there's a little girl inside called "Squeak," and she never went away. Then again, they grow up fast…
21

FOAM PARTIES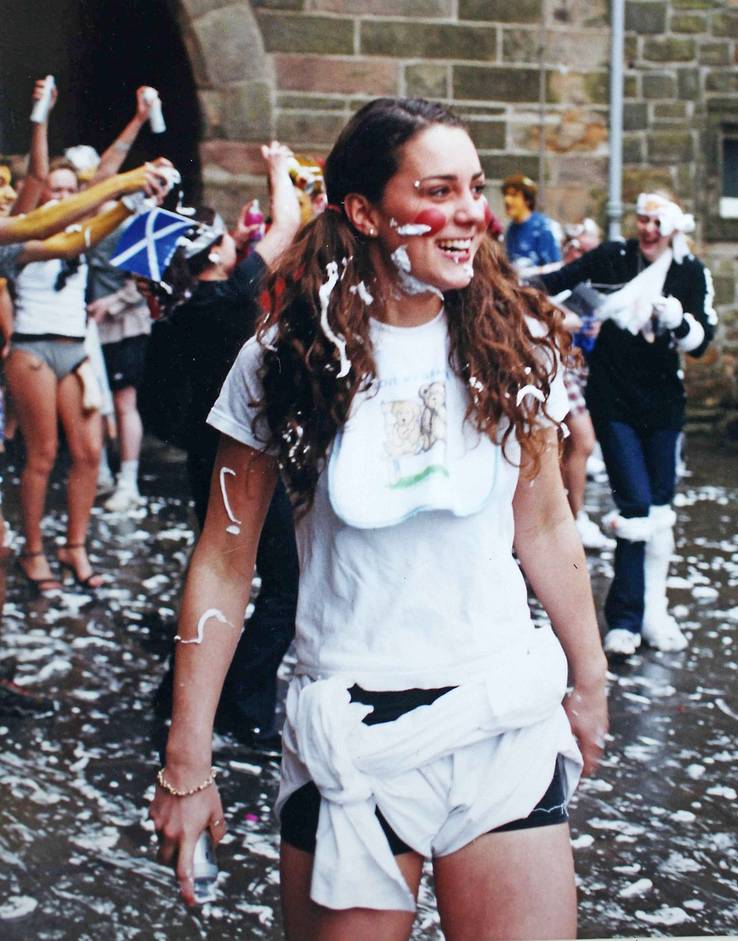 It isn't college without a good foam party, right? If you thought foam parties were just for American schools and movies like American Pie, it's time to see how the British do it. Much like American colleges (but without the fraternities and sororities), British universities have their own traditions. Kate attended the University of St Andrews. Despite being amongst some of the oldest castles in the world, this is a place that knows how to have fun. This shot of Kate is straight from St Salvator's Quad, where the "freshers' week" equivalent is known as "raisin week."
"Raisin week" at the University of St Andrews is the British fresher's week equivalent. Newcomers are taken under the wing of more senior students at a huge welcome party. Tradition dictates that newbies shower their "parents" with a pound of raisins as a thank-you, and the custom ends with a huge on-campus foam fight. Kate was attending her first week at the university in this picture.
This university is super old. It was founded in the year 1413, so the tradition has been going quite a while. Ironically, it's Kate's son, Prince George who now stands on foam blocks during official affairs, according to OK! Well, he's got his mom for advice, here!
20

QUICK BITE?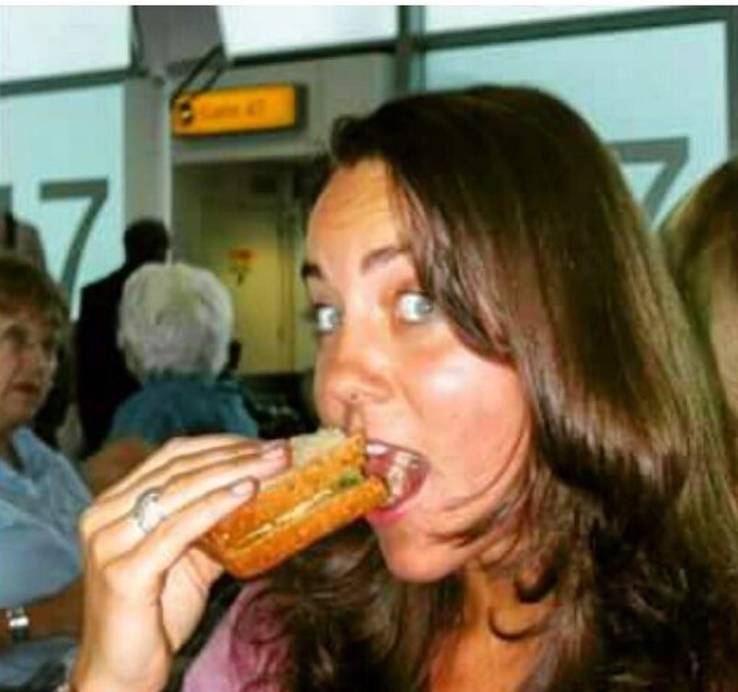 Dining "royal style" is a pretty official affair. Hello has reported that Kate and Prince William's kids aren't allowed to finish their dinner before the Queen. If Her Majesty The Queen stops chewing, so must they. Wow. Kate has had to adjust to a carousel of official dinners and galas, although she's probably not complaining about the gourmet catering. Taking us way back to her teens, though, this airport pic shows that Kate can enjoy a quick sandwich like the rest of us.
Now that she's a Duchess, something suggests that casually munching on a BLT isn't going to fly in Buckingham Palace. Hello took a dive into exactly what these royals eat, and their fave foods.
Kate is actually a huge fan of popcorn. During the royal tour of Canada and the USA in 2014, Kate and Prince William sat courtside at a basketball game and shared a huge bucket of tasty popcorn. While Prince William told People: "I like a roast, so a bit of roast chicken or a steak," Kate actually prefers vegetarian foods. Berries mixed with almond milk are what a source reported Kate "craving," according to Woman Magazine.
The magazine also reported that the royal family favorite is risotto with Sicilian shrimp, parmesan, and herbs. Definitely fancier than the humble sandwich Kate is snacking on here. Is Kate missing the good old days? We'll never know.
19

MAJOR SIDE EYE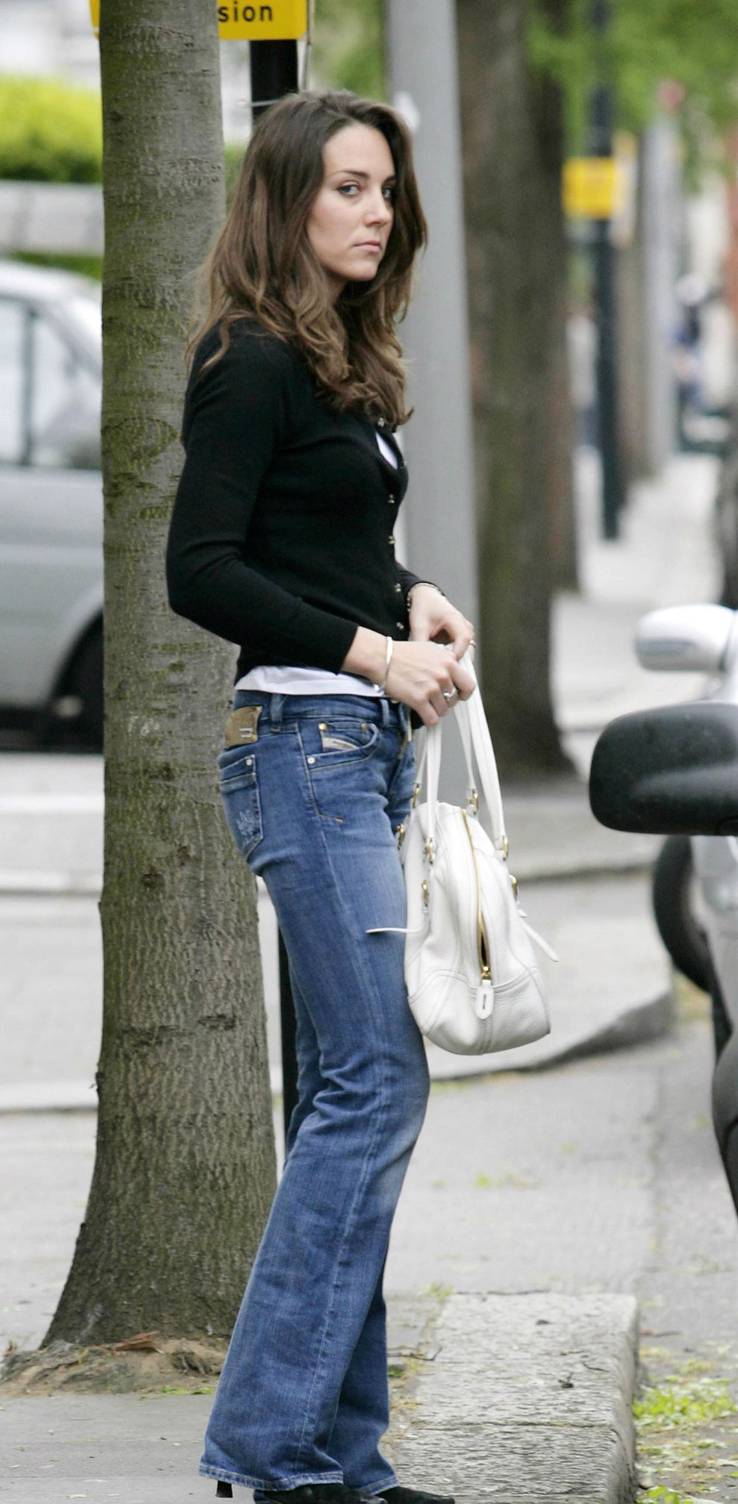 Oooh, that glare is giving Kim Kardashian's "side eye" a run for its money. Back when Her Royal Highness The Duchess of Cambridge was plain old "Kate Middleton", we saw her in a solid wardrobe of jeans, casual tees, and a sometimes ripped hemlines. Kate doesn't look too pleased at having been papped here, and her body language is sending out the "keep back" message. Although Kate has learned to embrace being in the public eye, she likely had no idea what she was in for.
Kate and William spend their lives in the public eye. Their exhausting schedules mean they travel the world for official state visits, but looking jet-lagged and bleary-eyed isn't an option.
In 2012, they traveled to Singapore, Malaysia, and the Solomon Islands. Kate has even had to travel while she's pregnant–and yes, the kiddies tag along, too. Just read the travel rules, though… This pic was taken long before Kate was a public figure jetting around the world.But when you're a royal, you're a walking rule book. OK! reported that travel for royals includes an entourage of 34 people. Kate must be accompanied by two dressers, a valet, and ladies in waiting. Even the outfits they wear have to match the country they're visiting. Plus, just in case a member of the royal family should pass away, they have to pack something black. And you thought being a royal was all luxuries and tea parties…
Featured Today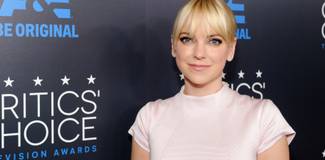 Anna Faris Responds To Chris Pratt's 'Divorce Sucks' Comment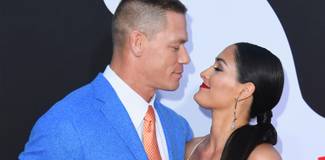 John Cena Tweets After Splitting From Nikki Bella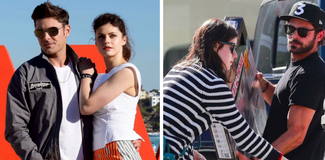 15 Photos That Have Us Believe Zac Efron Is Off The Market

18

CAN'T TAKE THE HEAT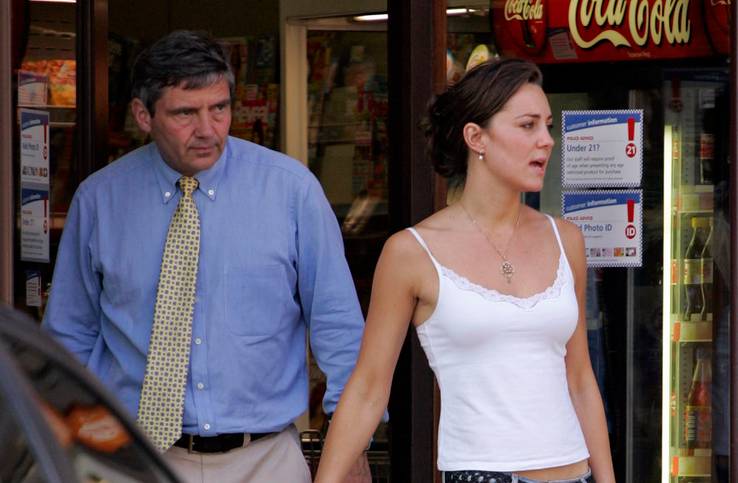 If you've seen Kate's royal wardrobe style, you'll know that dressing for the weather isn't an option. Kate has been photographed in matching coats and hats in blistering summer heat, and she often has to wear gloves as well. The prim and proper attire is non-negotiable when you're a royal figure. Still, just because you're a royal figure, doesn't mean you can't flaunt your own figure. Or should we say "could."
This rare snap of Kate shows her dressed-down for summer in a casual tank and jeans. There's literally no way Kate could ever wear anything like that nowadays.
Kate's attempts to dress down as a royal have only resulted in criticism. When Kate opted for skinny jeans on a safari trip to India, a blogger slammed the Duchess. He wrote that skinny jeans were "not acceptable for a royal wife." Talk about being harsh.
Admittedly, Kate doesn't look cool as a cucumber here, but at least she was able to wear whatever she wanted. Hot at her heels, though, is her dad, Michael. This was during her days at university, though. While it was 2005 and Kate had already met William, it's unlikely anyone had any idea this casual girl would one day be a royal.
17

BEFORE SHE RODE IN CARRIAGES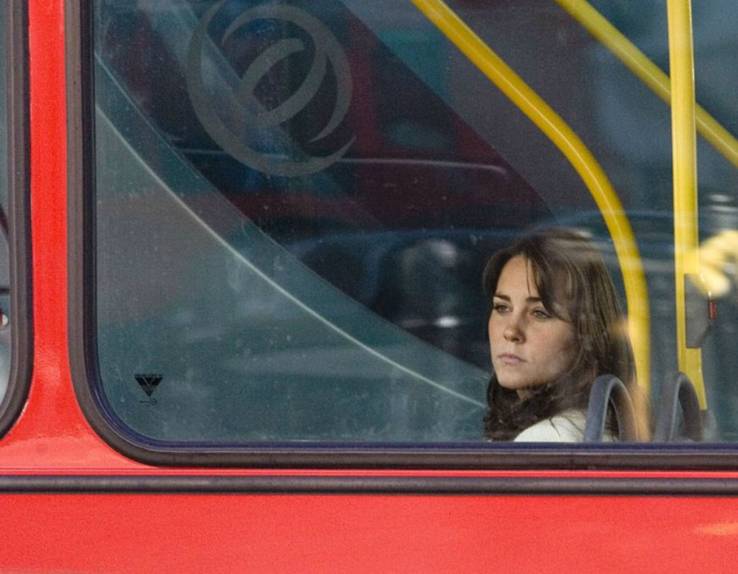 Transport is pretty well taken care of when you're a royal. The Queen rides around in a jewel-encrusted carriage for her official business, while the rest of the family have a fleet of sleek cars (and a full security detail). For Kate, though, it wasn't always this way. Riding the bus like the rest of us was a reality for Kate, and we dug deep to find this rare pic. It dates back from 2005, when Kate was riding a London bus to a job interview.
The pre-royal Kate was snapped here in 2005 on her way to a job interview in Central London. London's double-decker busses are a symbol of British identity, but the reality of riding them is stuffy and cramped. Carriages awaited though. Did you know Kate is distantly related to George Washington?
To be fair, Kate was probably nervous here. The hours before a job interview are terrifying for anyone. If you're getting there by public transport, it's double the stress with traffic and everything. After graduating from university, Kate landed a job as an accessories buyer for fashion chain, Jigsaw. Well, she definitely looks puzzled here…
16

GIRLS JUST WANNA HAVE FUN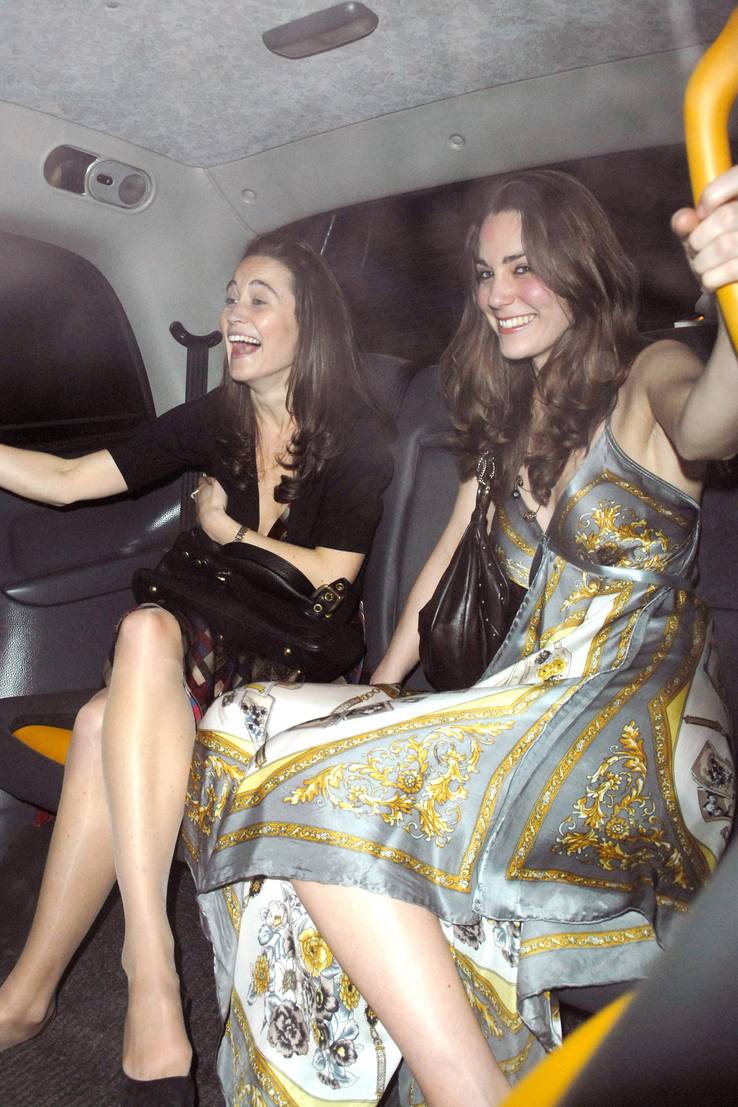 Indulging in some serious sister time here, Kate was just about ready for the camera after a long night out. If you've got a Brit-trained eye, you'll easily spot that this is inside a London "Black Cab" taxi. Kate and her sister, Pippa were a bit of a party duo before Kate's royal duties got in the way. The British press photographed these two at a string of nightclubs prior to Kate's wedding, although Kate was already frequenting some pretty high-end places. Proving she's no Blac Chyna, though, Kate was one to party in style.
Before her royal status, Kate and her sister, Pippa were often spotted at super-exclusive London clubs, like Mahiki. Prince Harry has also been spotted there, alongside Paris Hilton. The still-famous club might not be appropriate for royals, but you'll see Harry Styles and Brooklyn Beckham hanging there, according to The Telegraph.
The great thing about this pic is just how happy Kate looks. Unlike Hollywood's celebs (who always roll out the club looking worse for wear), Kate looks like she's had a solid night out without the carnage. It was probably a fairly pricey night out, though. Mahiki serves drinks at over $100 a glass. If you want to dine in the bamboo-clad club, you're also looking at baby heritage carrot tempura in the club's famous Pufferfish restaurant.
15

HIGH SCHOOL ATHLETE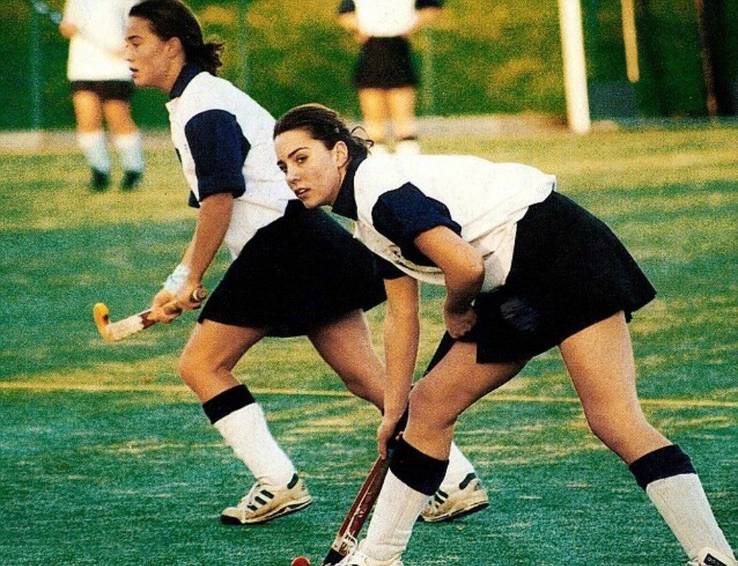 Yes, British schools have sports. It's all a bit confusing: "football" in England isn't at all what it is in America, and they don't even use the word "soccer." Traditional high school sports in Britain include lacrosse, hockey, and netball (which is kind of like basketball, except you can't move your feet while holding the ball). A young and very competitive-looking Kate was on the school hockey team here, during her days at Marlborough College. Still, it isn't high school without a sports coach that all the girls have their eye on. In 2013, The Daily Mail dished the details, reportedly from Kate's sister, Pippa.
Kate's sister, Pippa admitted that their hockey coach was "fierce" and "undeniably fanciable." Kate played hockey throughout her time at Marlborough College, and she even kept it up after becoming a royal. Just this year, a pregnant Kate challenged her husband to a full-on game of hockey during a state visit to Sweden.
Given all the glittering tiaras and preppy gowns Kate wears, you wouldn't think she's the sporty type. According to Shape, Kate ran cross country, played tennis, plus she was on the swim team. Kate even trained on the rowing team to cross the English Channel. FYI, that's a 22-mile stretch of water separating France and the UK. Yeah, Kate is made of strong stuff.
14

I COULD TOTALLY BE A PRINCESS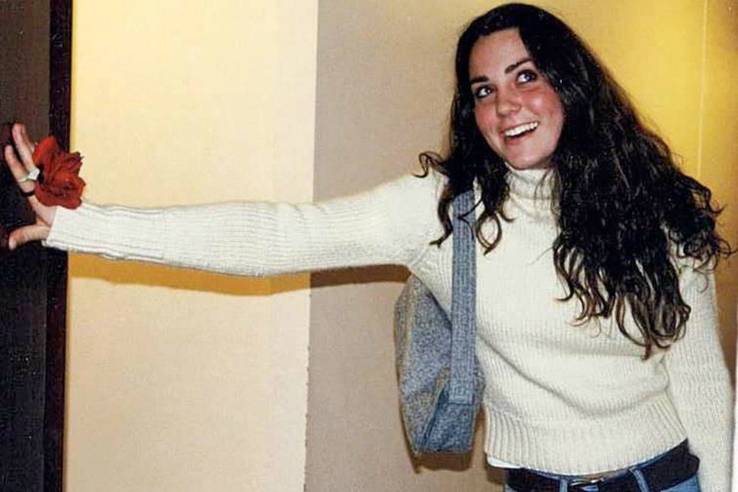 Something about this college pic of Kate says "dreamer." This photo was taken during Kate's first year at the University of St Andrews, and you can tell. Just 18 and probably dressed for the upcoming winter, Kate looks cute as a button here (but a million miles from how she looks now). Those years were important, though, as Kate and William met while they were both studying there. The two lived in the same halls, both studied History of Art, and apparently, they'd spend hours talking. While the Royal Engagement interview they later gave was super-polished, Kate admitted being very shy.
"I think I went bright red when I met you," Kate said in her joint Royal Engagement interview with William. "I sort of scuttled off, feeling very shy about meeting you." Will for sure had his sights set on Kate after a charity fashion show, where he first clapped eyes on her. The very sheer dress "caught the prince's eye, and then his heart," according to The Daily Mail. The dress later sold for over $200,000.
Kate was chosen to model the notorious gauze gown, and it left very little to the imagination. With Kate strutting down the runway, Will reportedly turned to his friend, Fergus and just said, "Wow. Kate's hot!" Of course, she is now the beautiful mother of their three children. See? Dreams can come true!
13

TOO MANY LATE NIGHTS?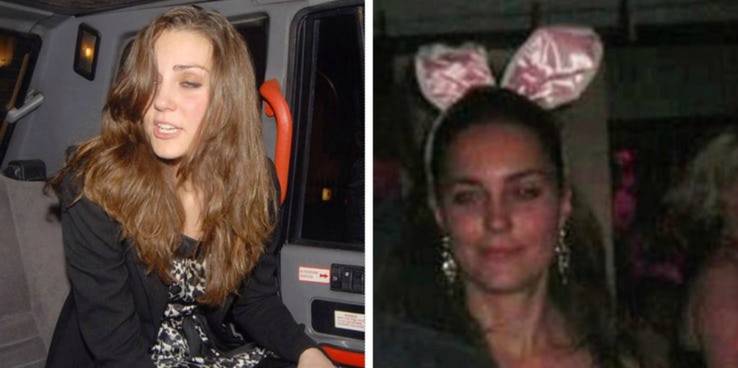 It's kind of weird to picture Kate Middleton as a party girl. So much of celeb land is filled with absolute party animals, and some stars are more famous for their partying ways than anything else. Paris Hilton may be selling fragrances, but she's got "party" written all over her. It's a similar story for everyone from Lindsay Lohan to Tara Reid. Meanwhile, Leonardo DiCaprio is showing the world how to party one $600 million yacht at a time. Before things were too official, Kate was free to party like any girl in her 20s. If you're still questioning that, you need to take another look at this picture. Kate has had to undergo a lot of training to shed her former party girl image.
The Daily Mail reported that Kate had one-to-one training on how to speak, smile, and hold herself. Her interviews are polished and wholesome, and its been said that Kate isn't allowed to give interviews without prior permission from the Queen.
Kate was really letting her hair down in these pics. The bunny ears have a cheeky side to them, but Kate was always a classy girl. Still, Kate admitted to The Telegraph that "learning the ropes was nerve-wracking." With the Queen to answer to, we're not surprised…
12

FAMILY VACAY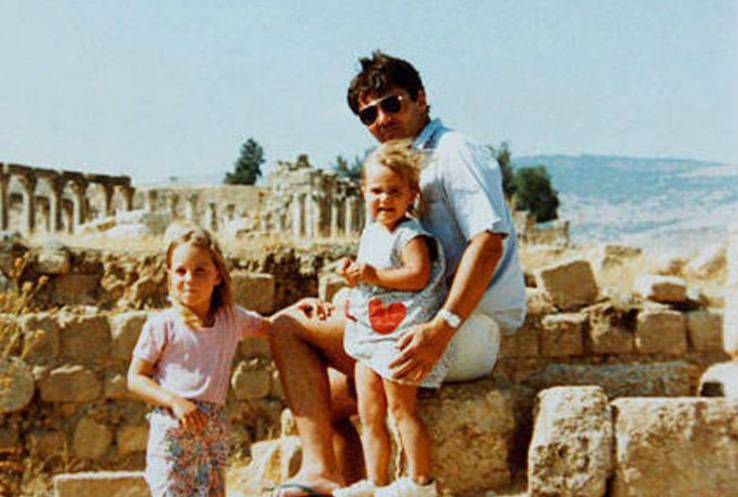 Aww. This one takes us way back. Kate and William don't get much chance to take proper vacations. While you might see them flying to far-flung locations, there's none of that lounging poolside or sleeping in until' noon. Their visits are a solid rollercoaster of hand-shaking, official lunches, and nodding hello to every head of state on the planet. Kate's parents both worked for British Airways while she was growing up, though, so travel was something this girl got to grips with early.
This adorable picture was taken in Jordan, where Kate and her entire family were stationed for three years. There are very few pictures of Kate as a kid that are still around online. We'll assume the Queen gave Kate seal of approval for this one not to be deleted. After all, she looks so cute.
That's the thing about being a celeb on a whole different level. If you're Britney or J-Lo, you expect scrutiny, but you're allowed to speak out if you disagree. The royal family must put their image before everything else, and that includes refraining from giving opinions. Did you know that the Queen has never ever given a political opinion? Likewise not permitted, are free-flowing comments. If Kate doesn't like a picture that a journalist presents her with, she literally has one choice. Smile, smile, smile.
11

SUPER OLD CASTLES? SURE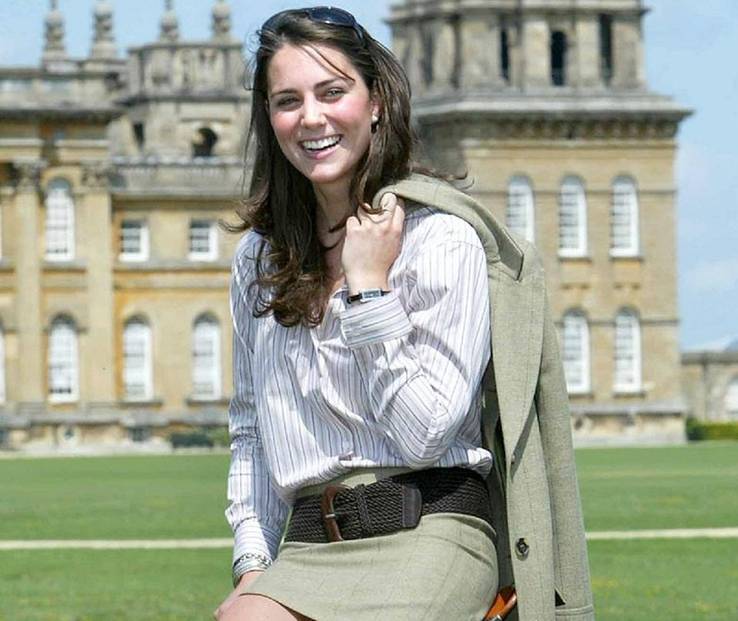 If you've ever been to England, you'll know that everything is like, a million years old. Buildings can be hundreds of years old, and most London homes are well over 100 years old. Antique has a whole different meaning to Brits. Getting married in Westminster Abbey for Kate and William didn't just come with a $36 million price tag. It came steeped in a whole lot of history. Generations of kings and queens have been crowned there, and the building itself has been standing since the year 1040. Woah. This pic of Kate at the University of St Andrews in Scotland shows her totally at east with all things "old."
Crumbling castles and palaces dating back over 1000 years didn't seem to be much of a problem for Kate. Looking every inch "at one" with Britain's old-school charm, Kate looked an absolute treasure in this college pic. Little did she know she would go on to be a national treasure.
Kate and William used their time at university to inch closer and closer to their eventual engagement. According to Cosmopolitan, they sneakily switched classes to both take geography. The university itself is nicknamed "Britain's top matchmaking university." A reported one in 10 students from St Andrews go on to marry their college romances. The proof is in the pudding… clearly.
10

TOTALLY "FOUND THE ONE"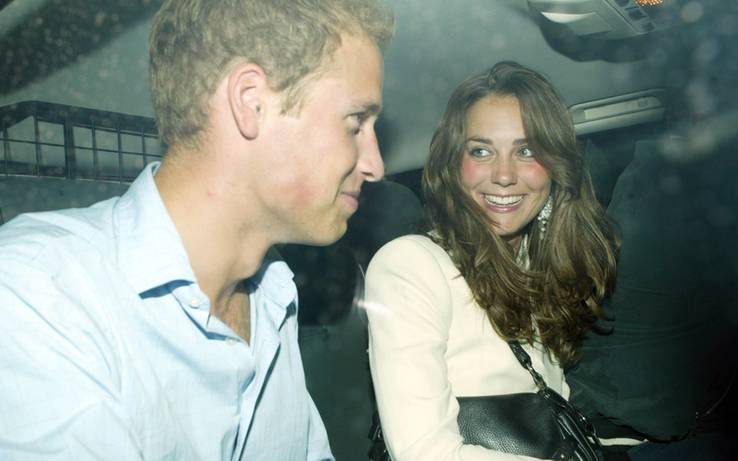 No, she wasn't a royal yet. But oh boy, was Kate in love. They say a picture speaks a thousands words, and in this rare shot of a loved-up Will and Kate, it sure does. By the time this picture was taken, Kate and William had spent their time at the gothic dormitories of the University of St Andrews and they were properly in love. Although they weren't quite living in a palace yet, they had co-habited, according to The Daily Mail. In September 2002, the love birds moved off campus into the adorably named Hope Street. They lived at number 13A and everything was A-okay.
Reflecting on his early attempts to impress Kate, William said: "I was trying to cook these amazing fancy dinners and what would happen was I would burn something. Something would overspill. Something would catch fire." According to The Daily Mail, the couple had a homey sort of life and were spotted at UK supermarket Tesco.
Kate has also spoken about how she found the love of her life at the University of St Andrews. In 2011, the couple returned on campus to commemorate the institution's 600th anniversary. "This is a very special moment for Catherine and me," William said. "It feels like coming home," he added. It's been quite the whirlwind as palaces replaced dorms for these two, but you've only got to look at this pic to see why.
9

LATE NIGHT SNACKING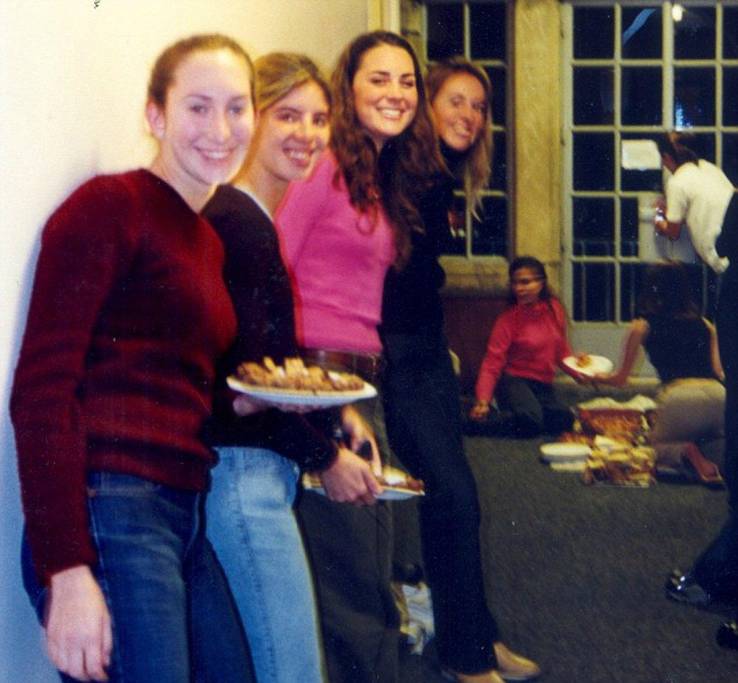 It's old school snaps like these that show the real fun times. Kate's university days were before the smartphone era, so dorm snacking shots were few and far between. This pic may have been shared on Instagram, but it was taken on an old-fashioned camera and kept somewhere safe. Kate is grinning from ear to ear here, where it looks like late-night studying took a break in favor of some fairly blurry (but probably very yummy) treats. You can see a similar deal with the taco birthday cake party Selena Gomez's friends threw for her, but Selena is no royal.
Kate's days at the University of St Andrews basically gave us four years' worth of pre-royal Kate caught on camera. We've seen her covered in foam and graduating, but Kate knew how to chill with her friends like a regular college kid. Kate had an easy time settling into college life, but it wasn't so easy for William, who told ABC News that the whole experience was "daunting."
According to the report, the prince struggled to adjust to college life after being raised in the royal household. William studied hard, although he did take time to chill. Looking back, Will is probably really glad he did. After all, if he hadn't attended that fashion show with Kate ruling the runway, the two might never have met.
8

THE PRE-ROYAL DENIM DAYS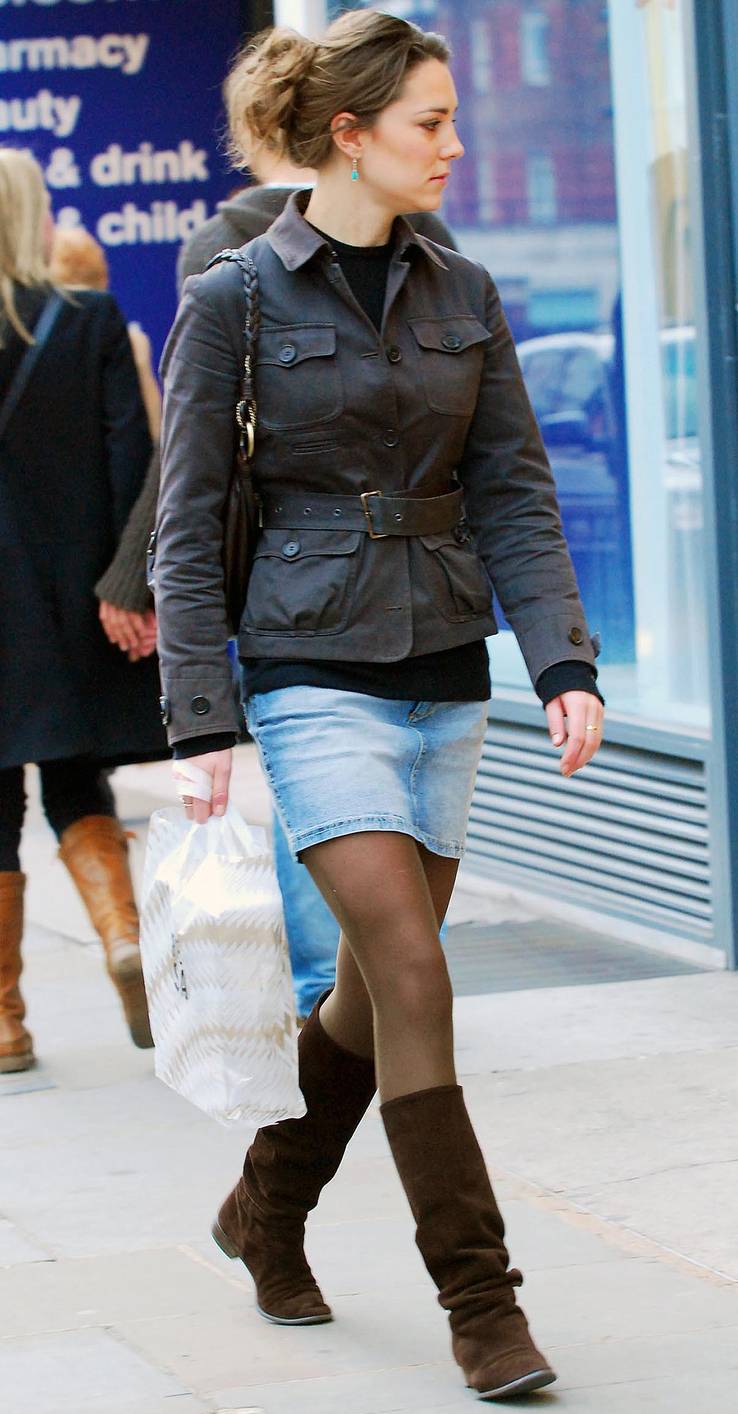 Royals may have access to the finest fabrics known to man, but the most-comfortable one is off limits. Denim is a giant "no no" in the royal family. Instead, it's formal tweeds, ivory wools, and lots of royal blue. Kate was young and carefree in this pic. The rigid royal rules were a long way off, and Kate was free to roam the streets and shop like a regular person. Kate's casual denim skirt and belted jacket here say it all, really. She's also completely unaware she's got the cameras on her. Oh, how things would change.
Kate's official status as Prince William's wife means that just stepping onto your balcony for some fresh air can easily make you front-page news. Unlike regular celebs, Kate doesn't just represent herself. She's a spokesperson for the entire royal family. Before Angelina Jolie and Brad Pitt broke up, their very public argument was photographed as they engaged in a debate on a hotel balcony in Australia. There will be no such instances for Kate.
What goes on behind palace doors stays behind palace doors. There's little (if anything) to suggest that Kate and William have any relationship problems. In fact, one of the reasons they're loved so much is precisely because they seem genuinely happy. Still, looking at this pic, is there a part of Kate that misses the old denim days? You know, just running errands and not really caring how you look?
7

LADIES WHO LUNCH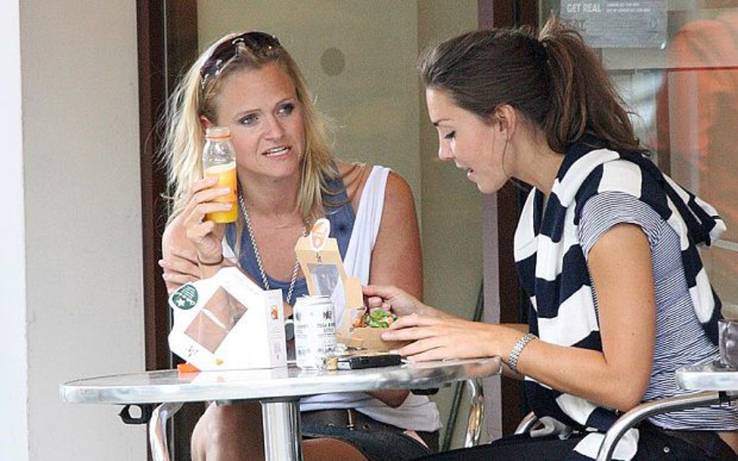 You're not a female celebrity unless you're a "lady who lunches." That's taken on a whole new level of goals, what with Kim K and her squad taking over the whole of Malibu every time they decide to "get brunch." Women themselves will openly admit that food plus gossip is their favorite combo, so lunching is literally the best thing they can do between shopping sprees. In the real world, you might get to lunch with your besties once a month. Celebs seem to do it all the time. What? Do these people have nothing else to do? In this pre-royal pic, Kate is somewhere between the two.
Kate is clearly embracing the adult side of "ladies who lunch" here. She wasn't yet dining in grandeur at Buckingham Palace, though. Her bestie here is Emma Sayle, founder of an adult events company. You don't need to be a rocket scientist to figure out that the Queen probably made that BFF status end ASAP. Look carefully, and you'll spot the "ladies who lunch" staple here: a salad.
Where Kate lunches these days isn't something the paparazzi can "get ahold of." That's what you really need to get your head around, when it comes to understanding just how strict the royal rules are. Kate has however admitted that traveling is her favorite way to try new foods. "William struggles with spices," she told Hello. Kate did however say that fenugreek cream curry during the Taste of British Columbia Food Festival in 2016 was a firm favorite. "He even renamed the dish Maharajah's Lamb Popsicles," Kate said. Probably a lunch to remember, then.
6

THEY'LL NEVER KNOW IT'S US, RIGHT?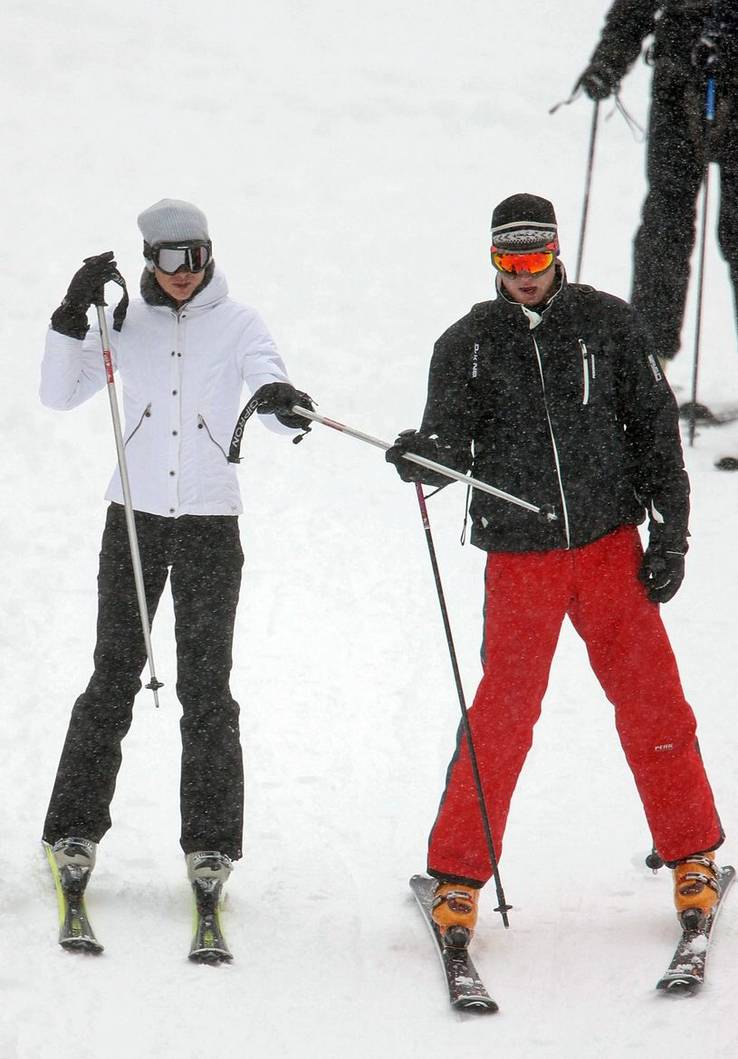 Ask any celeb in Hollywood what they spend most of their time doing. Chances are, "avoiding the paparazzi" will be top of their list. Never having a moment to yourself is a price you need to pay in exchange for fame and fortune. But what if you accidentally became famous? Everything about Kate and Will's love suggests it's totally genuine–she's definitely not a gold digger. Hitting the slopes in style, Kate and her beau were snapped here in 2007 during a Swiss ski trip.
If we cover up, they'll never know it's us, right?! Not so lucky. Kate and Will took their dating to the slopes in the exclusive resort of Klosters, Swittzerland, where TMZ reported that their snowy chalet cost $33,000 per week.
There's something super cute about the way Kate is holding onto Will's ski pole here. It kind of says "I'm yours," but it also says, "I have absolutely no idea what I'm doing." Pretty fitting, considering Kate openly admitted that learning the royal ropes was incredibly hard at first. Kloisters is a super fancy resort that's popular with a lot of stars. Leo DiCaprio, Renee Zellwegger, and former couple Brad Pitt and Angelina Jolie have all been spotted there, according to The Daily Mail. Still, booking a fancy ski trip isn't your ticket to royalty.
5

#SQUAD GOALS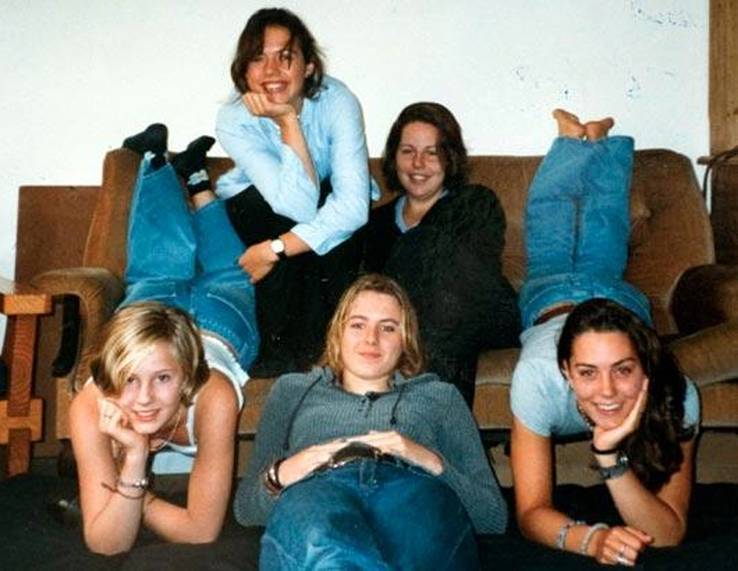 You're not a celeb without your power squad. Taylor Swift and her team hang in downtown Los Angeles. Kylie Jenner prefers to keep hers in private jets. Even Willow Smith is taking backstage selfies at the Met Gala. Snapchat might not have existed back when Kate was in high school, but squads sure did. Dressed like a regular teenager, Kate could not look more "normal" here. She was a student at a prestigious English boarding school, where annual fees were over $45,000 a year, according to The Daily Mail.
Looking happy with her squad here, this boarding school pic was taken between 1995 and 2000. There were boys at this school, although they weren't too friendly. "Some mean-spirited boys began rating incoming students on attractiveness and personality. Kate was reportedly given a two out of ten."
Good Housekeeping continued to say that Kate "shrugged it off and went on to excel during her years there." Kate may have been unfairly judged during her early years, but she was modelling by the time she'd reached college. Will only had to clap eyes on her to know this lady was more than a ten. He even paid a reported $200 just to watch her from the front row. Royal Goals totally trump Squad Goals.
4

MIC CHECK, ONE, TWO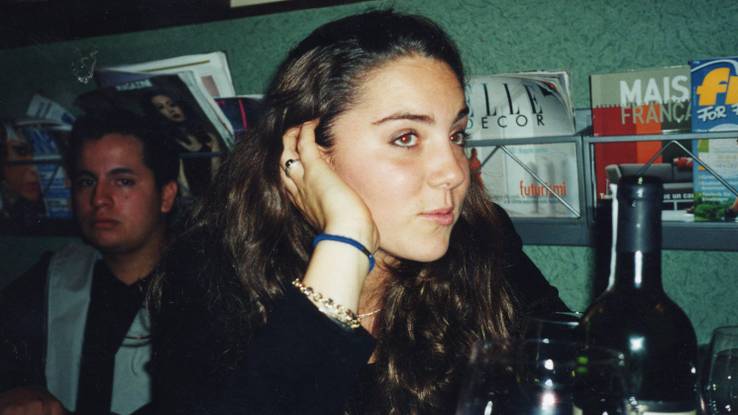 Told you we'd be giving you rare shots. It's estimated that Kate was around 18 years old when this picture was taken. By this point, she had likely already graduated high school. Kate was a smart kid. She took chemistry, biology, and art at the "A Level" exams, which are the English equivalent of getting your high school diploma. Of course, Kate never lost her goofy side, and we still see it in very rare moments (after all, royals aren't 100% perfect). Kate might have been MC'ing at this unknown party, but she's no Nicki Minaj. That said, for a royal, Kate is still very much an individual. Her interview with The Telegraph showed us how. Or rather, it showed us that just like any teenage girl, Kate also had posters on her wall.
"There's a story that goes around that you had a picture of Will on your wall," the newspaper prompted Kate. "He wishes," Kate replied. "No, I had the Levis guy on my wall, not a picture of William, sorry." Will's epic sense of humor was right there with a response, though: "It was me in Levis, obviously," he said.
In case you're not realizing it yet, this is a couple who have razor-sharp wit and an epic sense of humor. So what was Kate whispering in Will's ear in the next pic…?
3

I'LL BE YOUR GIRL, ALL RIGHT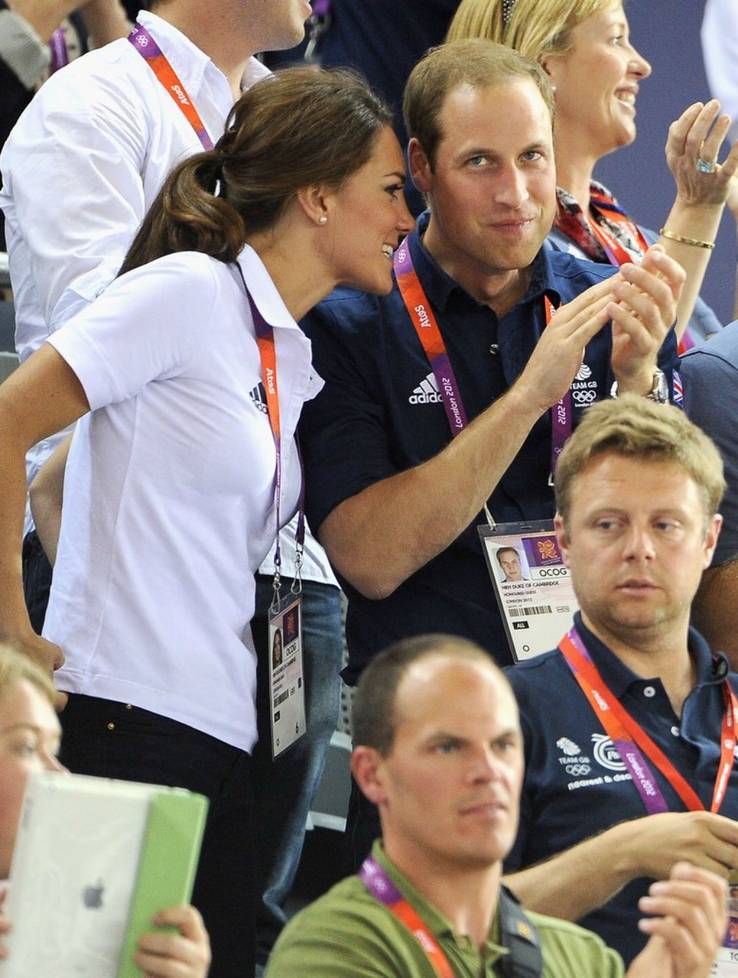 And yet, there's a "watch out what you're in for" feel to this pic. It's reported by TMZ that Kate and Will were still engaged (but very nearly there) in this pic, taken at a sports match in London. Kate is firmly with her man, but what is she whispering in his ear? The Telegraph took over an hour interviewing these two about their relationship before the wedding, and they gave us some juicy details.
Did you know that Kate and Will briefly split during the relationship that built up to their 2011 wedding? Yup, even royals have break-ups. "We did split up for a bit," Will said. "We were both very young, it was university, we were both finding ourselves as such." Will added that they needed "a bit of space for a while," but it wasn't long before they were back together.
The split was harder for Kate. "I think at the time I wasn't very happy about it," she said, "although it actually made me a stronger person. I think you can get quite consumed by a relationship when you are younger." Kate took the time to "center" herself, but you don't need a degree in math to figure out what the real focal point was. Kate and Will were back together in no time.
2

CHRISTMAS SHOPPING WITH MOM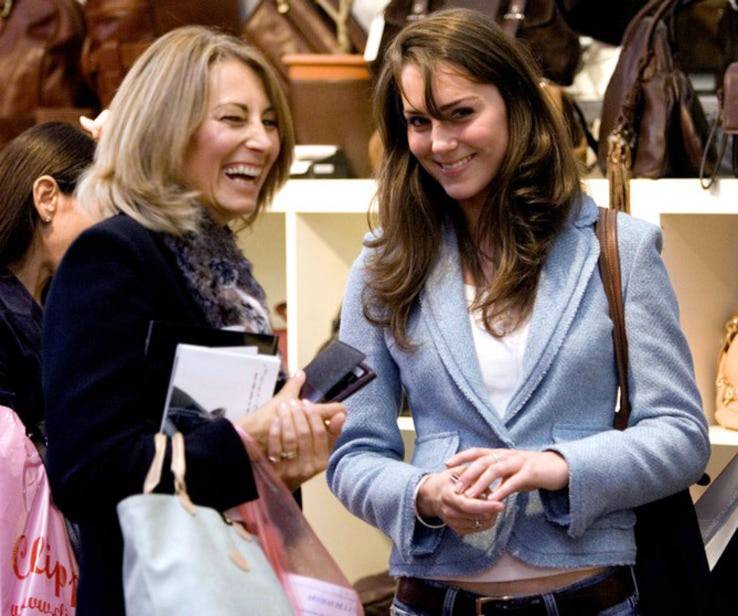 You probably take shopping freely for granted. Sure, us regular people face the biggest challenge there is (hint: stuff is expensive), but at least we get to browse stores or hit the mall without having a fleet of photographers following us. Kate was fresh-faced and happy in this early shot of her, where she's doing some Christmas shopping with her mom. Kate is a huge family girl. Now that she has three kids of her own, she's also learned to value her own parents a lot more.
"I was lucky. My parents and teacher provided me with a wonderful and secure childhood where I always knew I was loved, valued, and listened to," she told The Telegraph. Kate's fashion sense in 2005 here is definitely classy, but it's nowhere near what she now wears as a royal.
By 2006, Kate was already wearing fox fur hats and two-toned coats at exclusive events like the Cheltenham Festival. You could say that 2005 was the last year of "fashion freedom" for Kate, although she does get to dress down a little for countryside activities with her kids. That said, those kids are raised with strict rules, according to Hello. Did you know that Kate and Will don't let their kids open all their Christmas presents at once? Did this rule get inspiration from her early Christmas shopping days? Happy Holidays! (royal style)
1

JUST KIDDING, SHE WAS ALREADY A ROYAL HERE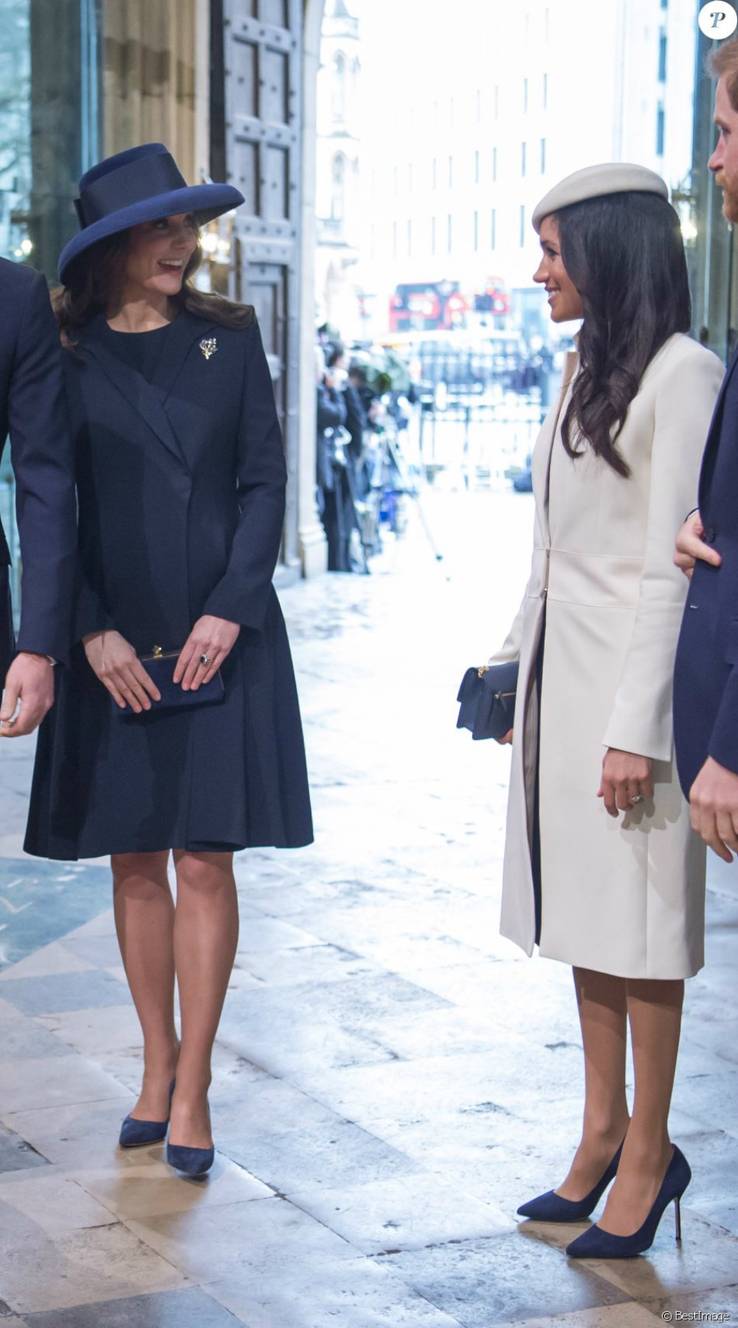 But guess who isn't yet? For all the pre-royal pics of Kate Middleton, there are a ton more of soon-to-be-royal, Meghan Markle. This recent shot of Kate and Meghan may look casual, but there's a whole lot of protocol that might mean Meghan actually has to curtsy to her own sister-in-law. Kate's style has clearly evolved here. The smart dress code is one Kate had to adopt from day one as a royal, and she has become one of the greatest fashion icons ever. Of course, it helps when you're incredibly beautiful.
Did you know that Meghan Markle may have bow to Kate Middleton once she joins the royal family? Meghan and Kate are the same age, but the difference in status will be huge. Meghan will definitely have to bow to the Queen, but The Daily Mail has reported that the former Suits actress may also have to curtsy to Kate.
If you have in-laws, you probably greet them pretty casually (or not, if the situation is a bit awkward). Still, would you be prepared to bow to your own family? Didn't think so.
Kate is doing great, having just had her third baby. She's a proud mom, a role model, and one of the most beautiful royals we've ever seen. We know you hadn't seen these pics before, and we know your friends haven't either. Leave us a comment on your thoughts. Do you think Kate has a fair or unfair life? Hit share so your friends can get the sneak peak before the power of all things royal permanently deletes these from the digital space.
Source: Read Full Article