Are you in the market for a new set of sheets? Have I got news for you: There is a $30 set of sheets on Amazon that is apparently the greatest thing in the history of the universe. Or at least, the greatest thing ever to hit a whole bunch of peoples' beds — because the reviews, of which there are thousands, are almost universally positive. The best part, of course, is that the sheets seemingly both extremely comfortable and extremely affordable, proving that quality doesn't have to put you into debt. Heck, and yes.
The sheets in question are made by Mellanni Fine Linens. Microfiber and with a thread count of 1,800, these sheet sets claim to be fade-proof, stain-proof, shrink-proof, and wrinkle-proof, as well as hypoallergenic and resistant to dust mites. They come in a huge range of colors — 39, by my count — and, most importantly, they're apparently incredibly soft. What's more, Mellanni prides itself on its customer service, so the sheets come with a lifetime guarantee; if there's anything wrong with them or you decide they're not for you, the company says that all you have to do is email them and you'll get a 100 percent refund with no questions asked. "In fact," they note, "you don't even have to return the set." Also, yes: They're only about $30 for a queen-size set.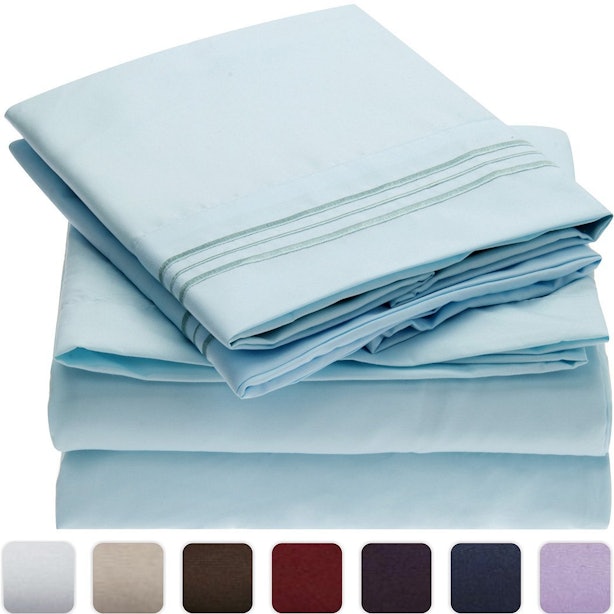 $29.70
One thing to remember about microfiber is that it's synthetic; generally, it's made from polyester (which is the case with Mellanni's sheets — they're 100 percent polyester microfiber). That's not necessarily a bad thing — but it does mean that there are some pros and cons to consider before you buy them: Microfiber sheets tend to be a lot thinner than cotton ones while also retaining a great deal of strength. They're also wrinkle-resistant, as well as extremely soft and smooth to the touch. However, despite the fact that microfiber wicks moisture well and is often described as being cooling, it doesn't breathe as well as cotton does — which means that people who tend to overheat or sweat a lot while they sleep may not do as well with microfiber. Your mileage may vary, though, so it's best to know what you want out of your sheets and then plan accordingly.
By and large, though, people love — and I mean love — these sheets. As Good Housekeeping recently pointed out, folks just can't get enough of them; they have over 40,000 reviews on Amazon, the vast majority of which give them a full five stars. One reviewer, who titled their entry, "I don't want to leave my bed ever," described the sheets as "so unbelievably soft it's as if you're sleeping on a giant puppy"; what's more, the reviewer reported that even after several months, the sheets retained both their comfort and color.
Another reviewer, who said they had purchased the sheets because their wife felt all their other sheets were too itchy, updated their review after a year to say, "So, we have had these sheets for over a year now and they are definitely our favorite set. The microfiber just seems to get softer with every wash. Much better than our other sheets that we have purchased." Previously, they had also noted that, even though they live in a place with high humidity, "these sheets won't stick to you like other sheets often do."
Even the skeptics have been won over: One reviewer who was truly doubtful a set of sheets this affordable could also be this awesome noted, "I put these sheets on my bed for the TRUE test of any sheet, and oh my… they are fantastic! They are soft. It's like coming home after along, yucky day at work, and all you want is to crawl your sorry self into bed for the night, and your sheets GIVE YOU A HUG all through the night." However, they also said that they're breathable — which is especially notable, given that they'r microfiber — "so you aren't sweating like crazy." They concluded, "Ah-May-Zing!"
The rave reviews continue when you move off Amazon, as well. One purchaser who bought their Mellanni sheets at Wayfair praised their softness, saying, "This is my second set of these sheets and I will never buy any other sheet but these." Many other Wayfair purchasers also commented on how soft the sheets were, the range of colors available, and the way they stand up to repeated washings with no problems at all. At TODAY, Tracy Saelinger echoed everyone else on the softness factor; she also noted, though, that "the pillow case stays cool without being too cold," while "the flat and fitted sheets seemed to have some sort of temperature-regulating magic." The website Bed Sheet Advisor also gave Mellanni's sheets top marks, writing, "Not only do they feel great, they are appealing to the eye and senses with the brilliant colors." Mattress Clarity was a bit less complementary overall, underlining the fact that the sheets aren't totally wrinkle-proof; they did, however, still highlight the comfortable feel and affordable price as major bonuses.
I do, however, think that this Amazon review wins the Best Reviewer prize (if such a thing were to exist):
I mean…
…Well played.
But hey, if microfiber isn't your thing, Mellanni also makes Egyptian, percale, and sateen cotton sheets, as well as flannel sheets. They're a bit pricier than the microfiber ones, but that's to be expected; cotton usually is. They're still not nearly as expensive as some cotton sheet sets can run, though — a queen-size set of the Egyptian cotton sheets are about $60, while the other three styles are all on sale for about $40, again for a queen set). That's a bargain no matter which way you slice it.
You can buy Mellanni's microfiber sheets on Amazon for around $30 for a queen set; they're also available at the Mellanni website. Sweet dreams!
Source: Read Full Article