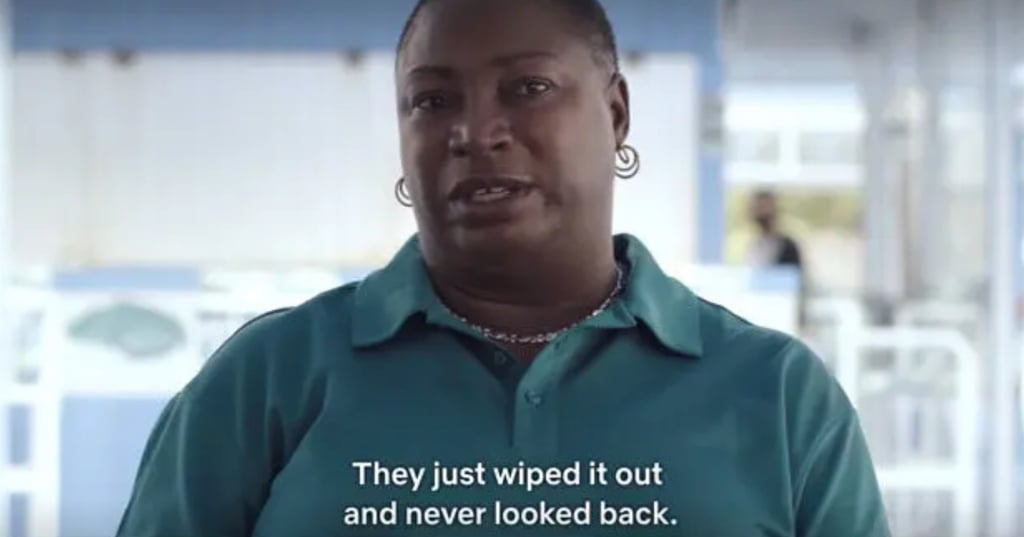 A GoFundMe Successfully Raised Over $130K For the Restaurant Owner in the Fyre Documentary

The recent Fyre Festival documentaries — Hulu's Fyre Fraud and Netflix's Fyre — present us with plenty of reasons to roll our eyes at and mock the wealthy victims of the disastrous music festival that wasn't. From social media influencers who found themselves racing, Hunger Games-style, for a hurricane relief tent instead of the villas they were promised, to the company's now-imprisoned founder and fraudster, Billy McFarland, not much about the catastrophe inspires sympathy for those who were duped by the elaborate scam. Except for, that is, Maryann Rolle, a restaurant owner on Exuma island.
Fyre Fest was originally billed as a "cultural moment created from a blend of music, art, and food." McFarland and co-founder Ja Rule convinced festival goers that they'd get to enjoy a luxury experience like no other on an island formerly owned by Pablo Escobar in the Bahamas, where they'd get to see musicians like Blink-182, Major Lazer, Migos, and more. Obviously none of that came to be, and organizers of the festival have since been hit with multiple lawsuits. (McFarland was also sentenced to prison for six years.)
It's important to remember, though, that Fyre's victims weren't just the teenagers and twenty-somethings who purchased $25,000 luxury packages that ended up amounting to soggy air mattresses sliding around in a mud pit and those infamous cheese sandwiches. Most of the Bahamian workforce who helped McFarland build out the festival site for weeks around the clock remain unpaid for their labor.
Source: Read Full Article