Everybody loves Adele, whether they admit to it or not. The British songstress with the powerful, yet effortless voice, has won enough Grammys to fill a barrel, and she's only 29-years old. When you're that successful,  fans are dying to know what inspired you. Adele shared one of her inspirations yesterday, dressing as one of her idols, the legendary country singer, Dolly Parton.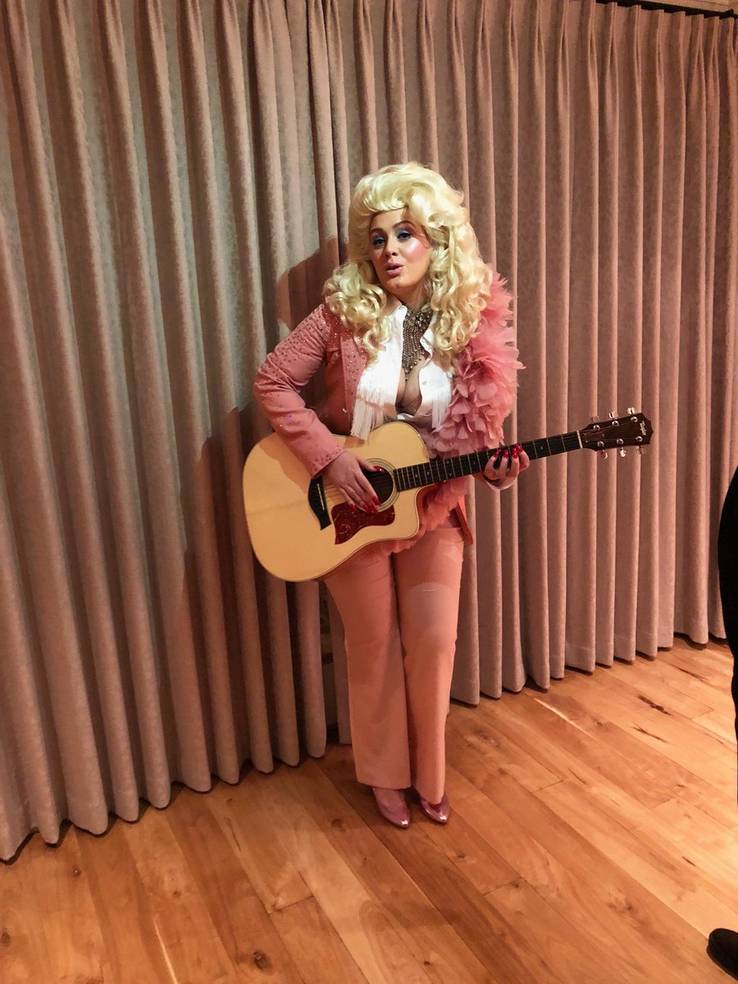 Can you believe that's Adele? The woman went out of her way to embody Parton, and nobody is sure exactly why. There's no birthday tribute, or any special occasion going on, and Halloween isn't even close. But as any artist knows, when inspiration strikes, act fast.
Here's how Adele captioned her Instagram post, "The effortless queen of song, Dolly Parton! We love you! We wish We could possess an ounce of your ability. You were the hero of our night! A hero of my life. I'll always love you x."
Dolly Parton is one of the most famous singers in country music history. For one, she has the unmistakable persona. She's known for her bleached blond hair, large breasts, long fingernails, gaudy makeup, extravagant outfits, and beautiful smile. She is an iconic songwriter and performer, with timeless hits like "I Will Always Love You," "Joleen," "Islands in the Stream," and "Nine to Five." Dolly, at 72-years-old, remains incredibly active in current music and is a big fan of Adele.
In an interview with Access Hollywood, Dolly said she'd love to "ride Adele's coattails," and collaborate with her on a hit record. She also wrote about Adele in her 2016 song, "Head over Heels." The lyrics are, "I put on my tight dress, hair piled on my head, painting my lips red and my eyes like Adele."
So there is definitely much mutual respect going on here, and fans are buzzing about what this costumed post really means. Is there a collaboration in the works? Is Adele going to release a country song? Or maybe Adele just like to dress up.
In 2015, in a hilarious prank, Adele disguised herself as a nobody and entered a contest of Adele impersonators. Adele wore a fake nose, a fake chin, darkened her hair and went by the name Jenny. None of the contestants realized it was her at first, but once she sang that first unmistakable note, they knew. Adele laughed and joked with the contestants, and even hung out and sang with them afterward.
Source: Read Full Article