The Albanese government will pour an extra $1 billion into aid and security assistance in the Pacific – almost double what Labor promised at the election – as it urgently tries to counter China's growing influence in the region.
The government's first budget, to be unveiled on Tuesday, will include the biggest increase in aid spending in a decade and funding for a batch of new initiatives to bolster Australia's presence in the Pacific and South-East Asia.
Penny Wong, pictured in Papua New Guinea, has visited 12 Pacific nations since the election.
These include the creation of an Australia-Pacific Defence School to train Pacific defence and security forces and a new Pacific network of Australian Border Force officers.
Extra funding will be awarded to the ABC to make content and transmit throughout the region.
"We are working to make Australia a partner of choice for the countries of our region, to ensure our security, our economic strength and to shape the world for the better," Foreign Minister Penny Wong said.
"This budget is a major step toward the goal of making Australia stronger and more influential in the world."
The government will spend $50 million to support the Australian Federal Police's deployment in the Solomon Islands, which earlier this year alarmed Australian officials by signing a wide-ranging security pact with China.
"Without these investments, others will continue to fill the vacuum and Australia will continue to lose ground as we did under the Liberals and Nationals," Wong said.
"Our assistance will help our regional partners become more economically resilient, develop critical infrastructure and provide their own security so they have less need to call on others."
Wong has travelled to 12 Pacific nations since Labor formed office in May in a bid to show Australia's neighbours that it is invested in the region and is not ceding influence to China.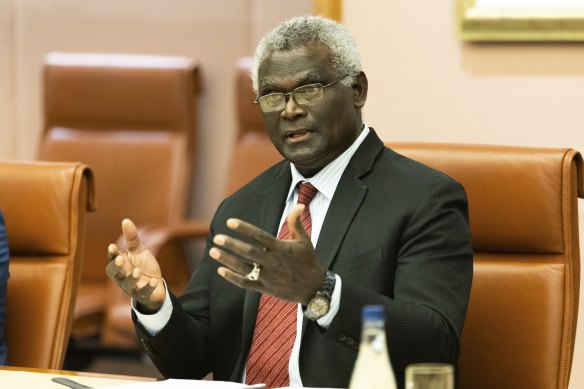 Solomon Islands Prime Minister Manasseh Sogavare alarmed Australian officials earlier this year by signing a security pact with China.Credit:Alex Ellinghausen
A new Pacific Engagement Visa will allow up to 3000 nationals of Pacific Island countries and East Timor to permanently migrate to Australia, deepening Australia's human links with the region.
Labor went to the election promising an extra $525 million over four years in development assistance for the Pacific but has increased that to $900 million in recognition of the region's growing strategic importance.
An extra $500 million over 10 years will be provided from the existing overseas development program to support infrastructure investment in the Pacific and East Timor, including through loans and grants.
Funding will be provided to support the construction of airport infrastructure in East Timor and for the rehabilitation of major bridges and roads in Fiji.
Pat Conroy, the Minister for International Development and the Pacific, said: "The Albanese government is bringing new energy and resources to the Pacific to help build a stronger and more united Pacific family, and a more secure region."
Conroy said the budget would reveal the biggest increase in overseas development assistance over four years since 2011.
This will include a $470-million increase in aid funding for South-East Asia, as well as the creation of a new South-East Asia office within the Department of Foreign Affairs and Trade.
In a speech in Singapore earlier this year, Wong said Australia's links to the world were "shaped by the contours of South-East Asia's mainland".
"We believe that Australia must find its security in Asia, not from Asia," she said. "And that means, above all, in Southeast Asia."
Tony Stuart, the chief executive of UNICEF Australia, welcomed the "significant increase" to Australia's development assistance.
"More aid means more children can grow up in a world that is safe, secure and prosperous," he said.
Cut through the noise of federal politics with news, views and expert analysis from Jacqueline Maley. Subscribers can sign up to our weekly Inside Politics newsletter here.
Most Viewed in Politics
From our partners
Source: Read Full Article