Spoilers ahead for The Handmaid's Tale Season 2 Episode 2.
Ofglen is gone; only Emily survives. But from the looks of Alexis Bledel's character Emily in The Handmaid's Tale Season 2, it's unclear what survival really means in this world. Emily is now an unwoman working in the Colonies, a toxic waste dump that makes Gilead look cozy in comparison. It's essentially a death sentence, and that realization leads Emily down a path that will likely shock viewers.
But this new direction didn't totally surprise Bledel. As her character's situation has worsened, she's had to change her attitude in order to survive. "All the horrific trauma has hardened her," Bledel tells Bustle of her character's journey to the Colonies, which has left her without her family, her lover, her clitoris, and, as we soon see, a tooth. "Her hope is lost and she is no longer working on plans for her future outside of Gilead. She knows that she will die, so she's taken on this new sort of objective."
Stemming from "a very strong sense of justice," Bledel explains that in Season 2, Emily has taken things into her own hands. She's become Gilead's Dirty Harry, doling out vigilante justice. "She's still clear of what's right and what's wrong," Bledel says, but she's also aware that "all of these things that are happening to her and those around her are unjust and fundamentally wrong."
What Emily has realized is that surviving Gilead is a battle of wills against an opponent that doesn't play fair. So she's willing to fight dirty, even if it means risking her own humanity in the process.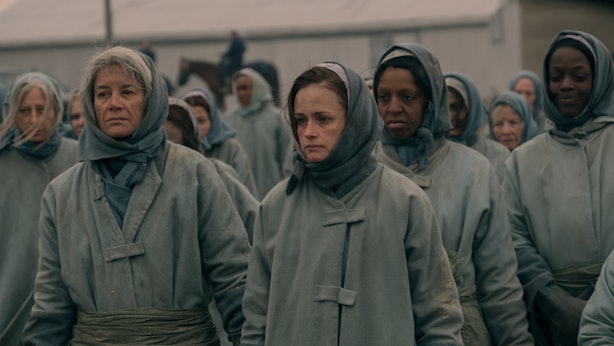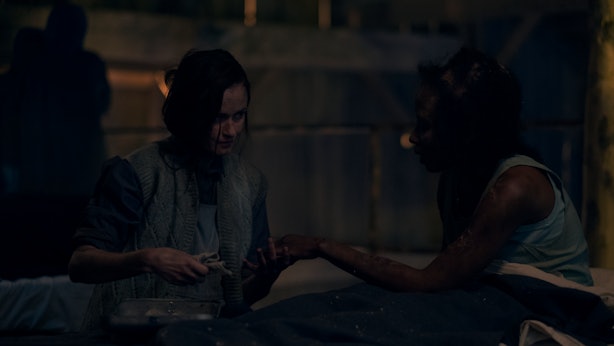 It's quite possible that Emily has saved this foolish woman, who still speaks of God's forgiveness, from a much more painful death that comes from working in the Colonies. The mistress certainly doesn't it see it that way, though. But as Emily tells the dying woman: "Every month you held a woman down while your husband raped her. Some things can't be forgiven."
It's possible that fans won't forgive Emily for what she's done, but Bledel hopes people will "hopefully foster some empathy" for a character who's been pushed to the dark side. Bledel hints there will be another twist in Emily's future, "something that shakes up her circumstances and changes her yet again" in the latter half of Season 2, which could possibly change your opinion of her once again.
For now, though, Emily resides in a gray area that doesn't usually exist for female characters. She's neither a hero nor a villain; she's an anti-hero who isn't trying to be likable. She's just trying to survive in a world that wants her dead. Throughout this season in which Emily is leading her own quiet resistance, her will to keep fighting means Gilead hasn't won yet. But it doesn't mean Emily's the victor — she's still the victim. She has to live with what she's done, what the regime has forced her to do, and the real question moving forward becomes: Can she?
Source: Read Full Article