If you have not experienced the rich deliciousness offered by Auntie Anne's, you are really missing out. Much of my diet during my first few years in college was comprised of sweet almond pretzels and Auntie Anne's signature variety with cheese dip. To this day I would argue few foods are quite as comforting as a hot pretzel — but the unsung heroes are the Auntie Anne's Lemonade Mixers. Whoever said you can't improve on perfection clearly isn't friends with the folks at the chain, because Auntie Anne's Candy Lemonade Mixers just launched, opening a whole new world of delicious possibilities. If there were ever a time to give your teeth a pep talk, it is now.
The chain's traditional Lemonade Mixers typically pair a fruity flavor punch with Auntie Anne's signature, refreshing lemonade. Some of the flavors one can choose from include Blue Raspberry, Cherry, Mango, Strawberry and Peach. But this new option allows sugar fiends to add an additional layer of sweetness (or sourness) to the already deliciously saccharine beverage — and they're starting out with some '90s baby faves, Sour Patch Kids and Swedish Fish.
Not only are Lemonade Mixers now available in those flavors, but the new drinks come fitted with a special lid filled with the actual candy by which the beverage was inspired. That's right— it is a drink and a sweet snack.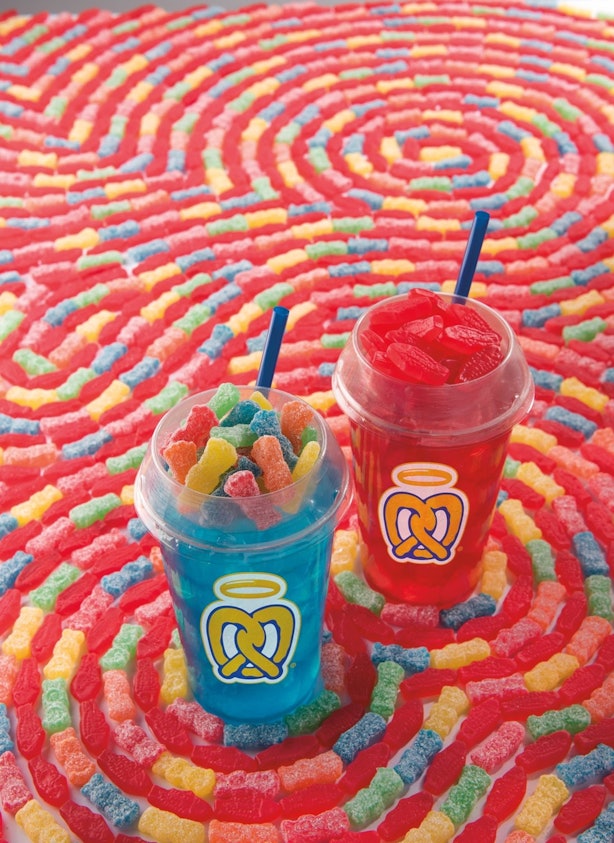 "How do you top Auntie Anne's famous lemonade?" Heather Neary, the president of Auntie Anne's, said in a press release. "With candy, of course. Our new Candy Lemonade Mixers are unlike any drink you've ever tasted. You have to try both of these fun, bright, and perfectly Instagrammable summer beverages." It is hard to disagree with that; the drinks are particularly photogenic.
Outrageous, dessert-packed drinks appear to be an up-and-coming trend in the culinary world. If you are a foodie (or are friends with one), you have almost definitely seen a picture of an outrageous cake-packed milkshake on your feed. The latest one making headlines — which honors the upcoming royal wedding — includes an entire miniature two-tiered wedding cake gracing the top of the milkshake glass. The unexpected combination of cotton candy tea was also spotted in Southern California late last year. It is reportedly the product of tea retailer Mini Monster, and comes in two varieties: one dusted with fruity pebbles, and one dusted with tajin seasoning.
The sippable portion of this drink is only half its charm. If it is the candy component that captures your heart (and tastebuds) perhaps you will be interested in the equally-exciting Candy Museum. Famed New York candy retailer, The Sugar Factory is set to open The Museum of Candy in the city later this summer. Among its features include edible murals and a restaurant, sure to offer an abundance of ways to consume the Halloween staple.
But until then, satisfy your sweet tooths with Auntie Annie's newest menu feature. The Candy Lemonade Mixers are in a league of their own when it comes to sugary indulgences. The chain recommends customers pair them with a pretzel dog or a simple, buttery, original pretzel for a perfect salty snack to balance out the flavor of the drink.
With locations in 48 U.S. states and 25 countries, Auntie Annie's is the United States' preeminent hand-rolled pretzel chain. Candy Lemonade Mixers will be available in Auntie Annie's stores nationwide through early August.
Also, here's a life hack: download the My Pretzel Perks App to snag a free, freshly baked, golden brown twist on your next birthday. If you're a summer baby, the chain clearly has you covered for what to get for a birthday treat, as well.
Source: Read Full Article