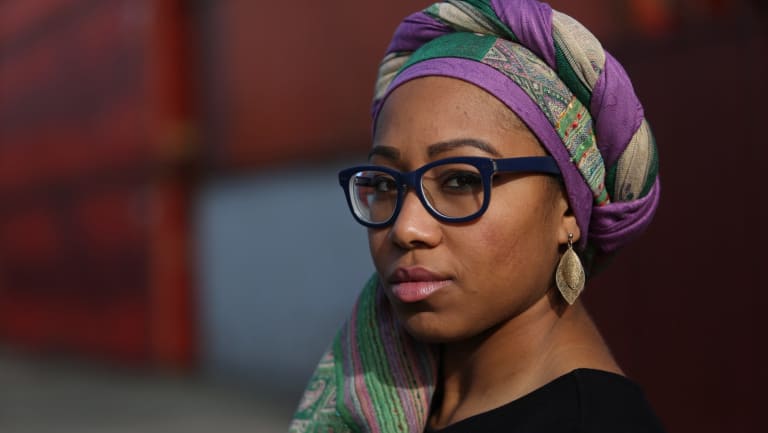 Yassmin Abdel-Magied left Australia after being hounded in the media and on social media for her comments on Australia Day.
The ABC miniseries Hijabistas! with Yassmin Abdel-Magied which aims to dive into Australia's hijab fashion scene has unsurprisingly riled Yassmin Abdel-Magied's restless critics.
The on-demand series, which highlights aspects of the relationship between Muslims and the fashion industry, is being characterised as a unique transgression upon Australian sensibilities.
But even a cursory review of the broadcasting company's collection of documentaries leads one to conclude that this bout of fear mongering against a perceived Muslim menace is vapid and toothless hysteria.
Once describing herself as being Australia's "most hated Muslim" after a strained and melodramatic media frenzy over her Anzac Day comments, Yassmin Abdel-Magied will be facing down some of her most obsessive critics once again, this time, on her terms.
Muslim women, especially those who wear any form of head covering, are forced into emissary roles by members of the media, as well as state officials—their existence is analysed only through the lense of their faith, and their selfhood, arguably the bedrock of human experience, is all but removed from the conversation.
Those most notorious for their sharp-tongued evaluations in regards to patriarchal codes of morality expressed by Muslims seem to view any form of self-expression which does not comply with what they consider "normal" as offensive.
A recent example of this inane hypocrisy is the craven wave of "burkini" controversy which targeted Muslim women for donning full-body swimwear, created by Australian designer Aheda Zanetti, during outings at the beach.
The Hijabistas! miniseries was already facing the same level of mindless excoriation before its launch, with Eric Abetz, Liberal senator for Tasmania, arguably being the program's most vocal detractor. In an official media release Abetz described Abdel-Magied as "taking even more money from Australian taxpayers [in order] to push her own left-wing extremist views." One has to give Abetz credit for keeping well within the confines of the monotonous script he's been reading from: tell the people that their money is funding Something Awful, then yammer on senselessly about those damned extremist lefties.
How else could you possibly get Australians, who continue to face down rising poverty, stagnant wages, and surging living costs, to give a rat's ass about a pay-per-view miniseries regarding Muslim women's fashion?
Abetz, known for calling a US Supreme Court judge a racist slur on air during an interview, where he was simultaneously railing against gay marriage, has described Abdel-Magied of being "an outrage merchant" but by the looks of the senator's lengthy history as a self-serving alarmist he's certainly not one to talk.
Speaking to Fairfax Media, the Hijabistas! creator Yassmin Abdel-Magied explains that the miniseries is a way in which to draw attention to the wide-ranging industry of hijab fashion.
"With so much of the conversation about the hijab [being] a heavy ideological conversation aimed outwardly at explaining the hijab to non-Muslims, this is a show about the hijabi fashion scene on our own terms."
"There is a whole world of hijabi fashion and so many hijabi women doing exciting work in the space – from designers, to Instagram influencers and models – and this is a space to celebrate them in all their diversity."
The targeting of Muslim women's fashion comes as no surprise to Abdel-Magied, who believes it's a patriarchal fixation – dictating what women can and cannot wear. "The rhetoric around Muslim women's clothing is a neat intersection between that patriarchal urge, and a deeper prejudice against Muslims that has historical roots," Abdel-Magied says. "But is currently enjoying a particular revival."
After facing, head-on, the full force of unrelenting character assassination in the press at just 25-years-old, Yassmin Abdel-Magied is back and undoubtedly more empowered than she has ever been. What her experience has taught her thus far, she says, is that "we have a long way to go before we reach true, transformative equality". "But I won't rest until we get there, inshallah [God willing]".
You can watch Hijabistas! With Yassmin Abdel-Magied on ABC iView.
Source: Read Full Article