After Avicii's publicist announced Friday that the Swedish DJ had died at age 28, fans and fellow celebrities rallied to mourn Avicii's loss. Now, Avicii's family has released a statement about his death, and it's clear that they're thankful for Avicii's fans and fellow musicians who have shared so many moving tributes to the DJ in the days following his passing.
Here's the family's statement, provided to Billboard:
The family's statement uses Avicii's given name, Tim Bergling. Bergling was found dead on Friday, April 20, in Muscat, Oman, according to the statement from his publicist, Diana Baron. A cause of death hasn't been released. Still, the statement from Avicii's family is a reminder of just how many people the DJ's work impacted during his lifetime.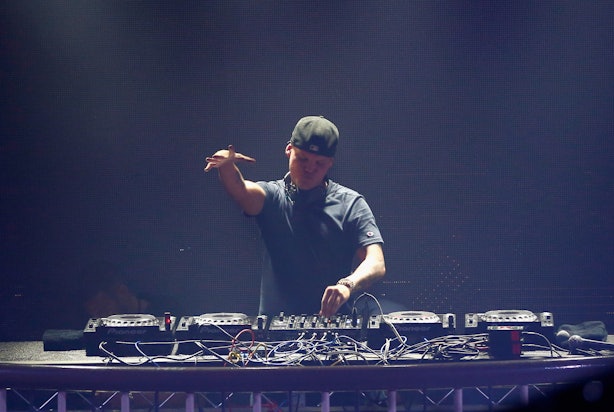 The statement from Baron about Avicii's death reads,
After the news broke about Avicii's passing, fans and other musicians were quick to offer tributes to the late DJ. During the second weekend of Coachella, Kygo gave an emotional tribute to Avicii. He told the festival crowd that Avicii was his "biggest musical inspiration," adding that he started creating electronic music himself because of his love of Avicii's work. "I don't think I would have been on this stage tonight if it wasn't for him, and I know he has inspired millions of other producers out there," Kygo told the crowd at Coachella. He used Avicii's song "Without You" during the tribute, saying he wanted the crowd to "celebrate the life of a true musical genius."
Avicii and Kygo were both nominated for the Top Dance/Electronic Album at the Billboard Music Awards, which will be held next month. In fact, Avicii's last tweet before his passing was a message thanking the awards show for the nomination. Other Top Dance/Electronic Album nominees this year include ODESZA, The Chainsmokers, and Calvin Harris.
Harris, too, paid tribute to Avicii's legacy with a tweet, calling the late DJ "passionate and extremely talented." Odesza tweeted Friday, "RIP Avicii. Remember to tell the people you love how you feel everyday." And a tweet from The Chainsmokers called Avicii "a hero of ours, an inspiration and friend."
Tributes like Kygo's are a reminder of how great Avicii's legacy is. Other musicians, including Rita Ora, also shared what the DJ meant to them. In a tweet Friday, Ora honored her late collaborator, writing that she was "devastated" and "heartbroken" by the news.
Back in 2016, Avicii revealed on his website that he would no longer be touring. (Avicii's last performance was in August 2016, in Spain.) Then, in 2017, he published another letter on the website, sharing that he was still recording new music, though he wasn't performing on the road. The DJ clearly loved making music. And even though he's passed away, his legacy will live on. His songs like "Wake Me Up" and "Lonely Together" are a reminder of his incredible musical talents. And it's clear that Avicii's fans and fellow musicians will always remember his work.
Source: Read Full Article