No introduction is necessary when we talk about Beyonce or Kim Kardashian. Both of these women are each a powerhouse in their own right and are extraordinarily wealthy beyond one's imagination. They have lifestyles that are so over the top, they are unimaginable to the ordinary person. Add into the mix these women's successful and wealthy husbands and the unimaginable becomes twofold, or in Beyonce's case, threefold.
Beyonce has a net worth of $500 million and her husband, Jay-Z, has a net worth of $810 million. That makes them a billion dollar super power couple.  Kim has a net worth of about $175 million and hubby, Kanye West's, net worth of $145 million puts them at $320 million, which is still short of Beyonce's net worth alone.
When you're talking about the vast amounts of wealth that these ladies have, it is only reasonable to assume that their spending habits are relative to their income, so the sky's the limit when it comes to buying things that are not a necessity. Today, we will compare the over-the-top luxury items that both Beyonce and Kim Kardashian own, but Beyonce has a bit of a head start on Kim because she has so much more money. We will see which one of these ladies win the battle of "who has the most expensive things?"
14

Shoes – Beyonce Hits It Out Of The Park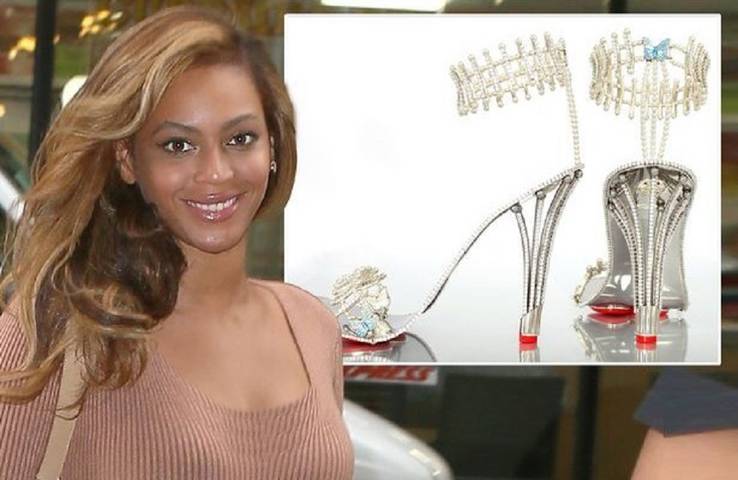 Beyonce shelled out $312k for a single pair of stiletto heels from House of Borgezie for a music video. According to the owner, Chris Shellis, the singer purchased the diamond-encrusted, Princess Constellation stilettos that are dripping with 1,290 diamonds, over 65 carats, and accented with butterflies in blue jewels with brilliant red heels. They come in platinum or 18-karat gold. The sole and heel can be easily removed if there is any sign of wear because the shoe is designed to "last forever" and comes with a 1,000-year guarantee. The British designer said the shoes are designed to make "every woman feel like a princess," or like Queen B, in this case.
How could it even be possible to top that figure for a pair of shoes? I'm afraid Kim will not win this battle, but she most certainly is entitled to an honorable mention in this category. So just how honorable a mention will Kim get? Well, in her closet she owns a pair of $90k sneakers. Yes, I said sneakers, the kind of shoes you workout in. Kim has stated, "I have love affairs with so many shoes, ridiculous, right?" You answered your own question, Kim! Well, she went on to say about her expensive sneakers, "They didn't [manufacture] a whole lot. Luckily I know someone, who was able to get me a pair."
13

Hand Bags & Purses – Kim Bags This Win
We all know Beyonce goes by the name Queen B, but would we ever guess that maybe the "B" stands for bags? The diversity of bags she carries is amazing, from the cheap to the unbelievable. In her collection, she has designers like Alexander Wang and Diane von Furstenberg. She has not one, but two, Alexander Wang Marti Backpacks. One is blue and the other is bright pink, each costing $895, which is just chump change compared to the Hermes Crocodile Birkin bag she owns, which is listed as one of the most expensive bags in the world. Hubby, Jay-Z, bought several Hermes bags for her as a Christmas gift a few years back and it set him back $350k. Beyonce has stated that she receives plenty of freebies from many different designers who are hoping she wears them when she goes out and about town.
Kim Kardashian will win this round, hands down, thanks to her hubby and his very generous, unique one-of-a-kind Christmas gift. Let's first start by giving you a baseline price for a "regular" Hermes Birkin bag which is around $16,000. Well, Kanye gave Kim a hand-painted Hermes Birkin bag that cost— wait for it— $1.3 million dollars. Artist George Condo painted the bag with surrealistic figures on it of three women and a "monster man." According to the artist, "If anyone views the painting as being a work of […], it's not the painting's fault. What's happening in their minds should be banned, not the work of art, itself."
12

Wedding Dress – Kim Beats Beyonce Down This Aisle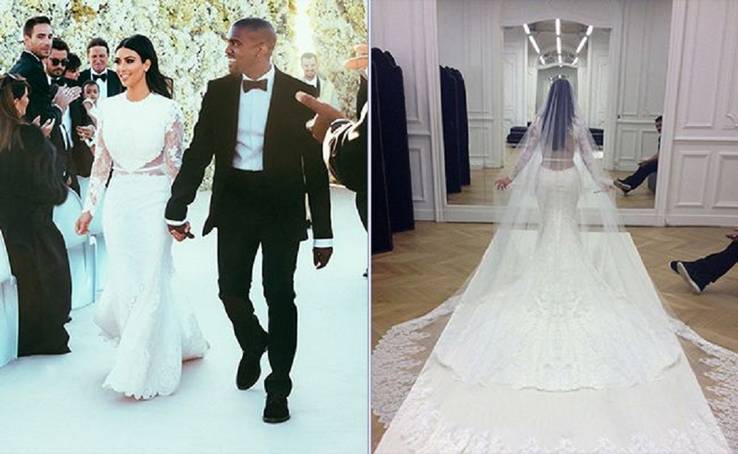 Beyonce wore a wedding dress in her music video, "Best Thing I Never Had" and it was much more elaborate than the real-life wedding gown that she wore when she got married to her husband, Jay-Z, so we are going to go with that one. It was designed by Baracci and it cost $85,000. The steep price tag for the size 4 gown is because it was made with embroidered and beaded French lace, dripping with hand-sewn Swarovski crystals and pendants. It has a gold encrusted bodice with a full skirt and is a stunning cream color and not the traditional white. The strapless gown with its dropped waist and sweetheart neckline made Beyonce look like the perfect bride. After the video shoot, it was put up for sale for a mere $30,000. so some lucky girl will have a gown previously owned and worn by Queen Bey.
Kim knocks Beyonce out once again with the more expensive gown. Designed by her friend Riccardo Tisci, Kim's custom Givenchy Haute Couture gown was estimated to cost around $500,000. Her daughter, North, had a matching mini gown that was handmade and hopefully, a little bit cheaper.
11

Real Estate – Beyonce Wins By A Landslide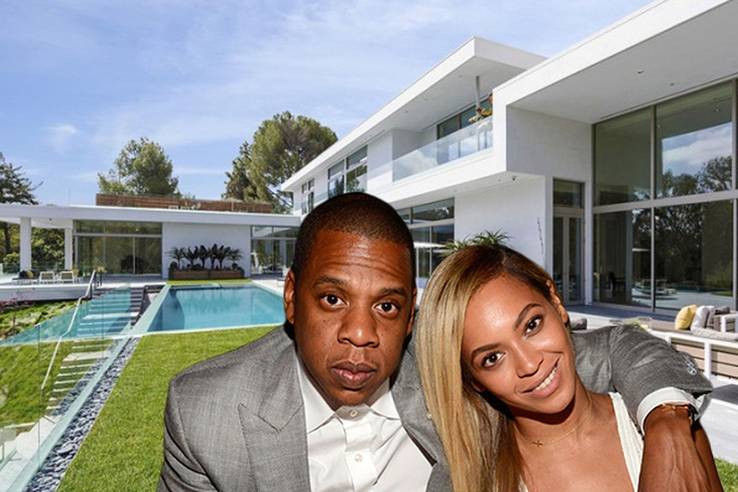 Since both of these ladies are married, we will compare their real estate holdings here as "couples."Beyonce and Jay-Z have been buying up real estate for some time now and own, or have owned, homes all over the country. At the top of Beyonce & Jay-Z's list is their $120 million dollar Bel Air mansion, which has four swimming pools, bullet-proof windows, and of course, a helipad. They have also owned homes in New York, New Orleans, Huston, L.A., and the Hamptons. And what real estate portfolio would be complete without a private island? Yup, hubby gave Bey for her 29th birthday a $20 million dollar 12.5-acre island just off the shores of Florida.
Sorry, Kim, it's going to be hard for you to beat the Queen here. During her bachelorette days, Kim did own a mansion in Beverly Hills but sold it when she and Kanye decided to get a place of their own. They bought a mansion in Bel Air for $11 million dollars that needed work and clearly, the two are not fixer-upper material, so they sold it. They instead went for something move-in ready and bought a brand spanking new $20 million dollar Hidden Hills, California mansion. The home is 15,000 sq.ft and sits on three acres and comes complete with a private vineyard, eight fireplaces, and two pools. If that is not enough, they purchased the house next door for $2.9 million dollars for that extra little bit of privacy and land.
10

Nurseries – Tied With Three Kids – It's Too Close To Call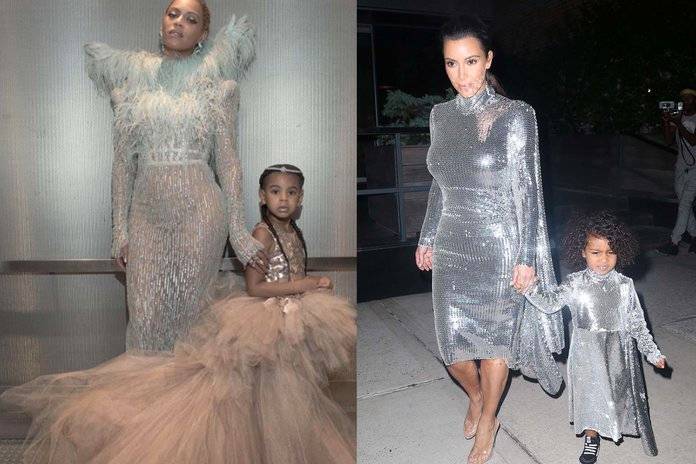 Beyonce and Jay-Z spent a cool $500 thousand for the ultimate luxury nursery for their twins, Rumi and Sir Carter. Peanuts compared to the $1.8 million they spent on Blue Ivy and that was before she was even born. Of course, only the best of the best for Bey and Jay when it comes to their kids right? A Life & Style magazine source said, "Bey and Jay knocked out a wall between two bedrooms to create a master suite-size nursery inside their LA home. The twins will have matching cribs and rockers and designer sheets totaling $30,000, plus, a $50,000 state-of-the-art sound system. And yes, so the twin babies will have something fantabulous to look at as they drift asleep. She commissioned a $20,000 mural on the ceiling, complete with glowing stars. It's the entire galaxy above the nursery." The nursery will also have a movie theater, walk-in closet, and fireplace.
Kim, however, has splurged big time and spent $550,000 on her third child's nursery. Kim has branded out the nursery with lavish items like a Swarovski crystal-encrusted rocking horse for $137,000 and a Steiff Louis Vuitton teddy bear, worth $170,000. Dolce Notte designed a velvet crib, a silk bassinet, a hand-painted cradle, matching chair, and wardrobe, totaling $40,000. And what nursery would be complete without the limited edition solid gold Suommo Dodo dummy at a bargain price of $96,000? Even Kanye told her to curb the spending but it didn't stop her from buying $100,000 worth of Dolce & Gabbana limited edition baby clothes. Both women have three kids, and they both spent crazy amounts of money on the nurseries for them so this category is too close to call.
9

Cars – Beyonce Leaves Kim In The Dust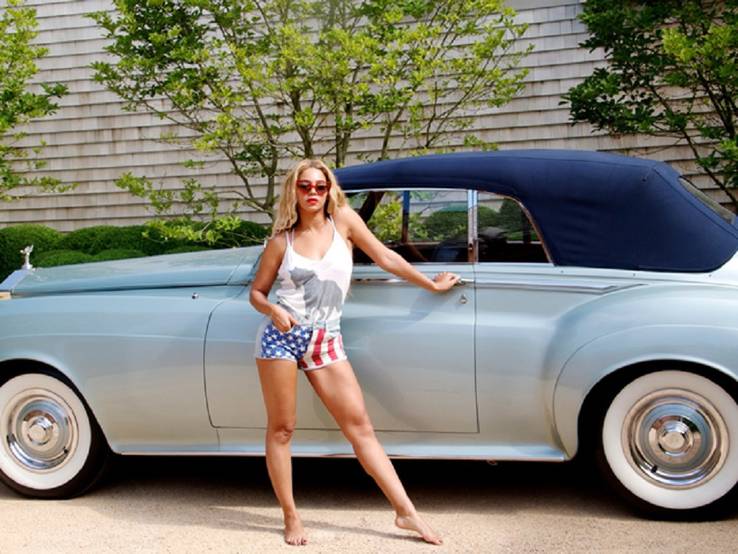 $15 million dollars is what Jay-Z's car collection is estimated to be worth and Beyonce's is dwarfed in comparison to his, but what's his is hers and vice versa, so let's look collectively at the couple's cars together. Jay-Z drives a rare Pagani Zonda F Italian car that is estimated to cost $670,000. Beyonce can leave him in the dust with her Mercedes-Benz McLaren SLR supercar that goes 200 mph. Only 3,500 of those were ever built and they were in production for only seven years, so the exclusivity of this car is befitting for the Queen. The base cost for her car is around $455,500, and it is a stunning silver. Beyonce also spent $2 million on a Bugatti Veyron Grand Sport as a birthday gift for Jay-Z when he turned 41. When Beyonce turned 25, her hubby bought her a $1 million vintage Rolls Royce Silver Cloud. And then there is the $1 million dollar Mercedes Benz Sprinter Limousine family van equipped with a full bathroom, which includes a sink, toilet, and shower.
$7 million plus is what Kanye and Kim's car collection is estimated to be worth, so sorry, Kim, you will lose this car battle to Beyonce. Kim drove luxury wheels long before Kanye came along, but now the two drive any car in their garage and no particular car belongs to either one of them. They own a new $74,000 Cadillac Escalade, which seats seven comfortably. Among some of their many vehicles, they have a Porsche Panamera, which starts at $86,000 and a Ferrari 458 Spider with a base price of $222,781.
8

Private Jet – Kim Eats Beyonce's Vapor Trail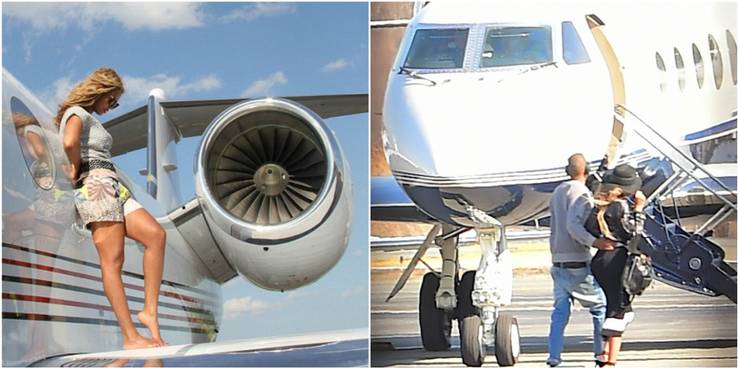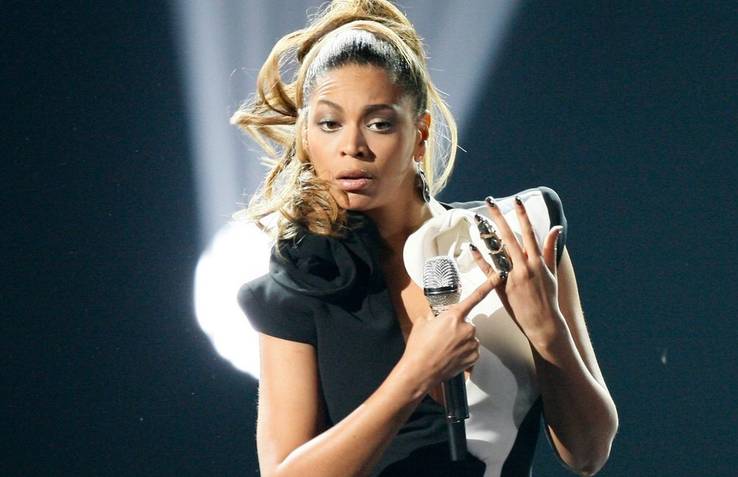 Beyonce received a stunning ring from Jay-Z in 2008, valued at more than $5 million dollars, designed by Lorraine Schwartz, the jeweler to the stars, the same designer of Kim's rings (yes, rings plural). Beyonce's ring is a stunning emerald-cut, 18-carat, flawless diamond solitaire.
Kim, however, had not one, but two of the designer rings for each one of her hands, and yes, that is a thing now. Both rings were the exact same Lorraine Schwartz model, but one was much bigger. The "D Flawless" ring is, obviously, the best quality you could get in a ring and nothing but the best for KK. The first of Kim's engagement rings cost $1.5 million dollars and boasted a 14-carat D Flawless diamond. The second ring cost $4.5 million and had a 20-carat emerald cut diamond. Kanye, the Yeezy fashion designer, had the word "Adidas" engraved on the inside of it because he just closed a massive deal with them, estimated to be worth billions.
Sadly, just days after receiving that ring, Kim was robbed at gunpoint in Paris and her rings were stolen. The mastermind behind the heist, 60-year-old, Aomar Ait Khedache, told authorities that the valuable jewels were all melted down and sold. He claimed that Kim's posts on social media made it easy for his crew to follow her every move and stated, "[Kim] specified that she didn't wear fakes [and] the schedules when she came to France. It was enough to look on the internet to know everything, absolutely everything." Kim loses this one for sure, in more ways than one.
Featured Today
15 Celebs Who Have Stayed With The Same Partner Since The Start (And 5 Who Stay Single)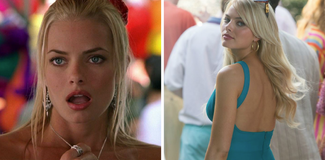 20 Female Celeb Lookalikes Who Made Us Look Twice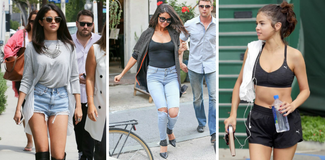 25 Paparazzi Photos Of Selena Gomez Everyone Needs To See

7

Vacations – Beyonce Works Hard And Plays Harder Than Kim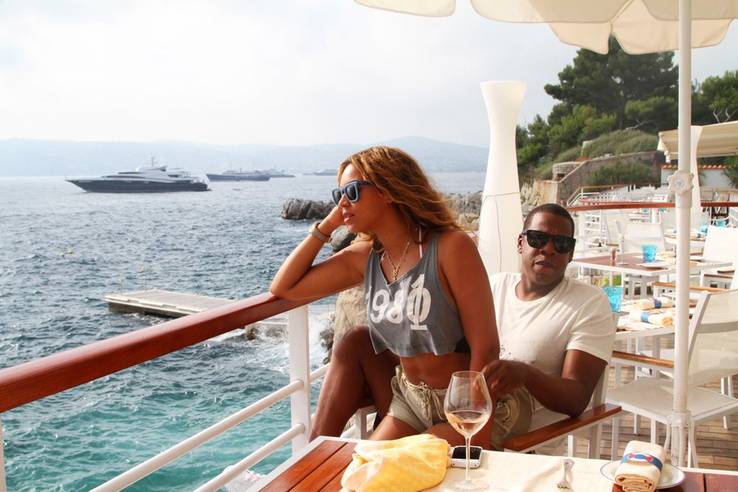 To celebrate Beyonce's 33rd birthday, Jay-Z hired a luxury yacht to take the couple to the South of France and other places for a staggering $800,000 dollars. They have also gone to Iceland to celebrate Jay-Z's 45th birthday and of course stayed at the Trophy Lodge, Iceland's most luxurious spot. They indulged in a helicopter tour there and literally had their champagne chilled out in the snow. They have celebrated their wedding anniversary in the Dominican Republic, but instead of staying at some run of the mill resort, the dynamic duo stayed in the very own private cabana. They have vacationed all over Italy and France and have gone to Thailand, Cambodia, Cuba, St. Barts in the Caribbean, Costa Rica, Croatia, and all over the United States. They have even vacationed down under in Australia.
Kim and Kanye take plenty of vacations as well. One of them was to the Bahamas and it cost them almost half a million dollars. They stayed at the exclusive Baker's Bay Golf and Ocean Club where you can't stay unless you're a member or invited by a guest. Then, for Kanye's 40th birthday, they went to Japan where they went about town unnoticed. Kim told The View, "We would put on hoodies. We took the train. No one bothered us, it was great."
6

Glam Squad – Kim's Wins Head & Shoulders Above Beyonce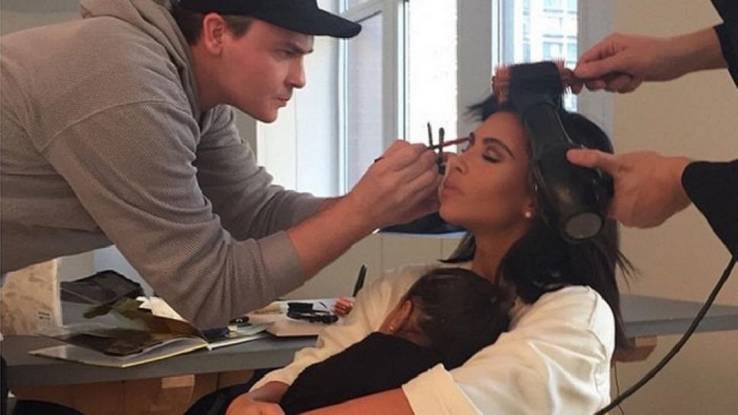 Every celebrity has a glam squad, an entourage of staff, that is responsible for their wardrobe, make-up, hair, etc. They prep and preen their VIP boss before they will be seen by the public doing interviews, etc.
Beyonce spends about $1 million dollars a year on her glam squad. The breakdown of her beauty is $50,000 a year for twice-weekly meetings with a nutritionist, $200,000 for fitness costs, which include a personal trainer, $20,000 for manicures and pedicures, but the biggest chunk of change goes into her tresses. Beyonce spends about $545,000 on hair, eyelash extensions, wigs, and cosmetics.
Kim's on-hand glam squad costs her a jaw-dropping $2.6 million dollars every year but it is money well spent for her stellar line-up of staff. She has Joyce Bonelli, a makeup artist, on retainer for $750,000. If you include the bonuses she gets for events while Kim is traveling, it earns her a whopping $1.5 million a year. She has George Papanikolas, who is her hair colorist, treat her hair two times a month for $12,000 a year. Then, she has Chris McMillan, the man who did Jennifer Aniston's bob, do her hair styling, and she pays him $4,000 a month. As for her clothing stylists, Kim has the duo, Mariel Haenn and Rob Zangardi, that she works with and they only charge her $810,000 a year. Last but not least, trainer, Tracy Anderson, charges Kim $250,000 a year.
5

Clothing Lines – Kim Gets Hung Out To Dry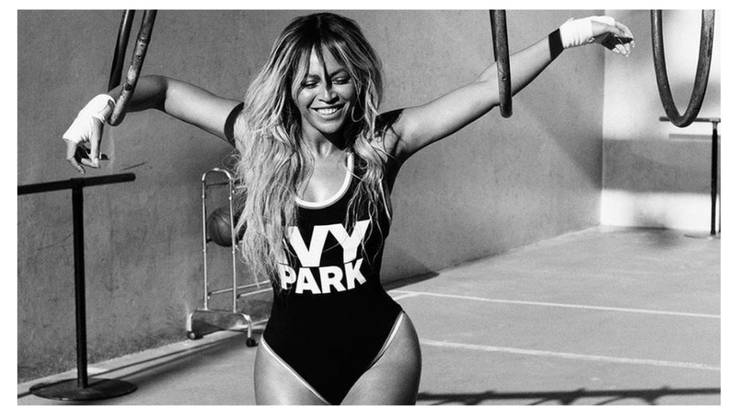 In 2016, Beyonce co-founded an activewear clothing line with Topshop called Ivy Park. The company was named after her daughter, Blue Ivy, and the "Park" part came from a park in Houston called Parkwood Park where she would go to exercise. In a promotional video for the company, Beyonce said, "There are things I'm still afraid of. When I have to conquer those things, I still go back to that park. Before I hit the stage, I go back to that park. When it was time for me to give birth, I went back to that park. The park became a state of mind. The park became my strength. The park is what made me who I am." The line of Ivy Park clothing, from headbands, sandals, tops, bottoms, swimwear, and accessories range from $30 to $200, so there is something for everyone.
As for Kanye and Kim's joint clothing line endeavour for children called The Kids Supply, Kim told Vogue magazine, "I love making pieces that I haven't seen before in children's clothes, like the slip dress or lace tap shorts," but sadly, Kim's statement was not the case at all and she was accused of ripping off designs from designers like Demna Gvasalia and Rei Kawakubo. Diet Prada callout Kim out by showing an image of Kim and her daughter side-by-side, and her daughter was wearing a mini-version of Kim's original Comme des Garçons garment that was designed by Kawakubo. Kim will lose this round for un-originality, aka, copying.
4

To Wig Or Not To Wig – Beyonce Wins By A Hair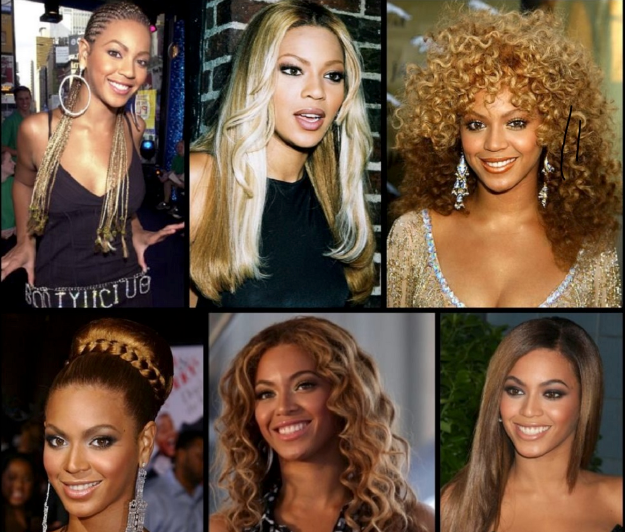 One of the many beautiful things we notice about Beyonce instantly is, of course, her gorgeous tresses. We all know that those tresses change about as frequently as her clothes do. From short and curly to long and straight, Beyonce can only get that quick change by wearing wigs. She has an enormous wig collection that is valued to be $1 million dollars. It is important for her to buy the best possible wigs to keep her real hair as healthy as possible, so they are custom made for her and handcrafted out of human hair. Some of her wigs are worth $10,000 dollars but when Beyonce is done with them, she donates them to chemotherapy patients. Her charitable contribution will make her the clear winner in this round.
3

Gifts Exchanged With Each Other – Kim Is The Better Gifter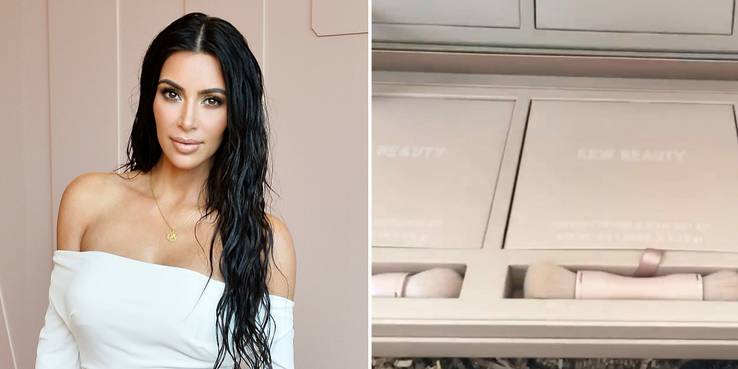 For Kim and Kanye's baby number three, Beyonce and Jay-Z bought the baby girl a one-of-a-kind diamond encrusted bracelet that set them back a whopping $26,000 dollars. It was not just any bracelet, but a Lorraine Schwartz bracelet. The same Lorraine Schwartz that designed both of Kim's engagement rings. Jay-Z had a '3' engraved on it because baby Chicago was yet to be named. And one time, Beyonce was unable to attend one of Kim's baby showers, but she and Jay-Z still managed to send an extravagant gift. It was a Swarovski crystal studded $13,700 high chair, designed by Carla Monchen, which was very similar to the one they had for their daughter, Blue Ivy.
However, when Beyonce was pregnant in the hospital with the twins, Kim and Kanye sent her one of Kim's KKW contouring kits. It was delivered in a gold box and was estimated to be worth $150,000. She thought that Beyonce would like it because the kits were not even out yet. Kim also sent around $10,000 dollars worth of clothes for Blue Ivy from the couples children's clothing line. They even had some clothes custom tailored for the twins. There were rumors that Beyonce did not accept the generous gifts and gave them to the hospital staff, but it appears that is not the case.
2

Designer Tastes – Both Are Tied With Huge Appetites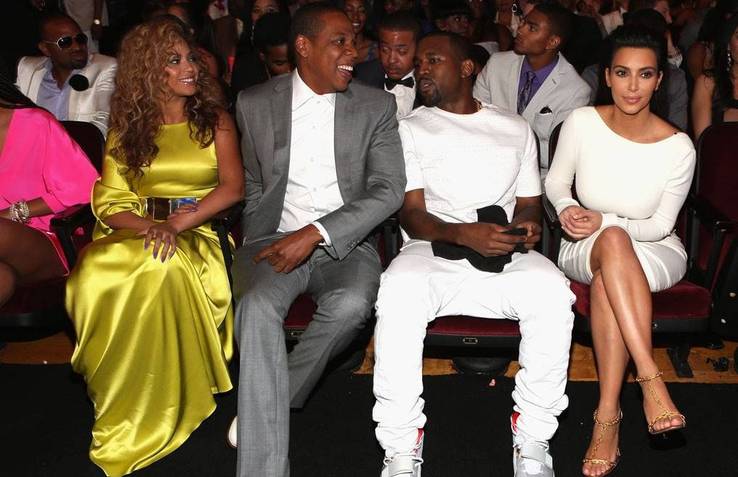 Beyonce attended the Costume Institute Gala at the Metropolitan Museum of Art for the 'Manus x Machina: Fashion In An Age Of Technology' and her look for that event was posted on Instagram and cost about $20,000. She also attended the 66th NBA All-Star Game held at the Smoothie King Center in New Orleans, Louisiana. Courtside, she was spotted wearing a floor-length, tropical print silk kimono with fur trim from Gucci's Ready-to-Wear collection and that retailed for a mind-boggling, $21,945. Beyonce's stylist and the man behind every epic gown she has ever worn is Ty Hunter and he claims, "My favorite dress of hers was the Givenchy gown with the purple feathers at the bottom that she wore to the Met Gala in 2012."
Then, oddly in 2015, Kim copied Beyonce's look (even down to the pony-tail do) for the Met Gala that she attended. She wore a gold and white masterpiece, which was a completely a different color scheme, but extremely similar in style, being lacy and sheer and trimmed out with feathers. Peter Dundas, on behalf of Roberto Cavalli, created the gown and Kim posed in exactly the same position Beyonce did, for the photos of it. Kim sits in front rows at the greatest fashion shows and she is a darling in the fashion industry so it only makes sense her wardrobe reflects that. Her expensive tastes for designer clothing makes her an equal to Beyonce's fashion style and they both are tied in this category.
1

 Weirdest Things – Not Surprisingly Tied Again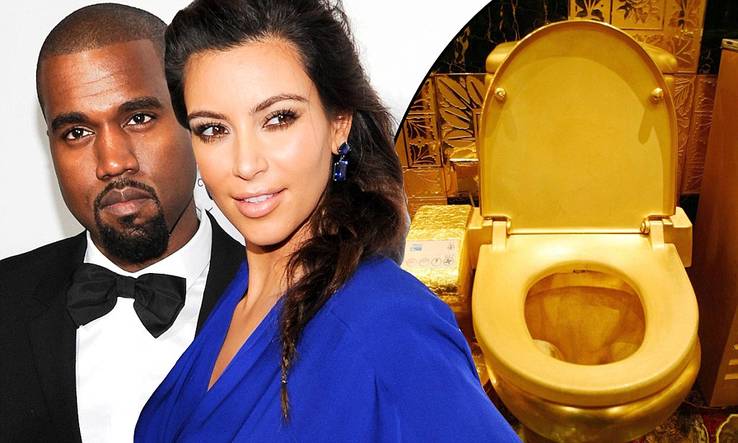 Beyonce bought herself a pair of blinged-out gold designer leggings from Balenciaga, which set her back a mere, $100 grand. This was before she became a mom and her priorities shifted. Beyonce and Jay-Z have bought their kids some crazy expensive things. Things like an $80,000 diamond encrusted Barbie doll, a $600,000 rocking horse, a $15,000 high chair, a $20,000 fantasy carriage crib for Blue Ivy, two gold cribs for the twins at $106,000, and $2.5 million dollars for pacifiers. Not to mention the day they had the Louvre in Paris closed to the public so they could have the museum all to themselves. Of course, we have no idea how much this cost but you can only imagine.
Kim has some strange and extravagant purchases as well and she really gives Beyonce a run for her money. How about owning a Swarovski-encrusted fridge? Kanye and Kim blinged out their kitchen with the $1 million Electrolux appliance. And after eating all the food stored in that refrigerator, you are going to need the restroom soon afterward, so why not keep up with the luxury? The way to do that is to have not one, but four, gold-plated toilets that cost Kim and Kanye $750,000. Now, that is just a drop in the bucket, or tank, in this case, because the world's most expensive toilet is worth $5 million and is a Hang Fung gold toilet. I'll take two, please.
References: myjoyinline.com, wetpaint.com, harprsbazaar.com, news24.com, wmagazine.com, thefix.nine.com.au, afktravel.com, people.com, inquisitr.com, thesquander.com, usmagazine.com, vh1.com, glamour.com, mirror.co.uk, dailymail.co.uk, hellomagazine.com, buzzfeed.com, eonline.com, teenvogue.com, huffingtonpost.com 
Source: Read Full Article