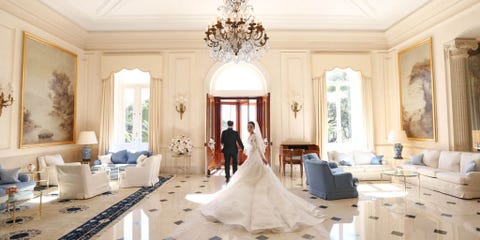 Executing the perfect wedding day–or wedding weekend–is all in the organization, details, and logistics. An event planner worth their salt can take on the execution of any event, consult on its styling and design, and help you successfully manage your expectations and budget.
From a luxe celebration in New York City to an outdoor affair in Napa Valley, a wedding weekend spent in Montenegro, or even a multi-cultural wedding weekend in Southeast Asia, these are the names in the wedding industry that can take on the most creative of challenges and elevate any expectation. Trust us, this short list is who we would call (and who we have tapped) when planning our own celebrations.
The names on this list will help you achieve the wedding day you've been picturing all along (or didn't know you wanted), offering innovative ideas to raise the bar and special touches that will leave your guests raving. Here, the best names in the events industry–straight from our rolodex.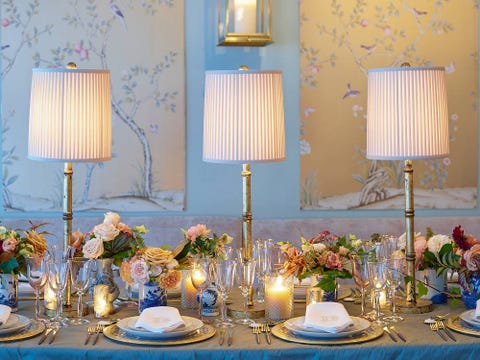 Company Name: Easton Events
Home Base: Charleston, South Carolina & Charlottesville, Virginia
Specialties Include: "Luxury destination weddings and multi-day events (both domestic and international) as well as high touch designs and installations."
Signature Aesthetic: "Understated elegance encompassed by effortless luxury. Through layering colors, textures, subtle patterns and patina–from the printed suite to the tablescape–our events are known for the warm glow of candlelight coupled with the beauty of lush, loose floral. Every element from the finish of the flooring to the hand of the linen draping is thoughtfully composed. Fundamentally, we want our brides to look back at their weddings 15 and 30 years later and feel that their wedding was timeless."
Weddings of Note: Experts in planning for the discreet social elite including BAZAAR.com's Editor Joyann King's nuptials in the Hudson Valley.
Fun Fact: Lynn Easton is a co-founder of the Easton Porter Group which owns the uber chic hotel & restaurant Zero George in Charleston and nationally acclaimed winery and event venue, Pippin Hill Farm & Vineyards in Charlottesville. They are also the operating partner of Cannon Green, a top Charleston event venue and restaurant.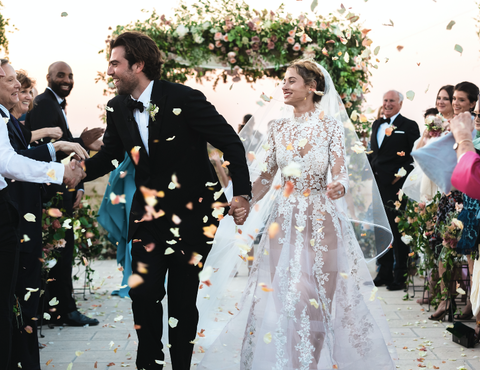 Company Name: Lisa Vorce Co.
Home Base: Southern California
Specialties Include: Iconic multi-day destination celebrations–from St. Barths, to Barcelona, and beyond. Our latest passion:"Weddings for Two," Lisa Vorce Co.'s modern take on elopements.
Dream Client: "They are humble and generous of spirit, and approach life with a sense of humor. They are adventurers with a deep appreciation for family and friends, great food, culture, and design."
Signature Aesthetic: "Curated culture; whether it's an authentic rendition of the Pizzica dance for a festive welcome party in Puglia, or the intricate workings of a talented textile maker in Japan, we embrace the cultural bounty that each destination has to offer. Those touches create the intangible soul of the event and offer our clients and their guests a deeply personal connection to the destination–and a lasting memory of the celebration long after their return home."
Weddings of Note: A wedding for two in the serene Nara Primeval Forest in Japan, Kate Upton and Justin Verlander's private wedding weekend under the Tuscan sun, Isabel Roth & Jake Stein's wedding in Italy, pictured here. Jamie Chung & Bryan Greenberg's Halloween glamping wedding weekend, Lindsay Price & Curtis Stone's culinary wedding feast in Mallorca, Ashley Tisdale & Christopher French's intimate Santa Barbara wedding celebration, and Chrissy Teigen & John Legend's unforgettably romantic Lake Como nuptials.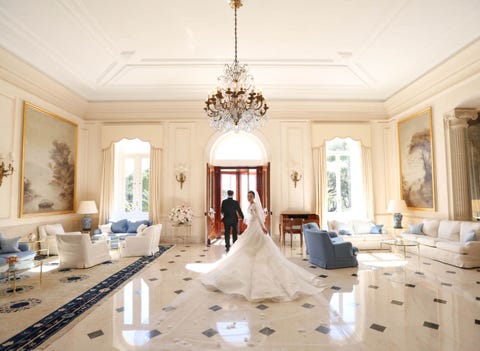 Company Name: Alison Events Planning + Design
Home Base: San Francisco, CA
Specialties Include: Full service destination event planning and design.
Signature Aesthetic: Planning and designing weddings that feel authentic and a true reflection of the client. "We don't want your wedding or event to feel overly produced–we want it to feel like an intimate dinner party with all of your closest family and friends."
Dream Client: "We look for clients who are adventurous, open to collaborating and up for doing something that's never been done. Our favorite clients are ones that trust us to do our thing and want the process to be creative and most of all, fun!
Weddings of Note: "In the last two years we've designed and produced two weddings in Japan. In 2017, we produced the first wedding ever at Amanemu in Ise Shima. In 2018, on Naoshima Island off the cost of Uno, we produced the first ever wedding at Benesse House, a world renowned museum and art site with an impressive collection of sculpture, conceptual art, and installations from all over the world."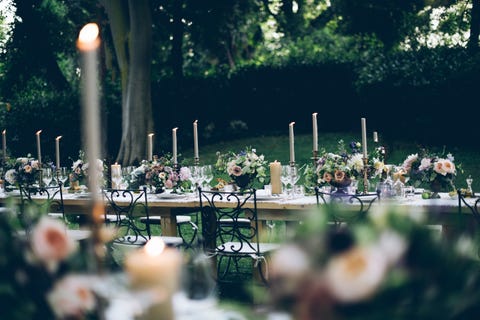 Company Name: Oren Co.
Home Base: Los Angeles, CA and New York, NY
Specialties Include: "Authentic and memorable celebrations paired with unparalleled attention to detail, bespoke design, and flawless execution. We have created everything from intricate dinner parties to elaborate destination weddings, and unforgettable lifetime affairs. The goal is to make every event we design distinct and singular, no matter the size. Our signature is seamlessness: each and every detail beautifully melded together."
Dream Client: "The most rewarding events are the result of a true collaboration with our clients. We go to great lengths to hear our client's desires, immerse ourselves in their aesthetic, their personality, understand their passions and their artistic sensibilities; we then create an individual and all-encompassing experience. Our 'dream' client is the the client that encourages us to push the envelope and inspires us by offering their vision and aesthetic point of view. What we don't want to design next year, is last year's party, again. We appreciate evolution."
Signature Aesthetic: "Our events are defined by refinement, tasteful restraint and an almost implausible attention to detail in design, coupled with exemplary service and superior execution,
no matter how large the production. We establish a true personal connection with our clients, which organically leads to authentic, extraordinary moments within each and every event."
Weddings of Note: Natalie Portman & Benjamin Millepied, Cameron Diaz & Benjamin Madden, Behati Prinsloo & Adam Levine, Reese Witherspoon & Jim Toth, Anne Hathaway & Adam Shulman, Drew Barrymore, Jenni Kayne.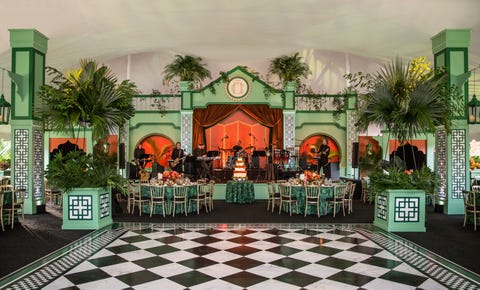 Company Name: David Stark Design & Production
Home Base: Brooklyn, NY
Specialties Include: "Full-service event design, planning, and production, elevating weddings to extraordinary experiences. We customize out-of-the-box design innovations for each client and pair those with kind, attentive service."
Dream Client: "Confident, stylish brides and grooms who will revel in the creative journey of their planning and design process. A ceremony and celebration will last a joyous six or seven hours, but the journey to get there will take eight months to a year!"
Signature Aesthetic: "We approach each wedding as a truly personal story brought to life. Creative innovation is our heart and soul, and we pride ourselves on exquisite craftsmanship, sophisticated whimsy, and singular ideas that elevate the typical wedding experience to the realm of installation art."
Weddings of Note: "A few of the notable clients we've designed and produced weddings for include Glenn Close and Jon Stewart. We collaborate with a wide range of celebrity, society, and fashion clientele that have included Brad Pitt, Martha Stewart, Mariska Hargitay, SNL's 40th Anniversary, major corporations like Target and Louis Vuitton, as well as galas for organizations as diverse as the Robin Hood Foundation and The Whitney Museum of American Art."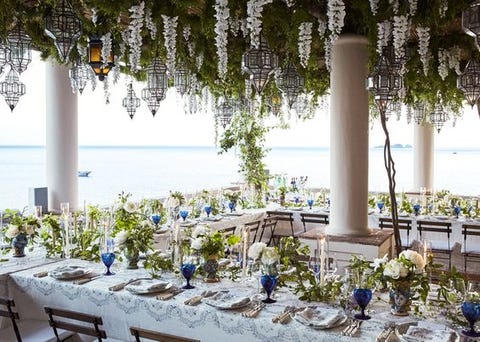 Company Name: Fiona Leahy Design
Home Base: London, England
Specialties Include: "Beautiful tablescapes, the use of print and elaborately designed DJ booths and dance floors, occasional ballon walls, and more."
Signature Aesthetic: "'Matchimalism'–layered print on print.
Dream Client: "I would say I have had many dream clients , a future dream client? Someone with a shared sense of adventure and fun."
Weddings of Note: "Marilyn Manson and Dita von Teese's wedding was my very first, and will always hold a special place in my heart. It was held in Tipperary where I grew up and was one of the most magical, creative, and unique weddings–gothic and romantic with bespoke lace and many Victorian touches. Krissy O'Neil's three-day wedding in Positano, pictured here, was my most Instagrammed and lauded, and Nina Sarin's Nina Sarin Arias and Joaquin Arias Romera's at Blenheim Palace was one of my prettiest. Nina is a designer and has the most exquisite taste; embraced shades of grey and nude and it was an English country dream."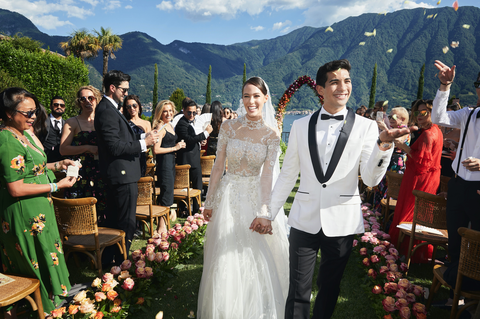 Company Name: The Lake Como Wedding Planner & Rachel Birthistle Events
Home Base: Cernobbio, Lake Como, Italy
Dream Client: "Our dream clients are people who trust us and appreciate our in-depth knowledge of Italy, and have a genuine appreciation of the food, wine, history, culture, and its inherent understated luxury. We love open, confident, warm, stylish people who allow us to get to know them and create events that are reflective of what they love and who they are."
Specialties Include: "We are a wedding and event planning agency based in a destination, rather than a destination event agency. Focusing on events within one country has allowed us to develop an in-depth knowledge of the country, and Lake Como especially. We know the best venues, the rich traditions, and have built phenomenal relationships with our local suppliers and vendors."
Signature Aesthetic: "We love enhancing and enriching rather than changing. The locations in Italy are so wonderful, so for us it is about making the event personal to our clients and a truly memorable and authentic experience for them and their guests."
Weddings of Note: "We have the best of both worlds; we work with most of our clients directly but we also often work with destination wedding planners based internationally who need our experience, contacts and language skills in Lake Como. We've partnered with the top agencies worldwide on VIP and celebrity weddings, like our collaboration with Lisa Vorce & Co. on Chrissy Teigen & John Legend's nuptials."
Fun Fact: "I am Irish, and as a mother-tongue English speaker living on the shores of Lake Como, this has always been a massive advantage. Considering that all of our clients aren't local to Italy, this has given huge comfort to clients who worry about crucial details being lost in translation."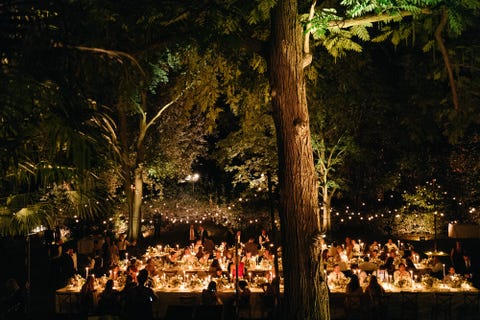 Company Name: Stefanie Cove and Company
Home Base: Los Angeles and New York City
Specialties Include: "Producing notable events around the globe; our specialties include high-end, design-focused nuptials and monumental celebrations for discerning clients and brands."
Signature Aesthetic: "We're known for discretion and taste, and we plan and create events from inception through completion as a team. With incredible attention to detail and seamless production, we are sought after for our innate ability to blend the client's personal vision with a refined, organic aesthetic."
Dream Client: "A client who enjoys and is as passionate about the planning and design as I am, from each decor element to guest management. The guest experience is equally as important as the event's beauty. Anytime I work with a client who trusts that I have their best interest in mind, it allows us to work harmoniously while also enjoying the process…which also produces the best events!"
Weddings of Note: Recent destination events include Tuscany, Tulum, Aspen, the Hamptons and The Caribbean. Clients include goop, Molly Sims, Chris Martin and Net-a-Porter."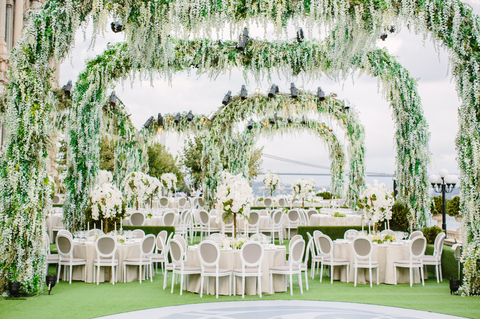 Company Name: Rafanelli Events
Home Base: New York, NY, Boston, MA and Palm Beach, FL
Dream Client: "We especially like working with people who allow us to really get to know them and bring their vision to life. What I love most about our clients is that each is unique, which makes my job exciting and challenging."
Signature Aesthetic: "I am not a 'trend' guy. I believe every celebration should tell a great story and reflect our client's personality. Our main objective for any event is to tell our client's story and make his or her dreams come to life."
Weddings of Note: "I always say it will read on my tombstone that we planned the wedding of my friends Chelsea Clinton and Marc Mezvinsky–what an amazing honor. We also have been fortunate to work Matt and Lucy Damon for their vow renewals. This past year, we worked with Robert Duffy and Connor Dodd as well as Allison Williams and Ricky Van Veen."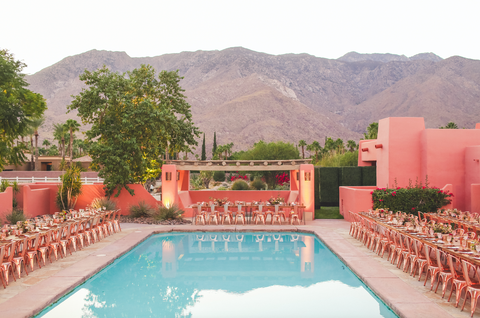 Company Name: Bash Please
Home Base: San Francisco & Los Angeles, CA
Specialties Include: "Event production and design–from original fabrication to graphic design, textile sourcing, detailed diagrams, and curating A+ vendor teams. We specialize in creating the most artful and customized experience as well as sound logistical planning."
Signature Aesthetic: "Intuitive, thoughtful, creative, sometimes wild, sometimes restrained, but never standard."
Dream Client: "Someone who is visionary, trusting, collaborative, and understands that our service is a luxury and our work is our passion."
Weddings of Note: Nasty Gal's founder and #GirlBoss Sophia Amoruso, Todd Selby & Danielle Sherman, Anna Getty & Scott Oster, Emily Deschanel & David Hornsby and Margo & Me's Jenny Bernheim & Fred Cipoletti.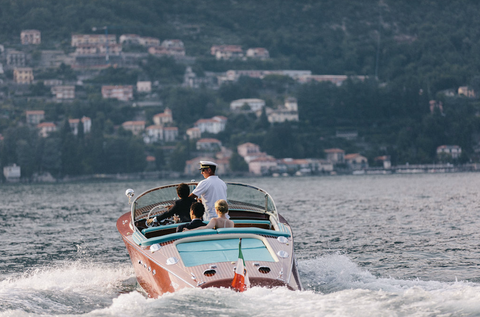 Company Name: Michelle Rago Destinations
Home Base: Manhattan is home base, but we operate globally.
Specialties Include: Destination – it's in our blood, and literally in our name. Recent projects include Lake Como, Rome, Amsterdam, Jackson Hole, Antigua, Cap Ferrat, South Africa, Aspen and Venice. We provide high-touch, full service planning and throw killer parties.
Dream Client: Our dream client is someone who sees the world as their playground. Whether they live in San Francisco or Zurich and want to host a weekend wedding celebration abroad, or 3 parties across the globe, we will help them realize their vision. Teamwork is the key and we bring our global partners to the playing field. Our dream client loves a mix of formal entertaining with a relaxed approach and believes the guest experience is paramount.
Signature Aesthetic: We are known for understated luxury and a look that has a sense of place. We help our clients curate the most beautiful environments. We can enhance spaces or transform them. Aesthetics are not just what you see, but what envelopes all of our senses. With that said, we don't have signature "look". We work closely with our couples to help them articulate what they are dreaming of to ensure that it is deeply felt by their guests.
Weddings of Note: Michelle & Al Harrington, Vanessa Britting & David Krumholtz.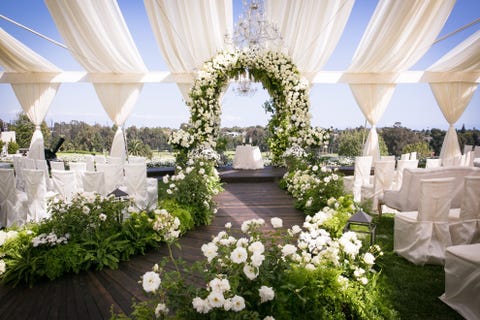 Company Name: Geller Events
Home Base: Los Angeles, California
Specialties Include: "We are great listeners who put discretion and our client's privacy above everything. We thrive on complex logistics and love a great destination event. A blank canvas is our favorite playground–with a nod to set design, we love creating an extraordinary environment within which to celebrate."
Signature Aesthetic: "Our signature style is in the details and the approach, not in the design aesthetic itself. We take pride in the fact that our events reflect the best version of our client's vision, and each one is as unique as they are. No matter the style, the result is impeccable."
Dream Client: "Our dream client is one who thinks outside of the box, is open to new ideas, and who wants to collaborate to create a fresh experience for their guests."
Weddings of Note: "Weddings are very personal, and we respect the privacy of every one of our clients."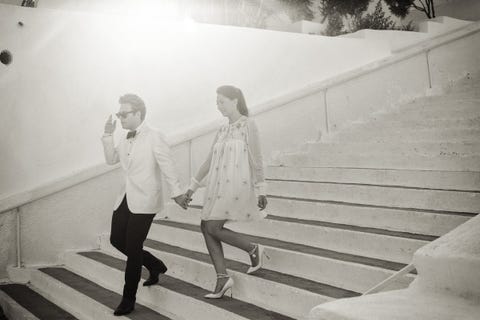 Company Name: Sofia Crokos Events & Lifestyle
Home Base: New York, NY & The Hamptons
Dream Client: "We believe in connection. Our clients are aficionados, entrepreneurs, creative geniuses, and they dream BIG. They love to celebrate and value open communication and trust in our creative process to take their vision to fruition. Most of all, they want to have fun!"
Specialties Include: "Full-service event planning and design and extensive relationships with talented vendors and collaborators in the U.S. and abroad. When not planning in our home-bases of New York City and The Hamptons, we are passport- ready to jet to your dream destination. 'Cookie-cutter' isn't in our vocabulary–we love to be challenged!"
Signature Aesthetic: "We are bon vivants–we enjoy the good in life. We appreciate all things beautiful and approach our events with spirit, grace, and style. Our flexibility, functionality, and attention to detail allow us to explore and create the seemingly impossible. For us, a table is not complete without great food, wine to savor, and amazing company to create memories with."
Weddings of Note: Robert Downey Jr., Marc Anthony, NBA player Landry Fields, Betsey Johnson, and the premier wedding at the iconic Ritz Paris after it's four year renovation and re-opening.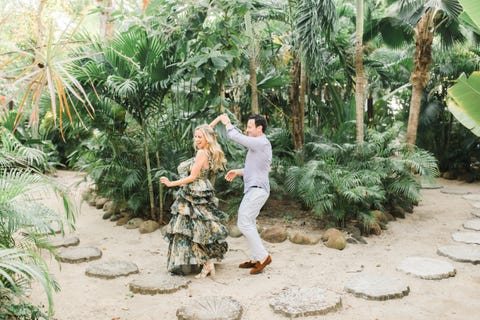 Company Name: Matthew Robbins Design & Robbins Otoya
Home Base: "New York, NY–but we work globally."
Specialties Include: "Planning with good design as the driving force behind all decisions. We specialize in destination events in the Hudson Valley, the Berkshires, the Hamptons, New England, Central and South America (Caribbean, Mexico, Guatemala, Colombia, etc.), on the West Coast and in Europe."
Signature Aesthetic: "We are all about effortless and natural style. Our mission is to create events that feel elegant but not fussy, unique but not contrived, and timeless but always personal."
Dream Client: "The client who understands that less is more and that good design is about considering the details. We aren't the right fit for the client looking to walk into a ballroom and fill it with standard centerpieces and party rentals. Our talent really shines with projects that require building a vision and creating a space from the ground up. This normally requires a tented space, a private residence, or a buyout of a property for the wedding weekend."
Weddings of Note: "Our client list includes politicians, celebrities and socialites along with financial superstars–and we are very protective of their privacy."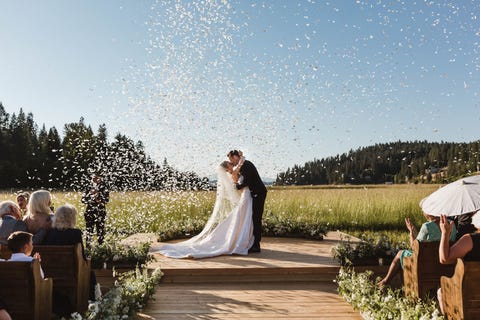 Company Name: Simply Troy Lifestyle + Events
Home Base: Los Angeles, CA + Globally
Specialties Include: "Making any event feel unique and incredibly personal to the clients or corporate brand I am working with. My strong background in brand sponsorships and handling PR and Media Relations has prepared me for the scope of any high-profile event. I'm an experiential event designer for celebrity, charity, social and corporate clients."
Signature Aesthetic: "Timeless, tasteful, thoughtful design. Luxury with heart and authentic attention to emotional detail. Every guest should be treated like a celebrity, whether they are 5 years old or 95 years old. Everyone is a VIP at my events."
Dream Client: "My dream clients are trusting of me and open to innovative and personalized creative design, and ready to have fun while designing their event and during their event."
Weddings of Note: Julianne Hough & Brooks Laich, Eva Longoria & Pepe Baston, Rawson Marshall Thurber (Director) & Sarah Thurber, Brian Oliver (Academy-Award Best Picture Nominated Producer) & Amira Ahmed (Fashion Model), Stephen "tWitch" Boss & Allison Holker ("So You Think You Can Dance" and "The Ellen Show").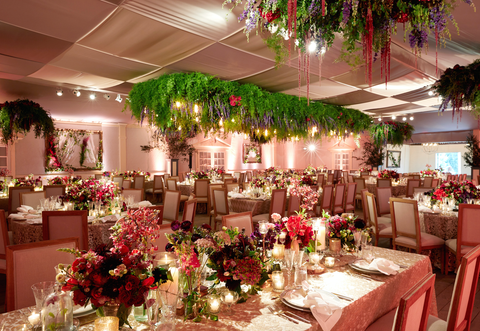 Company Name: Marcy Blum Associates
Home Base: New York, NY
Specialties Include: "Complicated events– be it a destination or an event in a quirky space like an all-night, Australian wedding in three tents, or on an island off of Maine where we served an elaborate breakfast at 6 am."
Signature Aesthetic: "Our signature style is just enough "out there" without going over the line. It's all alchemy; An element of surprise-perhaps an unexpected reveal of the band or a creative food pairing, a sense of timing that always makes guests think the hours flew by, and design that celebrates the occasion rather than overwhelms it."
Dream Client: "A couple who enjoys showing their guests a good time and loves to collaborate with a team in the planning process. "
Weddings of Note: Lebron & Savannah James, Kevin Bacon & Kyra Sedgwick, Geoffrey & Margaret Zakarian, Nate Berkus & Jeremiah Brent.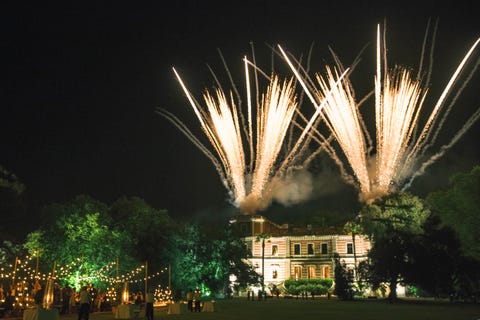 Company Name: Van Wyck & Van Wyck
Home Base: New York, New York
Specialties Include: "If you can dream it, we can build it! I'm always hoping to make the impossible possible. We've constructed a chapel from scratch at the top of a 12,000 foot mountain and made it snow inside the ballroom at The Plaza. I consider myself a storyteller as much as event planner, so my goal is to create custom immersive experiences that take guests on a journey they'll never forget. A party should be a constant adventure with surprises around every corner."
Signature Aesthetic: "Wit, whimsy, and warmth–I grew up in Arkansas, so the old school concept of Southern Hospitality runs in my blood and all that I do. As a family business, we try to keep heritage at the heart of the production process. I think no two parties are alike; each client's individual sensibility and personal history are woven into each and every design detail. The combination of trends with tradition creates something timeless."
Dream Client: "Cleopatra. What can I say? I'm a history nerd who started his career at the U.S. State Department–I love a lady who knew how to use parties for politics."
Weddings of Note: "Samantha Boardman and Aby Rosen, Alessandra Brawn and Jon Neidich, Gabriela and Austin Hearst, and Mellody Hobson and George Lucas"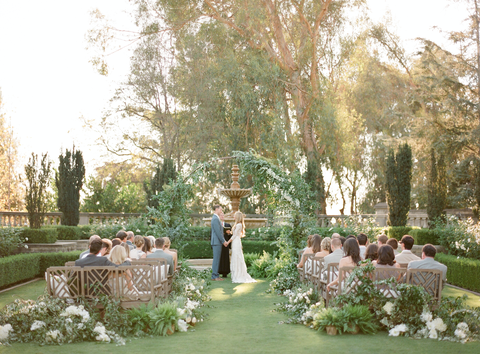 Company Name: Duet Weddings
Home Base: Los Angeles, CA
Dream Client: "Open, trusting, and collaborative, with great style and full of love. They find joy and excitement in the planning process and feel comfortable and present on their wedding day, able to soak in and experience every moment."
Specialties Include: "Full service wedding planning and destination weekend planning (in California and beyond). We put an immense amount of careful thought into all aspects of the design of each event–even the smallest detail is an intentional, curated part of the story we are telling."
Signature Aesthetic: "Thoughtful. Whether we are working in an untamed, open field of wild grasses, a stately manor steeped in rich history, or a family home full of sweet childhood memories, we never want to overproduce or compete with the beauty of the space. Our approach is to create refined, timeless design while infusing personal touches that are unique to our clients."
Weddings of Note: While we like to preserve the privacy of our clients that ask for it, we did design wedding photographer Corbin Gurkin's wedding in Ireland. It is always such an honor when somebody in the wedding industry whose work we love and respect asks us to be a part of their special day.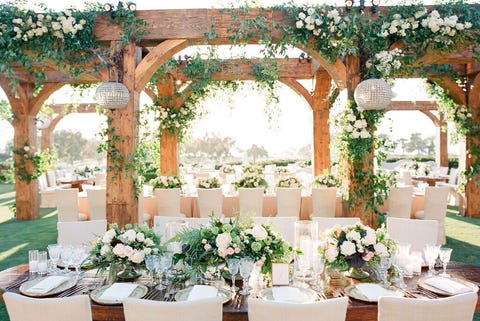 Company Name: Laurie Arons Special Events
Home Base: San Francisco, CA
Specialties Include: "Full-service planning & design–we pride ourselves on delivering the highest levels of customer service for a stress-free planning process. We love going above and beyond for our clients and specialize in highly detailed productions, from custom tent design, to curated food and beverages, to special entertainment. We strive to weave complex elements into one seamless, well-timed guest experience. We also pride ourselves on our knowledge of modern etiquette; our formative experience planning society weddings has enabled us to educate all our clients on proper hosting protocol."
Signature Aesthetic: "Impeccable yet effortless. I love to embrace the event's surroundings, along with the personal style of the client, to design a wedding that feels natural, authentic, beautiful, and inspiring. We love creating and producing bespoke multi-day weddings, taking guests from the first impression at a welcome party through to the farewell brunch. We also specialize in custom activities and excursions throughout a destination wedding weekend, where guests can enjoy a variety of local experiences like wine tasting, kayaking, hiking, bike tours and more."
Weddings of Note: Christy Turlington & Ed Burns, Sofia Coppola & Spike Jonze, Vanessa Jarman & Bill Getty.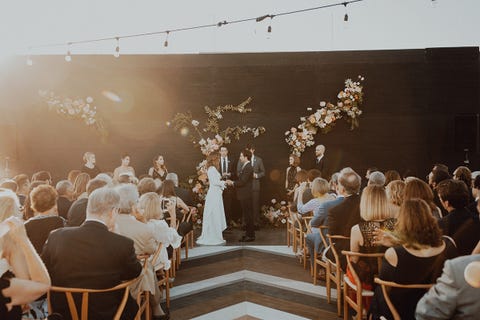 Company Name: Firefly Events
Home Base: Offices in Manhattan, Laguna Beach, Napa, and Jackson Hole.
Dream Client: "Fun and creative! We love clients who are excited about the planning process and willing to think outside the box."
Specialties Include: "Full service planning and design for multi-day events throughout the United States and internationally."
Signature Aesthetic: "Creative elegance. We love creating unique and innovative events that are highly personal and accessible, while still maintaining an elevated level of sophistication."
Weddings of Note: "One of our all-time favorite weddings was a wedding we did at the Yves Saint Laurent villa in Tangier, Morocco. We spent two weeks traveling the country sourcing all the decor pieces from souks and markets to create a truly one of a kind experience for our couple and their guests."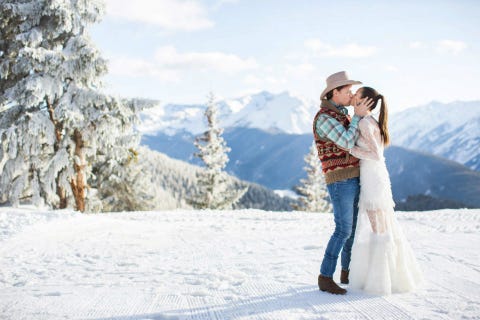 Company Name: David Reinhard Events & Consulting
Home Base: New York, NY
Specialties Include: "Face time, discretion, and privacy. We limit the number of weddings and events we take on each year so we can dedicate the time needed to plan and execute a flawless event."
Signature Aesthetic: "A unique twist on tradition combined with understated elegance. We do not have a planning formula that is applied to each couple. Instead, we ask our clients to think about what they want their guests to say about the wedding at the end of the night."
Dream Client: "Those whose weddings entail complicated logistics, like a venue that has never hosted a wedding, a tent wedding at a private home, or a destination wedding weekend. Our job is to add distinctive details that represent the couple and set their wedding apart."
Brides of Note: Our most notable brides include Dylan Lauren and Bridget Moynahan.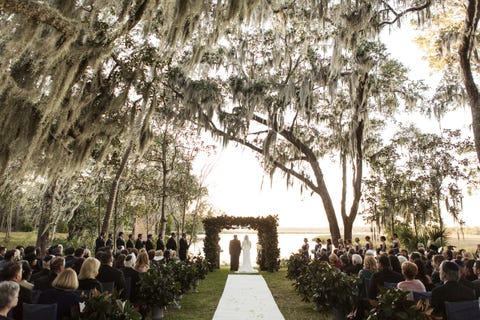 Company Name: Tara Guérard Soirée
Home Base: Charleston, SC and New York, NY
Specialties Include: Full-service event planning and design. Everything from florals to invitation suites is designed in-house.
Dream Client: "We love creating memorable settings for some of life's most anticipated celebrations. Our favorite brides allow us a glimpse into their lives – from their closets to Pinterest pages so we can design every detail with their unique tastes in mind."
Signature Aesthetic: Simple and tailored with an unexpected twist.
Weddings of Note: Blake Lively & Ryan Reynolds, Sanjay Gupta.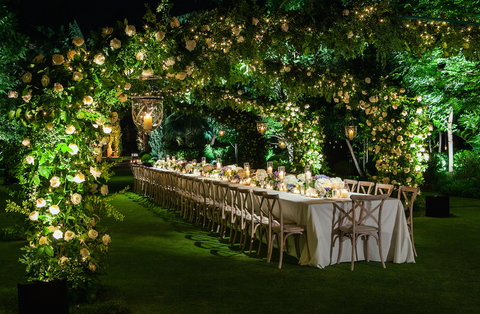 Company Name: Mindy Weiss Party Consultants
Home Base: Los Angeles, CA
Dream Client: "A couple who is creative, excited, and respectful of time. But mostly the dream client is one who is NICE. I love clients who love and value family and want to celebrate with authenticity."
Signature Aesthetic: Vintage romance. "I love the mix of florals and an eclectic use of tableware. I'm a vintage shopper personally so I enjoy mixing old with new and sourcing unique pieces that tell visual stories."
Weddings of Note: Sofia Vergara & Joe Manganiello, Ciara & Russell Wilson, Ellen Degeneres and Portia de Rossi, Jenna Dewan and Channing Tatum, Fergie and Josh Duhamel, The Bachelor and Bachelorette weddings of Trista and Ryan, J.P. and Ashley's, and Sean and Catherine.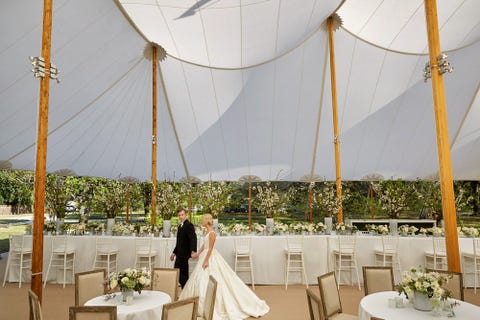 Company Name: Calder Clark
Home Base: Charleston, South Carolina
Specialties Include: "Ground-up build-outs from a blank slate are where we really shine. Our projects are often in the middle of a field with just a magnificent backdrop and nothing else; we tack on a flawless foundation and then layer in moments of sheer beauty and revelry."
Signature Aesthetic: A classic sensibility marked by fresh design theory and tailored lines.
Dream Client: Our best clients know it's not about us, but about them; they allow us to deep dive into their personal stories, excavating for details that will allow for the most experiential, intimate, and magical parties.
Weddings of Note: Our lips are zipped, and we're forever grateful that discerning clients seeking ultimate discretion routinely put us at the helm of their biggest life moments.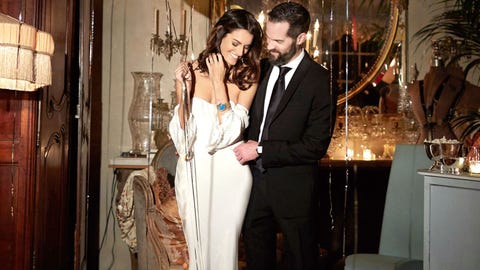 Company Name: In Any Event NY
Home Base: New York, NY & The Hamptons
Dream Client: "Stylish, well-traveled, open-minded, and gracious– with elevated tastes and nothing to prove. My dream client trusts my aesthetics, judgement, and recommendations. They're usually foodies with a great sense of humor and enjoy the journey, sharing interesting tidbits of their lives and relationship which inspire me to craft something uniquely theirs."
Specialties Include: " With a background in interior design, art history, architecture, and product development, I love mixing grand statements with meaningful details. Years of event experience in fashion publishing at Marie Claire and Men's Health helped develop my ability to keep a level head in any scenario and organize large projects with little notice. I pride myself on being approachable and down to Earth, limiting the number of projects In Any Event takes on so that I am accessible to each client, from the first meeting to the last dance and beyond."
Signature Aesthetic: "I never plan the same event twice. In three words: elegant, thoughtful and innovative."
Weddings of Note: "Our clients range from fashionistas to foodies, artists to actors, singers to stock brokers, doctors to directors. Discretion is a virtue.
Fun Facts: Highly recommended by The New York Public Library. Equally comfortable planning a tented celebration at a private residence. Currently planning the first wedding at The Metropolitan Museum of Art in over 30 years.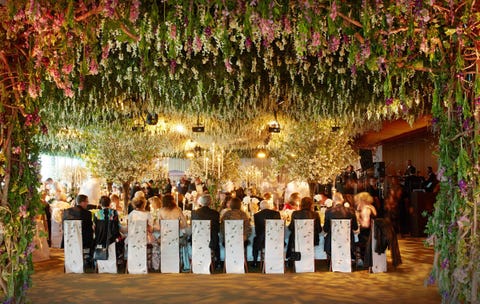 Company Name: FÊTE
Home Base: New York, NY
Specialties Include: "We create extraordinary one-of-a-kind weddings for discerning couples throughout the U.S. and across the globe. Our passion, creativity, and innovation result in weddings that are uniquely tailored to each couple, telling their story in an authentic and cinematic way. Jung Lee and her team conceptualize every decor element, all of which is produced in-house under a careful eye. At the wedding, Fête carefully orchestrates all logistics and the flow, taking guests on a magical journey where the energy builds at each turn, dancing goes late into the evening, and guests never want to leave."
Signature Aesthetic: "We pride ourselves on not having a signature aesthetic. Instead, each event must reflects the client's tastes and lifestyle, and tells their story. We produce events with a narrative flair and exquisite attention to detail. Our signature is to transform our clients' dreams into reality, enhancing and elevating every detail along the way."
Dream Client: "A collaborator who trusts us to be at the helm, and who is open to dreaming up new ideas. He or she wants to create a magical environment rich in details and unexpected moments and values not only the aesthetics of an event, but its spirit as well."
Fun Fact: In addition to planning and design, Jung and her team run the popular Slowdance, which helps couples design beautiful, customized wedding registries.
Weddings of Note: Joseph Altuzarra, Natalie Bulgari, etc.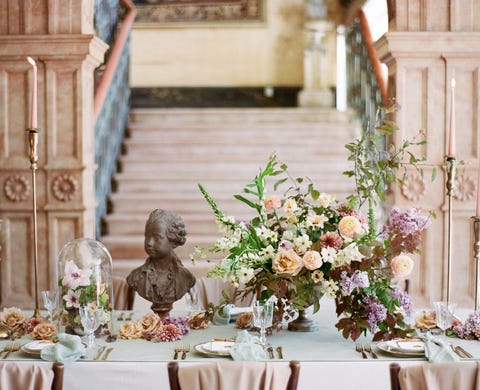 Company Name: Shannon Leahy Events
Home Base: San Francisco, CA
Specialties Include: "Transforming spaces, creative design and custom builds, destination weddings, and private estate weddings."
Signature Aesthetic: "Our weddings are characterized by clean line design, a carefully orchestrated flow, and an incredible attention to every detail. Our designs tend to be elegant, sophisticated, and tailored but ultimately are a reflection of our couples personal style."
Dream Client: "Our clients want something a little different. They want their wedding to be a really fun party while still feeling intimate and chic. A thoughtfully designed space is a priority for them."
Weddings of Note: "There are so many to choose from: a 400 person Masquerade Ball at the Legion of Honor for San Francisco socialites, a wedding with a hanging installation of 50,000 colorful hand-painted paper butterflies for Amy of Amy's Kitchen, an intimate 3-day celebration in the old town of Dubrovnik for a stylish New York couple, and a wedding that we planned in a 3 week sprint from start to finish for a titan of Silicon Valley…the list goes on."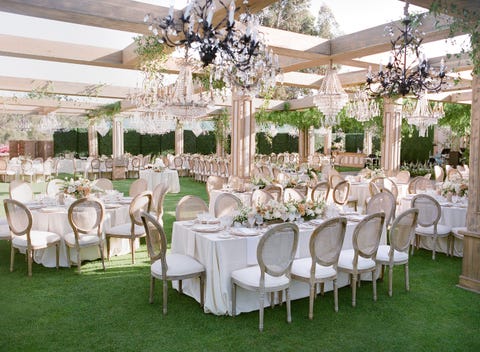 Company Name: Brooke Keegan Special Events
Home Base: Newport Beach, California
Dream Client: "Our dream client loves to travel, experience other cultures, has a keen eye for design, loves fashion, and has impeccable style. They also have an appreciation for an elevated culinary experience. When designing an event, we love when we can collaborate with our clients to create a gorgeous, detail-filled event that will leave a lasting impression."
Your Specialties Include: "Multiple-day destination events that each have their own distinct style and personality. We thrive on creating an unforgettable guest experience!"
Signature Aesthetic: "We like to take a residential approach to our style and design. We love our clients and their guests to feel like they are at a finely curated and detailed dinner party at their home."
Weddings of Note: Florida Georgia Line's Tyler Hubbard and Hayley Stommel, Laker's Head Coach Luke Walton and Bre Ladd, WNBA 3xMVP Diana Taurasi and Penny Taylor.
Fun Fact: "In addition to planning weddings and events, I am on the Advisory Team for The Birthday Party Project, an organization that throws monthly birthday parties for homeless children across the country!"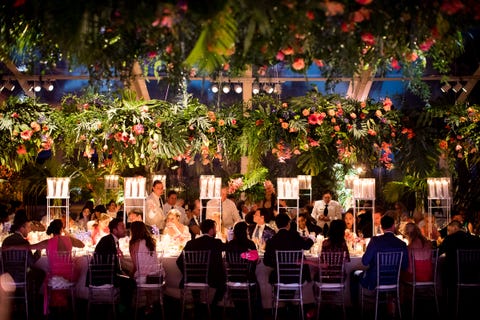 Company Name: Lindsay Landman Events
Home Base: New York City
Dream Client: "Our dream client is one who values the depth of thought we put into each element of an event and who trusts our process of discovery and delivery. We love collaborating with fellow foodies and urbanites who enjoy entertaining and being entertained."
Specialties Include: "We produce meaningful experiences in unforgettable environments. Innovative details and intricate designs are imperative, of course, however I believe our specialty is truly the holistic approach to design that values beautiful things and beautiful moments with equal measure."
Signature Aesthetic: "Regardless of the formality of a wedding, its location in a ballroom or on a beach or the colors and textures in play, our signature aesthetic is rooted in the polished touch we add to elevate each element."
Weddings of Note: "Our clients are stars in the fields of medicine, law, finance, real estate and the arts…and we'll never plan and tell!"
Fun Fact: "We have a full-service floral design and production studio and graphic design studio in-house, allowing us the ability to bring every event design from rendering to reality, all under one roof. "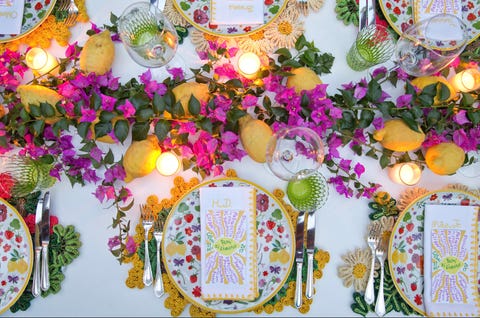 Company Name: Sugokuii Events; A Japanese magazine reviewed one of our earliest events as "sugokuii" which means super cool in Japanese–the name stuck!
Home Base: Summer on the Island of Capri, Italy with a main design office in Rome. In the winter, St. Barth & New York City.
Dream Client: Our dream client is enthusiastic, trusting, present and wanting to do an outside-the-box wedding in Italy.
Specialties Include: Designing non-traditional, stylish, and very detailed weddings in off the radar & unique location, specializing in South Italy: Capri, Positano, Ravello, Puglia & Sicily. We are known for our emphasis in celebrating, emphasizing, and sourcing from Italian artisans in unique tablescapes, creative floral design, fun food and beverage details, and custom-designed decor.
Signature Aesthetic: Clients once described a Sugokuii event as "unique, Italian chic, unusually detailed, blending naturally into the location, and impressive–without ever looking over the top."
Weddings of Note: Bumble founder Whitney Wolfe Herd & Michael Herd, Fei Chang & Lincoln Li, Erica Pelosini & Louis Leeman, and more.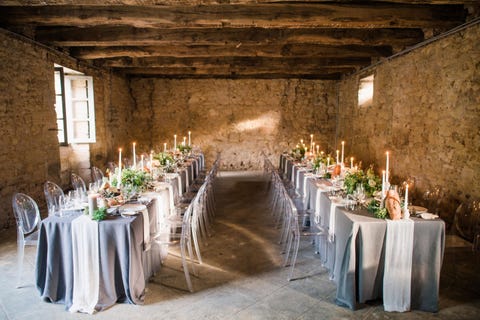 Company Name: Sinclair & Moore
Home Base: Seattle, WA
Specialties Include: "We are a wedding coordination and event design firm that also creates all floral design in house. We have a background in wedding gown design and construction as well as wedding cake artistry." A husband and wife team themselves, co-founder Steve Moore takes the lead on event and floral design, while his wife and partner, Jaime Sinclair, handles event logistics and planning.
Dream Client: "Our dream client appreciates beauty, is drawn to timeless romantic design and knows the importance of celebrating life's greatest moments–and loves throwing a fantastic party for their loved ones."
Signature Aesthetic: "Classic, timeless, romantic and organically lush– all the while retaining a refined simplicity."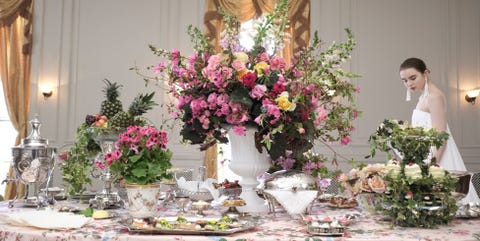 Company Name: Rebecca Gardner
Home Base: "We have offices in New York and Savannah, and we work around the globe."
Specialties Include: "I like to turn tradition on it's head with jolts of irreverence and unexpected delights."
Signature Aesthetic: "I design events that have flattering light, strong drinks, peel-me-off-the-dance-floor-music and unusual and soft environmental installation. The creative always outweighs the ostentatious."
Dream Client: "My dream client is a bride with classic good taste and the confidence to do something unique. She realizes that being a gracious host has little to do with tablecloths and flowers."
Clients Include: Lauren Santo Domingo, Candice Bergen, Derek Blasberg, Carolina Herrera and Moda Operandi.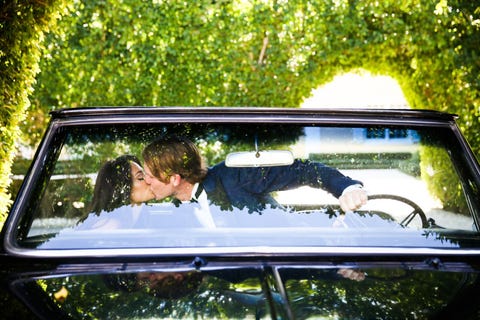 Company Name: JZ Events
Home Base: New York, NY
Dream Client: "A trendsetting couple who exudes confidence, appreciates style and design, and loves to collaborate."
Specialties Include: "Many of our weddings are multi-day affairs, inclusive of welcome parties, rehearsal dinners, post-wedding brunches and more. We curate every detail for our clients, from personalized welcome gifts and turndowns, to immersive and custom event experiences. We plan weddings anywhere from our clients' backyards to exotic locales abroad. We also have expertise planning weddings in buildings and museums of historical significance, island destinations with complex logistics and even places so remote that helicopters are a necessity!"
Signature Aesthetic: "My style is modern and chic with touches of refinement and luxury. A high-end twist on tradition."
Weddings of Note: Serena Williams and Alexis Ohanian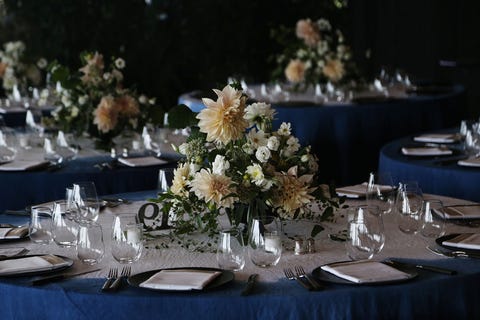 Company Name: Duke + Van Deusen Events
Home Base: The Hamptons, NY
Dream Client: "We love clients who are open to true collaboration. Our favorite couples challenge us to bring their personal style to life through artistic details, without losing site of the understated, elegant aesthetic that makes the Eastern End so special. We can do traditional nuptial bliss with our eyes closed, but the most exciting clients come to us with a challenge to make something amazing happen."
Specialties Include: "Though we produce events in New York City and beyond, the Hamptons is our home and our specialty. We style full wedding weekends that bring out the best in both our clients and the location. We have access to the most exclusive sites on the East End, both public and private, and have the ability to transform lesser known, hidden gems and tailor each occasion to the client."
Signature Aesthetic: "Each of our events is truly unique, but there is definitely an underlying sophistication to our work, inspired by our clients. We are lucky to work with the kind of forward-thinking style makers that allow us to redefine traditional notions of what a wedding should be."
Weddings of Note: "Most recently, Jonathan Simkhai and TJ Allers' wedding in Bridgehampton and Nev Schulman and Laura Perlongo's beach party celebration in East Hampton."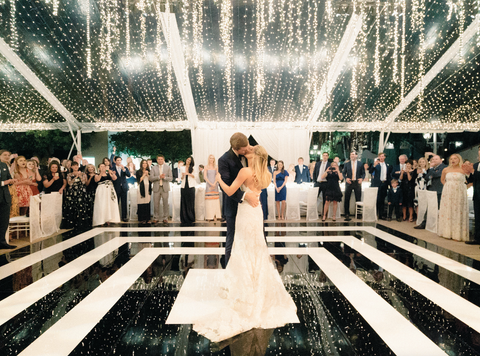 Company Name: Beth Helmstetter Events
Home Base: Los Angeles, CA
Specialties Include: Multi-day destination weddings, from France to Bali and beautiful locations throughout the United States.
Signature Aesthetic: "Warm, approachable, refined yet effortless; we produce celebrations that are a reflection of our client's authentic style in a way that feels intimate and engaging for every guest. "
Weddings of Note: A festive Palm Springs celebration for Orange is the New Black's Samira Wiley & Lauren Morelli.
Fun Fact: "I'm the founder of The Good Beginning, an online charitable donation registry where couples can invite their guests to join them in supporting a cause that is meaningful to them, from supporting a local animal shelter to global education and women's rights. It's an incredibly humbling venture."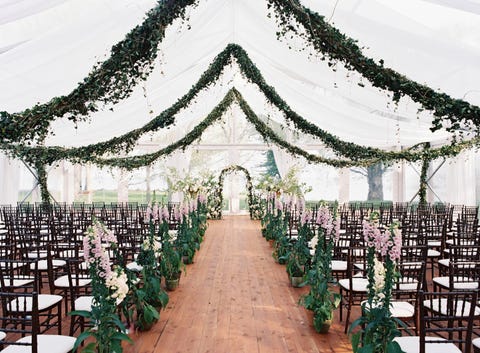 Company Name: Alison & Bryan
Home Base: Los Angeles, CA and Detroit, MI
Specialties Include: "We are a husband and wife team producing custom weddings around the globe. We have a genuine passion for creating experiences that showcase who our clients are and what they love about life and each other."
Dream Client: "We get excited when people aren't afraid to think outside the box and take risks. Our clients are well-traveled, adventurous, and accomplished. They recognize their wedding as an opportunity to create the experience of a lifetime with the people they love, and they trust us to make it happen for them."
Signature Aesthetic: "Polished and elegant, but with authenticity and warmth. As event producers and designers, we value seamlessness and cohesiveness, but we are always looking to go beyond that and do something unexpected and fun. Whether it's a gospel choir leading guests through a forest en route to dinner at a ski lodge from someone's childhood, a garden party with Mariachi and Casamigos at a hacienda in San Miguel, or a four-day weekend experience at a villa overlooking Positano, we love using destinations and environment as inspiration and tend to forgo trends in exchange for something personal and memorable."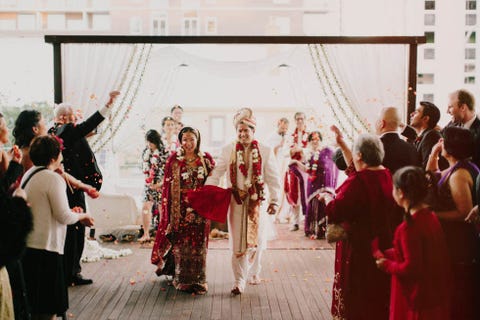 Company Name: The Nouveau Romantics
Home Base: Austin, TX, with offices in New York, NY and Los Angeles, CA and operations globally.
Specialties Include: "We have extensive experience planning outdoor weddings on private properties–we're pros at anticipating weather needs and creating seamless options that take advantage of the best parts of the property. We also house planning, event design, stationary, and floral design under one roof, creating a cohesive visual experience for our clients and their guests."
Dream Client: "Well-travelled, busy, career-oriented couples who value beautiful design, a collaborative working relationship, and want to throw an amazing party!"
Signature Aesthetic: "A playful composition of opposites: wild yet refined, baroque meets restrained minimalism. We're big on layering, allowing simplicity to speak first, and then picking key elements that make a statement in the guests experience. Finally, we're always thinking about how the guests experience unfolds–from the invitations, to waiters with snacks upon arrival and how a tent entrance framed with a wall of candles feels as guests approach it. We carefully think through all the details, down to the late night hotel snacks for guests at the end of the night."
Weddings of Note: The wedding of Martha Stewart's niece, Kristina Christiansen to Barrett Miningham at Martha's Bedford Estate.
Source: Read Full Article