Whenever I go out for ice cream, it is inevitable that I will choose one of two flavors: Candy cane (if it's available, which it often isn't), or chocolate chip cookie dough. My decision-making process is about to get a lot more fraught, however, because three new cookie dough ice cream flavors from Ben & Jerry's just hit the scene. Available exclusively at Ben & Jerry's Scoop Shops, Chip Off The Dough Block, PB Doughble Chocolate, and CinnDoughRella up the cookie dough ice cream game in a major way — and honestly, I don't think my sundaes will ever be the same. (Or my Sundays. Nothing beats a sundae on a Sunday, especially when it's 90 freaking degrees out, which it is going to be where I live this week. Summer came early, and I am not ready for it.)
So, uh, fun fact that I did not know until about five minutes ago: Ben & Jerry's is actually credited with inventing — or at least popularizing — cookie dough ice cream. That doesn't necessarily mean that others hadn't thought of it previously; as Alexandra Penfold wrote for Serious Eats back in 2012, "Chocolate chip cookie dough ice cream was reputedly invented by Ben & Jerry's … but it might as well have been invented by my cousin Kate. Five years older than me, Cousin Kate was always a life stage ahead of me and the epitome of cool. She introduced me to cookie dough ice cream and it was love at first scoop." Generally, though, Ben & Jerry's take on it is said to be the one that reportedly launched it into the mainstream.
According to the ice cream company's lore, the idea of adding chocolate chip cookie to dough to vanilla ice cream was first suggested by an "anonymous fan" almost 35 years ago. The very first Ben & Jerry's Scoop Shop in Burlington, Vt. featured a bulletin board that allowed customers to offer up their own ideas for flavors the shop could make. In 1984, someone pinned what became Chocolate Chip Cookie Dough Ice Cream to the board — and it was an immediate hit at the Scoop Shop. The beloved pint hit grocery store shelves in 1991, and the rest, as they say, is… well, you know how it goes.
(For the curious, the actual cookie dough that goes into the ice cream is made by Rhino Foods; apparently, they make around 55,000 pounds of the stuff every day.)
Given that the OG cookie dough ice cream was originally a shop specialty, it makes a certain amount of sense that the three new flavors are exclusive to Scoop Shops nationwide. And oh, what flavors they are! If you thought Chocolate Chip Cookie Dough Ice Cream was decadent enough all on its own, these new options might give you heart palpitations. Chip Off The Dough Block features chocolate chip and chocolate ice creams with both chocolate chip cookie dough bits and chocolate chip cookies; PB Doughble Chocolate involves dark and milk chocolate ice creams, peanut butter cookie dough, and swirls of peanut butter cookie butter (yes, cookie butter); and CinnDoughRella takes cinnamon and caramel ice creams and adds cinnamon bun dough, shortbread cookies, and oatmeal cinnamon cookie swirls.
Be still, my baked good-loving heart.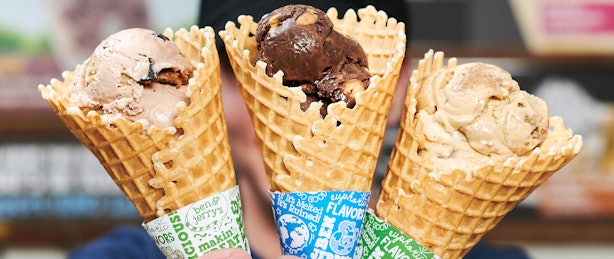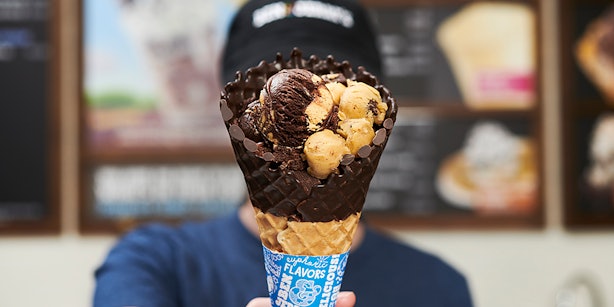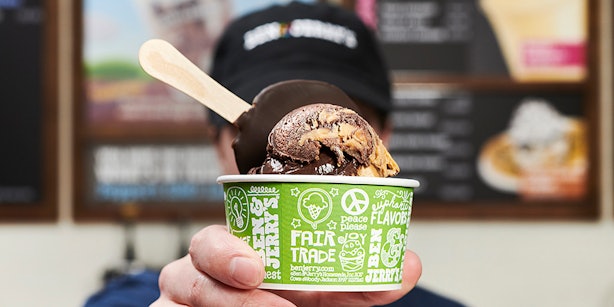 To sum up my innermost feelings right now:
Now, the thing about all of these treats — the new flavors, the sundae, the waffle cone, the chocolate-dipped cookie dough pop — is that you can't get 'em from your local grocery store; you do need to go to an actual Ben & Jerry's Scoop Shop to find them. The good news, though, is that Scoop Shops are easily located: Just head here, make sure you've got the "Scoop Shop" tab selected, and then type in your ZIP code. If there's a Scoop Shop near you, the Ben & Jerry's ice cream locator will tell you exactly where it is.
Godspeed, my friends. May the cookie dough odds be ever in your favor.
Source: Read Full Article