Joel Schumacher's 1987 cult classic gave vampires a cool-dude makeover for the new millennium and (maybe unintentionally) provided as many laughs as scares.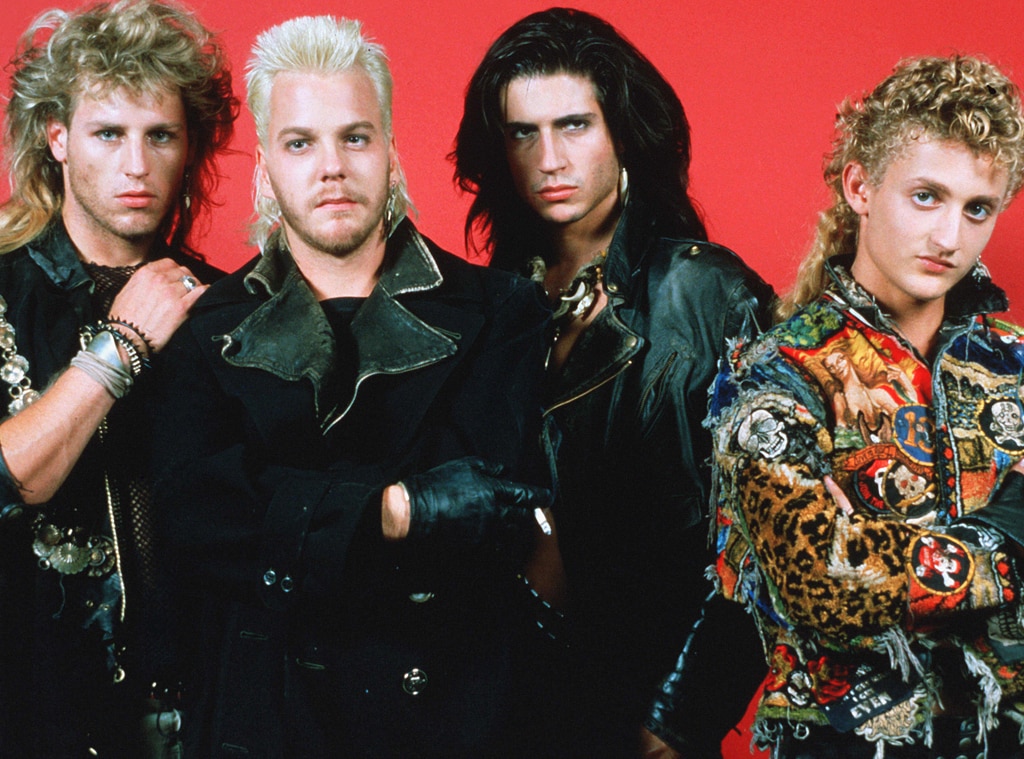 What's more traumatizing for a teenage boy than having to pack up his life and move to a new town with his brother and newly divorced mom?
Nothing, other than the local gang initiation. Which, in Santa Carla, may just involve drinking blood.
Though we're awash in vampire and other creature-centric entertainment nowadays, when it came out 33 years ago The Lost Boys was one of the earliest movies to update the centuries-old story of fanged immortals lusting for blood in the night for the high school set, taking youth culture classics like Rebel Without a Cause and The Outsiders and adding a dose of Dracula
"It was impossible to see it working," Alex Winter, who played mullet-rocking vampire Marko, recalled his initial reaction to the idea in an interview for the 2019 documentary In Search of Darkness. "Let's take all of these standard rules of vampire lore and let's squeeze them through almost like a big, gaudy '80s teen sex comedy—or sex drama, right? And I was like, 'that's going to not work in spades.'"
Winter was as delighted as anybody to be wrong.
The Lost Boys may not have ended up being the movie it was originally intended to be, but it turned out to be the perfect summer movie all the same—funny, scary, campy and set in a beachside town—and ended up with the box office numbers to show for it.
"It was only my fourth film," director Joel Schumacher, who was previously best known for making St. Elmo's Fire, told the Santa Cruz Sentinel in 2010. "I didn't know it was going to be successful and I didn't know if I would have a career."
As it turned out, he had a hell of a career, and countless actors he worked with over the years have credited him for helping launch their careers, as well. But not all of them had teeth like this one.
1. The movie's title comes from the Lost Boys in Peter Pan, the kids who never grow up on the island of Neverland. The original story was lighter in tone, Peter Pan with vampire kids, and Richard Donner of Superman and The Goonies fame was planning to direct. He eventually left the project to go direct Lethal Weapon, but stayed on as an executive producer.
Enter Joel Schumacher, who had just had a hit with the R-rated Brat Pack romance St. Elmo's Fire (which is classically campy in its own way). He decided he wanted to do a darker, more subversive film. (And Easter egg alert: There's a Rob Lowe poster in Sam Emerson's room.)
2. Santa Cruz, Calif., with its signature shoreline and Giant Dipper roller coaster, stood in for the scrappy beachfront town of "Santa Carla," where Lucy Emerson moves with her sons Michael and Sam to get a fresh start after her divorce. Alas, there was no Internet at the time to warn her of the city's rampant vampire problem.
"The movie didn't come together until I saw it," Schumacher told the Santa Cruz Sentinel in 2010. "At the time there was an enormous amount of transient kids moving through Santa Cruz. This is exactly where I would come if I was a teenage vampire."
Carl Henn, the maintenance director at the Santa Cruz Boardwalk, was on hand for most of the shoot and sometimes helped out the crew. "We would sit for three hours to shoot a two-minute scene," he said. "It was very interesting to see how they put that together."
3. Interestingly, the idea of filming in Santa Cruz didn't appeal at first to local officials, who were concerned about being further associated with mayhem and bloodshed after the release of the violent Dirty Harry sequel Sudden Impact (set in fictional San Paulo, which was actually Santa Cruz). That, and between 1970 and 1973 the Northern California city known for its laid-back vibe was terrorized by two serial killers and a mass murderer, prompting the media to dub it, however briefly, "the murder capital of the world."
But once city leaders read the screenplay (by Janice Fischer, James Jeremias and Jeffrey Boam), they appreciated what the writers were going for and were delighted to have Santa Cruz further immortalized by The Lost Boys. They even celebrated the film's 30th anniversary in 2017 with a screening on the boardwalk and a special on garlic fries.
4. "I had one of the greatest casts in the world," Schumacher said fondly in the 2004 making-of featurette "The Lost Boys: A Retrospective." "Most of the young people were relatively unknown. Marion Dougherty was the casting director and we must have met—I can't tell you how many kids we met…When you're working with newcomers, you see everybody.
"Billy Wirth [vampire Dwayne] was a model in New York. Brooke McCarter [vampire Paul] was just starting out. Alex Winter had just graduated from film school at NYU. He was the youngest. Well, except for Chance, the little vampire." (Chance Michael Corbitt, who played Laddie, was 10.)
5. Schumacher saw 20-year-old, dark-haired Kiefer Sutherland in the 1986 crime drama At Close Range—barely, as it was in a small role that Kiefer's pal Sean Penn helped him get. It was a close-up at the end of the movie, Sutherland remembered in 2004's "The Lost Boys: A Retrospective," that caught the director's eye for the role of platinum-haired vampire David, the ringleader of the group.
"He can do almost anything," Schumacher said in the documentary. "He's a born character actor and he was at 18. And you can see it in Lost Boys. He has the least amount of dialogue of anyone in the movie, but his presence is extraordinary."
And, coincidentally, Sutherland had just finished terrorizing Corey Feldman as juvenile delinquent bully Ace in Stand by Me.
6. Jason Patric said no.
"There was absolutely no one with those looks and that talent at 18 right at that moment, absolutely no one, and he didn't want to do the movie…he was afraid it was going to be an exploitation horror movie," Schumacher recalled in "The Lost Boys: A Retrospective." "…And I understood that, but fortunately after six weeks [of trying to talk him into it] he said yes. I really had no second choice."
The teen was appropriately dashing as Santa Carla newcomer Michael Emerson, an otherwise responsible son and big brother who just gets, um, sucked into a dangerous situation.
And since the movie revolves around Michael's battle for his mortal soul, "Michael" is the most-uttered name in the movie at more than 100 times in 97 minutes, according to Looper's 2017 short "The Truth About The Lost Boys." That's more than one "Michael!" a minute.
7. Richard Donner had directed Corey Feldman in The Goonies and invited him to meet with Schumacher about The Lost Boys. And when he did, the director gave Feldman a little homework to get the right feel for super-serious vampire hunter Edgar Frog: rent Sylvester Stallone and Chuck Norris movies, and think Rambo.
"'That is your character. I want you to meld all of these guys together and make something out of it,'" Feldman recalled the director telling him. "So that's what I did."
Jamison Newlander, who played Edgar's equally serious brother, Alan, had first encountered Schumacher when the director spoke in his acting class, so he was able to draw on that a bit when he went to the audition.
"The Frog brothers will always remain two of my favorite characters from any of my movies," Schumacher said in the making-of featurette. "You wish you knew them. They're singularly focused."
Corey Haim, fresh from breaking out as a sweet, bullied nerd in Lucas (and who had already starred in a werewolf movie called Silver Bullet), got the call to go down to Warner Bros. to meet Schumacher—and as soon as the director saw him, Haim recalled, "he said, 'Hey, Sam.'"
Sam being Sam Emerson, Michael's younger brother who thankfully happens to make friends with the town's friendly neighborhood vampire hunters, who are raring to help Sam save Michael from David's clutches.
8. Unless he was just making a very specific cultural reference, a 21-year-old Ben Stiller was among the many young up-and-comers angling to be one of the Boys.
"The last time I saw a room full of so many talented faces was when I auditioned for The Lost Boys…it was between me, and Kiefer, and the two Coreys," he quipped at the 2010 HollywoodLife Young Hollywood Awards.
He didn't get that part, if indeed he tried out, but he did salvage his 1987 with a small role in Steven Spielberg's Empire of the Sun.
9. Schumacher said that he originally pictured Starr as a "little blond waif" with a pixie cut who lived on the beach with Laddie, but none of the girls who auditioned were right. Jason Patric, however, had just done a play with Jami Gertz and encouraged the director to meet with her. "I will be forever grateful to this day that he did," Schumacher said.
So Starr was re-envisioned as a gorgeous brunette who is seemingly paired off for eternity with David, but who really just wants to be Michael's normal human girlfriend.
10. During a freezing cold night shoot at the train trestle bridge, where the vampires literally hang out, Schumacher realized something. He remembered it occurring to him that "vampires only come out at night. We have a lot of nights ahead of us."
11. The actors have said that Joel Schumacher created a safe, comfortable set for his young cast and really looked out for them—as much as he possibly could. 
Because when they had free time, the metaphorical fangs came out. It was your typical "excessive '80s movie set," Winter recalled in In Search of Darkness. "Everything was in full excessive bloom."
And they actually lived like vampires. "We would go to bed in the morning and get up at night," he said, "and we'd have blankets taped over our windows and we were treated like rock stars by the town, so we got up to a lot of trouble."
Gertz acknowledged that some shenanigans occurred. "We were young," she told The Hollywood Reporter in 2018. "It got wild on set."
12. Winter, a former child actor and Broadway veteran who had two more big-screen hits with Bill and Ted's Excellent Adventure and Bill and Ted's Bogus Journey, decided to trade in acting for directing in the 1990s. His latest project is the HBO documentary Showbiz Kids, a topic Winter felt that he could tackle with particular insight.
"Even though I stopped acting full-time when I was about 17, in order to go to film school, I was acting all through film school, doing voice-overs and commercials and some TV," the father of two, who will be onscreen again in the years-in-the-making Bill and Ted Face the Music, told Mel Magazine recently. "I still had my managers and my agents, and I was chugging along, chugging along, chugging along. At 25, 26 years old, I really wasn't burned out, but I had just been at it too long, and I had too many internal questions about who I was actually supposed to be. I knew that if I didn't leave my environment and I just kept all of these mechanisms in place, I'd never stop—and if I didn't stop then, I knew I was going to fry my circuitry."
13. Corey Feldman, who was only 14 but was already starting to use drugs, had a mixed experience. "We had such a great time here," he told the Santa Cruz Sentinel in 2010. "Being kids and having the opportunity to be at the Boardwalk every day, getting to ride on the Giant Dipper and being at the beach, it was such a fun experience."
At the same time, "That summer was the boiling point," Feldman added. "I was taking the step from being a kid to growing up to be an adult."
In 2004, he remembered it as "the most painful" movie in his career to get through. "It was probably pretty parallel with what I was going through in my life at the time," Feldman said, "and I think that probably has a lot to do with it. I was obviously coming of age, becoming a young adult, very unsure of where I was going with my career as an actor, as a human being, as an individual—so many things up in the air. And I was also going through a lot of personal change. Jut because I had a hard time getting through it doesn't mean that it wasn't worth it, because I do believe that you pay a price for art."
14. The comic book shop owned by the Frog brothers' hippie burnout parents, where Sam Emerson first meets aspiring vampire slayers Edgar and Alan Frog, is actually Atlantis Fantasyworld Comic Book Shop, which remains open on Cedar Street (downtown, not on the boardwalk as it appears to be in the film) to this day. 
Owner Joe Ferrara auditioned to play the shop owner in the film, but apparently he "didn't look burned out enough," he joked to the Santa Cruz Sentinel in 2010. Ferrara did end up as an extra in the arcade. "They were very gracious to include us [locals]," he said.
15. Schumacher wanted Oscar winner Dianne Wiest and no one else to play Michael and Sam's mom, Lucy, but he figured it was a "pipe dream," he said in Lost Boys: A Retrospective. "I couldn't believe when she said yes."
16. Schumacher had also always been a fan of Edward Hermann, the famed character actor (and future Gilmore Girls grandpa) who played video store owner and secret monster Max.
"I was approached with the script and I read it and thought it was great," Hermann recalled. "You know, anything to get out of a suit and stop playing historical characters." 
Well, there was a little bit of suit-wearing, but more surf-town hipster than Franklin Roosevelt style. "I never thought that I would be able to play a sexy guy like this," he continued. "He has one foot in the real world, our world, and one foot in his own."
17. Hermann thought of Max as "domestic," a character who wants to build something for his family. Unfortunately, his master plan includes turning Lucy so she can be the mama to all of the vampire "boys," so he must be stopped.
18. The Lost Boys marked the beginning of "the two Coreys," both their multi-film collaboration and off-screen friendship.
"I was told after I had gotten the job that Corey Haim was going to be playing the other lead character," Feldman told PR.com in 2008. "I had heard his name through the press as an up-and-coming actor. He called me up one day and said, 'Hey, it's Corey Haim. I hear we're shooting this movie together. Let's get together and play football.' 
"So Corey and I went down to Venice Beach with our fathers and we had a bit of a game of football. Whether it be coincidence or some master plan from the studio system, we ended up doing three films back to back. After doing three movies together and this whole 'Coreymania' thing as they were calling it, and all the madness and teen stardom, we basically got labeled as the same person."
In an interview with CNN, Haim agreed that the two Coreys were meant to be buds. "We just clicked," he said.
19. Gertz was another queen bee of the '80s in films such as Sixteen Candles, Less Than Zero and the shows Square Pegs and Facts of Life. She continued to act, most recently showing up in an episode of Difficult People in 2017, but now she and her financier husband, Tony Ressler, are running a business—the Atlanta Hawks. The couple bought the NBA team for $720 million in 2015.
"It's not your everyday Hollywood actress tale," Gertz admitted to The Hollywood Reporter in 2018. Rather, she met Ressler all the way back in 1986 when she was 21 and he was about 28. The first time he sent her roses, he sent them to the dressing room of the little theater in L.A. where she was performing in a play with Jason Patric (they also co-starred in Solarbabies, his one movie before Lost Boys). "All I knew was that she was a working actress," Ressler said. "I didn't know [what she'd been in]."
20. Jason Patric, appearing in only his second film, was already Hollywood royalty. His father, Jason Miller, was nominated for an Oscar for his performance as faith-tested Father Damien in the 1973 classic The Exorcist, and his maternal grandfather was comic legend Jackie Gleason.
Patric's parents divorced when he was around 7, after which his father wasn't around much, and their relationship never fully recovered before Miller's death in 2001 at the age of 62. But when Patric starred in a 2011 production of That Championship Season, which his father wrote and won a Tony and a Pulitzer Prize for in 1973, he kept his dad's ashes in a silver urn in a cupboard on the set.
"I do have his ashes up there," Patric told the Los Angeles Times. "I thought the old man should be up there with us."
Asked if he had forgiven his father, the actor replied thoughtfully, "Have I forgiven him? I don't know. I feel in some ways, when I'm doing this, I'm in communion with him, opening up to that vulnerability, that wound. I wouldn't want it to be as facile as, when this is done, all is forgiven. It's more of a communion with the old man."
21. Gerard McMann (real name Gerard McMahon, aka G Tom Mac) hadn't seen the movie when he wrote the spot-on lyrics to the movie's haunting theme song, "Cry Little Sister," which plays over the opening credits. "Thou…shall not fall…Thou…shall not die…"
Shudder.
"I had gotten a call from Gary LeMel, President of Music at the Warner Bros. film studio, asking me if I'd be interested in writing a theme song for this new vampire movie being directed by Joel Schumacher," McMann recalled to Kickin' It Old School in 2013. "They were already shooting the film at the time, so they sent me a script to read. Up to that point I'd always looked at a cut of the film before I'd write the music, but as it turned out I got inspired by reading the script and the events in my own life and wrote the song. The co-writer, jazz musician Michael Mainieri, came up with that beat and we were off!
By events in his own life, he meant, "I certainly did have an emotional connection, as New York City where I was living at the time was in bad shape, much a Gotham-like vampire place in very dark times. The song was brewing in my head with the choir as a chorus backing me. That all seemed to come within half an hour."
When he was finished, Schumacher called him and told him he'd nailed it. "I didn't want the song to be specific to the vampire," McMann said. "I wanted it to be about the longing for family from a rejected youth's perspective, which I went through myself and that many of us have felt. Knowing much about the origin of vampires, they're a lonely yet lusty sexual being that mortality leaves in a world hunting in their loneliness. That's what The Lost Boys spoke to me; youth gone rebel-without-a-cause, with a great deal of angst and sexual lure."
22. Kiefer Sutherland and Jason Patric, both sons of accomplished actors, got along great on set, but apparently didn't have time to go over the bro code together.
In 1991, Sutherland was engaged to his Flatliners co-star Julia Roberts—until all of a sudden one day he wasn't.
"I wasn't ready to get married and I don't think Kiefer was either," Roberts said in a 1997 interview. "I talked it over with my mom and some close friends and I knew I had to stop it. The hardest part was telling Kiefer. It was heartbreaking but it's best to face up to the truth before the actual marriage than to wait until it's too late and you've made a mistake. I decided I was rushing things. I knew I wasn't ready." Reflecting on that tumultuous time years later, Sutherland agreed that Roberts did the right thing.
It was the premiere scandal of the year, made all the more shocking because, seemingly just days after calling off her wedding, Roberts was already dating Jason Patric. But it wasn't like that, Patric has since insisted.
"All that stuff is made up, if you even go back there to all the archives you're never gonna see any comment by me," Patric told Vulture in 2011, when he and Sutherland had reunited to star in That Championship Season together (after not seeing each other for 20 years).
He continued, "I don't give quotes about anything…Obviously people are gonna ask. They had a relationship that ended and I was with her for a little while and it ended. They've both been subsequently married several times and I think they're fine. But we never had any issue, even back then."
Patric said he and Sutherland could laugh about it by then because the tabloids were so ridiculous. "We had drinks last night and he said that was one of the best summers of his life when we did Lost Boys," the actor said. "Twenty-five years ago. This project, there's something very circular about it and the whole idea of it and life. Talk about it being half time and looking back over your life, well, all of a sudden this piece of material, which is great, I can see in a uniquely new way, because it's presented by all these people and wow, 25, a quarter-century later there's Kiefer, and now he's playing my brother. Something interesting about it as far as the cosmos go."
Better yet, Patric and Sutherland stayed close once they'd rekindled their friendship. "It's just nice that all those years later I'm still very good friends with Jami Gertz, very good friends with Kiefer," Patric said at Wondercon in 2017, "and it was a special time. And I'm sure at the time we didn't realize it much." The buddies of three decades also appeared on a Lost Boys panel together at Fan Expo Dallas in 2019.
23. Yes, Joss Whedon was totally inspired by The Lost Boys when it came time to bring the Buffyverse to life.
He particularly appreciated the way in which those punk-rock-styled vampires would look like people and then, in a blink, look like monsters. "…That was very useful for us," Whedon told Salon in 2003. "You could have somebody fool you, or someone like Angel seem like he's not a vampire and then he is one. You make up rules that you need and then jettison the ones you don't."
In James Marsters' Spike, "there's a little Billy Idol, a little Kiefer Sutherland in The Lost Boys, and every guy in a black coat," Whedon told Entertainment Weekly.
24. Joel Schumacher told Rotten Tomatoes in 2007 that he was not involved in any sequel and not particularly into the idea of one at all.
"I told them to do Lost Girls and not do Lost Boys Sequel," said the director, whose later films included Batman Forever, A Time to Kill and The Phantom of the Opera. "There is no Lost Boys sequel. All the [Lost] boys are dead…The Coreys are too old. So what would be the movie? You'd have to make up a whole new set of characters."
That didn't stop the Coreys from appearing in Lost Boys: The Tribe. And though Kiefer Sutherland's David ended up impaled on a pair of antlers, half-brother Angus Sutherland led the new pack as head vamp Shane Powers. 
"They did a great bit of back story, connecting the dots between the first and the second, through the comic book series which was released through DC Comics," Feldman talked up the first sequel to PR.com in 2008. "It tells the story of what happens to me and my brother between the two films." He and Jamison Newlander also appeared in 2010's Lost Boys: The Thirst.
Trending Stories
Ellen DeGeneres Discusses Workplace Complaints in Letter to Her Staff
Taylor Swift Responds to Accusations of "Stealing" Her folklore Logo
MasterChef Junior's Ben Watkins Diagnosed With Rare Tumor
Schumacher died of cancer in June at the age of 80, and a parade of actors paid tribute to the filmmaker online and in interviews, recalling his talent, his creativity and his generous heart.
 "Joel was a genius visionary that I had the great pleasure of creating Edgar Frog for," Feldman told Syfy Wire. "It was his vision of a badass teen vampire hunter, which quickly became my most memorable franchised character out of all that I have portrayed. Joel saw so much potential in me as an actor, that he took the personal time to help guide me through the very tumultuous times I experienced on and off the set of The Lost Boys, as he was a sober person who could see the signs of the potential danger that lay ahead for both myself and [Corey Haim, who died in 2010]."
Kiefer Sutherland tweeted, "His joy, spirit, and talent will live on in my heart and memory for the rest of my life. Joel gave me opportunities and lifelong lessons, making films such as The Lost Boys, Flatliners, A Time to Kill, and Phone Booth. His mark on modern culture and film will live on forever. I will miss you, my friend."
And Alex Winter told Mel Magazine, "I saw Joel not that long ago—we were always really happy to see each other when I saw him—and I gave him a hug. And it was so funny, because I felt like I was 19 again. He has such a parental quality—I was in my 40s or early 50s, and I was like, 'God, I just feel like a little kid around him.' But it was in a sweet way—the way you would around a family member that you care about. He had a lot of impact on me."
Sounds like a legacy that will live forever.
Source: Read Full Article