Han Solo isn't the only Star Wars character getting his own movie. The Hollywood Reporter revealed Thursday, May 24 that a Boba Fett Star Wars spinoff movie is reportedly in the works. According to THR, James Mangold, who directed and co-wrote Logan, will reportedly write and direct the spinoff. (Mangold's reps declined to comment. Bustle reached out to Disney and Lucasfilm regarding the report, but has not year received a response.)
In addition to Logan, Mangold's directing credits include The Wolverine, 3:10 to Yuma, Walk the Line, and Kate & Leopold. The new movie shouldn't come as a huge surprise, considering the amount of fan anticipation there's been for Solo: A Star Wars Story. And Rogue One: A Star Wars Story, the first Star Wars spinoff, earned $1,056,057,273 worldwide, so it's no surprise that producers would want to continue that success with more movies, if the Boba Fett movie is indeed in the works.
As THR pointed out, Boba Fett had surprisingly little screen time in the original Star Wars movies, despite being a cult-favorite character. The bounty hunter appeared in 1980's Empire Strikes Back, as well as 1983's Return of the Jedi. (Boba Fett also made his first appearance in the Star Wars Holiday Special.) Still, fans loved the character, who fell into the Sarlacc Pit.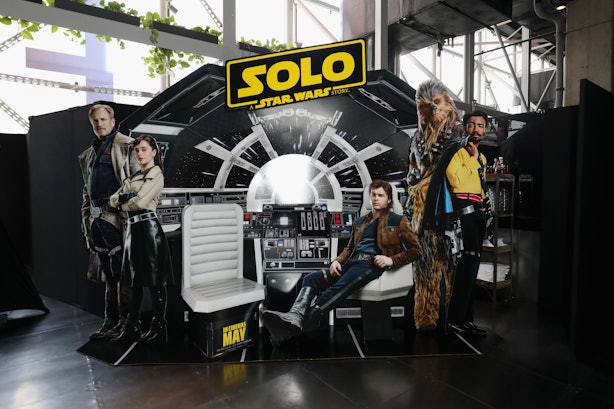 The Boba Fett movie has also been, in some ways, a long time coming. THR points out that there have been rumors of Simon Kinberg working on a Boba Fett project in the past, though he may be connected to the one Mangold is reported to be helming. And, as Deadline notes, there were reports all the way back in 2014 that a Boba Fett movie might be in progress. And in 2013, Entertainment Weekly reported that both Han Solo and Boba Fett would get their own movies, though Solo has since moved forward before the reported Boba Fett movie.
Details about the reported movie are scarce so far, but that hasn't stopped fans from sharing their excitement about the news. Boba Fett is a beloved character among Star Wars fans, and plenty of people are happy to see he'll reportedly be getting his own movie. The spinoff would, presumably, provide much more backstory for the character, which many fans were excited about.
Some fans had suggestions for the new Star Wars movie about Boba Fett.
Some fans were excited to see Mangold's vision for the film.
Other fans were not pleased with the choice of Mangold as director and wished a diverse director had been chosen.
Then, there are some people on Twitter think Boba Fett isn't the right choice for the next Star Wars spinoff.
Rebecca Pahle, an associate editor at Film Journal, tweeted that Leia should have gotten her own movie before Boba Fett. In a series of tweets, Pahle added that her proposed young Leia movie would give the princess some women friends, too.
And other fans on Twitter pointed out that they wanted to see movies about Obi-Wan Kenobi and Lando Calrissian before the reported Boba Fett movie. Fans shouldn't be too worried, though — THR reports that Lucasfilm is developing movies about other characters, including Obi-Wan, too.
More details about the movie, if it is indeed happening, will likely be released in due time. Until then, fans will likely share their dream casting choices for the movie, as well as their excitement (or displeasure) with the fact that Boba Fett will likely get the standalone movie treatment in the Star Wars universe.
Source: Read Full Article