If you don't like the content you're seeing on someone's Instagram page, you have always had the option to unfollow them. Once you did that, the problem was solved — except that, due to often complex social situations, unfollowing someone isn't always an option. Unfollowing someone on social media is basically like flipping off a person, and no matter how pure your reasoning, that is the way they'll take it. While you might not care about sending that message to some people, there are probably at least a few people you don't want to do that to. And that's exactly why you need to learn how to mute someone on Instagram with its genius new feature — trust me, it's going to make your feed a much happier place for you.
This new mute feature has to be one of the best features Instagram has introduced in a while, and it will be rolling out over the next few weeks. The new feature allows you to mute posts from accounts you follow without actually unfollowing them. It's essentially the same thing as unfollowing someone on Facebook: you will no longer see what they're posting on your feed, although you can still see their posts if you actually go to their profile. You'll also still get notifications if they tag you in a post or comment on any of your posts, and you can always unmute them if you end up changing your mind. And the best part is that they'll never know. This means you can be free of their posts without insulting them by unfollowing them completely.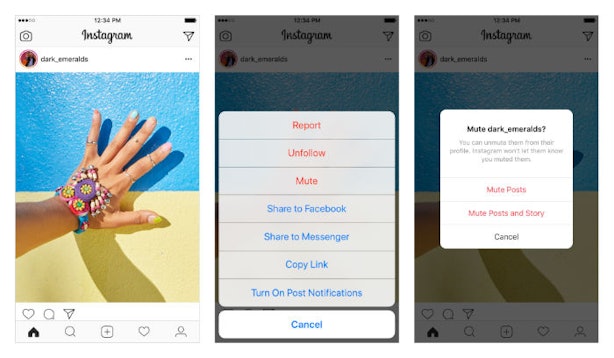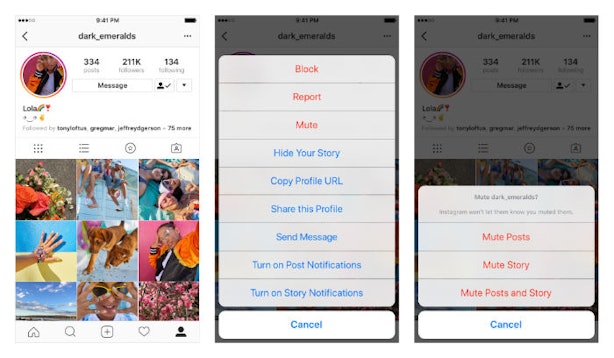 After you mute a user, you will no longer see their posts on your feed. So, that friend who insists on posting 10 pictures in a row from one night? Gone from your feed — but not your following list. This is the best way to clean up your feed and see more of the content you care about without hurting anyone's feelings.
You might, however, eventually decide to unmute this person. If you want to do that, it's just as simple: Go to the account profile and tap "Unmute posts." You can also find the three dots at the top right corner of their profile page, and select "Unmute posts" from the menu.
I predict this is going to save some friendships and a whole lot of annoyance on social media. Sometimes it's just easier to pretend you enjoy following someone, but it's frustrating when it comes at the price of your own happiness. Now you don't need to make that choice, which is great. Just, you know, glance at their profile page before you hang out with them so that you're up to date on everything they've been posting. Easy peasy!
Source: Read Full Article