Just call her Kardi B? Proving that her comedy skills are, as always, a cut above the rest, Cardi B shared a Kris Jenner meme on Instagram comparing their similar short coifs on Wednesday, Aug. 22. In the hilarious post, an image of a long-haired Bardi chilling with the Kardashian-Jenner matriarch earlier this month was pasted next to a photo of the "Bodak Yellow" rapper's short haircut at the 2018 MTV VMAs along with the phrase, "hangs out with Kris Jenner once."
True to form, she seemed to be more than okurrr with the playful roast. "Ya need to leave me alone," she jokingly captioned the Instagram post, along with a series of crying and laughing emojis. The VMAs' 2018 Best New Artist winner's response was reminiscent of her reaction to the countless memes that spawned from the viral photo of a sassy five-year-old Cardi, with her hand firmly on her hip. "Yaaaa annoying for this," she captioned on version of the meme on her Instagram account in July. "Leave five year old Belcalis alone."
Cardi B had actually shared the original group photo herself on Aug. 5 after she hung out with Jenner and Kim Kardashian, who hosted the get-together at her Hidden Hills, California home. (Poor Kim K. was cropped out of the pic used in the meme though.) Blue-haired Cardi B wrote in the photo's caption: "Im officially apart of the rich people club!! I'm not poor anymore mwaaaaahahahaha!! P.s I'm selling one of @krisjenner napkins on eBay!!"
Jenner must've been keeping up with her Instagram feed, as People reported that she responded in a comment, "Yes and I get 10 percent." Spoken, er, written, like the true momager that she is.
According to People, Kardashian also posted several photos of herself with her mom and the "Bartier Cardi" rapper to her Instagram story, including shots with face-changing filters and mirror selfies taken in the Keeping Up with the Kardashians star's massive bathroom. Kanye West was even in the house, as seen in one of Kardashian's photographs.
Clearly the family — famous for their "K" names — must've caught wind that Cardi and husband Offset named their daughter Kulture, with a "K" instead of a "C," of course. And while the parents haven't yet publicly shared any photos of their girl since becoming first-time parents in July, Cardi did give fans a glimpse of Kulture in another Aug. 22 Instagram post.
"I'm sooo in love with my child, it makes me wanna cry," the new mom gushed on Twitter the same day. "I don't know what i did right for God to bless me with this beautiful, loving baby."
Of course this wasn't the first time she tricked fans into thinking they were about to see Kulture for the first time. Cardi B opened the VMAs on Aug. 20 holding what appeared to be a bundled up baby onstage. After teasing a "surprise," she removed the blanket to reveal a VMA Moon Person, not Baby Kulture.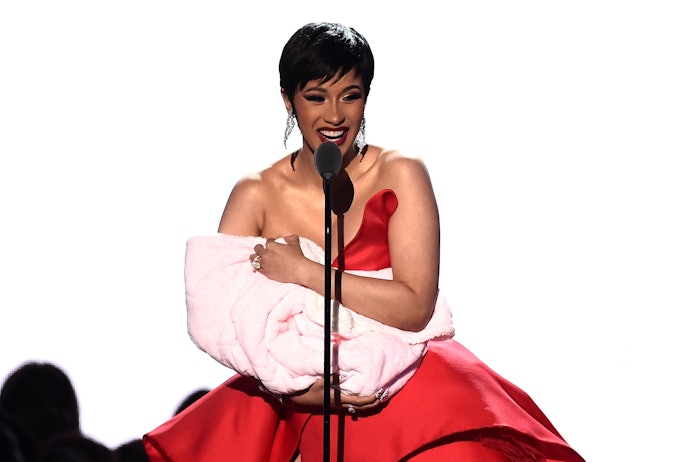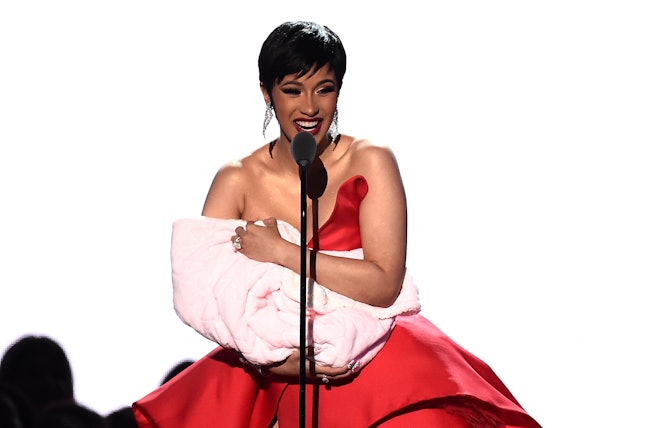 Perhaps nobody would have been more shocked to see the newborn than Offset, since the Migos rapper wasn't in on the joke. "Why Set said i was sooo mad, when i saw you on stage with that blanket I thought you was going to show Kulture," Cardi B tweeted after the VMAs.
Cardi certainly knows how to keep the Bardi Gang in stitches — and it seems safe to say that they "like it like that."
Source: Read Full Article