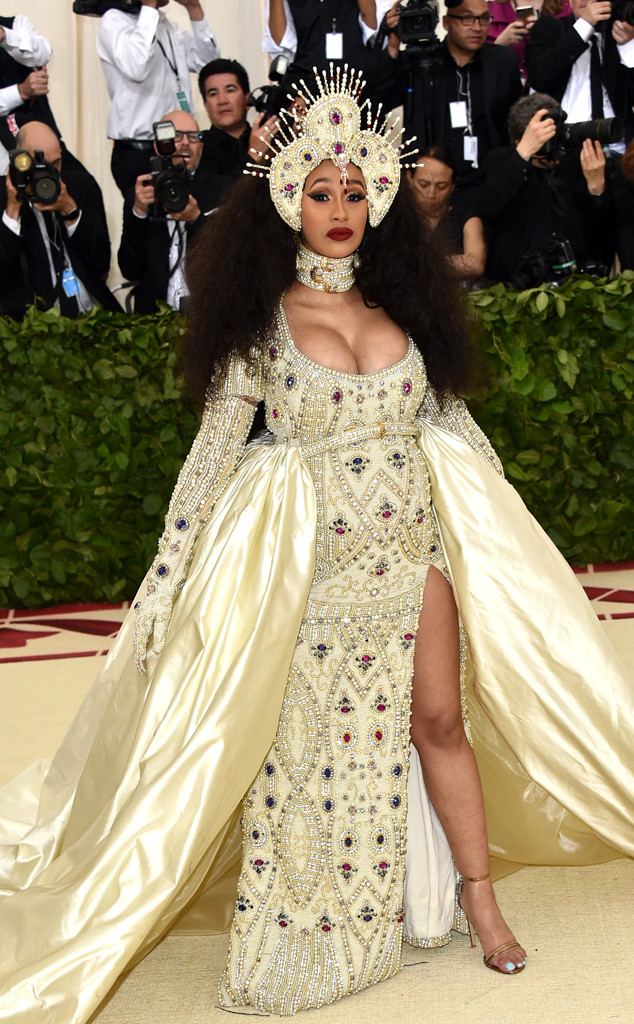 John Shearer/Getty Images for The Hollywood Reporter
Cardi B isn't afraid to set boundaries when it comes to engaging with her fans.
After her entourage allegedly attacked an autograph seeker following the 2018 Met Gala, the "Bodak Yellow" artist took to Twitter to set the record straight on her fan interactions.
"If you check my tag pics, I take a lot of pics with fans," the rapper tweeted on Tuesday. "Some people are not fans and sometimes I don't want no pics and I simply don't want people too close cause of [my pregnancy]. I don't know what are people's intentions sooo I be careful. Why can't people respect that?"
The tweet has since been deleted.
Cardi B Steals the Spotlight in Over-the-Top Moschino Ensemble at the 2018 Met Gala
Police confirmed to People that a verbal dispute took place around 2:15 a.m. on Tuesday after a fan approached the rapper for an autograph outside of the Mark Hotel in New York. According to the magazine, a physical altercation then took place between the fan and three members of Cardi B's entourage. People wrote that the suspects fled the scene before the authorities arrived and that the fan was then taken to New York Presbyterian Hospital with minor injuries.
TMZ obtained a video of the aforementioned altercation.
In the video, the alleged fan, who multiple outlets have identified as Giovanni Arnold, can be heard expressing his frustration over not getting an autograph.
"I just asked for an autograph, damn," he said in the video.
According to TMZ, Cardi B's fiance Offset then told the fan to "shut up."
"Please beat me up, please brother," the fan said. "Be a fool, man. You better invest. You better invest in your money, bro. Do something with your money instead of buying jewelry. You better invest your money, bro because you gonna go broke one day, you heard? It aint going to last forever, bro."
Per the video, the altercation then took place between the fan and three members of Cardi B and Offset's crew.
Attorney Daniel Szalkiewicz, who is reportedly representing Arnold, told NY Daily News the incident was an "unjustified ambush."
"Our client was beaten to a pulp for requesting an autograph," he said. "Our client was held in the hospital overnight for observation. The videos clearly show this was not an act of self-defense. The assailants fled the scene to avoid being arrested for their savage attack. No fan should ever be treated in this manner, and words never justify violence."
Source: Read Full Article