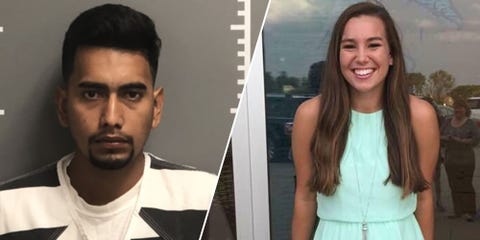 Charges have been filed in the disappearance and death of University of Iowa student Mollie Tibbetts. The Iowa Department of Public Safety said via a press release that a man by the name of Cristhian Bahena Rivera has been charged with first-degree murder.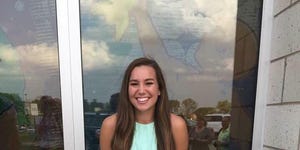 Tibbetts went missing over a month ago when she went for an evening run in Brooklyn, Iowa. Her body was found this morning. Rick Rahn, who worked on the investigation as the Division of Criminal Investigation's Special Agent in Charge, said in a press conference that they received video footage that was "critical" to them finding her body.
"Through that we were able to identify a vehicle that we believed belonged to Mr. Rivera," he said. "From that we were able to track his patterns and the routes that he took. We were also able to find Mollie running on this video and we were able to determine that he was one of the last ones to have seen Mollie running."
A post shared by Mollie Tibbetts? (@motibbs) on
Rivera allegedly saw Tibbetts running and got out of his car to run alongside her. She told him to leave her alone or she'd call the police. She tried to outrun him, and Rivera told police that he didn't remember anything after that point. He allegedly drove to a cornfield entrance before he realized he had Tibbetts in his trunk.
He then allegedly realized she had blood on the side of her head and he dragged her further into the cornfield, covering her with husks and leaving her there. Rahn said that Rivera led investigators to Tibbetts' body this morning.
My next semester of school I will be in college?
A post shared by Mollie Tibbetts? (@motibbs) on
"Our hearts go out to the Tibbetts family and to the Brooklyn community. It is a loss for all of us," Poweshiek County Sheriff Tom Kriegel said. "We appreciate the support for law enforcement community in their commitment to this investigation, and we thank the Brooklyn community for their support for the investigation."
First-degree murder charges carry a sentence of life without parole. Rivera, who is an undocumented immigrant, is awaiting prosecution.
Follow Emma on Instagram.
Source: Read Full Article