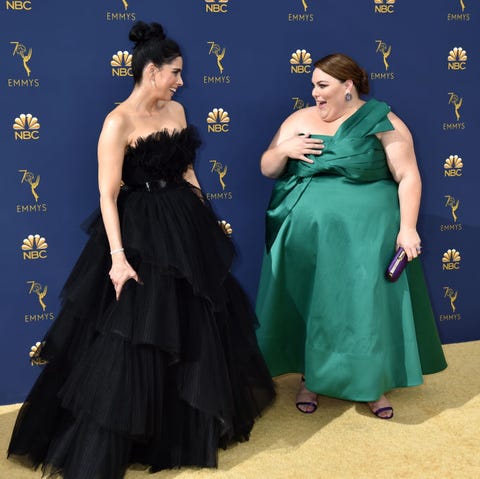 Chrissy Metz stepped onto the red carpet at the 2018 Emmy Awards tonight in an emerald green gown, and the This Is Us star stunned with her old Hollywood look.
In a pre-award show exclusive, Chrissy told ET she was going for a "glamorous" look with her dress choice, a design by John Paul Ataker. The actress nailed the look with subtle makeup and a low chignon.
Chrissy, who was snubbed and isn't nominated for an award this evening (although This Is Us is nominated for eight, including Best Drama Series) told ET host Nischelle Turner that she appreciated that the jewel-toned dress has an open neckline, noting with a laugh: "I'm like, 'Why you gotta put so much fabric on a big girl?'"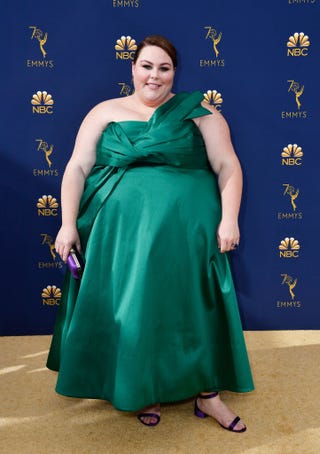 Getty ImagesFrazer Harrison
Chrissy is no stranger to openly sharing about her weight struggle. In January, she told The Hollywood Reporter that she was "born chubby" but was thinner at various stages throughout her life. "But I was definitely always a chubbier kid," she said.
"My friends could eat whatever they wanted to, but I knew that as a kid if I ate certain things I would totally gain weight. I had to be really cognizant of what I ate."
The actress also told The Hollywood Reporter that her This Is Us character Kate's weight struggles are dissimilar to her own.
"I remember going to Weight Watchers when I was like 11," she said. "I was the youngest person in the damned room, and it was awkward. My mom was trying to figure it out, but it's a process.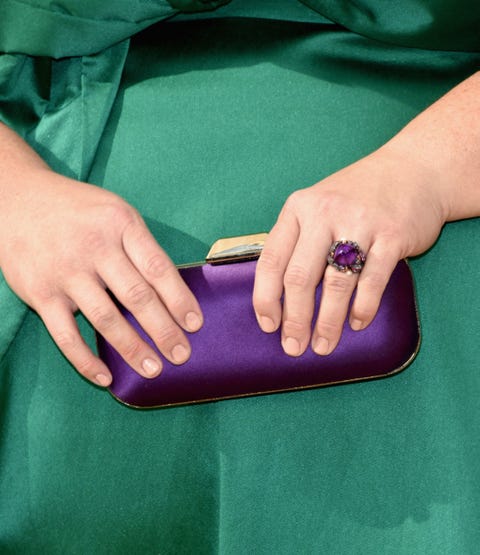 Getty ImagesJohn Shearer
Fans of the show know that Kate's story also includes weight loss, which Chrissy told TVLine is a part of her This Is Us contract—and she has no problem with it. "That was a win-win for me," she said. "Because it's one thing to try to do it on your own. But as human beings, it's an ego thing: We're more likely to do something for someone else."
While Chrissy has said she's not stressing over the scale, she told People in 2018 that her continued weight-loss efforts are "not for anybody but myself. … I want to have a fit, healthy body and not have to be put in a box. I don't want to be limited by anything.
And she's quick to let people know that part of her journey includes support from family, friends, fans and her This Is Us costars.
"People are like, 'You guys are really friends?'" she told ET tonight on the red carpet. "I'm like, 'We really are. … It's just nice to be celebrated and even recognized with all these other cable shows. There are so many rules—we have to write for commercials and we can't talk about some things and we only have 42 mins. There are so many things we're up against, and to be a part of it is really wonderful."
Source: Read Full Article