A security robot in San Francisco has been accused of waging a "war on the homeless".
K9 is a 5-foot tall, 3-foot wide robot that looks like the unholy union of a Dalek mated with an iPhone. It's also 400 pounds and comes fully armed with dozens of cameras that take hundreds of photos per minute with or without anybody's permission.
You can rent K9 from Silicon Valley start-up Knightscope for $6 per hour. K9 will then dutifully patrol wherever you tell it to, snapping photos of everyone and everything along the way.
But not everyone is happy about the new sheriff in town. In its first month of operation, K9 has been "battered with barbecue sauce, allegedly smeared with feces, covered by a tarp and nearly toppled by an attacker", according to LA Times.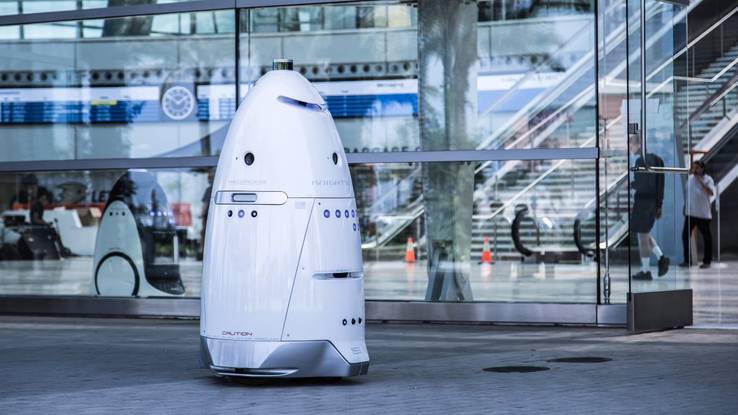 K9 has also run afoul of San Francisco's homeless population (which may or may not have been involved in the aforementioned vandalism). K9 was hired by the San Francisco chapter of the SPCA to patrol their offices after a recent spate of break-ins. The idea was to just have K9 patrol the sidewalks around the building after hours to prevent any theft or vandalism.
However, K9 sparked controversy after the homeless community in the neighborhood felt it was being unfairly spied on by the security robot. Then a shelter spokesperson made the mistake of telling the Washington Post the robot was effective at eliminating homeless encampments outside the building, leading to a reduction in crime.
Public outrage was swift and furious. The SPCA received hundreds of messages online and via letter threatening the robot, to the point where Jennifer Scarlett, the organization's president, felt like she had to pull the plug on poor K9.
"Effective immediately, the San Francisco SPCA has suspended its security robot pilot program," Scarlett told the Washington Post. "We piloted the robot program in an effort to improve the security around our campus and to create a safe atmosphere for staff, volunteers, clients and animals. Clearly, it backfired."
"The SF SPCA was exploring the use of a robot to prevent additional burglaries at our facility and to deter other crimes that frequently occur on our campus — like car break-ins, harassment, vandalism, and graffiti — not to disrupt homeless people," Scarlett's statement said. "We regret that our words were ill-chosen. They did not properly convey the pilot program's intent and they inaccurately reflected our values."
Source: Read Full Article