Carrie Underwood and Mike Fisher have been together since 2008, and in that time, they've seen their share of ups and downs but have always come out strong. The couple recently welcomed their second son, Jacob Bryan Fisher, in 2019. Now, Underwood is out on a major tour and has the whole family with her. But is the couple planning to have another baby?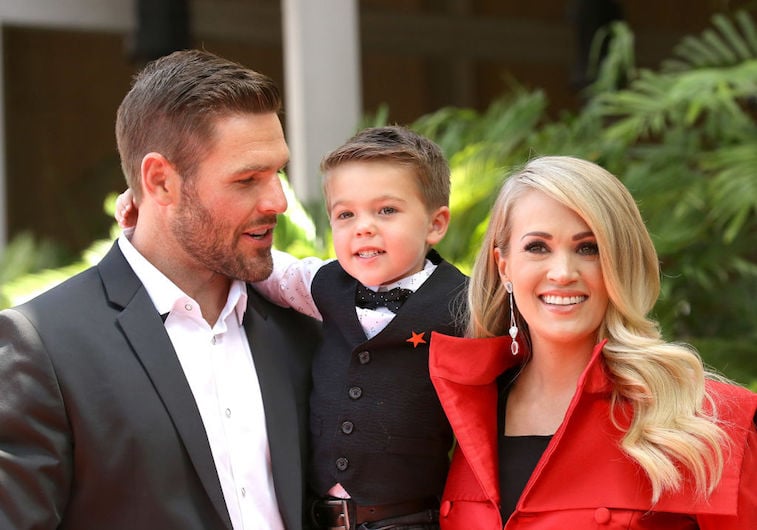 Underwood and Fisher welcomed their first son back in 2015
Underwood and Fisher first met back in 2008, and the two hit it off right away. Although they met briefly backstage at a concert and didn't see each other face to face for another three months (Fisher was playing hockey in Canada while Underwood was living in Nashville), they made a relationship work and are happily married 11 years later. After fisher was traded to Nashville in 2011, he and Underwood started truly planning a life together. Underwood announced her first pregnancy in 2014, and the couple welcomed their son, Isaiah, in February 2015. But her first pregnancy came more easily than her second. 
In the few years after they welcomed Isaiah, Underwood had three miscarriages
Underwood and Fisher knew they wanted to have a second baby,and fans were waiting patiently for the couple to excitedly make another babyannouncement. However, several years passed, and the two still hadn't said theywere expecting. Then, Underwood suffered a rough fall in November 2017, and theuniverse just seemed to not be on her side. There were also rumors that sheand Fisher were getting divorced (which, of course, were untrue).
After Underwood finally announced a second pregnancy, she opened up to CBS and revealed she had actually had three miscarriages after having Isaiah. She said the miscarriages took a major toll on her emotionally, and she was worried she had missed her window to have a family; she was in her mid 30s and thought her age was playing a role.
Underwood says she won't think about having more kids until her tour is over
The two were elated to welcome a second son, Jacob Bryan, in January 2019. But as far as Underwood is concerned, she doesn't want to make a decision about having more kids until after her current tour has ended. "I've been a lot of kind of 'live in the moment' lately," Underwood said in an interview with Today. "And I think that's good. I am kind of a planner and I really do like knowing what's around every corner." Underwood's tour only kicked off at the beginning of May, so she has plenty of time to think it over.
She might want more kids but is trying to 'be in the present'  
Underwood stressed that although she loves to plan, she istrying not to get too ahead of herself. "If there's anything the past couple ofyears have taught me [it's] that you don't know what's gonna happen next," shesaid. "And there's no way you can plan for everything or make everything be theway you want it." She said she's been doing her best not to plan out the rest ofher life and just enjoying the time with her husband and two boys.
Check out TheCheat Sheet onFacebook!
Source: Read Full Article