Thanks to his roles on American Horror Story, Evan Peters is an extremely familiar presence to Ryan Murphy fans. And he's front and center in the producer's latest FX series too. Evan Peters plays Stan in Pose, a drama set in 1987 New York City that follows both the ball culture scene and the rise of corporate and personal greed. Stan Bowes isn't a real person, but Peters' character acts as a link between these two worlds. Peters gets a job working for Donald Trump, but starts a relationship with Indya Moore's Angel, who is a transgender woman and sex worker who participates in the balls.
As his character bio states, Stan Bowes is married to Kate Mara's Patty (another Murphy alum) and the couple lives in New Jersey with their two kids. But when Stan gets a job at the Trump office (working with James Van Der Beek's Matt), he's introduced to the ball world through his relationship with Angel. According to The Hollywood Reporter, Murphy had originally wanted to create a TV show based on the ball documentary Paris Is Burning. But he changed the direction of Pose when he read co-creator Steven Canals' script. In an interview with TVInsider, Canals said, "Stan gets brought into the greed, power, and lust we saw on Wall Street in the '80s." So, in some ways, Stan does represent a real type of person who has been featured in films like Wall Street before. But there's much more to this character as he pursues his feelings for Angel.
In an interview with Bustle, Peters says that Stan's career has him feeling trapped. "He's sort of doing what everybody else is telling him he should be wanting to do. And I think he feels unfulfilled," Peters says. He then refers to Stan choosing to pick up Angel. "He feels empty and sad and there's this thing inside of him that he's always had, that's really his thing. And it's a secret, and he acts upon it and goes to the Chelsea Piers and then tries to figure out what he's going to do with this secret of his," Peters says. "And [his storyline is] really an exploration of that. An exploration of himself and finding out your own truth and how you lie to others around you to keep up appearances."
Peters also spoke to Backstage about the conflicted nature of Stan. "He's kind of doing all these things for everybody else, so he's like, 'Let me do something for me, finally,'" Peters said. "Unfortunately, it's very painful to other people in his life." He discussed how challenging the role was for him as an actor as well. "You go into Pose or Horror Story and you're like, 'I have no idea what's going to happen to the character.' Which is great cause it's kind of like real life — you just don't know," Peters said. "But it's also kind of terrifying."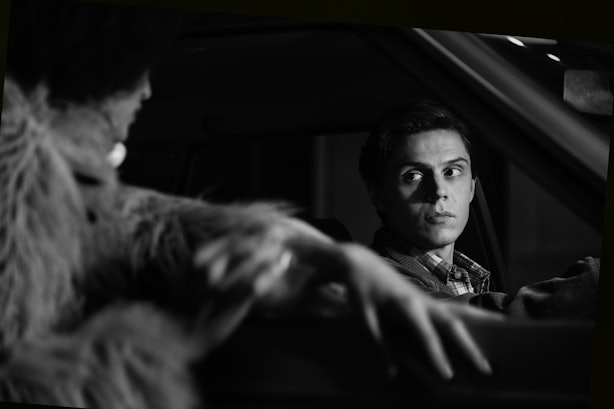 Pose is premiering on June 3, and Peters also has a movie out in theaters. American Animals is based on a real library heist. Peters explained to Backstage that he has to adjust his acting process when he portrays real people versus the (usually) fictional characters that he portrays in Murphy's shows. "It's a real story," said Peters about American Animals. "So yeah, I think you do approach it a little differently. There's more that you have to live up to, obviously, and a level of reality that you want to hit. You don't want to let down the real guys."
Even though Peters is not portraying a character based on an actual person in Pose, Stan's search for who he is will ideally feel real. The same goes for the other characters. Pose cast a record number of lead transgender actors for a scripted show to play transgender characters, who are also all people of color. And just as starring in Murphy's shows propelled Peters to stardom, Pose should hopefully do the same for his fellow cast members Moore, MJ Rodriguez, Dominique Jackson, Hailie Sahar, and Angelica Ross as they portray the realities of the house ballroom scene.
Additional reporting by Rebecca Patton.
Source: Read Full Article