Are you tired of the Tinder game, sick of swiping through an endless scroll of faces whose smirks suggest they're 100 percent prepared to ghost the minute a more intriguing profile comes along? Are you looking for a real and lasting love? Facebook would like to help with that — for a possible price. Amid fallout from a vast user data breach, the social network has announced plans to roll out a Facebook dating app, a move that's left many with more questions than the platform seems prepared to answer. (Bustle reached out to Facebook for comment, and we will update this story when we receive a response.)
On Tuesday, Facebook CEO Mark Zuckerberg stood onstage at the annual F8 developer conference in San Jose, California, and according to a press release, told his captive audience that, these days, a purported one in three marriages start online. And while nearly 200 million people who use his platform identify themselves as single, he continued, the company has so far failed to introduce match-making features. Apparently, this constitutes some kind of oversight.
"If we're focused on helping people build meaningful relationships, then this is perhaps the most meaningful of all," he said, according to the Verge.
"This is going to be for building real, long-term relationships — not just for hookups," he added. "We have designed this with privacy and safety in mind from the beginning. Your friends aren't going to see your profile, and you're only going to be suggested to people who are not your friends."
Interested parties will have to opt into the feature, scheduled for release later this year, according to the release. Here's how it will work: You set up a Tinder-like profile that uses just your first name. In case you are worried about your entire network seeing regular updates about your romantic life, the company promises all of that will stay separate from your standard account (and none of your existing friends will be suggested to you as potential life partners). Instead, Facebook daters will be able to "unlock" events and groups to view potential matches lurking in those spaces, and any messaging you do with those people will be facilitated through its own messaging inbox. Like Tinder, you won't have the option to send nudes or links through the chat feature.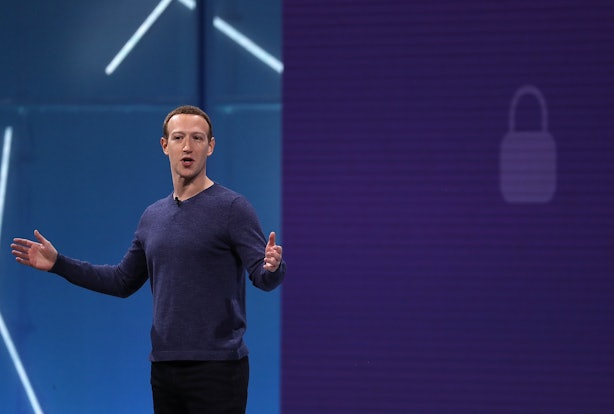 My feelings about the matter can best be summarized by the quiet shade thrown by Match CEO Mandy Ginsberg. (For reference, Match owns OkCupid and Tinder, and saw its stock plummet 17 percent after Facebook broadcast the news.) "We're flattered that Facebook is coming into our space — and sees the global opportunity that we do," she said in a statement to Bloomberg, adding: "We're surprised at the timing given the amount of personal and sensitive data that comes with this territory."
Because yes, it's too early even to say Facebook is coming off of a tremendous data breach scandal — the social media empire remains mired in the thick of it, Zuckerberg having testified before Congress in mid-April about the sharing of over 50 million Facebook users' personal information with Cambridge Analytica.
If you have somehow missed this news, here's a quick recap: As Vox explains, Donald Trump's campaign enlisted data consulting firm Cambridge Analytica — helmed by former presidential advisor Steve Bannon — in the course of the 2016 election. A Cambridge Analytica researcher then skimmed the data of as many as 87 million Facebook users via a quiz that not only exposed the information of those who took it, but their friends as well. Yep.
In a two-day Congressional hearing, Zuckerberg then had to address the platform's failure to protect user privacy. He committed to cracking down on the improper use of his site to influence future elections, and has since made changes that more tightly guard user data from leaks via third party apps. (Hi, Farmville.) Still, I am not the only one wondering if the request that we share yet more of ourselves on the site comes just a little too soon.
Facebook's press release suggests that the impetus for Facebook dating came from a couple that met on the platform, married, and now has two kids. Based on the currency of that one example, the app is betting that "we all probably know at least one couple who met on Facebook!" (I don't.)
But, as GeekWire pointed out, the timing makes this feel a lot more like a move calculated to rebuild love lost in the course of a massive scandal.
Facebook dating operates on the premise that you'll want to meet people who inhabit your same communities, but the biggest problem that jumps out at me — a person who spends a lot of time reporting on sexual violence and stalking — is that, in allowing singles to "unlock" the potential matches around them, the site effectively sends up a flare notifying strangers where that user will be and when. The Outline clocked this, too, comparing the app to "a wannabe stalker's dream come true." And indeed, it does not exactly inspire confidence that, on the same day Zuckerberg announced the dating feature, news broke that his company had just fired a data engineer who allegedly exploited user data to cyber-stalk women.
Still, it bears reiterating that available details on the dating app — which doesn't seem to have an official name yet — remain scant at best. The company hasn't mentioned whether some Facebook daters will have to fork over (if any) additional data, their specific plans to secure that data, or the additional safety measures it will institute to keep profiles separate and guard against harassment — all important privacy information users deserve to know.
Source: Read Full Article