If your friend gave you a million dollars, what would you do?
That's the situation 14 of George Clooney's closest buds were in back in 2013. According to Rande Gerber, husband of Cindy Crawford and the man who started (and subsequently sold) Casamigos Tequila with Clooney, the Academy Award-winning actor was so generous to his friends that he once gathered them all together for a massive giveaway.
Speaking with MSNBC's Headliners, Gerber recalled the scene from back in 2013 when Clooney invited "The Boys" over for what was supposed to be a simple dinner date. "George had called me and The Boys and said, 'Hey, everyone's gonna come to my house for dinner'," Gerber said, referring to 14 of Clooney's closest friends.
The Boys are thought to include actor Richard Kind and producer Grant Heslov.
"Sitting in front of each of us on the table is a black, like, Toomey bag. Y'know, luggage," Gerber remembered, which was when everyone knew that something was amiss.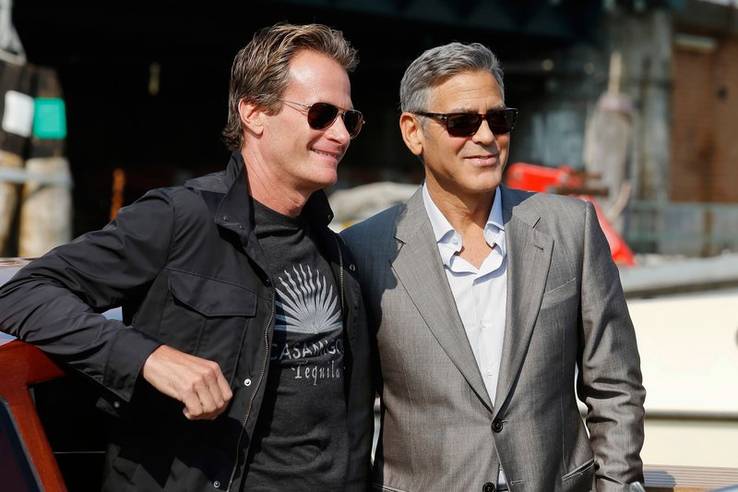 Then, Clooney stood up and launched into a heartwarming speech, saying, "I want you guys to know how much you've meant to me and how much you mean to me in my life. I came to L.A., I slept on your couch. I'm so fortunate in my life to have all of you and I couldn't be where I am today without all of you."
He then asked everyone to open their suitcases to find $1 million in 20 dollar bills. Everyone sat in stunned silence, shocked at such generosity.
Gerber, who was already independently wealthy, tried to refuse the gift, but Clooney had a plan for that. "If Rande doesn't take the money, nobody gets it," the actor insisted.
Gerber says he donated his portion of the money to charity.
Clooney also paid the gift taxes on the windfall he gave, which amounted to an additional $3.5 million according to Time magazine.
Although best known for his acting roles, Clooney is also a famous humanitarian, having co-founded the Not on Our Watch, an organization tasked with relief efforts following war and natural disasters in developing countries.
Source: Read Full Article