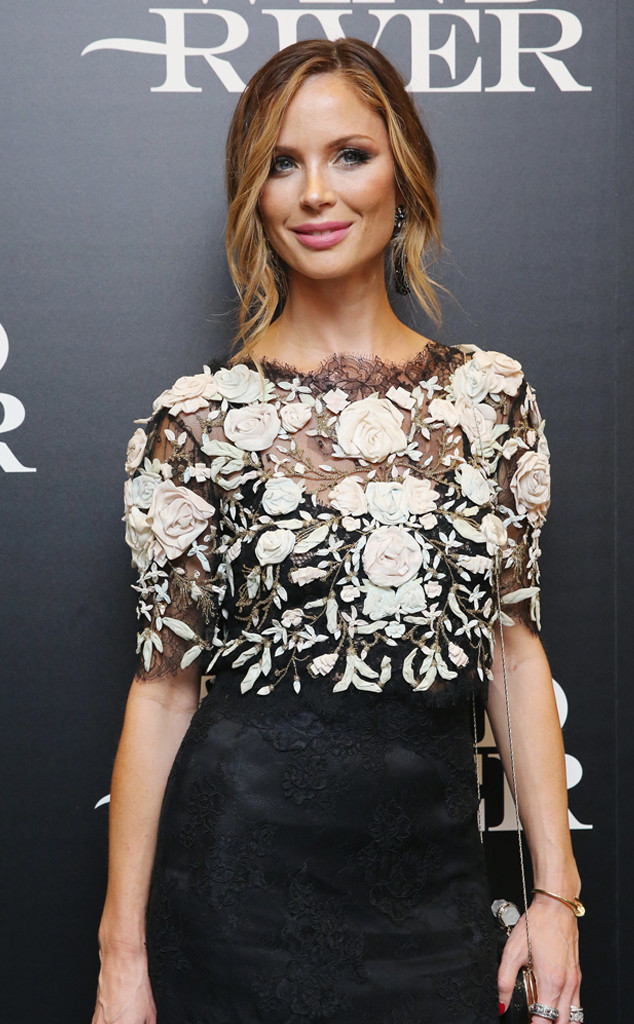 Mireya Acierto/FilmMagic
It's been seven months since Harvey Weinstein was first accused of sexual misconduct in Pulitzer Prize-winning New York Times and New Yorker exposés—and since then, dozens of women have accused the disgraced film producer of assault, harassment—and, in some cases, rape; Weinstein, through his legal team, has vehemently denied all claims of sexual misconduct.
Five days after the first report was published, Marchesa co-founder Georgina Chapman, Weinstein's wife of nearly 10 years, announced she had left him. Chapman, a judge on Project Runway All-Stars, finalized their divorce months later, receiving a settlement of $15-20 million.
Chapman's business partner, Keren Craig, spoke on her behalf in a Grazia interview, while Weinstein's ex canceled the runway show for the label's Fall 2018 collection and stayed hidden.
Now, Chapman is ready to share her story. "I was so humiliated and so broken…that…I, I, I…didn't think it was respectful to go out," she says in the June issue of Vogue. "I thought, 'Who am I to be parading around with all of this going on?' It's still so very, very raw. I was walking up the stairs the other day and I stopped; it was like all the air had been punched out of my lungs."
Ashley Judd Sues Harvey Weinstein for Sexual Harassment and Defamation
After the dust settled, Chapman says she decided to see a therapist. "At first I couldn't, because I was too shocked. And I somehow felt that I didn't deserve it. And then I realized: 'This has happened. I have to own it. I have to move forward,'" she says. "There was a part of me that was terribly naïve—clearly, so naïve. I have moments of rage. I have moments of confusion. I have moments of disbelief!" Chapman also has moments when she "just cries" for her two children. "What are their lives going to be?" she wonders, openly sobbing. "What are people going to say to them? It's like, they love their dad. They love him. I just can't bear it for them!"
After the New York Times and New Yorker articles were published, "I lost 10 pounds in five days," Chapman says. "I couldn't keep food down." And it took her "about two days" to absorb the information about Weinstein. "My head was spinning. And it was difficult because the first article was about a time long before I'd ever met him, so there was a minute where I couldn't make an informed decision. And then the stories expanded and I realized that this wasn't an isolated incident. And I knew that I needed to step away and take the kids out of here." At home, Chapman says, Weinstein seemingly was a good family man. "That's what makes this so incredibly painful: I had what I thought was a very happy marriage," she says. "I loved my life."
In her editor's letter, Anna Wintour describes seeing Chapman just after the scandal broke. "When I went to see Georgina not long after the news broke, she was near mute with shock, trying to process the emotions—anger, guilt, revulsion, fear—as well as grappling with the terrible wider human cost in all of this, she writes. "…How does one ever even begin to cope?"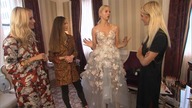 Watch
Marchesa Designers Talk Tech-Assisted Designing
Chapman was "never" suspicious about Weinstein's behavior. "For one thing, he traveled constantly. And I've never been one of those people who obsesses about where someone is." Weinstein "was a wonderful partner to me. He was a friend and a confidant and a supporter," she says. "He's a big personality…and…but…I don't know. I wish I had the answers. But I don't." Describing Weinstein as "charismatic" and "incredibly bright," Chapman recalls that he could be "very charitable," too. "He paid for a friend of mine's mother, who had breast cancer, to go to a top doctor. He was amazing like that. He is amazing like that. That is the tough part of this…this black-and-white thing…life isn't like that." But Chapman doesn't want to be viewed as a victim, "because I don't think I am," she explains. "I am a woman in a s–t situation, but it's not unique."
Chapman initially fled to L.A. with her kids. The family then flew to London and stayed with actor David Oyelowo, her longtime friend. "I kind of found myself in a first-responder capacity. My wife and I were right there with her two kids, and this catastrophe was unfolding in real time across the globe, literally your worst nightmare in terms of a marriage, in terms of the future of your kids and your business. And none of this was your own doing and yet you are entirely lumped into it," Oyelowo tells Vogue. "The thing that was the most difficult to witness was that she quite rightly took the stance of not going out there and defending herself, because there was just too much white noise and too much bile headed in her general direction." Later, Chapman and her kids took refuge at her parents' home. "I'm just living moment to moment," she says. "Is it difficult? Of course. But one adjusts. Is it going to be for the worse? Maybe not."
For many reasons, Chapman is in regular contact with Weinstein—but she can't give any insight into his current mindset. Rolling her eyes, the designer says, "Clearly, when I was married to him, I didn't know anything about his state of mind, so I'm probably not the best person to ask."
Meanwhile, it seems Marchesa is no longer taboo to wear. In fact, Scarlett Johansson wore Marchesa to the 2018 Met Gala—a sign that the fashion community is slowly beginning to embrace Chapman again. "I am firmly convinced that Georgina had no idea about her husband's behavior; blaming her for any of it, as too many have in our gladiatorial digital age, is wrong," Wintour writes. "I believe that one should not hold a person responsible for the actions of his or her partner. What Georgina should be receiving is our compassion and understanding."
Source: Read Full Article