Without a doubt, Gmail has become the most trusted way to manage your emails, and its 1.4 billion users would agree. Knowing how important safety and privacy is to users, Google is making moves to heighten Gmail security even more. In what is going to be the first major refresh in almost a decade, Gmail is introducing something called confidential mode. What is Gmail confidential mode, and how does it work? Here are the details.
Most of us have had the experience of needing to send sensitive information over email. Whether it's a password, contact information, log-in credentials, or important data, there are some things we worry about communicating over the internet — even if it is through a trustworthy Google product. Confidential mode effectively solves this problem with two cool new features. First, when you send information in confidential mode, it lets you enter an expiration date on the email, and you can revoke it at any time. This means your sensitive information won't be available and floating around someone's inbox forever, totally out of your control. Now, you'll have more say in what happens with your conversations.
Secondly, confidential mode also offers two-factor authentication the recipient will have to enter, creating a password protection for your private information. While two-factor authentication can sometimes be an enormous pain in the can, if there's one place it would come in handy, it's those emails you're nervous about sending due to the private information they contain.
You don't need me to tell you maintaining your online security and privacy is a hot topic lately. (See: Mark Zuckerberg testifying before Congress.) Considering Google is getting bigger by the minute, it makes perfect sense they're aiming to keep evolving their own products as fast as the rest of the internet. From the college student to the powerful CEO, confidential mode will give us something that's hard to come by online: peace of mind.
Confidential mode is just one feature of the new and improved Gmail. Another measure they're taking to further improve security helps fish out phishing emails. As you've probably noticed, scammers are getting more creative, sending emails to you using addresses that look startlingly familiar, so you're likelier to trust them, open the email, and follow whatever they have to say. Moving forward, the new Gmail will put big, bolded, color-coded warnings that will help you separate the legitimate emails from the suspicious ones.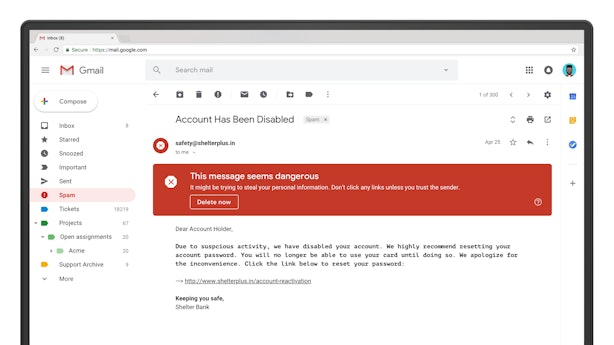 Keeping your information safe was one goal of this update — and a big one, it goes without saying — but that's not all Gmail has in store for us. They've also made changes to help you be more productive in your daily tasks. We spend a lot of time on email. According to research from the McKinsey Global Institute (shared by the SaneBox blog), we spend around 28 percent of our workweek on email — that's more time than we spend on anything else. This comes out to 650 hours a year.
To help speed up this process — and thereby allow us more time to focus on other important tasks — Gmail is making email more convenient by making attachments available right in your inbox, since people often open emails just to get the attachment anyway. Gmail is now also capable of learning which emails and contacts are most important to you, based on who you talk to the most. It will send high-priority notifications to your mobile phone when you need to respond to one of these specific emails.
Additionally, the redesign includes a side panel containing tools like Calendar, making it easier to access the features you need without it feeling distracting or cluttered.
These new features (plus a few others) have turned Gmail into an even more powerful tool than it already was. Will you be taking advantage of the latest upgrades?
Source: Read Full Article