If you thought you were free of royal wedding #content now that Harry and Meghan's big day has come and gone, THINK AGAIN. There's still an endless number of wedding Big Moment recaps/photos of Princess Charlotte sneezing/repeat viewings of the "Stand By Me" choir to dig into, of course. But one of the most important royal wedding aspects has little been discussed: THE SWAG. If you're wondering what was in the royal wedding gift bags, you're not alone — as it turns out, some are already selling their royal wedding gift bags on eBay instead of giving them to me for free, how rude.
First and foremost, let's discuss what was inside these magical bags of gift. The Daily Mail reports that about 1200 people got commemorative canvas bags full of goodies, though these weren't technically wedding guests, of whom there were only 600 — rather, they were "community champions" who were invited to breach castle grounds to see Harry and Meghan officially tie the knot. The bags were monogrammed with Harry and Meghan's initials, and inside, they contained a commemorative order of service and a letter of welcome from the happy couple themselves, which, had I obtained, I would have framed and hung over my bed within hours.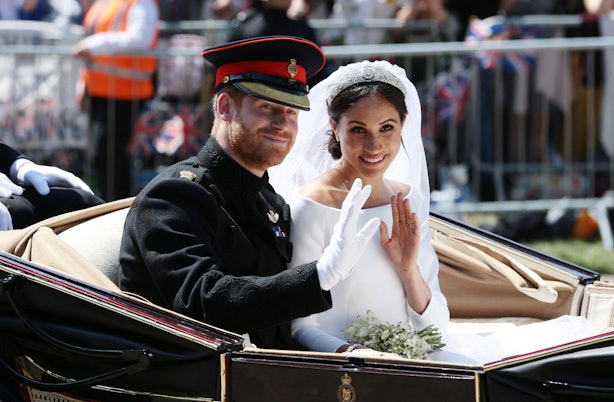 Community champions were also reportedly gifted with a fridge magnet, bottles of Windsor Castle water — a thoughtful addition, since they started camping out on castle grounds as early as 6 a.m. — along with a tasty sounding giant chocolate coin and a shortbread tin. And since every occasion is an excuse to stop at a gift store, Windsor Castle also threw in a 20 percent off coupon for their souvenir shop. Marketing is marketing, after all.
But apparently Windsor Castle weren't the only ones trying to make a buck off the wedding; according to the Mail, these goody bags started flooding eBay just hours after Harry and Meghan walked out of the church. As of Monday, the Mail counted 25 goody bags on sale via the online auction marketplace, with starting bids ranging from £25 to £420, or about $34 to $563. One seller was smart enough to make PDFs of the commemorative letter and auction off each for £5. Another, according to the Mail, managed to rack up bids for as high as £1,020, or $1370, for their bag.
Though this may sound sort of uncouth — when someone gives you a gift, it's somewhat of a breach of etiquette to regift it, and/or sell it on eBay — considering how intensely the wedding's been marketed for the last five months, I can't criticize someone for trying to make a buck off of some old junk they'd probably end up tossing in a month or two. A souvenir is fun, certainly, but the mere memory of getting a glimpse Meghan in her Givenchy gown is more resilient than a tin of shortbread. If you can get someone to pay £50 for the latter, all the better, right?
Also, frankly, 25 out of 1200 people selling stuff on eBay isn't, like, astronomical or anything. For the most part, it looks like the members of the public who managed to get gift bags were excited by the sweet gesture on Harry and Meghan's part, and weren't merely trying to sell off their experience to the highest bidder.
According to Town & Country, Harry and Meghan were insistent on giving members of the public access to Windsor Castle's grounds. "They want their wedding day to be shaped so as to allow members of the public to feel part of the celebrations too," Kensington Palace said in March. "This wedding, like all weddings, will be a moment of fun and joy that will reflect the characters and values of the bride and groom." Indeed, by auctioning off gift bags, weren't guests just giving more people access to the Sussex couple's special day? Also, will someone bid on that fridge magnet for me?
Source: Read Full Article