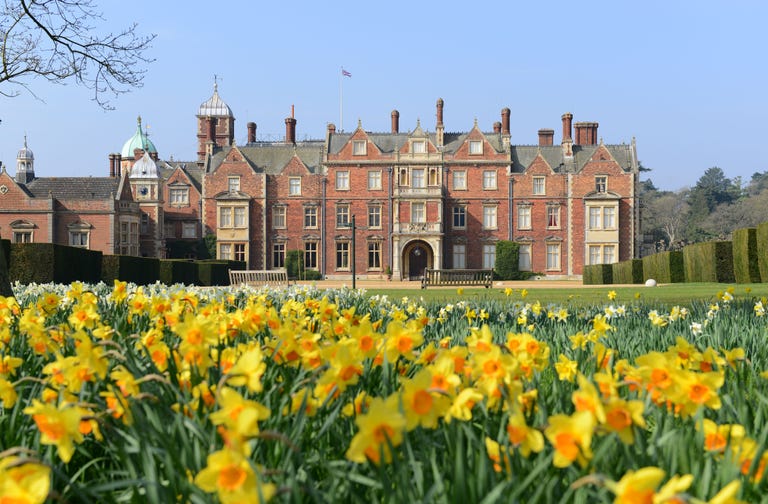 You might assume Queen Elizabeth II and her fleet of corgi friends live in Buckingham Palace full-time, but hahahaha, why live in just one castle when you can live in several?! Perhaps unsurprisingly, the Queen owns a veritable cornucopia of completely lit properties around the United Kingdom. Let's explore them together while feeling deeply jealous/bitter that we didn't audition for Suits, meet prince Harry, and marry into this family, mmmkay?
Owned by The Crown
Several of the properties owned by the Queen are technically owned by "the crown," meaning she gets to use them thanks to her status as monarch. However, if she randomly abdicated the thrown, she wouldn't get to keep them. #TheMoreYouKnow
Buckingham Palace: Her Main Residence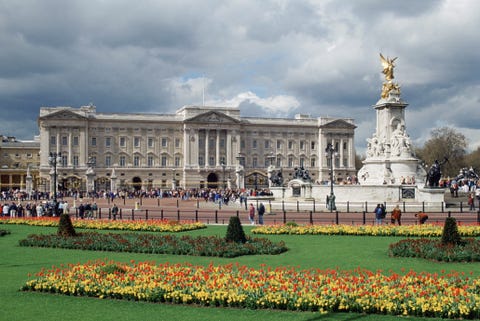 The Queen is most commonly associated with Buckingham Palace, which is the London residence of the monarch of the United Kingdom, and therefore very fancy. Like, look at this banquet hall!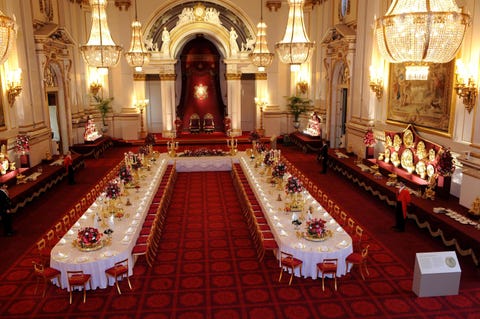 Of course, the Queen's personal space is much more homey. Here she is in the pretty modest "state quarters" back in the 1940s: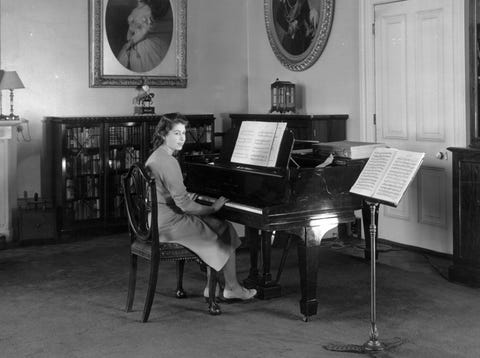 Looks relatively simple, but keep in mind that Buckingham Palace palace has 775 rooms, including 52 royal and guest bedrooms, 188 staff bedrooms, and 78 bathrooms. It also has an ATM, a chapel, a post office, and a doctor's office. In other words, the Queen literally has everything she could possibly need at her fingertips.
Windsor Castle: For Weekend Getaways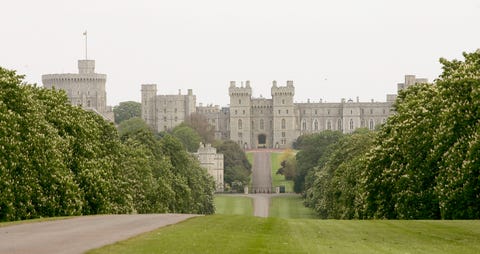 Windsor Castle is the country home of the monarch, and where Queen Elizabeth II spends much of her time—especially on the weekends. See? Here she is chilling with her sister on the lawn in the '40s.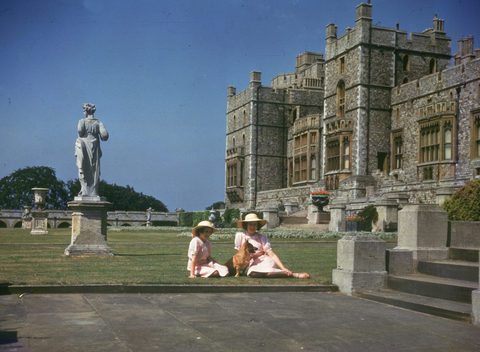 Some casual (read: completely extra) facts about this castle? It has 300 fireplaces, 450 clocks, and the oldest working kitchen in England. Also, this is what the drawing room looks like: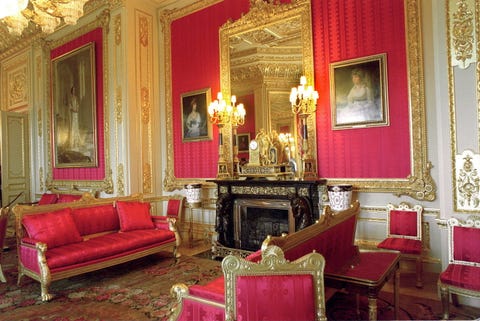 Holyroodhouse: For Trips to Scotland, Obvs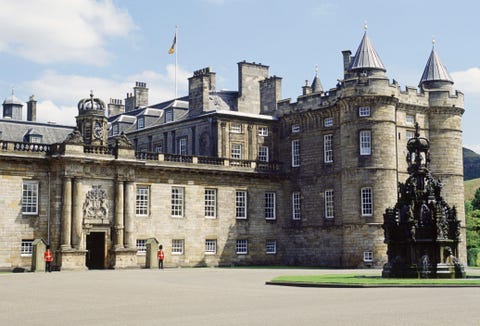 This is the monarch's home in Edinburgh, Scotland, and has been since the 16th century. That said, Queen Elizabeth II doesn't spend too much time here—she hits up Holyroodhouse for one week at the beginning of each summer, and that's about it.
FWIW, Holyroodhouse is wayyyyy more chill in terms of design than Her Majesty's other homes. This is what the inside looks like (also, hi, Justin Trudeau!):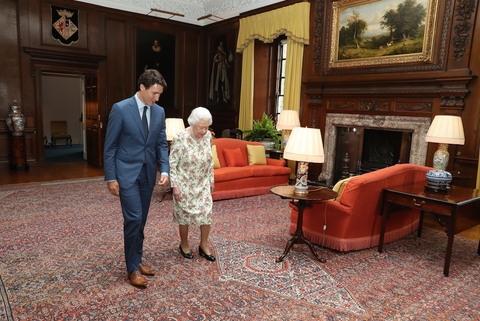 Hillsborough Castle: For Trips to Ireland, Naturally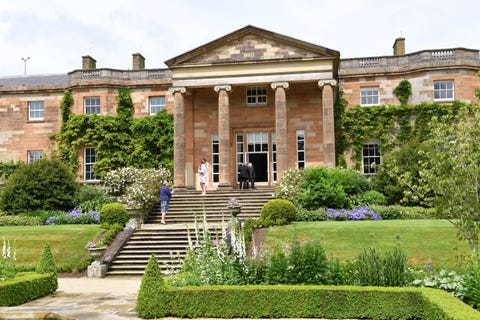 You: "Wow, surely she can't own even more castles!"
Me: "She sure AF can!"
When in Northern Ireland, the Queen can stay (and has stayed—just not frequently!) in Hillsborough Castle—which is yet another property belonging to the monarch. Fun fact, this property is technically a "Georgian country house."
Owned by The Queen
These private properties are well and truly owned by the Queen and have been passed down to her through the royal family. Meaning, if one day Her Majesty was all, "LOL, I don't want to do this Queen thing anymore," she'd still get to keep them.
Sandringham House: Christmas Vaycay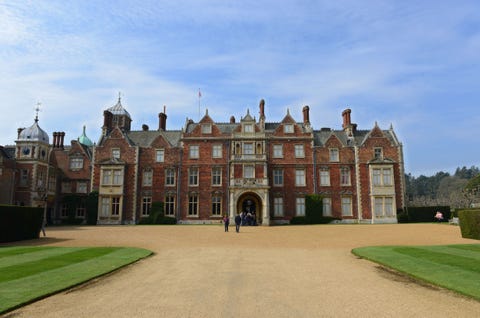 The Queen (and the entire royal family!) spend Christmas in Sandringham, and their yearly adventures there have given us sooooo many good photo opps. Like this one of Meghan Markle strolling down the lane with Kate Middleton, Prince Harry, and Prince William: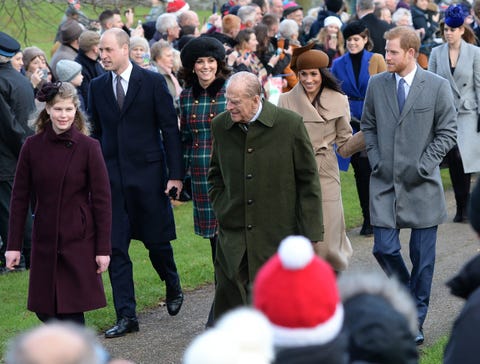 Queen Elizabeth's dad George VI died at the home, and passed it onto his daughter, who memorably gave her first televised Christmas speech there in 1957.
Balmoral Castle: Summer Vaycay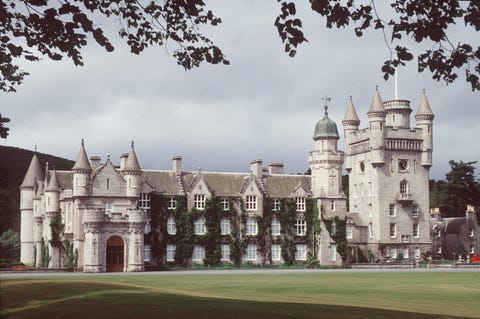 And, finally: Balmoral Castle. Located in Scotland, Balmoral Castle was privately purchased by Queen Victoria's husband Prince Albert. The property is vast and has lots of smaller homes on it, including Birkhall (used by Prince Charles and Duchess Camilla in the summer) and Craigowan Lodge (where the Queen sometimes stays for about a week at the beginning of her holiday). And no, you can't Airbnb any of the other houses. Find your own summer castle.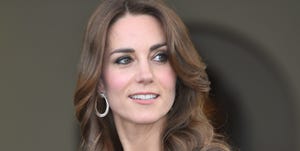 Source: Read Full Article