I'll be honest: When it comes to buying cookware and other kitchen accessories, functionality is important, but I also want something that looks pretty. Storage space is fairly limited in my small apartment's kitchen, so my pots and pans pretty much live on display on the stovetop all the time. No wonder I'm *very* into this new cookware collection from Caraway that comes in two gorgeous limited-edition colors.
Caraway worked on this special Earth Day collection with artist and poet Amber Vittoria. It's the brand's first-ever artist collaboration, and each set comes with a recycled box featuring exclusive artwork, plus three custom prints from Vittoria.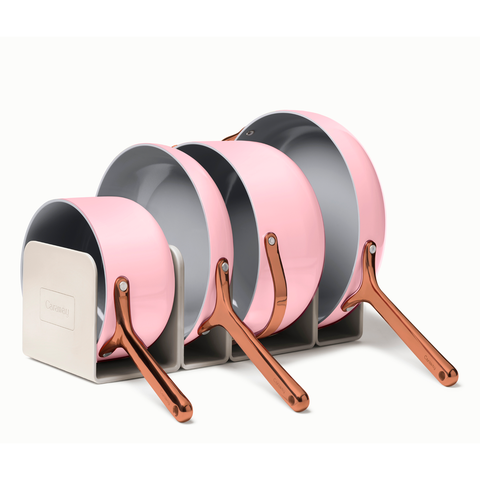 Each set comes with a 10.5-inch fry pan, a 3-quart saucepan, a 4.5-quart sauté pan, and a 6.5-quart Dutch oven. All of them have the brand's fan-favorite gold handles, making them ready for you to show off on TikTok or Instagram. Plus, you'll get handy storage options included with the set: a magnetic pan rack and a canvas lid holder with hooks to keep your pretty new pots and pans organized. Altogether, the set costs $395 (a $645 value!).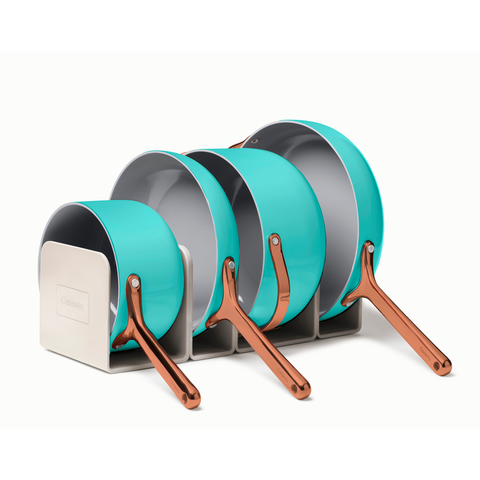 Besides being pretty, these pots and pans are made with non-stick ceramic, making them eco-friendly. According to Caraway, ceramic is produced with less CO2 than other materials commonly found in cookware. In case you missed this unit in science class, increased levels of CO2 in the environment are a major contributor to climate change, so anything that uses less CO2 is usually better for the planet. The brand also furthers its commitment to sustainability with its use of recycled cardboard and low-impact print dyes.
Also, they're easy to wash. One enthusiastic reviewer even wrote, "Clean up is amazing. I've tried numerous different pots and pans over the years. Caraway is by far the easiest to clean!"
Whether you're doing something simple like pasta or an elaborate roast, it'll all look (and taste) good thanks to these beautiful pots and pans.
Source: Read Full Article