Jordan Strauss/Invision/AP
Generally speaking, Bella Hadid is the type of girl who gets noticed.
There's a reason everyone from Chanel to Givenchy to Miu Miu has booked the 5-foot-9 Dutch-Palestinian stunner to model their clothes.
But at the Magnum x Alexander Wang bash at the Cannes Film Festival May 10, it wasn't the statuesque beauty's mini dress-oversized blazer combo that was garnering attention so much as it was her tablemate: ex-boyfriend The Weeknd. Despite being seated in the center of a crowded room, the duo brazenly indulged in a mid-party make out sesh. And while the PDA may have been impromptu, the date night wasn't. "They had planned to see each other at the Magnum event," a source tells E! News, "and decided to go to an after party together to continue the night."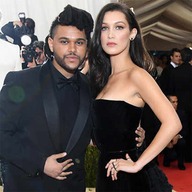 Photos
Bella Hadid and The Weeknd: Romance Rewind
The bond between the 28-year-old multiplatinum musician (born: Abel Tesfaye) and the 21-year-old runway fixture is the type of love you write songs about (by our unofficial count, he's penned at least one) and the sort of relationship that has a necessary stumbling block in act two before they can enjoy the expected happy ending in act three. The hurdle in this case being The Weeknd's 10-month relationship with Selena Gomez, who he courted a mere two months after announcing his split from Hadid.
But as of this week, Gomez was getting close with the Calvin Klein model's big sis Gigi Hadid at the May 7 Met Gala and, of course, the Magnum ice cream ambassador couldn't have been closer to her former flame. Which begs the necessary question: Is this roller coaster romance on the ascent once more?
Well, a loop-the-loop may be more accurate. While the source acknowledges the musician has been "dating around" since his October split from Gomez, "He and Bella are always flirty and spend time together when they see each other. Especially when they are out partying."
Splash News
Originally, the three-time Grammy winner planned for their relationship to be strictly business. The Weeknd revealed to Rolling Stone that he initially reached out to the Vogue Paris cover girl to be on the artwork for his second disc Beauty Behind the Madness. "My motive was literally to work with her," he explained. But when she declined, "I was like, 'All right, cool—we can meet up face-to-face.'"
That tête-à-tête came sometime before April 2015's Coachella festival, but it was at the famed concert in the desert—home to pretty much all of young Hollywood—where the rising musician and the in-demand model "really clicked," a source told E! News at the time. Echoed a second insider, "They were hanging out in Coachella and were flirting lots. They have many things in common and really enjoyed each other's company."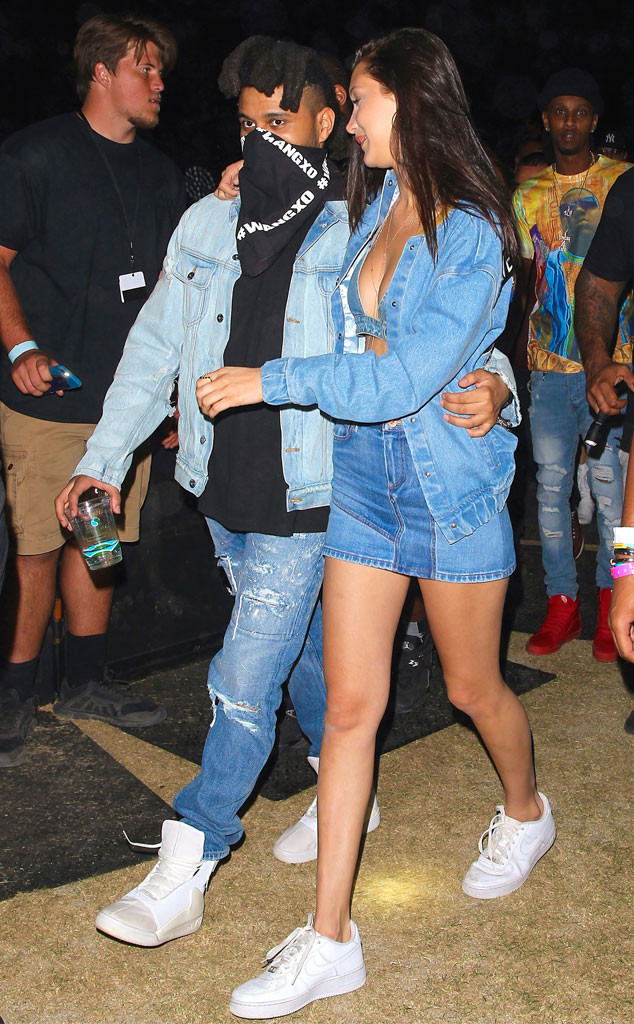 Roger/AKM-GSI
Or, as The Weeknd put it to Rolling Stone that October, "It just kind of fell into my lap." At the right time. Back when Hadid was a teenage equestrian with Olympic ambitions, he was a high school dropout desperate to create music and using drugs, he told The Guardian, as "a crutch." If he'd met her back the, he surmised, "I probably would've f–ked it up."
Ah, foreshadowing. By December, after a sorta-kinda confession of love ("Maybe," he answered when asked by The New York Times. "It's no, it's yes, it's maybe"), a shared performance in his "In the Night" music video and the most perfect of 19th birthday presents (a Yorkie puppy that Hadid named Hendrix), the couple decide to take a break.
❤️Perfect ending to a perfect day with our birthday girl @bellahadid xoxo #WishesDoComeTrue
A post shared by YOLANDA (@yolanda.hadid) on
As one source explained it to E! News the combo of rising supermodel and international pop sensation was tricky. "Their schedules got very busy and it really cut into their relationship," said the source. "They are still in each other's lives though, just not in the same exclusive capacity."
Fast-forward to February 2016 when the twosome made what can only be described as an official declaration of coupledom, walking the red carpet together at the Grammys where the Toronto native was up for seven awards. He walked away with two—and the girl. "He did so well that night," Hadid later gushed to Glamour. "As a girlfriend I wanted to be there to support him. Seeing him so happy when he won a Grammy made me so happy."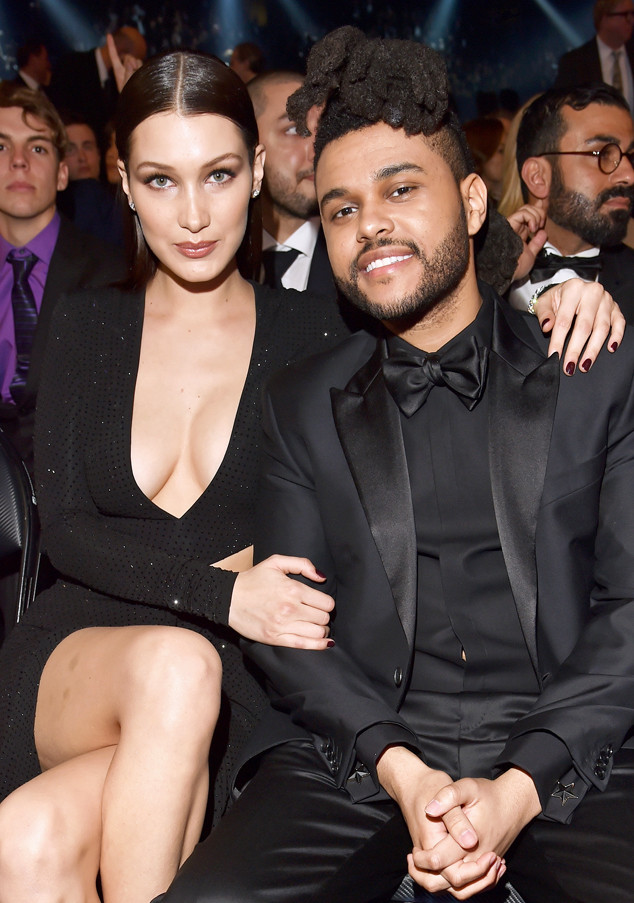 Lester Cohen/WireImage
He returned the favor a month later when the face of Dior Beauty was named Model of the Year at the Daily Front Row's second annual Fashion Los Angeles Awards—an honor previously bestowed on her big sister Gigi. Confessing to him backstage that she had never been so nervous, she told E! News, "He's like, 'You're fine, don't worry.'" Just being able to hold his hand was enough to calm her, she said. "It's nice to have a support system like that. He's so great. I'm happy he's here!"
The XO record label founder was also at her side for May's Met Gala, where they walked the stairs in his-and-hers Givenchy, behind the camera, snapping a constant stream of Instagrams during their October getaway to Tokyo and on her arm when she celebrated her birthday Oct. 9 at NYC nightclub Up & Down.
?????????????
A post shared by ? (@bellahadid) on
Which is why even pals were surprised when the pair announced a second break a month later. Once again, the duo's packed schedules were to blame, with one insider telling E! News, "Things seemed perfect to all their close friends, but they both were dealing with many weeks of conflicting schedules that led to not seeing each other for a while." As a result, said the insider, they'd had a few fights. Added another source, "They needed to officially break things off for awhile."
But for the busy professionals, the show had to go on. The Paris-based Victoria's Secret Fashion Show, that is. Though Hadid was set to make her debut in the annual lingerie extravaganza while her ex was on the runway belting out his hit "Starboy", she insisted to E! News she was stoked.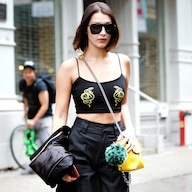 Photos
Bella Hadid's Street Style
"I think he's going to kill it," she said. "There is no awkwardness. He is my best friend, and I am excited because I am walking during his performance."
But it was her performance, confidently strutting past as her former paramour serenaded her, that launched a string of this is how you want to run into your ex memes.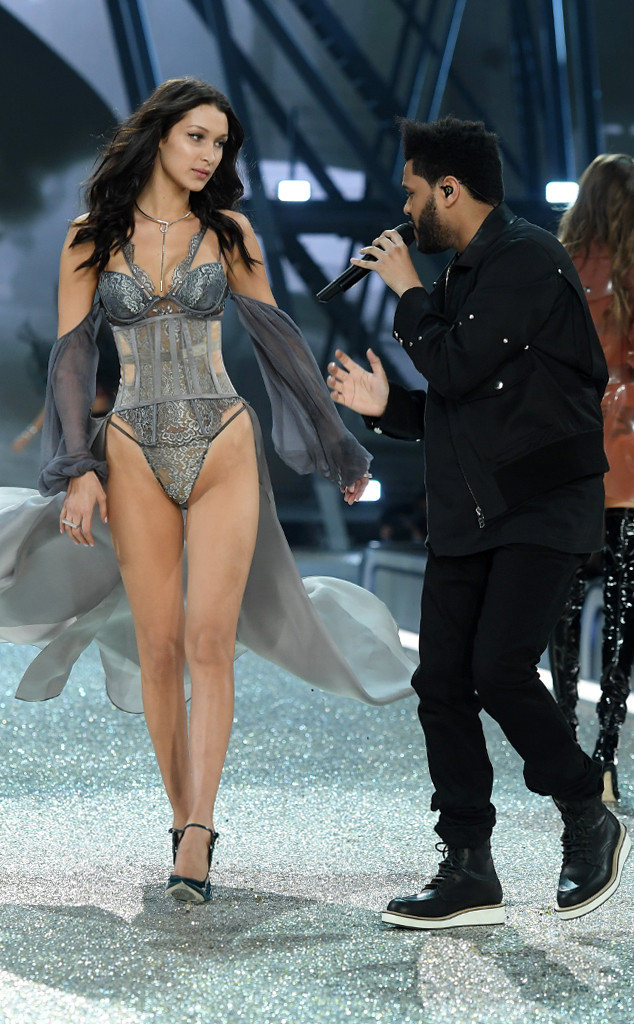 Dimitrios Kambouris/Getty Images for Victoria's Secret
Still, Hadid later said she was nowhere near as self-assured as she appeared. Calling it her second breakup (her first being the time she was forced to party ways with her horse Lego when Lyme disease stunted her equestrian career), she said it was tough to withstand in such a public setting. "As an outsider, you might think I handled it so well, but it's always in your heart, and you always feel it very heavily," she told Teen Vogue. "It'll be hard for a while. Love hurts, but you have to pull through."
In the end, she insisted, "I'll always respect him, and I'll always love him. Sometimes you want to be sad about it or handle it differently, but at the end of the day, you never want to burn a bridge that you've fought so hard to build."
Taylor Hill/FilmMagic
Enter Gomez. For all of her let's remain friends platitudes, when Hadid learned "The Heart Wants What It Wants" singer was photographed kissing her ex outside L.A. outpost Giorgio Baldi on Jan. 10, 2017, she was less than pleased. Keep in mind, at that point, her relationship with The Weeknd was still in its usual place of limbo. While they had definitely split and he hadn't crossed any lines per se, there was still love between them and most of their inner circle anticipated it was just a matter of time before they walked another red carpet arm-in-arm. As one source put it, "This is not the end."
Hadid had assumed a reunion lie ahead as well. So when she caught wind of the pics showing former lover with a girl who was, while not exactly a friend, certainly someone she'd crossed paths with as a member of the young and hot in Hollywood club, she was shook.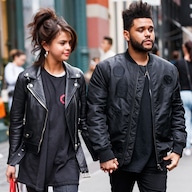 Photos
Selena Gomez & The Weeknd: Romance Rewind
"She is actually not over The Weeknd. She still loves him," an insider told E! News. "It really hurt her seeing Selena be all up on her man. She still feels like they have a connection."
She responded in a way many 20-year-olds reeling from the end of their first love might, promptly unfollowing Gomez on Instagram, slipping into a well-cut one-piece for a sexy video post and flipping the bird to the paparazzi that had been trailing her since the news broke.
And when she and the chart-topper once again shared a runway, this time at H&M Studio's Paris Fashion Week show Mar. 1, there was no sultry eye contact and little love lost.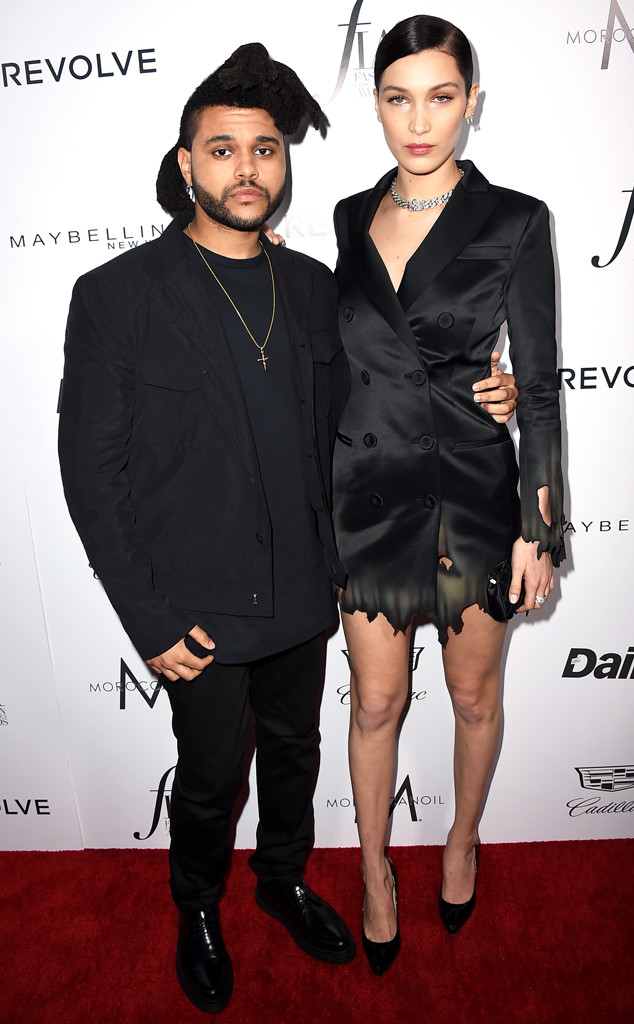 Jordan Strauss/Invision/AP
But then time did its thing and Hadid realized she was a young, desirable woman steadily climbing to the very top of the fashion world food chain. And right around the time she was spotted toasting to her 21st birthday with another Canadian Grammy winner at her side, her mom Yolanda Hadid was announcing on Watch What Happens Live With Andy Cohen that the stunner no longer cared her ex had moved on. As for "Hotline Bling" singer Drake, the model-turned-reality star replied somewhat evasively, "They're friends."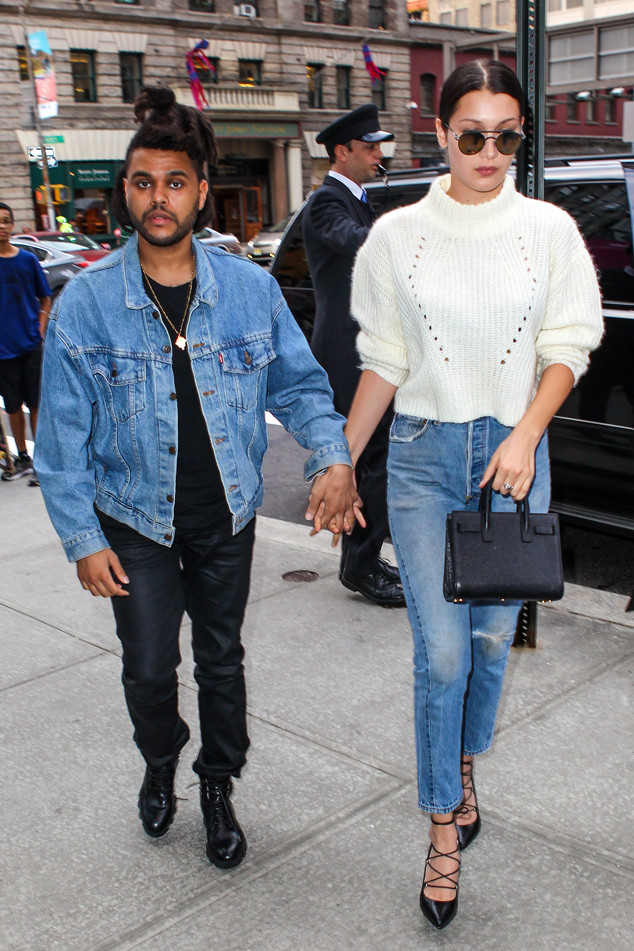 Wagner Az/AKM-GSI
Naturally that's about when The Weeknd revealed things were over between him and Gomez.
Immediately fans began speculating he'd run back to Hadid. After all, Gomez was already being photographed with her ex, Justin Bieber, and the "I Can't Feel My Face" rocker had been spotted leaving Hadid's New York City apartment Nov. 14.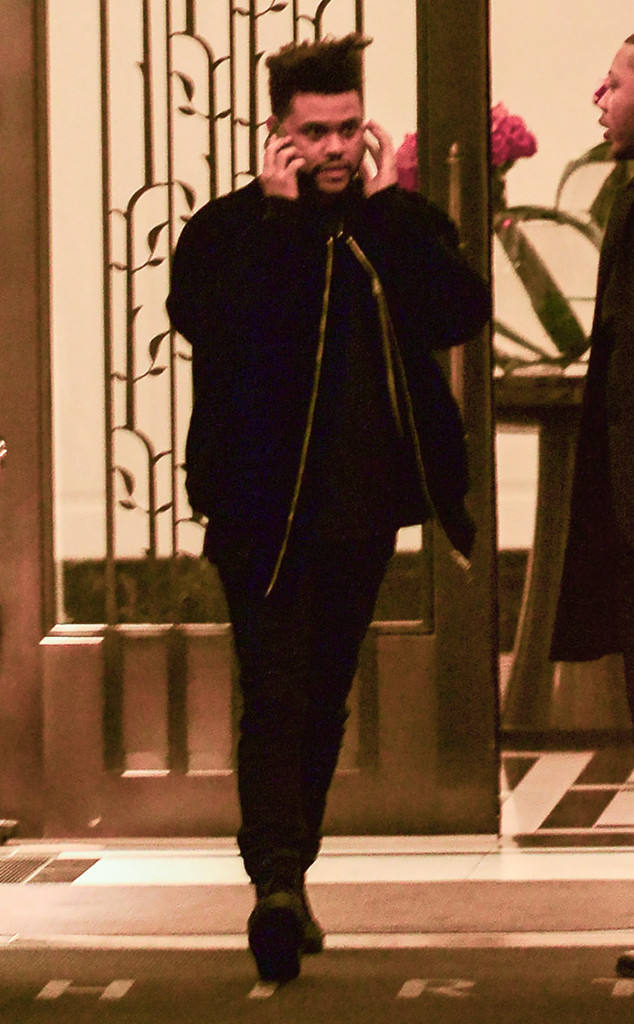 PapCulture / Splash News
But it wasn't quite that simple. While a source revealed to E! News that "Bella and Abel have been in contact since Abel and Selena split," they stressed the pair weren't fully back together. "Abel reached out to Bella asking to hang out and catch up, and she decided to see him and see where things go. She knows that if they don't date again, they can at least be good friends."
Because their same problems still lingered just below the surface. "They have been talking and have seen each other," said another insider. "But it's about logistics and what makes sense and they both have very busy schedules that put them all over the map."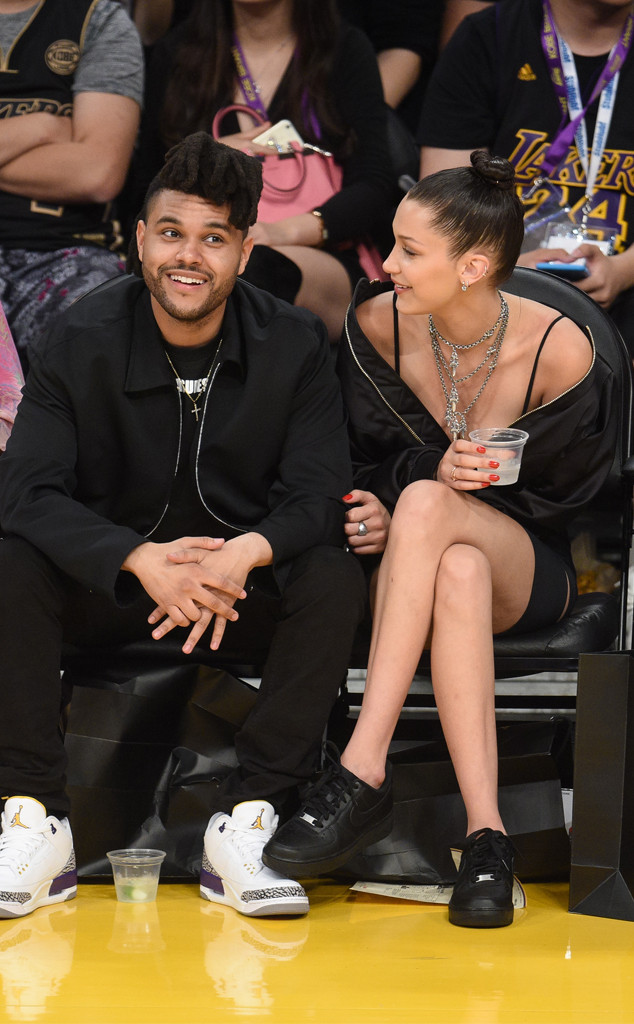 Noel Vasquez/GC Images
Every now and then, though, they find themselves at the exact same coordinate. At Coachella this April, the same spot where their romance commenced three years earlier, one witness swore they saw the exes "kissing all night" at Poppy nightclub's Coachella pop-up debuting Kylie Cosmetic's latest makeup line "KOURT X KYLIE".
Hadid flatly refuted the PDA, commenting on E! News' Instagram, "It wasn't me."
Photos
On-Again, Off-Again Celebrity Couples
There's no denying, however, she was the woman in The Weeknd's arms May 10. "You could feel the energy between them and there was no doubt they were together. They were whispering and holding hands while talking," one observer told E! News. "He had his arm around her waist and was pulling her in close. She was touching his face and stroking it. They kissed a few times passionately. They left Magnum Beach together at the end of the night. They didn't care who was watching. There were cameras all over and they didn't mind."
And while there's no guarantee of repeat performance—another source stresses The Weeknd is enjoying his life as a single man—a reprise is certainly possible. "They are just getting back to a good place," says an insider. "She loves hanging out with Abel and they always have fun together and is very hopeful of their future relationship."
Source: Read Full Article