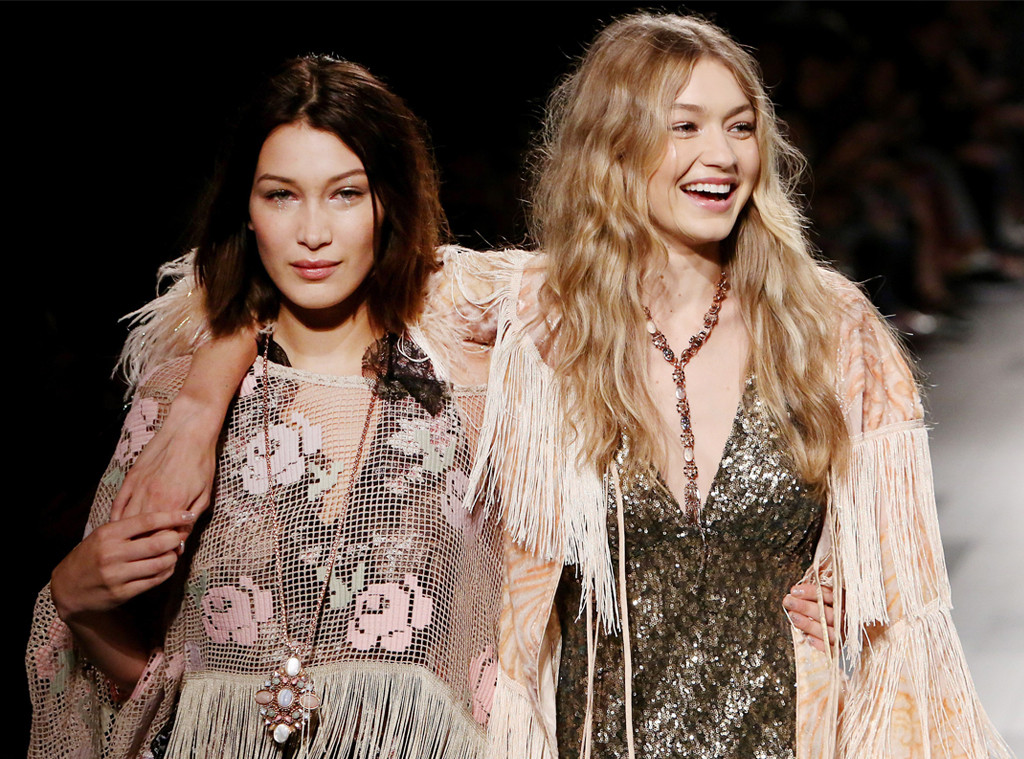 Masato Onoda/WWD/REX/Shutterstock
Yeah, she knows it sounds clichéd and not like the type of advice that will help you land the cover of Vogue or a chance to walk Marc Jacobs' runway, but Bella Hadid swears her top tip to aspiring models "would be just to be yourself."
She's seen so many of her contemporaries finally build up the confidence to let their personalities shine through, she explained to Teen Vogue after walking in Brandon Maxwell's show last month at New York Fashion Week, "and it's the best part about them. Sometimes people try to get put into a box, and there are no boxes here."
You can have a less-than-perfect walk, perhaps an unconventional look, but if you work hard and strive to create the right relationships, you've got a shot. "If anybody wants to try modeling, and if that's their passion then do it 100 percent," she said. "There's room for everybody in the business to succeed and I think that people try to pick and choose, but there's enough room for everybody if you work hard enough, for sure."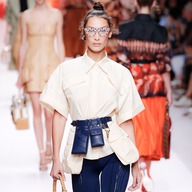 Photos
Bella Hadid's Best Looks from Fashion Month Spring 2019
Undoubtedly it helps to look like Bella, with cheekbones seemingly cut to sell Dior makeup and the type of lean, 5-foot-9 shape that makes any haute couture piece appear utterly wearable. But the 22-year-old's path from Real Housewives of Beverly Hills storyline to runway must-have (in September, she and sister Gigi Hadid, 23, walked some 13 shows together for fashion weeks in New York, Milan and Paris) wasn't the most conventional ever.
To be fair, the Hadid sisters never had a chance at being the fresh-faced, waif-like unknowns discovered at, say, an Iowa shopping mall. Their parents (before trying her hand at reality TV, Yolanda Hadid was a model herself and their dad Mohamed Hadid is real estate mogul who scored a cameo on the Bravo hit long before his ex) mere existence saw to that. So they had no choice but to try a different tactic.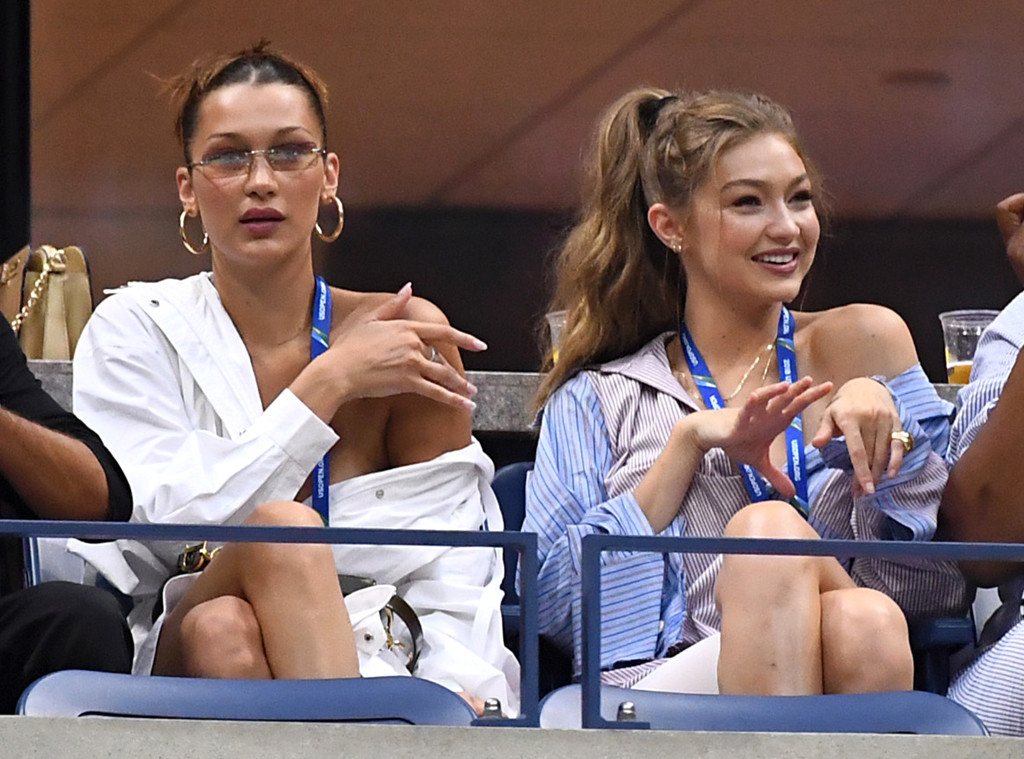 USTA
They didn't set out to be reality stars, per se. "Being on the show wasn't me trying to get famous," Bella noted to Elle of her Housewives cameos. "It was just trying to make my mom happy." But it undeniably raised each of their profiles at the exact moment they were trying to gain entree into modeling world. Their appearance on TV screens translated into Instagram followers, though, of course, it helped that a Saturday night with pals could produce snapshots with the likes of Kendall Jenner, Miley Cyrus and Hailey Baldwin. Soon they were each amassing millions of followers—Gigi boasts 43.6 million; Bella upwards of 20—and theirs were largely of the young female variety so coveted by fashion brands.
In spring 2014, following a few rounds of dismissals by short-sighted agencies who saw her, remarkably, as too curvy, Gigi received what she credits as her big break, when Carine Roitfeld put her on the cover of CR Fashion Book. A Tom Ford campaign followed and before you knew it she was such an ingrained part of the industry that you forgot there was ever a time she wasn't walking at New York Fashion Week. Same went for Bella who made her NYFW debut in the fall of 2014 before booking her first solo fashion mag cover on the December edition of Jalouse.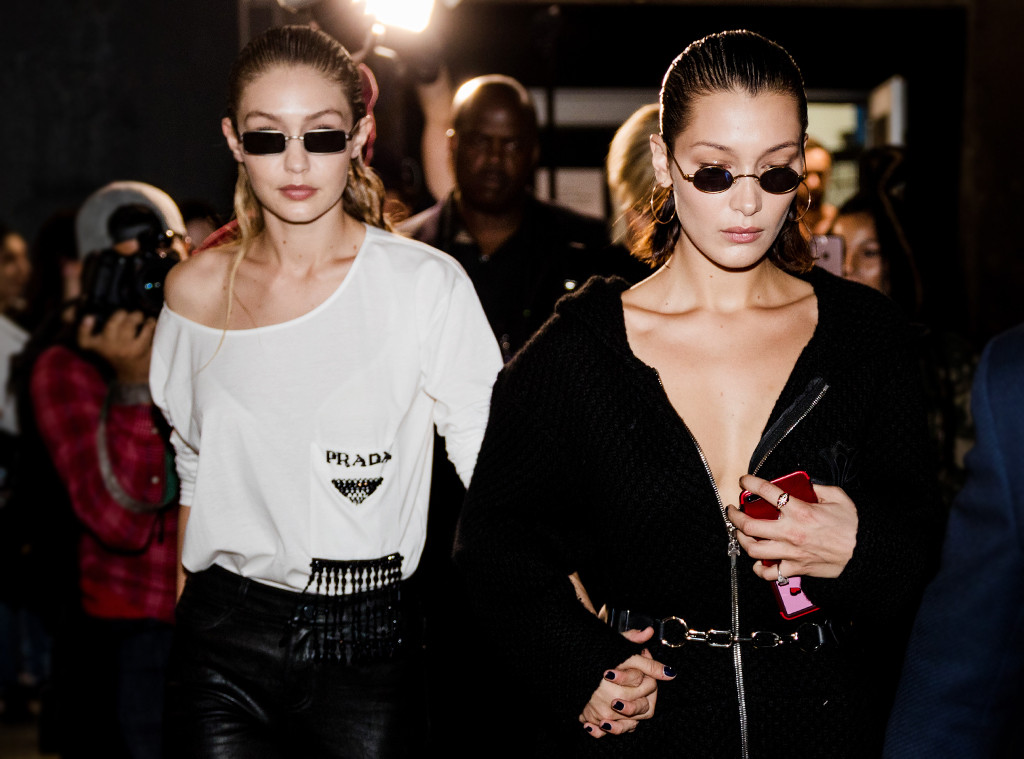 Christian Vierig/Getty Images
Some have scoffed at their success, built in a way that couldn't have been envisioned in a pre-social media era, back when the term supermodel was first bandied about. But others see it as simple case of working with what Mama (and the Internet) gave you. Their reality TV experience seen as a knock against them in the infamously insular industry, "These girls could never walk into an agency and get a fair shot if they hadn't made it happen for themselves," casting director James Scully, the man responsible for placing Bella on Tom Ford's runway in 2015, explained to Elle. "They're like the old-school girl, like Cindy Crawford. They've brought personality back to the business."
Credit Yolanda with giving them the time to figure out who they were before they were forced to present themselves to cameras both of the fashion photographer and paparazzi variety. Certainly they did their share of posing as tweens, the Dutch model unable to resist the urge to see if her offspring inherited her natural charisma. "I've shot my children since they were born," she explained on Australia's Today Extra. "I always dressed them up, shot them at the barn on the horses."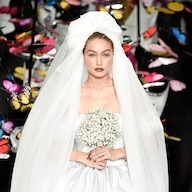 Photos
Gigi Hadid's Best Looks From Fashion Month Spring 2019
But actual fashion shoots with the long hours and the inevitably unkind opinions? Those were strictly forboden. After a brief stint as a Baby Guess model that turned into steady work with Guess Kids, Gigi was placed under a forced hiatus circa age 8. "I was always very strict about the fact that I never wanted them to really work until they're 18-years-old," Yolanda explained. "I really didn't want anybody judging them on the way that they looked."
So Gigi threw herself into sports, adopting her mom's love of horses and scoring a spot as captain of the varsity volleyball team, while Bella was a regular at at Far West Farms in Calabasas, Calif., committing to daily sessions with Lisa Winn and her beloved horse Lego, who she believed would help lead her to a spot on the 2016 U.S. Olympics team. ("She came out every day," Winn told Elle of Bella. "She was a beautiful rider, but she really worked at it.") It was a not unrealistic dream for the nationally ranked equestrian, but one she was forced to abandon after her 2012 Lyme disease diagnosis.
View this post on Instagram
❤️The core of who you are….. #Roots #MyBabyBella #Preciousness #FarmLife
A post shared by YOLANDA (@yolanda.hadid) on
But even with other passions to pursue, Yolanda's no-modeling policy was met with some grumbling. Gigi wouldn't make her first real push into the industry until she moved to New York City and enrolled in criminal psychology classes at the New School in 2013. Bella would join a year later, enrolling in a photography course at Parsons School of Design. But after a few years of work, Yolanda recalled to People, earlier this year, Gigi was filled with appreciation: "She hugs me and says, 'Thank you for giving me those two extra years to grow up, be in my flip flops and play basketball.' Modeling is a tough profession. It's not for the weak."
Thankfully the siblings had Mom to school them. And Yolanda began laying the groundwork early. It went well beyond policing their carb intake as she famously did during a 2014 Housewives episode, reminding Gigi that a slice of cake was a small sacrifice for a Sports Illustrated swimsuit shoot. And it was more than just coaching on the more technical aspects of the job, though she certainly did that. "My mom always taught me to think about something happy when I'm working," Bella told Elle, "because it kind of shows through your face."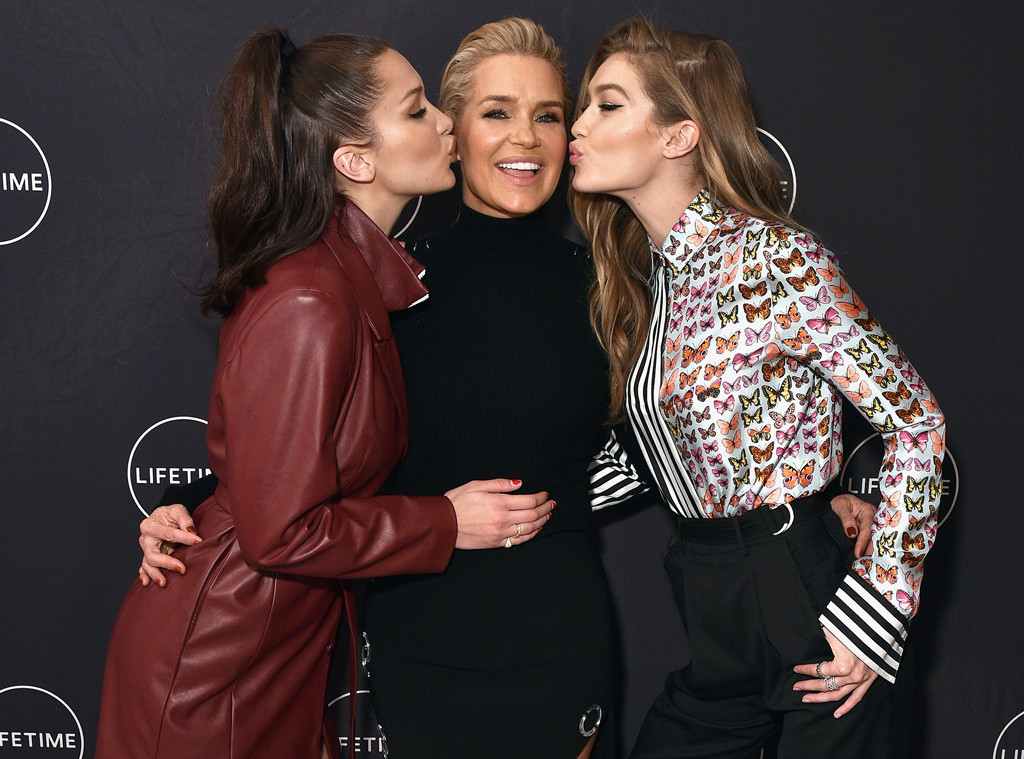 NEW YORK, NY – JANUARY 11: Yolanda Hadid (C) and her daughters Gigi Hadid and Bella Hadid celebrate her birthday and the premiere of her new Lifetime show, 'Making A Model With Yolanda Hadid,' with friends and family in New York on January 11, 2018 in New York City. (Photo by Bryan Bedder/Getty Images for Lifetime)
Her most oft-repeated tip had little to do with posing or dieting. Instead it was to continually drill into her girls how important it was to work harder, be nicer, exude more gratitude than everyone around them. "When my girls started, I sat them down and I said, 'Listen, there are a million girls out there who are as beautiful as you and deserve success as much as you do. You have to be the hardest working girl and show people you care about everybody,'" Yolanda told People. "It's a superficial business. At the end of the day, looks will come and go. And what makes me proud of my children, more so than even their success, is that they are polite and respectful."
And while it makes sense that a mom would believe her girls are simply the best, she's not the only one making note of their off-camera skills. While Bella has the type of face people just want to examine, French couturier Alexandre Vauthier swore to The New York Post it was her "kindness" that "immediately seduced me beyond her beauty."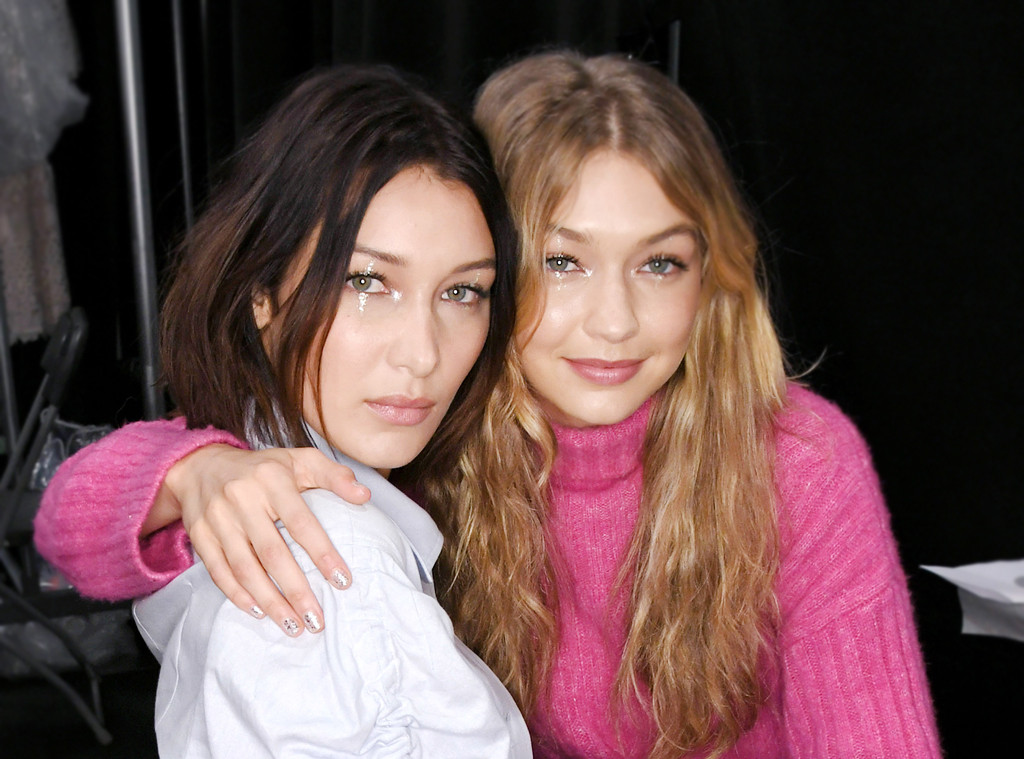 REX/Shutterstock
It's a trait she and Gigi share, notes designer Jeremy Scott. "When you know them as people, that's when you see the similarities," he told Elle. "They're both so well-behaved and personable and sweet and kind."
Despite their undeniably blessed upbringing on the shores of Malibu and Montecito, they also possess the type of drive not always found in the more privileged set. For Gigi, she's pushed by the knowledge that her mom got into modeling solely to provide for her family after she lost her father when she was seven.
"I've always had this big work ethic, because my parents came from nothing and I worked hard to honor them," Gigi told Australia's Vogue this summer. "There are so many girls who come [from] all over the world and work their asses off and send money home to their families like my mother did, and I wanted to stand next to them backstage and for them to look at me and respect me and know that it's never about me trying to overshadow or take their place. So when I started out I wanted to prove myself so badly that sometimes I would overwork myself."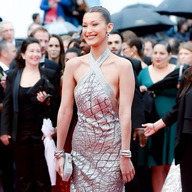 Photos
Bella Hadid's Best Looks
Years in, she and her sister have settled into their roles as some of the industry's most in-demand faces, but they're still the same hard-working, punctual, pleasant models that designers know they can depend on. "She keeps her cool, no matter what," Michael Kors told The New York Post of Bella. Even when she took a tumble at his spring 2017 show, "She brushed herself off and just kept going, no drama," he recalled, the only acknowledgement of her fall coming later on Twitter when she wrote, "Guys I'm a professional break dancer now I forgot to tell u." Added Kors, "She is a real professional, even at her young age."
Take the time she was tasked with walking the Victoria's Secret runway as then-ex The Weeknd performed back in 2016. Clad in leaving-little-to-the-imagination lingerie she strutted past confidently, causing envious women everywhere to declare, yup, that's how you should run into a former paramour.
And, yeah, it helps that she had her bestie backstage to pump her up. Thanks to their varying looks (Scott described Gigi to Elle as having a "beautiful doll face," while noting Bella is striking and "chiseled from perfection") they're not often up for the same jobs, meaning their competitiveness is virtually non-existent.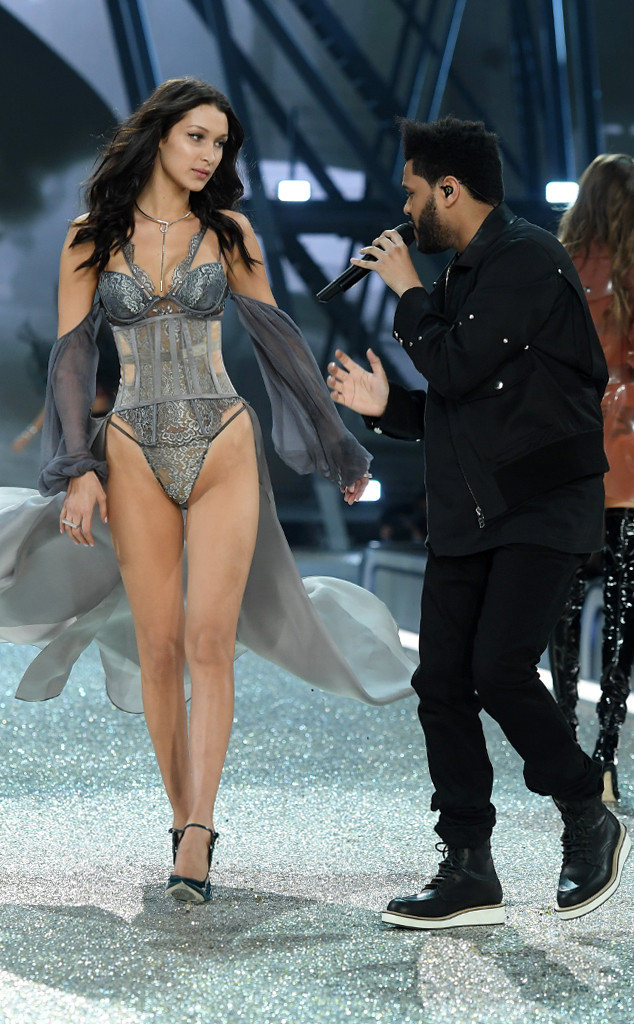 Dimitrios Kambouris/Getty Images for Victoria's Secret
"Most of the time our markets are completely different," Bella noted to Harper's Bazaar Arabia in 2017, "and if we get booked on a job and she gets it or I get it, we're both happy for each other. There are enough jobs in the world for both of us. There's no reason for us to be mad at each other or competitive." Besides, she noted to the mag, there's a bonus to being the also-ran: "If she gets is, then good for her. We're in the family so she can buy me a pair of shoes."
And in a world known for its cattiness, it's nice to have a teammate. Speaking to Serena Williams for a V Magazine profile, Gigi equated it to the bond the tennis pro shares with her equally talented sibling Venus Williams. "It's very rare to have what Bella and I have in fashion, what you and Venus have in tennis," she noted. "I feel lucky to have a piece of home in my work environment. We are each other's biggest fans. It has been a huge joy of my life to watch my little sister flourish and to help when I can!"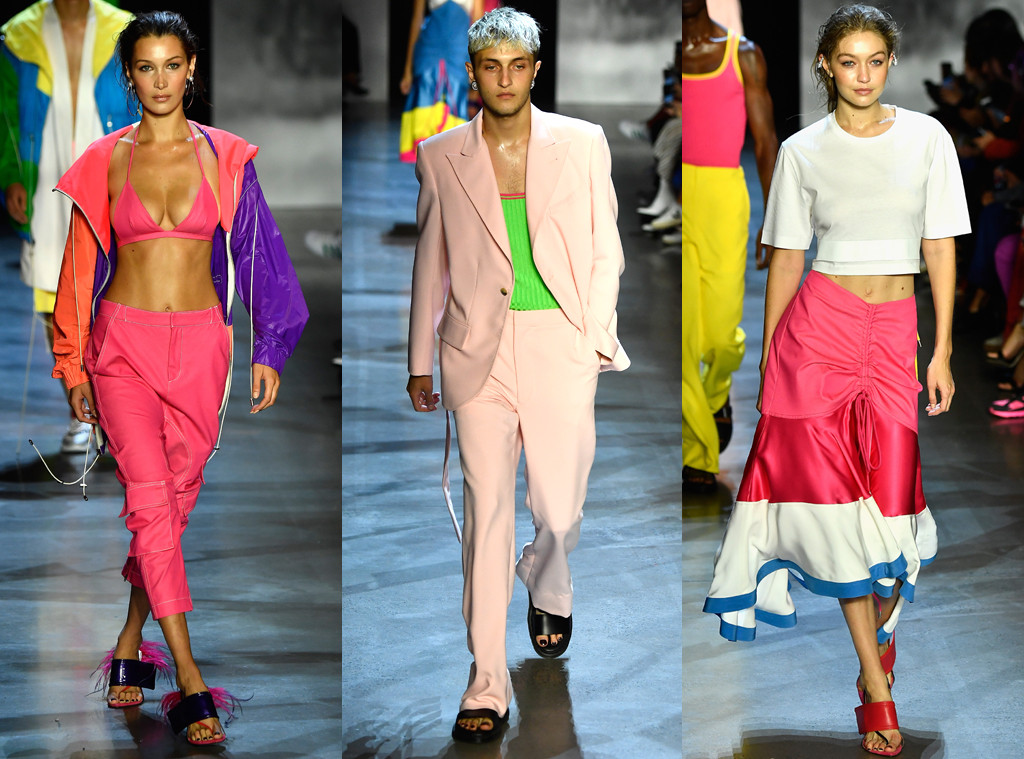 Frazer Harrison/Getty Images
Now they're bringing little bro Anwar Hadid along for the ride. Like his elder siblings, the 19-year-old has the requisite good looks, posing skills (he and Gigi appeared together in British Vogue last year) and head-firmly-on-straight mentality. At just 16, he was telling Seventeen about how his sisters were his "best friends" that "taught me not to let other people define what I'm capable of."
And he's hard at work on another it factor: a captivating romance. With his sisters' relationships on stable ground—Gigi called off her brief split from former One Directioner Zayn Malik this summer and Bella officially reunited with The Weeknd in July putting to end months of will-they-or-won't-they intrigue—Anwar is causing a little speculation of his own thanks to a public flirtation with one Kendall Jenner at a CFDA Awards bash this June.
But by far his best moves this year were in Prabal Gurung's spring/summer 2019 show last month, a runway he walked with his siblings. Naturally mom Yolanda was on hand, capturing the moment from her front row seat. "Loved seeing all 3 of my children in one show," she would later share in an Instagram story.
Imagine how she feels seeing the lot of them stand together at the top of the industry.
Source: Read Full Article