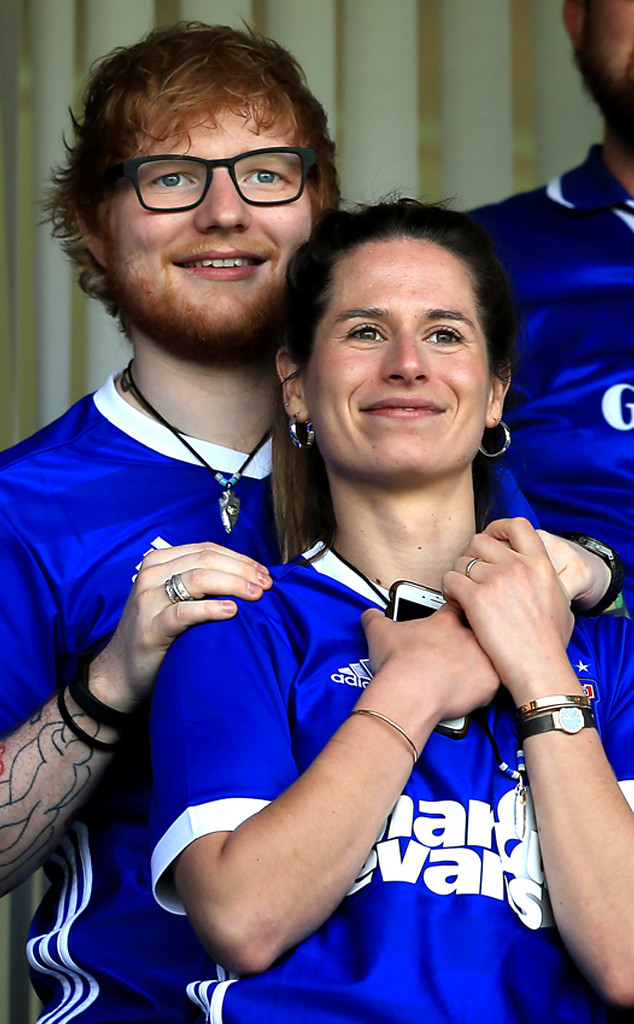 Stephen Pond/Getty Images
Ed Sheeran puts lots of love and emotion in his music, but there's one topic he isn't thinking out loud about: marriage.
Sheeran and his fiancée Cherry Seaborn got engaged in December and posted about the news on Instagram in January. "Got myself a fiancé just before new year. We are very happy and in love, and our cats are chuffed as well xx," he captioned the photo of him kissing her on the cheek.
In February, the notoriously private singer was seen wearing a ring on his left hand, but the "Shape of You" singer shut down swirling wedding rumors. "I'm not married," he said on the red carpet at the 2018 BRIT Awards. He clarified why he donned that piece of jewelry: "I never saw why men didn't wear engagement rings. It's the same commitment either way. Cherry made it for me herself out of silver clay. I really like it."
Inklings about Sheeran and Seaborn's union resurfaced recently during an interview with Access Hollywood. While promoting the new documentary about him, Songwriter, the interviewer asked Sheeran if he had any details picked out yet for the ceremony. Sheeran shrugged and then held up his left hand, silently acknowledging the silver band on his ring finger. "I never do anything too public anyway," the singer said.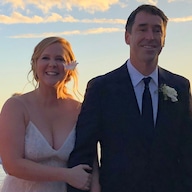 Photos
Surprise, We're Married! Secret Star Weddings and Elopements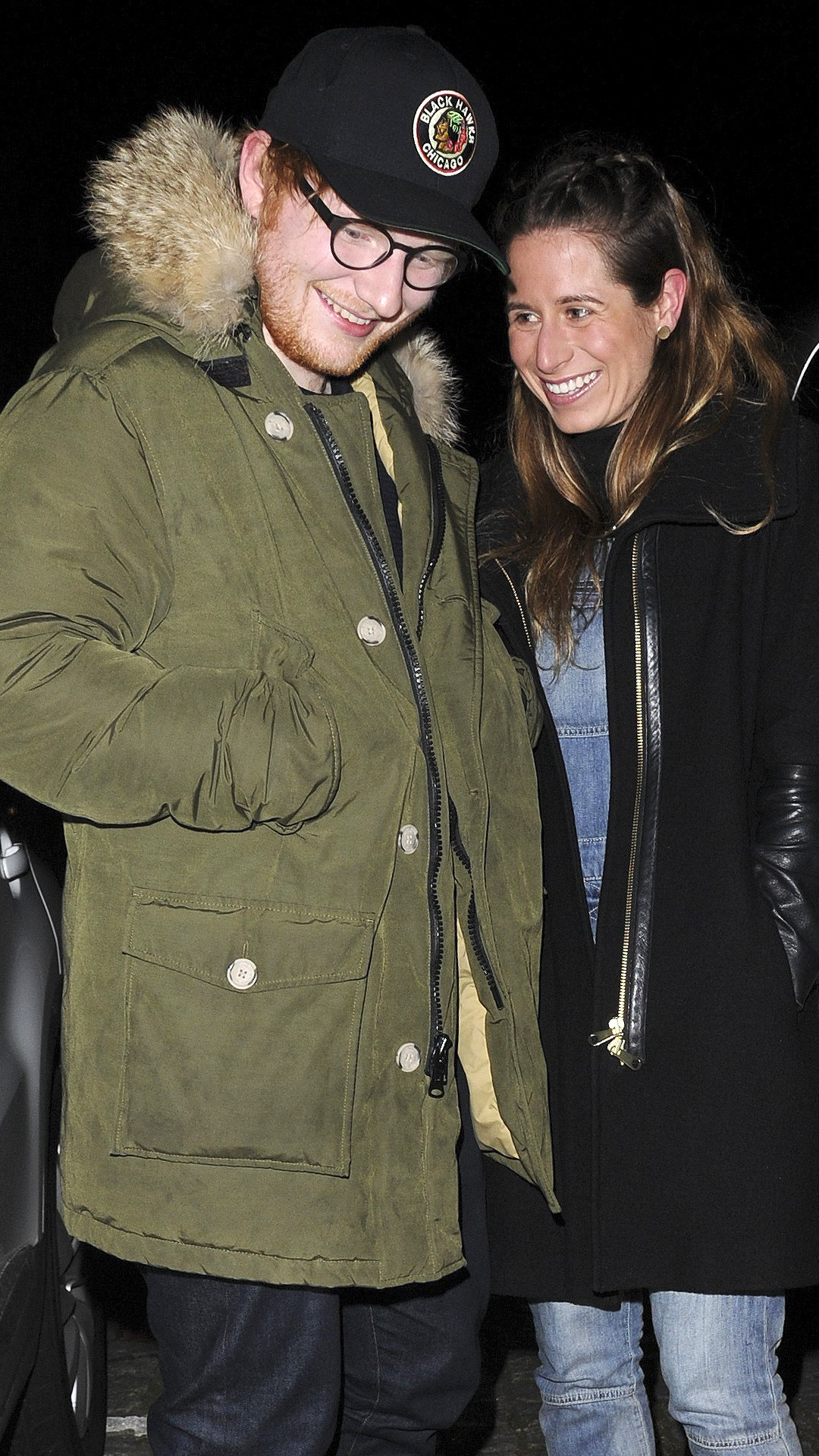 Xposure/AKM-GSI
Sheeran had the same vague and wordless reaction during his Entertainment Tonight interview with Keltie Knight. He once again shrugged when Knight referenced his potentially secret marriage. This all came about during an Instagram Q&A session when one fan asked, "When's the wedding?" Sheeran replied, "Maybe it's already happened."
A silver ring identical to that shown on Access Hollywood made a few appearances during the Q&A when Sheeran motioned with his hands.
The singer clarified that if he did already have the wedding, it would fly under the radar. "I don't like large groups of people at the best of times so, I never wanted a wedding that was lots of people," he told ET.
In October, the "Perfect" singer told Radio.com that Seaborn was "undoubtedly" the one. Sheeran apparently "always thought I'd end up dating like an actress or something, someone in the industry," but that wasn't the case with Seaborn. "I'm a hometown boy," he told the website.
Speaking of being a "hometown boy," that's how he links back to his fiancée/potentially secret wife. According to BBC, Sheeran and Seaborn met when they were in high school, but they weren't necessarily high school sweethearts. Rather, they got together and became a couple in 2015. According to Us Weekly, the two lovebirds were "reconnected through our mutual friend" when the singer visited New York on tour.
A photo in Sept. 2015 showed them enjoying time together in Las Vegas and hanging out with fellow Brit Calvin Harris, who is also the ex-boyfriend of Sheeran's close friend Taylor Swift. The couple spent the next year traveling around the globe, which is when the 27-year-old Sheeran took a hiatus from music. The break from creating music was transformative for him. Sheeran told Zach Lowe of Beats1 Radio in Jan. 2017 that his time off allowed "the time to fall in love properly."
In fact, it was Seaborn's move back to London that inspired him to press pause on his art. "So the catalyst of taking a year off was also the fact that my partner quit her job in New York—which she's now got back in London, which is really cool—but we were just basically like, let's quit our jobs and have a year of forming a tight bond. So we went traveling and spent every day for a year together," he explained.
One of these trips included a sojourn to Iceland, where Sheeran's feet fell into 200-degree water while touring a volcano, he told Rolling Stone.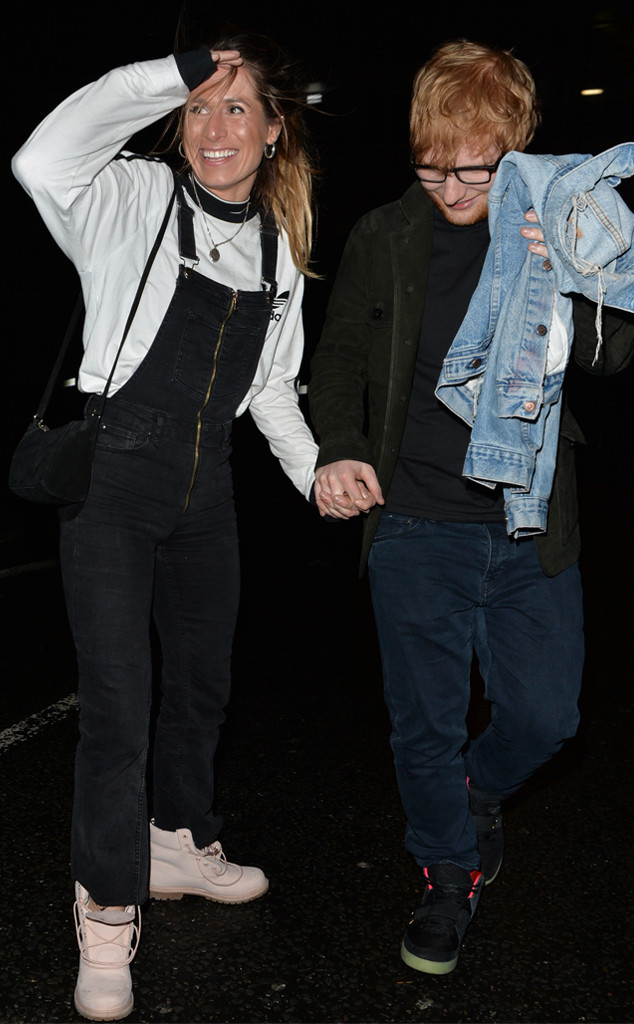 Palace Lee/INSTARimages.com
Over the years, Sheeran has played the role of doting boyfriend, especially when it comes to hockey. Seaborn led the British U21 hockey team win a bronze medal at the 2012 European Championships. He surprised her team one time to watch her play and took the time to take pictures with other players. Seaborn took her hockey skills across the pond for college, where she attended Duke University in North Carolina and played there. Seaborn is a financial consultant by week, hockey superstar by weekend.
Sheeran professes his love in writing, too. He composed the hit song "Perfect" about her, and the adoration is evident in the words themselves. "I found a love for me / Darling just dive right in / And follow my lead / Well I found a girl beautiful and sweet / I never knew you were the someone waiting for me / 'Cause we were just kids when we fell in love," he croons in the song. Other poignant lyrics include, "Now I know I have met an angel in person / And she looks perfect."
A night they shared while hanging at James Blunt's house apparently inspired the song. "We were in Ibiza listening to Future's 'March Madness' literally not wearing any shoes and going mental on the lawn," he said. Hence, the words "Baby, I'm dancing in the dark with you between my arms / Barefoot on the grass, listening to our favorite song."
Sheeran's Instagram is filled with pictures from his concerts, but the uploads that do include his love are intimate and personal.
The "Thinking Out Loud" vocalist has also talked about wanting to be a parent. During his extended interview with Lowe, he mentioned he's "massively" eager to become a dad one day. "I wanted to be a dad, like, last year. I'm ready, let's go—tour bus babies, little fat, chubby babies that just walk around," he told the radio host.
The couple is already cat parents to two felines, Calippo and Dortio, who have a large presence on his Instagram and even have an account of their own.
Additionally, Sheeran told Lowe that everything is happening just the way it should be: "I've never been happier. I've never been more comfortable. I've never been more inspired. I feel like everything's fallen into place, and it's fallen into place because I've given it the time to fall into place."
Source: Read Full Article