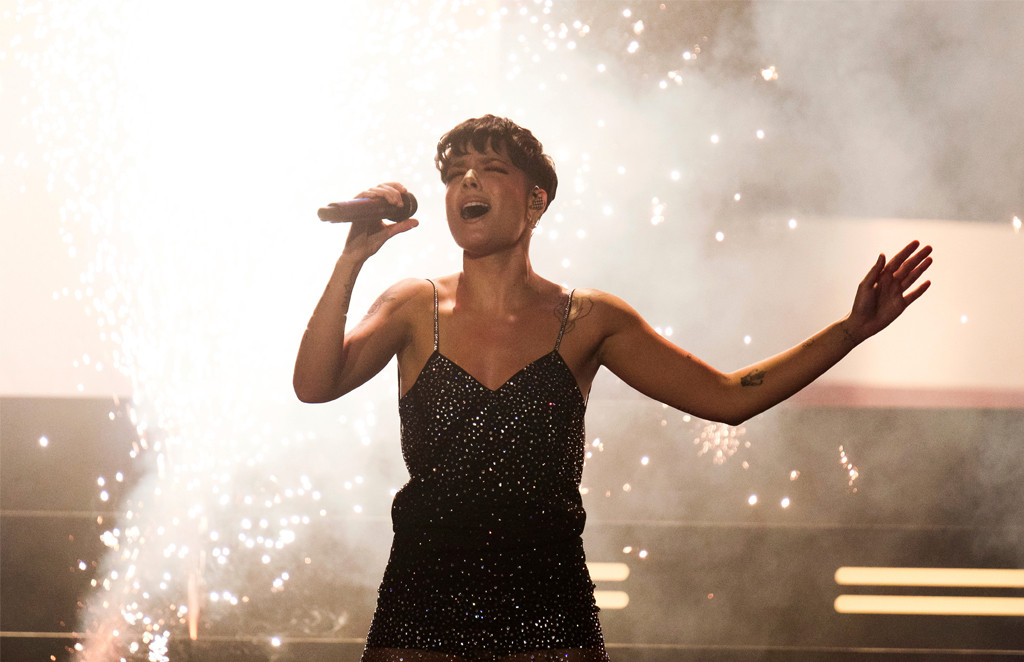 Jess Baumung/Invision/AP/Shutterstock
"My name's Halsey, I write songs about sex and being sad, and I will never be anything but honest."
Before she substituted in a simple heart emoji, those were the words the singer-songwriter chose for her Twitter bio. It was a straight-to-the-point explanation that she came up with "when I was 18 or 19 years old," she told Dazed in 2017, but it's something that absolutely still rings true today, the star always choosing to be authentic no matter how personal the truth is that she's sharing
Such was the case Saturday night when she was tasked to give a speech at the Ending Youth Homelessness: A Benefit for My Friend's Place gala. Having already spoken about the period she spent living on the streets of New York City as a teen, she took her confession a step further.
"My friends were picking out decorations for their dorms, and I was debating on whether or not I should let a stranger inside of me so I could pay for my next meal," she shared at the L.A. event. "It wasn't because I did something bad. It wasn't because something was wrong with me, and it wasn't because my parents didn't love me—because they did very much. But a series of unfortunate circumstances lead me to be in that position, and it can happen to absolutely anyone."
While that may very well be true, the musician's 24-and-a-half years on this planet are packed with such heartbreaking anecdotes, any one of which the majority of people won't have to face in their lifetime. Sexual assault, homelessness, a suicide attempt and a bipolar diagnosis, Halsey has overcome them all and emerged as one of indie pop music's greatest success stories.
Some four years after she shot to notoriety literally overnight, she boasts two platinum albums, 2015's Badlands and 2017's Hopeless Fountain Kingdom, comprised of seven multi-platinum and five gold singles, along with a certified diamond collaboration with The Chainsmokers. And she's so ingrained in the current pop culture zeitgeist that everything from her relationship status (she's been dating British alt-rocker Yungblud, 21, since sliding into his DMs with her phone number and a heart emoji last fall) to her hair color (brunette, at the moment) are breathlessly documented for her millions of devoted fans.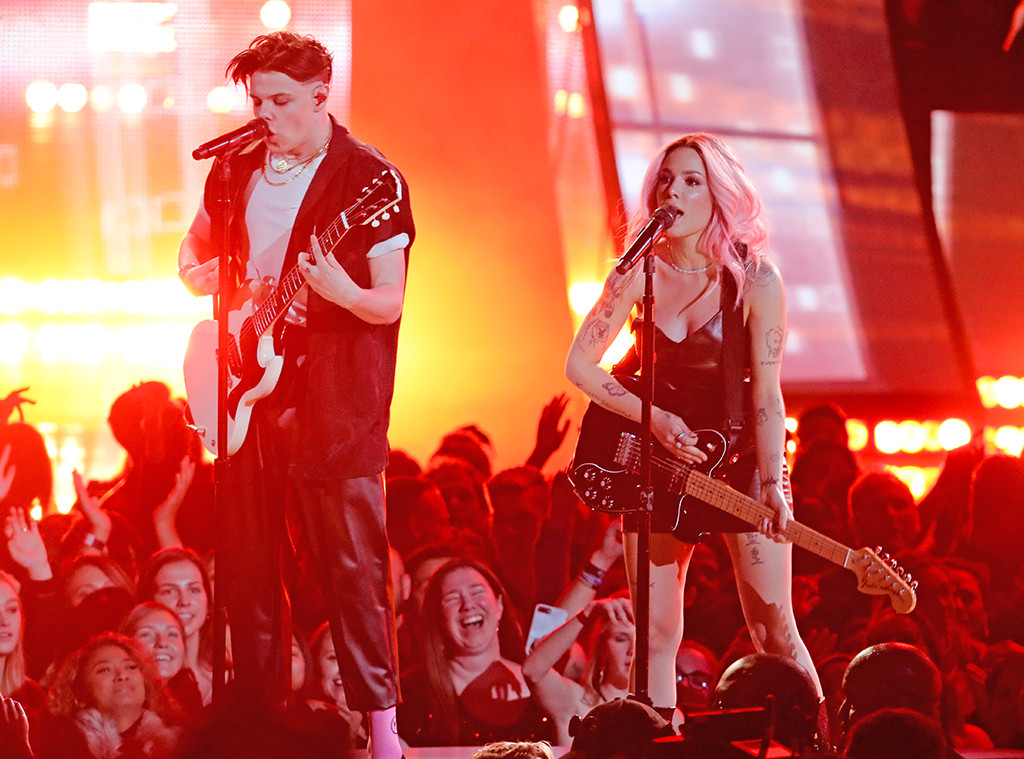 Chelsea Lauren/REX/Shutterstock
Back in the early aughts, though, she was just a New Jersey tween with a journal full of poetry and the desire to explore her artistic side. Her parents having dropped out of college when they learned they were expecting her in 1994, Ashley Nicolette Frangipane spent much of her childhood moving from town to town as they chased job opportunities, her dad Chris managing car dealerships, her mom Nicole working security at a hospital and striving to encourage her daughter's interests.
When Halsey asked for a violin one Christmas, her dad brushed off the gift as impractical, but her mom tracked down a secondhand version telling her dad, as the singer relayed to Glamour earlier this year, "We can't hold her back. We don't know what she can become."
Still, the constant moving and her mom's bipolar disorder made for "a really chaotic household," she told Rolling Stone in 2016. "There was always s–t being thrown."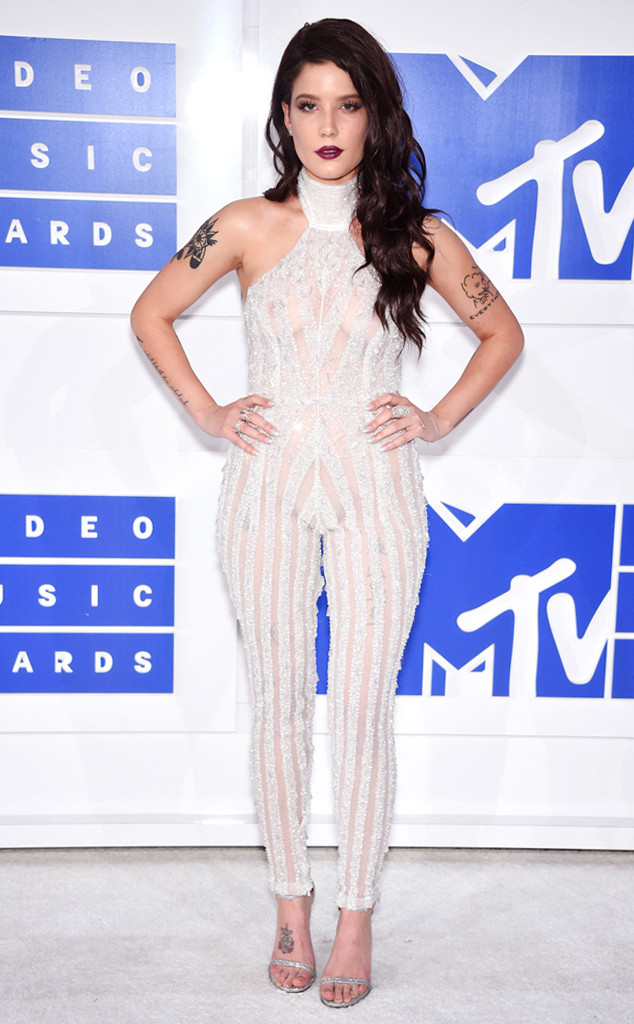 Dimitrios Kambouris/WireImage
With her peripatetic lifestyle making it hard to fit in with her peers, she turned to the Internet, filling a Tumblr account with paintings, covers of One Direction and Blink-182 hits and musical takes on her confessional-style poetry that earned her a dedicated following.
"I was putting my content out there, this projection of myself," she told Glamour. "I didn't know what I was doing. I was just screaming into the void."
Because offline she was already dealing with traumas no one should ever be forced to face.
At 2018's Women's March, she detailed a series of sexual assaults she'd occurred, the first happening when she was just an elementary schooler in 2002. "My family just moved and the only people I know are my mom's friends, too, and her son," she shared said. "He's got a case of Matchbox cars and he says that he'll teach me to play the guitar if I just keep quiet. And the stairwell beside apartment 1245 will haunt me in my sleep for as long as I am alive and I'm too young to know why it aches in my thighs, but I must lie, I must lie."
Kevin Tachman/amfAR2017/Getty Images
When things got truly dire, she'd crash with her grandmother in New Jersey or accept offers that promised temporary shelter like the time she agreed to attend a party at a Newark Holiday Inn because "I figured hotel party equals bed. I needed a bed."
It turned out to be a worthwhile invitation because at some point during the evening she met a music guy and showed him a cellphone video of her performing her own music and he introduced her to another industry guy who invited her over to collaborate in his basement recording studio. There, she churned out "Ghost", a single about a heroin-addicted ex-boyfriend that she uploaded to SoundCloud a few weeks later.
"I had some friends who were like, 'If you put this up and it gets popular, you can make a quick thousand bucks,'" she told Interview in 2015.
Their prediction, as it turned out, was far too modest. Within an hour, her Twitter was filled with mentions. By 3 a.m. the next morning, five labels had reached out and as the sun came out the song was already charting.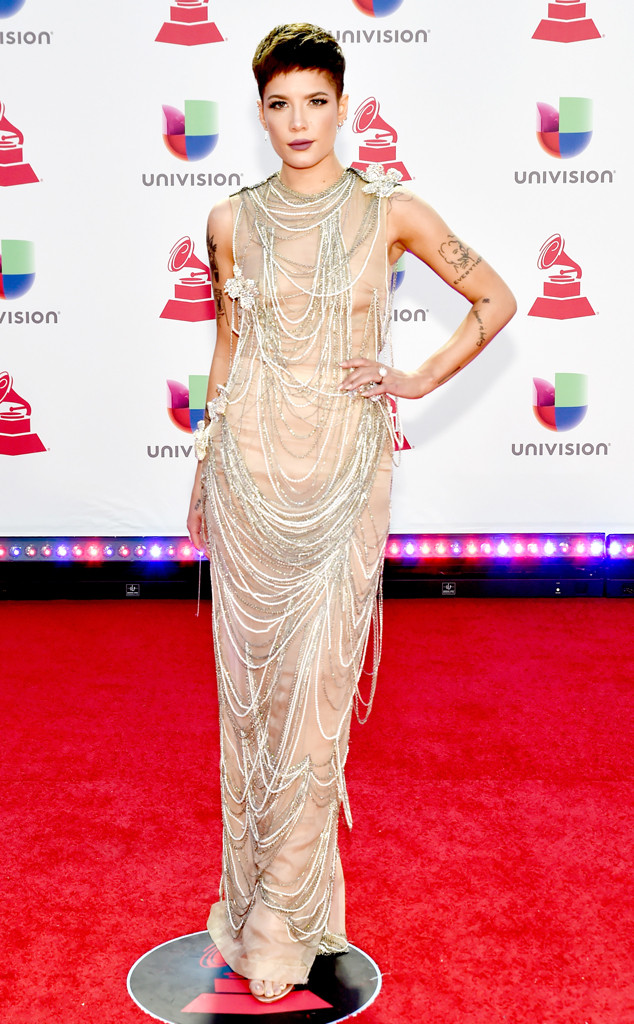 David Becker/Getty Images for LARAS
Navigating completely uncharted water, she called her pal Anthony Li, already managing his own pop-punk band, searching for guidance. "I said, 'Holy s–t I'm freaking out, can you come to the city and pretend to be my manager?'" she said.
He joined her as she met with label after label. "We were sitting there like, 'Uh, yes, and what can you offer me?' I didn't know what I wanted," she shared in an interview with Marie Claire last year. "He's like, 'Yeah, my client—' Client? What the f–k do you mean, 'client'? I'm wearing a $15 dress. We had Taco Bell for lunch."
Despite having just 24 hours to make a call, "the decision was very easy," she told Interview, and soon she was signing her deal with Astralwerks, a subsidiary of Capitol Records, atop the Empire State Building and fully assuming the role of Halsey, the anagram of Ashley she came up with while riding the subway to Brooklyn's stop of the same name. When Badlands debuted in 2015 to much acclaim, she watched as it slipped into the second spot on the Billboard 200.
"I'm just this f–ked-up stoner kid who made it," she explained to Rolling Stone. "I was buying my clothes at T.J. Maxx, then woke up one day and was going to L.A. to film music videos. It's a good thing I'm a crazy b–ch, because I don't think I'd be able to handle it if I wasn't, you know?"
Because fame brought on a series of new struggles for the star.
As details trickled out about her life, critics accused her of lying about being biracial (her mom is of Italian, Hungarian, and Irish descent; her dad African American) because she presented as white. Others questioned her bisexuality, pointing out that her romances with men—before Yungblud she was linked to Matty Healy of English rock group The 1975 and Norwegian producer Lido and, arguably her most high-profile relationship to date was a yearlong union with G-Eazy—seem to outnumber those with women.
"It goes back to that fear; people saying, 'I can't put you in a category and I don't like it,'" she told NME last fall. "Well, you're not entitled to a dated and detailed history of the women I've f–ked. You wouldn't ask a heterosexual woman artist for a list to prove that they've slept with men, so why are you asking for evidence that I've been with women?"
Frazer Harrison/Getty Images
And she caught flak from those who felt she was using her bipolar diagnosis as some sort of attention-getter after The New York Times quoted her as calling herself "tri-bi", something she insists she never said. "The funniest thing is that the biggest battle that I've had to overcome in my career was not being bisexual, was not being biracial, was not being bipolar," she insisted to Rolling Stone. "It was everybody thinking that I was exploiting those things."
But, perhaps, the most painful backlash came after she revealed to to the music mag that she had suffered a miscarriage in a Chicago hotel room mere hours before she was to headline 2015's Vevo LIFT.
With her debut album weeks away she felt unable to cancel, slipping into an adult diaper to deal with the bleeding and popping two Percocet to deliver what she called "the angriest performance that I've ever done in my life."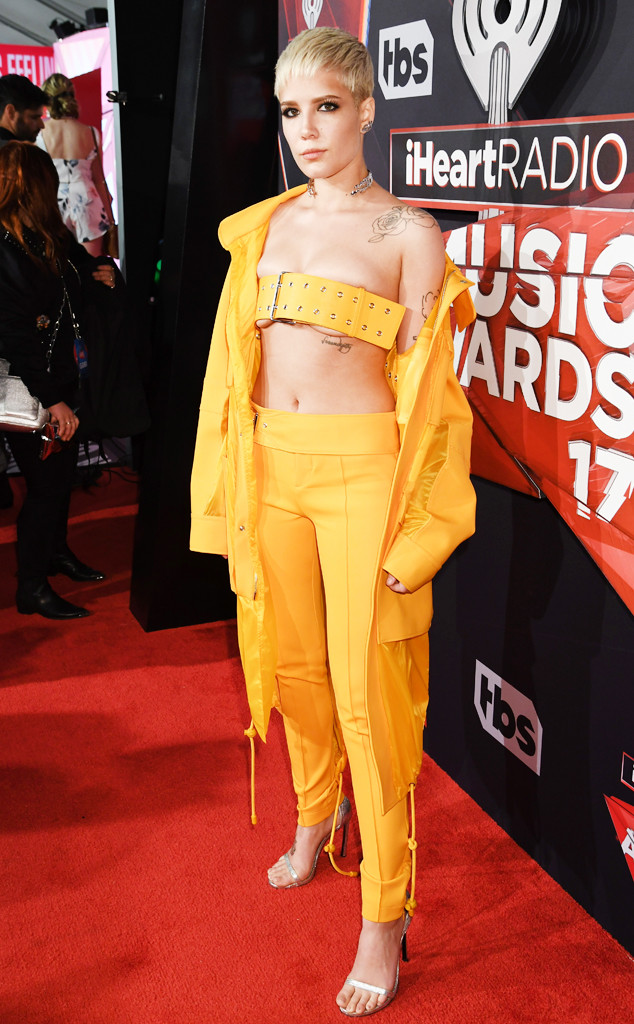 Jeff Kravitz/FilmMagic
Crushed to be losing her pregnancy after what she categorizes as weeks of overworking herself, "That was the moment of my life where I thought to myself, 'I don't feel like a f–king human being anymore.' This thing, this music, Halsey, whatever it is that I'm doing, took precedence and priority over every decision that I made regarding this entire situation from the moment I found out until the moment it went wrong. I walked offstage and went into the parking lot and just started throwing up."
Since that confession, she's been open about her dreams of becoming a mom and how an endometriosis diagnosis means she felt the need to freeze her eggs at 23, the struggle making the work of some of the Internet's cruelest participants that much more painful.
"When I'm with a bunch of like-minded women and men talking about wanting to change the world and wanting to make women's healthcare a less shameful thing, do I regret telling the world about my miscarriage? No, of course not. I'm proud of myself," she relayed to Dazed in 2017. "But when I'm alone at night and I'm laying in my bed checking Twitter and people are tweeting me like, 'Your baby's dead. F–k you,' and bloody pictures—that's a moment where I was like, 'I probably should've kept that one to myself.'"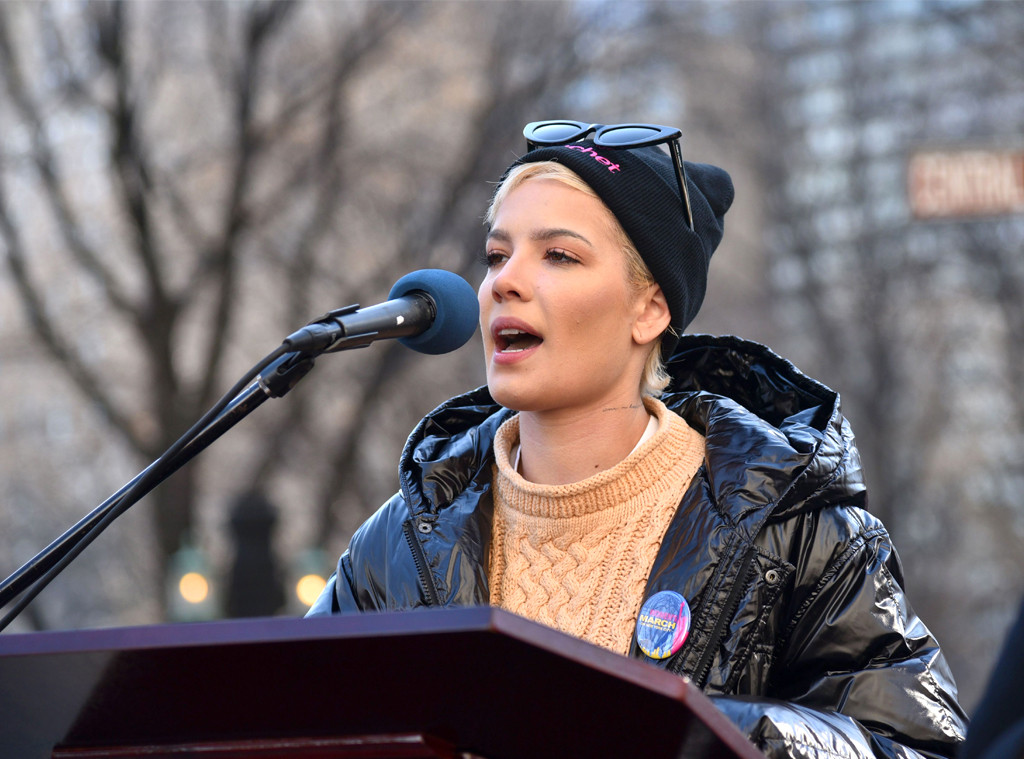 Erik Pendzich/REX/Shutterstock
Still, she says, the deplorables have only forced her to examine how she shares her truths, not if she will. "I reminded myself that I wasn't alone, and the lesson that I learned was that if I want to continue to be honest, I can—but I have to give myself time to mourn the loss of things before I give them to the world," she noted to the outlet. While her tendency to be open can be tough, "I think that the pain that I experienced from being so honest is far more manageable than the pain I would be experiencing lying to myself and lying to the world for the rest of my life."
Now a veteran in the industry, she's learned to lean on her contemporaries. "I will say one thing about my generation of artists: We are just not f–king having it," she told Glamour. "Lorde, Ariana [Grande]…if you open any of our text messages at any given time, all of us are just like, 'Yo, I love your new record. When are you leaving for tour?' We're so supportive."
Source: Read Full Article