Michael Myers is back again, but this time Laurie Strode is ready for him. On Friday, Universal Pictures released the first Halloween reboot trailer, which sees the return of Jamie Lee Curtis as Laurie, who famously escaped from the murderous Michael in the original 1978 film, Variety reported. It was the role that made Curtis a star. The new reboot looks just as spooky as the original, and with a release date of Oct. 19, it is guaranteed to give you a few good Halloween scares. But for now, the trailer alone will have you on the edge of your seat.
Curtis also appeared in Halloween II, Halloween H2O: 20 Years Later, and Halloween: Resurrection (she also had a small, uncredited role in Halloween III: Season of the Witch, according to IMDB), but Halloween is her first appearance in the franchise since 2002. Nick Castle is also reprising his role as Michael for the first time since the original movie.
The 1978 film's director, David Carpenter — who serves as an executive producer — previously told Entertainment Weekly that the Halloween reboot will ignore what happened in most of the sequels, and the eerie trailer begins with a team of true crime investigators visiting the facility where Michael is being held, holding up the infamous mask he wore when he killed his victims.
Andi Matichak, who plays Laurie's granddaughter, tells her friends the true story of how Laurie survived the attack as they walk through Haddonfield, and Laurie trains, doing some target practice with her handgun, so she'll be ready if and when Michael gets out. "Do you know I've prayed every night for his escape?" she asks a police officer. "Why would you do that?" he asks. "So I can kill him."
Myers' bus crashes and the killer escapes, brutally murdering some people at a gas station before putting his trademark mask back on and starting off through town on Halloween night. Eventually, Laurie and Michael meet again, Laurie gets her chance at retribution as the two face off. "You don't believe in the Bogeyman?" she asks a member of the true crime crew. "You should."
And Curtis — who recently channeled her horror roots for her role in Ryan Murphy's Scream Queens — said the opportunity to revisit Laurie was what sold her on the project. "I first played Laurie Strode when I was 19 years old…1978, we had no money when we made Halloween," she said at CinemaCon in Las Vegas in April, according to Entertainment Weekly. "So now, as a 59-year-old woman, when they came to me and said they wanted me to play Laurie again, I heard what they said and said yes immediately. … Except for Star Wars, I can't think of another movie where the same actor is playing the same part 40 years later."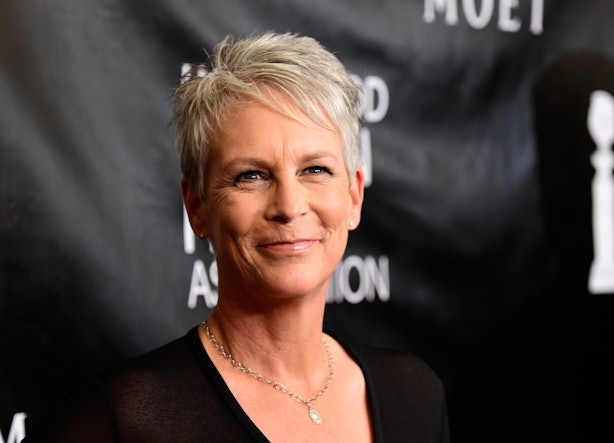 The new film was directed by David Gordon Green and written by Green and Danny McBride. McBride said that his and Green's love of the 1978 film made them want to reboot the franchise, telling EW in September 2017,
It has been reported by Variety that this could be the last Halloween movie, but it will also be the scariest. When Carpenter came aboard in 2016, he said, "38 years after the original Halloween, I'm going to help to try to make the tenth sequel the scariest of them all."
With Carpenter, Castle, and Curtis all aboard, the reboot is a return to form for the franchise. And if the trailer is any indication, it will be just as scary as the original.
Source: Read Full Article