Legendary actress Jane Fonda covered up her bandaged lip when she exited Salt Lake City Airport in Utah last Friday.
According to the Daily Mail, the Grace & Frankie star is said to have survived a brush with basal-cell carcinoma, a common form of skin cancer. Fonda revealed the health scare details during a recent AOL BUILD Series Q&A where she showcased the plaster. "I just want to explain my lip," she told onlookers. "I just had a cancer taken from my lip. I thought it was going to heal in time before I came before you, but it's fine. I just want to explain it. I don't normally go around like this. The world is falling apart," she quipped. "What's a lip?" Fonda also sported the bandage at the premiere of the latest season of Grace & Frankie, posing in front of the cameras alongside co-star Lily Tomlin.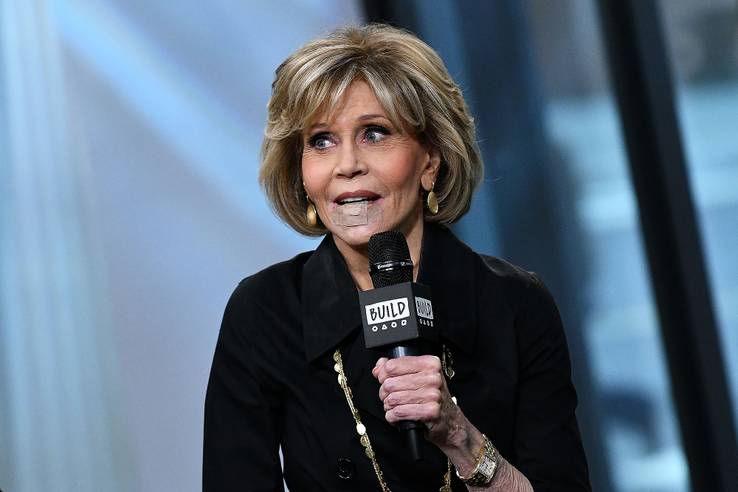 PREVIOUSLY: PICTURES OF JANE FONDA THAT ARE HOT AF
Fonda is no stranger to health scares, having had a lumpectomy in 2010 after finding a cancerous growth in her breast. Besides that, the actress has a fake hip, fake knee, and metal in her back. The thrice-divorced mother of three shows no signs of slowing down, despite health issues. Last year, she starred alongside Robert Redford in Our Souls At Night, marking her fourth onscreen appearance with the actor. Later on this year we can expect to see the fitness tycoon in another feature movie, Book Club, directed by Bill Holderman. While her glittering movie career is enough to satisfy any A-lister, Fonda's Netflix series Grace & Frankie was an unexpected success across all ages too. The show follows the exploits of two recently divorced friends whose husbands left them for each other. Tomlin and Fonda try to navigate the world as recently single women in their 70's while attempting to launch an adult toy business.
Don't worry if you've yet to see it—you can catch the complete box set on Netflix now.
Source: Read Full Article