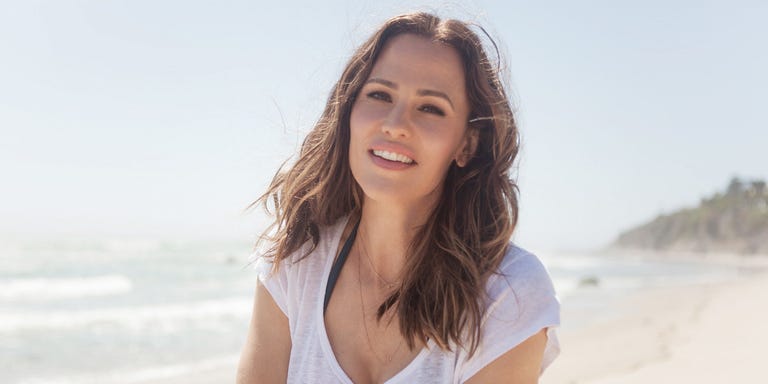 Based on the fact that Jennifer Garner has two (painfully cute) kids and a packed filming schedule—have you seen the bad ass trailer for Peppermint?—it's not terribly surprising that her days start early (we're talking 5:15 a.m. early!). Her morning routine isn't for the faint of heart (or the night owls)…but it might just inspire you to skip hitting the snooze button tomorrow.
5:15 a.m. I pop out of bed and hit the gym, even if I'm not fully awake
"The first thing I do is work out before I talk myself out of it. I have my clothes laid out already (something I do the night before) and the coffee maker set so I can't make excuses—whether I'm exhausted or not.
Mondays, amirite? Which number tired are you today? I'm looking at a straight up 5. #? #threemoredaystilfriday #whatkindofassistantsneakspictureslikethis❤️ #haveaniceweekeveryone
A post shared by Jennifer Garner (@jennifer.garner) on
"I love doing Body by Simone (and no, I don't work for her, it's just what I do). It's a cardio workout, so you're on the trampoline or you're dancing–music is a big part of it. If she's not around to train me, I use her app to follow the workouts. They just make me happy! Even if I can only do it for 20 minutes, I make sure I'm sweating by the end, and that's a victory. I don't judge myself."
If you can find a workout that makes you smile, DO IT!!! Watching the sun come up or dancing mid-day, I couldn't do better on this #nationalworkoutbuddyday than you, @bodybysimone. Thank you for being a bright spot in the last four years, for your inclusive, loving energy, and for making me smile my way through #PEPPERMINTmovie. You are something else.❤️ #dancewithyourbuddy
A post shared by Jennifer Garner (@jennifer.garner) on
"Don't let perfect get in the way of good. Don't tell yourself 'I can't workout because I don't have an hour.' Do the 15 minutes you have and feel good about it. Exercise is about consistency."
6:30 a.m. Right after I shower, I lather on the sunscreen
"Sunscreen is a non-negotiable for me. Even if I'm going to be inside, or underground, I start with a layer of Neutrogena Ultra Sheer Dry-Touch Sunscreen under my makeup."
"Your skin is your calling card. It's the first thing people see, and being outside is so important—you have to enjoy the sun. When you're 20, you're not going to understand how much you wish you'd been wearing sunscreen down the road because sun damage can show up all at once. The only way to have great skin when you're older is to be consistent your whole life."
9 a.m. Time for breakfast.
Pretend Cooking Show, Episode 2: @huckcafe English Muffins by @zoenathanloeb. You can see the full episode, in all its floury glory, on my Facebook. #icrackmyselfup #pretendcookingshow #notaprettybaker —– Huckleberry English Muffins recipe: 3 cups buttermilk 2 tbsp active dry yeast 3 tbsp unsalted butter (room temp) 3 tbsp honey 6 cups bread flour 1/4 cup sugar 4 1/2 tsp kosher salt 1 cup cornmeal —– 1. Warm 1 1/2 cups (355ml) of the buttermilk in a small saucepan, but do not boil. Place the remaining 1 1/2 cups (355ml) cold buttermilk in the bowl of a stand mixer with the yeast and whisk by hand to combine. Add the warm buttermilk to the cold buttermilk mixture and whisk to blend. Add the butter, honey, bread flour, sugar, and salt and mix on low speed with the dough hook attachment for about 1 minute, until the dough comes together. Increase the speed to medium-high and work the dough for about 2 minutes until smooth. • 2. Transfer the dough to a greased bowl, cover with plastic wrap, and refrigerate for 1 hour. • 3. Sprinkle 1/2 cup (80g) of the cornmeal on a clean work surface and dump the dough out onto it. Sprinkle another 1/4 cup (40g) of the cornmeal on top of the dough and flatten it into a disk with 1 inch (2.5cm) thickness. • 4. Sprinkle the last 1/4 cup (40g) of the cornmeal onto a sheet pan. With a 3 inch (7.5cm) round cutter, cut the English muffins from the dough. Cut them as closely as possible, minimizing the amount of scraps, as you cannot combine and reroll this dough. • 5. Arrange the English muffins, 1 inch (2.5cm) apart, on the sheet pan. Allow the dough to rise for 1 hour at room temperature. Or refrigerate overnight and allow to rise for 1 hour in the morning. • 6. As the English muffins near readiness, preheat your oven to 350F (180C) degrees. When the oven is hot, heat an ungreased griddle or large cast-iron pan over medium-high heat. Jen tip: 275F (135C) for the temperature of your griddle! • 7. Drop the English muffins onto the griddle and cook for about 1 minute on each side, until golden brown. • 8. Return the English muffins to the sheet pan and immediately bake for 8 to 10 minutes, until they feel light.
A post shared by Jennifer Garner (@jennifer.garner) on
"Sometimes I have a smoothie, but I'm an eggs and avocado kinda girl. That's scrambled eggs with the yolk. If I don't get to cook my kids an entire meal, I focus on feeling good about what I can cook. I try my best not to give into guilt. "
Source: Read Full Article