Jennifer Lopez is back at it again! The showstopper had recently signed on with Guess Jeans last November to be their new "Guess Girl". The iconic brand announced Lopez would be heading their 2018 Spring Ad campaign and the shots are finally here.
The "Jenny From The Block" singer can be seen wearing denim overalls with an exposed back, checkerboard shorts and a dress that could turn heads, in the five photos released by Guess. This is not the first collaboration Jennifer Lopez has been a part of; her recent Giuseppe Zanotti shoe line was a major success! It seems as if anything J.Lo touches turns to gold.
Jennifer told US Weekly how ecstatic she was to receive the call from Paul Marciano, who is the co-founder of the company, to be the new face of their Spring campaign. Lopez mentioned she has been a fan of the brand since she was a teenager and how "it is a tremendous compliment to have been selected."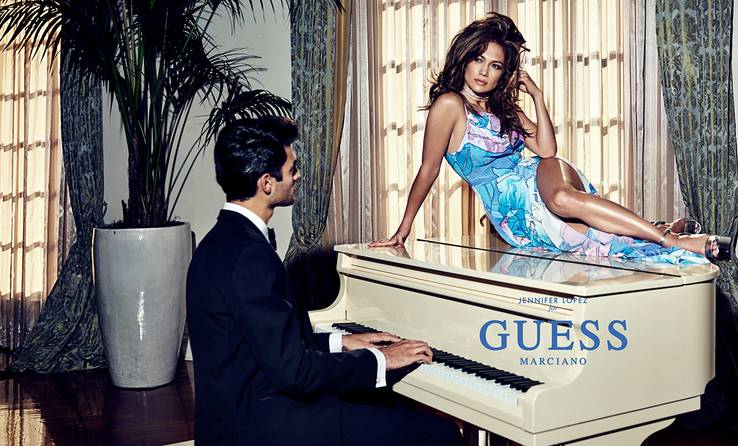 The incredible Tatiana Gerusova, who was the campaign photographer, used elements of Jennifer's life in both Vegas and Hollywood as the inspiration behind the beautiful shots. The mother of twins has been killing the game lately, with her headlining residency in Las Vegas called "All I Have", humanitarian work for relief efforts in Puerto Rico, and now her gorgeous campaign with Guess, we simply can't get enough!
Paul Marciano said in a press release how he too could not be happier with Jennifer being the new "Guess Girl" and the "Femme Fatale" of the Marciano brand as well. He continued by saying her work with the brand contributes to the campaign in ways that celebrate the notion that "women get more beautiful and talented as they gain life experience".
Lopez is one of many big names to grace a Guess campaign, including Gigi Hadid, Kate Upton, Camila Cabello and Hailey Baldwin. The Bronx beauty is undoubtedly in great company! However, the star, only 2 years shy of 50, is proving that you don't need to be in your 20's to be a Guess Girl. With that being said, Jennifer Lopez proves again, that if anyone can do it all, it's certainly her.
Source: Read Full Article