When it was published in 2015, author Jessica Knoll's thriller Luckiest Girl Alive took the book world by storm. The best-selling debut of 2015, it spent four months dominating New York Times list, has been translated into several languages, and is set to become a Reese Witherspoon-produced film for Lionsgate. Such a meteoric rise might have come to a surprise to some, but Knoll always knew she would be a successful author. In fact, she wrote about her drive in a viral op-ed for the New York Times titled "I Want to Be Rich and I'm Not Sorry," a piece in which she discusses the double standards ambitious women face every day.
Now she's back with her sophomore novel, The Favorite Sister, a story about those very things: women's drive for success, the bonds of sisterhood women share with one another, the pressure women face from society to fit a certain mold, and the ways in which those elements can collide with dangerous, even deadly, results.
"I thought about how it felt working in magazines for so long, and this feeling that your spot is really tenuous," Knoll tells Bustle about the driving idea behind her new novel. "It gave the office this feeling of it being a wilderness, or very lawless, and you woke up every day being like, how am I going to be received today? Am I going to be in everyone's good graces? Am I going to have a job tomorrow? I wanted to bring that kind of unsteadiness feeling to this book as well, in this setting."
To do that, Knoll created a twisty thriller about two sisters who join the cast of a reality show. But one of them doesn't make it to the end of the season alive.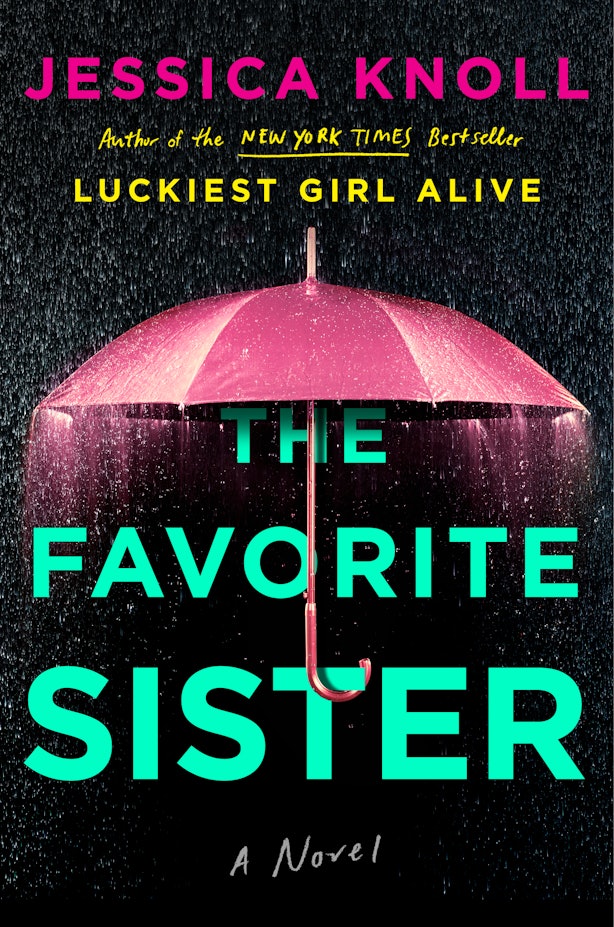 The Favorite Sister begins by revealing Brett has been murdered while filming the show before going back in time to explore the circumstances of her death. The story is told through alternating narrative perspectives, switching between Stephanie, Brett, and Kelly's points of view to slowly reveal the role each castmate played in Brett's demise.
"It makes reality feel really slippery," Knoll tells Bustle about the narrative structure of her novel, "because everyone has their own perspective, and nobody is ever completely truthful with themselves."
Like Luckiest Girl Alive, Knoll's second novel is a razor-sharp thriller and an exciting page-turner that is so much more than just a tantalizing whodunit. The Favorite Sister is also a penetrating look at sisterhood — genetic and cultural — and the relentless pressure on women to be beautiful, successful, "likable," and relevant. At the novel's center, according to the author, is a question many American women are struggling to answer today: "How do we reconcile the reality of how women can mistreat each other, especially in this time right now where women have really banded together and effected change?"
Inspired by a profile in The New Yorker of radical feminist Shulamith Firestone, a prominent activist in the 60s and 70s who was ousted by the very movements she helped create, Knoll set out to write a book that got at the heart of that very experience. She wanted to explore the idea of "trashing" — a term that, according to the author, was a product of the actions of some in the feminist movement turned on their fellow sisters. "They would talk about them behind their back, they would exclude them from various get-togethers until they finally got the message: 'You're no longer welcome here,'" Knoll says. "In my own life, I've had those experiences."
The author isn't alone in her experiences, either. Women, young women in particular, are constantly forced into positions against each other by a culture that encourages, and often profits from, infighting. Like the characters in her new novel, Knoll admits to having these "mean girl" behaviors herself, especially as a young woman, but the author believes that by talking about the problems in our society, and in our sisterhoods, women can start to solve them.
"I wasn't always aware of when I was participating in that kind of culture, but having written this book and turning a critical eye to the way that culture pits women against each other, I am now able to recognize when it is happening, and I have that wherewithal to step back and say, 'I'm not going to contribute to this anymore,'" Knoll says. "I do think it's important we talk about it for that reason, that's how we fix it."
Perhaps that is why so many readers have been turning to characters that are often called "unlikable women." From Gillian Flynn's troubled heroines Libby Day, Amy Dunne, and Camille Preaker, to Knoll's own Ani FaNelli, and now, the entire cast of Goal Diggers, readers have expressed increased interest in female characters that are considered "unlikeable." More than that, readers have even started to champion them.
"It's only been the last couple of years that we've started to lionize these types of characters," Knoll says, "but there is no shortage of examples of women like that in fiction over the decades."
One of the best examples from The Favorite Sister is Stephanie, the woman on Goal Diggers and the show's first black cast member. A bestselling author of erotic novels, Stephanie is ruthless, willing to do just about anything to make sure she stays in the spotlight. She's also incredibly complex, and one of the novel's most interesting characters, a fact Knoll is well aware of. According to the author, she wanted to make sure Stephanie's character did more than check the diversity box.
"If I'm going to write about a black woman's life, I don't want to make her the friend. I want her to have a voice too," Knoll says. "I didn't want her to be […] someone who was just on the periphery. I wanted her to be central to the story."
In that, Knoll succeeded. Stephanie, along with Brett and Kelly, offer readers fascinating female characters to navigate not only the world of Goal Diggers through, but their own worlds, too.
For many readers, and many women, a book like The Favorite Sister is the perfect vehicle in which to explore their fears, their desires, and their problems, both personal and societal. Crime fiction has long been a genre that has been friendly to female readers and writers, but in recent years, it has become something of a feminist battleground where women come to duke it out with whatever the world has thrown at them.
"I do think that crime is place that women have always been attracted to because we are often victims of crime," Knolls says. "Even if we haven't experienced a certain level of violence in our lives, there is always a low grade violence to the day -to-day lives of women. I think understanding human motivation helps me make sense of the world. It helps me make sense of other people, and that had a calming effect on me."
Based on the fact that women buy approximately 80 percent of crime books every year, Knoll is not the only one turning to the genre for more than just pleasure reading. For many women readers, crime fiction is a welcoming place where they can explore their desires, face their fears, and confront their demons.
"I love that we have carved out this —I don't want to call it a niche, because it's not niche anymore. It's so mainstream, and it's such a powerful genre," Knolls says. "The women who are supporting this genre are powerful, too. I am proud to be a part of it, I am proud of all of the other women who are finding their place in it, too."
Source: Read Full Article