American wrestler Nikki Bella and her ex-fiancé, professional wrestler, bodybuilder, rapper and actor John Cena, split in April 2018 after six years together and after getting engaged at WrestleMania in 2017. But is the couple's relationship really over? Keep clicking to find out, and make sure you click to page 5 to find how much both celebrities are worth.
1. Bella's backstory
Nikki Bella was born in San Diego and grew up in Scottsdale, Arizona. | Jerod Harris/Getty Images for Dress for Success Worldwide-West
According to Celebrity Net Worth, Nikki Bella was born Nicole Garcia-Colace on 1983 in San Diego, California. She grew up in Scottsdale, Arizona, which is where she had her twin sister launched their professional wrestling careers as the Bella Twins.
Next: Wrestling wasn't Bella's first choice.
2. Bella wrestled by default
Nikki and her sister Brie made their first national TV appearance on Meet My Fokls. | Christopher Polk/Getty Images for Michaels
Athlete Bella was originally focused on a career in professional soccer, but a leg injury ended her dream. She and her sister, Brie, worked in modeling, acting, and promotions while they attended college, making their first national TV appearance on the Fox reality show Meet My Folks, according to Celebrity Net Worth. That reality show led to some fame for them, and they were dubbed the Budweiser World Cup Twins.
Next: A new career for Bella.
3. Bella's entry into wrestling
The Bella sisters currently appear on the reality series Total Divas. | Valerie Macon/Getty Images
The Bella sisters tried out for the WWE in 2006, and although they weren't selected, they were asked to join the development league the following year. After they participated in the development league for a year, they made it to the main roster. Bella is also one of a group of female wrestlers currently starring on the reality series, Total Divas, which was just renewed for two more seasons, according to People.
Next: And now, for the reveal.
4. Bella and Cena's net worths
John Cena is worth $55 milion, while Nikki Bella is worth $4 million. | Frederic J. Brown/AFP/Getty Images
According to Celebrity Net Worth, Nikki Bella is currently worth $4 million. And, according to the same source, John Cena is currently worth $55 million. Clearly, Cena wins in the net wroth category, hands-down.
Next: Bella's killin' it.
5. Bella's accomplishments
Nikki and Brie Bella won Choice Female Athlete award at the 2016 Teen Choice Awards. | Kevin Winter/Getty Images
Bella has won the WWE Divas Championship twice — and she hung onto the title for 301 days, which was the second longest reign in history. She was ranked No. 1 on the Pro Wrestling Illustrated's Female 50 list in 2015 — and named Diva of the Year by Rolling Stone the same year, according to Celebrity Net Worth. At the Teen Choice Awards in 2016, she won the Choice Female Athlete award with Brie Bella.
Next: Cena's backstory
 6. John Cena has many talents
Cena's wrestling career began in 2000. | Kevin Winter/Getty Images
John Cena began wrestling in 2000 and signed a contract with the World Wrestling Federation (now known as the WWE) in 2001, according to Celebrity Net Worth. Since then, he has won 24 championships, 12 world titles, and more. He's also the seventh longest-reigning WWE Champion in history. His 2005 rap album, "You Can't See Me" reached No. 15 on the Billboard charts., and he has appeared in movies and on television.
Next: The engagement might not be off.        
7. Cena and Bella are apparently back together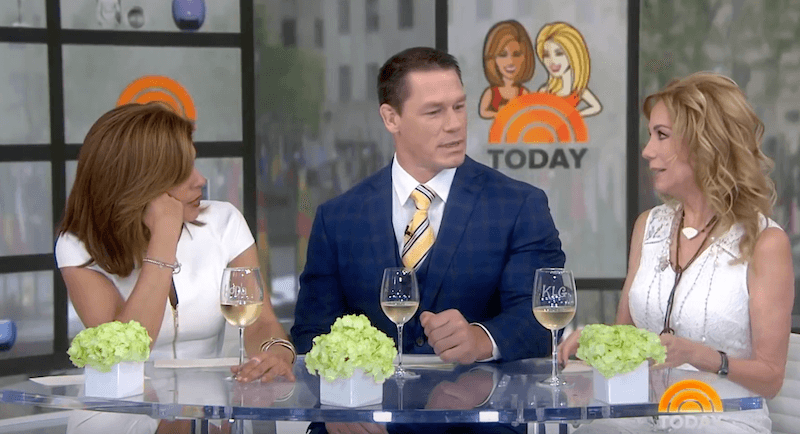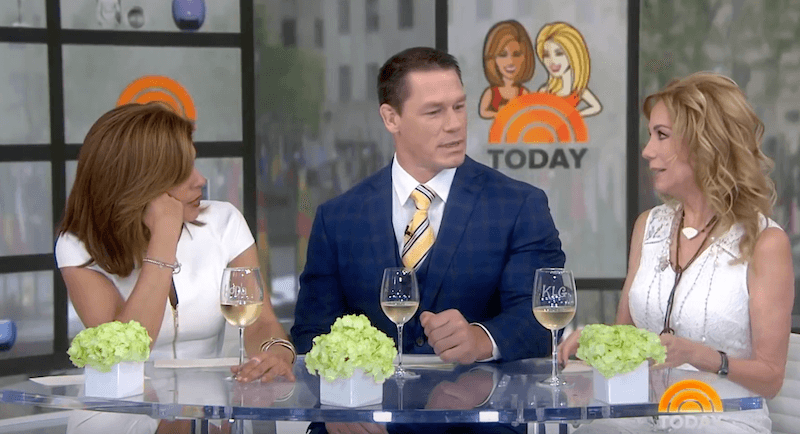 John Cena opened up about his split from Nikki Bella on the Today Show. | NBC
According to People, Cena and Bella can't stay away from each other. Just a month after their breakup, they are back together, a source told the magazine. In the time since the breakup, Bella was open about wanting to get back together with Cena and told People that she has been in "communication" with Cena and that they are moving toward getting back together.
Next: What's next?
 8. Cena and Bella's future
Is the couple now back together? | Rachel Murray/Getty Images for Paramount Pictures
Bella called off her wedding to Cena three weeks before the scheduled event. Rumor had it, according to People, that Bella wanted to have children — and Cena didn't. But that has changed, a source told People, and Cena has shifted his views on child rearing.
"He has poured his heart out to her, and she was more than ready to take him back once she heard what she needed to hear," said the source. "He's been saying and doing all the right things."
Read more: Here's Why the WWE Moved John Cena From SmackDown to Raw
Check out The Cheat Sheet on Facebook!
Source: Read Full Article